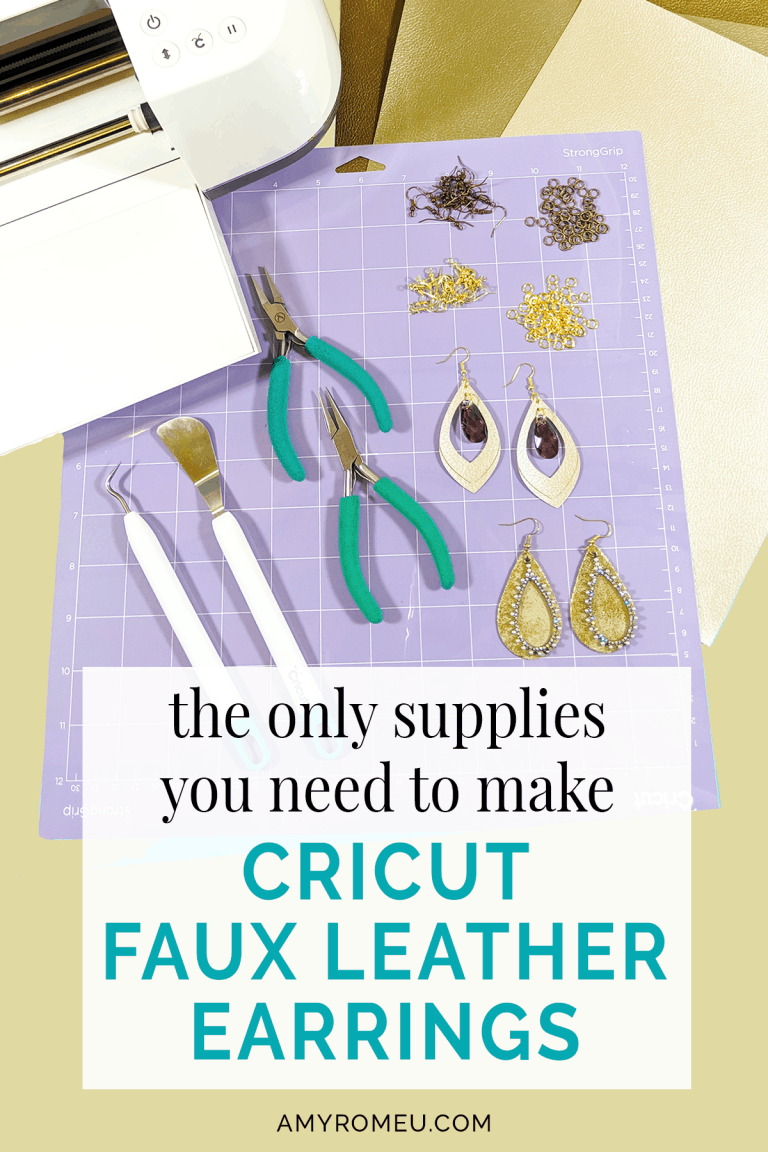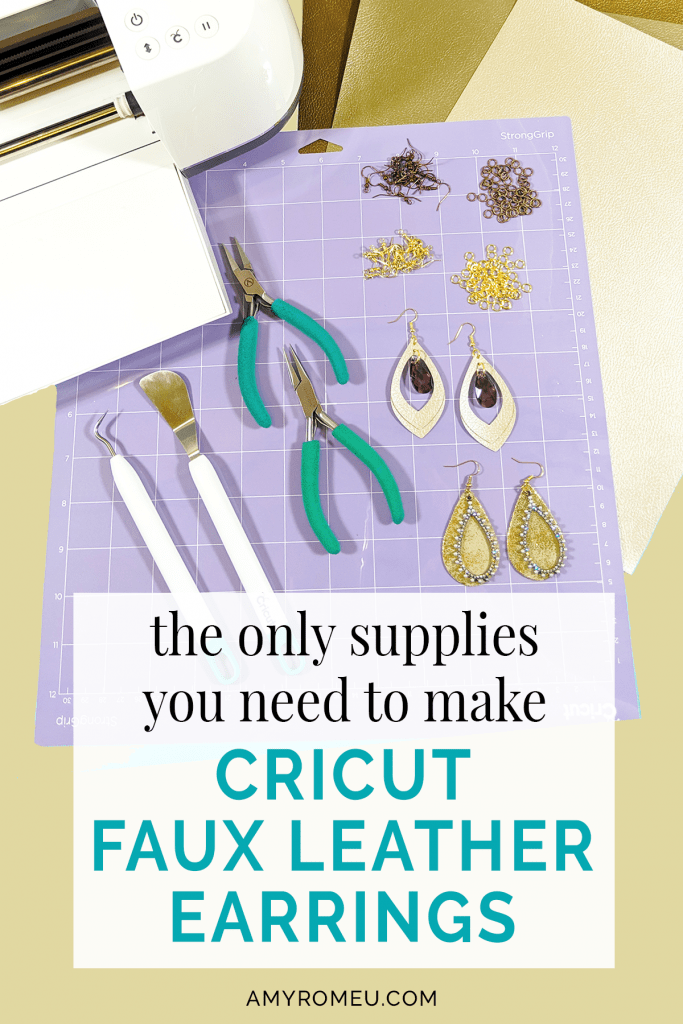 The Only Supplies You Need To GET STARTED MakIng Faux Leather Earrings WITH YOUR CRICUT
Are you interested in making faux leather earrings with a Cricut, but don't know where to start? I can totally relate! I've been making jewelry the old fashioned way for over 25 years, but when I got my first Cricut machine, I had no idea how to use it to make jewelry. In fact, my Cricut sat in the box for about two weeks before I had the courage to open it! True story!
Even though I was overwhelmed and terrified, I didn't let my fear stop me. I really wanted to explore all of the amazing jewelry making things it can do.
I picked faux leather earrings as the first project I wanted to make. I had so many questions, though. Which Cricut machine can cut faux leather? What blade do I need? What color mat? What blade? What faux leather should I start with? How do I make an earring hole? I wasn't really sure about any of it when I first got my machine.
So I embarked on a journey of getting to know my Cricut, and exactly how I can use it to do my favorite thing – make jewelry. I started doing research, watching You Tube videos, reading blog posts, and scouring the Cricut website. Through that process, and with lots of trial and error, I learned how to use my Cricut to make my first pair of faux leather earrings, and I was hooked!
If you are in the same position I was, when I wanted to make faux leather earrings with my Cricut but didn't know where to start, I can help!
Let me help you by starting at the very beginning… because before you can start making faux leather earrings with your Cricut, you need the right tools, materials, and supplies.
I've come up a complete list with exactly what you need to get started making faux leather earrings with a Cricut. I would love to share what I've learned with you so you can get started on making faux leather earrings with your Cricut right away, without wasting time! I'm sure you're eager to make amazing gifts for your family and friends, or sell your faux leather earring creations!
This post contains some affiliate links (which means if you make a purchase after clicking a link, I will earn a small commission at no additional cost to you). Read my full disclosure policy here.
1. A CRICUT
A Cricut machine is where it all begins. You can make faux leather earrings with the Cricut Maker, the Cricut Explore Air 2, or any of the Cricuts in the Explore series.
I have the Cricut Maker, which I highly recommend for jewelry making, available at Amazon here. You can also get the Cricut Maker at Hobby Lobby here, Joann's here, at Michaels here, Walmart here, and HSN here.
What about the blade?
The Cricut Maker and the Cricut Explore Air 2 come standard with a Fine Point Blade, which is the blade you'll use to cut faux leather. So in terms of what blade you need, you're all set when you purchase your Cricut.
2. CUTTING MAT
A Cricut Strong Grip (Purple) Cutting Mat. Cricut mats are color coded based on their stickiness, and the Purple map is Strong Grip stickiness, perfect for faux leather. You don't want your faux leather moving around on your mat while you are cutting it.
I bought a 3 pack of purple (strong grip) mats so I always have fresh mats available, but you just need one to start. You can buy these on Amazon here, or at Michael's here. They are also available at Hobby Lobby here, Joann's here, and Walmart here.
3. CRICUT FAUX LEATHER
A sampler pack is a great place to start experimenting with making faux leather earrings. I love this Cricut Faux Pebbled Leather Sampler Pack which has 5 12″x12″ sheets of faux leather in the following colors: Brown, Caramel, Beige, Champagne, and Silver. You might also like this Cricut Patina Faux Leather Sampler Pack. It has 5 12×12″ faux leather sheets in Black, Cafe, Copper, Sapphire, and Peacock.
Can I use faux leather I found on Etsy or at Hobby Lobby?
There are a lot of great places to buy faux leather by the sheet, like Amazon, Etsy, and Hobby Lobby, to name a few. However, faux leather by the sheet varies greatly by thickness and the type of backing. These faux leather sheets will need you to use some advanced cut settings and techniques, so it's best to master the basics first with Cricut brand faux leather before moving on.
4. WEEDING TOOLS
A weeding tool and a small spatula tool. Both of these tools (and a few more) are part of the basic Cricut tool set which you can find on Amazon here. You can get also find the basic Cricut tool set at Michael's, Hobby Lobby, Joann's, or Walmart.
5. JEWELRY MAKING PLIERS
I use two pair of flat nose pliers to make earrings – one pair of wide nose pliers and one pair of chain nose (also called needle nose) pliers. That's all you need to get started. My favorites are the Baby Wubbers Chain Nose Piers on Amazon here, and the Baby Wubbers Flat Nose Pliers, also on Amazon here.
Jewelry making tools are a minor investment, but if you want to make a lot of Cricut jewelry, or you plan to sell your creations, they are essential items that will last you for years and years. Eventually, you'll want to add wire cutters and round nose pliers to your jewelry making tool kit, but you don't need them to start making faux leather earrings.
Can you get away with using less expensive tools, or using tools from your garage tool box? I wrote a whole post all about buying jewelry making tools that answers these questions and more, which you can check out here. I also recommend tools at different price points in that post, and have a free printable tool shopping list to help you shop.
6. EARRING HOOKS
Earring Hooks. There are a wide variety of earring hooks available, in an assortment of metal types and colors. When you are making faux leather earrings for the first time, I recommend buying an assortment pack of earring hooks to get started with. I recommend this assorted earring hook pack from Amazon here.
Once you have some experience with earring hooks, you can start to branch out and explore different metal types. I really like the ease and convenience of the jewelry making section at Hobby Lobby. They have so many earring hooks in different metals, from 18k Gold to Sterling Silver, and in different pack sizes, depending on your needs.
If you are going to be making faux leather earrings to sell, I highly recommend checking out the earring hook assortment at Fire Mountain Gems. They have excellent quality items, a huge selection, and their prices on bulk findings can't be beat.
What if I don't have jewelry making tools yet?
If you don't want to use (or don't have) jewelry making tools, don't worry! You can still make faux leather earrings with earring hooks called Ear Wires with Balls. Here's a link to Ear Wires with Balls from Hobby Lobby so you can see what they look like. You can find these earring hooks at any bead store or craft store.
These earwires with balls are great because you don't need tools or jumprings, and you can make a pair of earrings in just minutes! Check out my post about making leather earrings without tools here to see these ear wires with balls in action.
7. JUMP RINGS
Jump Rings. Jump rings are small circles that open and close to connect jewelry elements together. In the case of faux leather earrings, jump rings connect the faux leather earring shape to the earring hook.
Jump rings come in many sizes, but the 6mm size is perfect for faux leather earrings. Just like the earring hooks, it's great to start with an assortment jump rings in different metal colors. This assortment of 6mm jump rings from Amazon here is a great place to start.
Again, when you're ready to dive deeper into earring making, check out the jump ring selections at Hobby Lobby, your local craft or bead store, or Fire Mountain Gems.
OPTIONAL (BUT RECOMMENDED) TOOLS:
Small, sharp, curved scissors. I like having small, sharp, curved scissors on hand to cut out small areas of faux leather that the Cricut doesn't cut completely. I recommend having a pair on hand, like my favorite 4 inch curved Fiskars scissors on Amazon here.
A very small hole punch. I often add the earring hole to my SVG so the Cricut cuts the hole, but it's nice to have a reliable hole punch for earring styles where you may want to punch the hole after the earring is cut. I love my 1/16″ Paper Punch, for cutting holes in faux leather and faux suede. You can see the one I have and use all the time on Amazon here.
That's it! That's all you need to get started making faux leather earrings with your Cricut!
Now it's time to find a project you want to make. There are a lot of ways you can do this. Cricut Design Space has a few earring tutorials, and you can search Google or You Tube for other ideas. I also have Cricut faux leather earring tutorials on my blog that would be great starter projects. Click the banner below to see them all!
Do you love Cricut jewelry tutorials? You can see all of my Cricut earring & jewelry tutorials by clicking HERE.
I hope you found this supply list helpful! If you have any questions about making faux leather earrings, or if you want to show me what you've created, I'd love to hear from you! Please reach out to me at hello@amyromeu.com.
Until next time… and happy creating!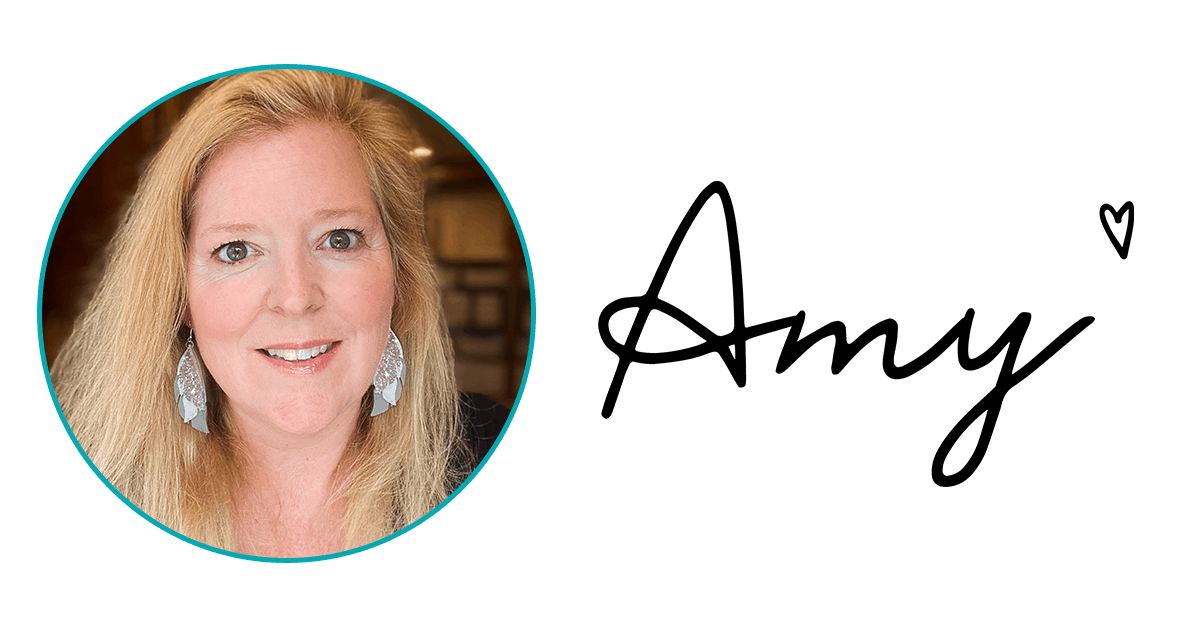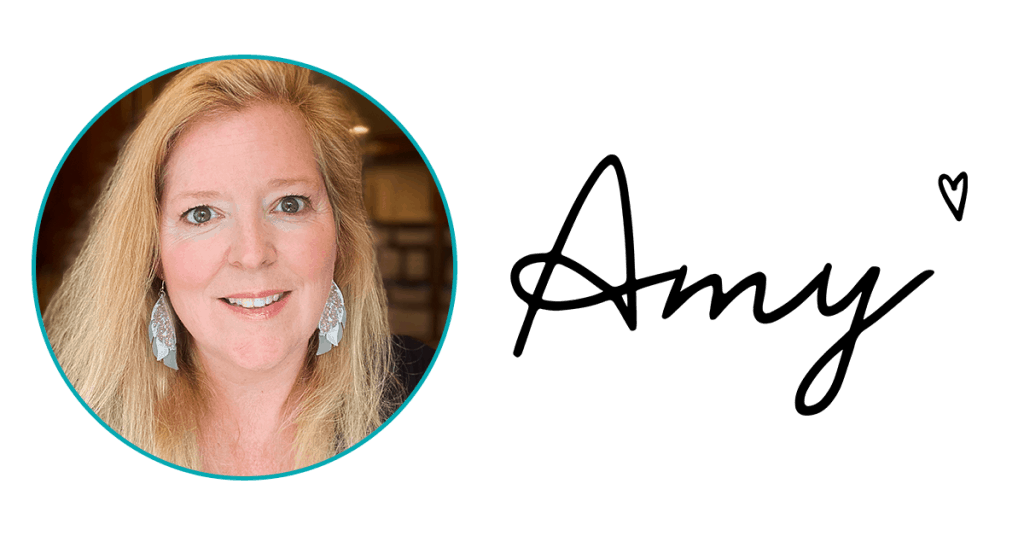 WANT TO REMEMBER THIS? POST THIS COMPLETE SUPPLY LIST TO START MAKING CRICUT FAUX LEATHER EARRINGS TO YOUR FAVORITE PINTEREST BOARD!