DIY Leather Earrings Without Tools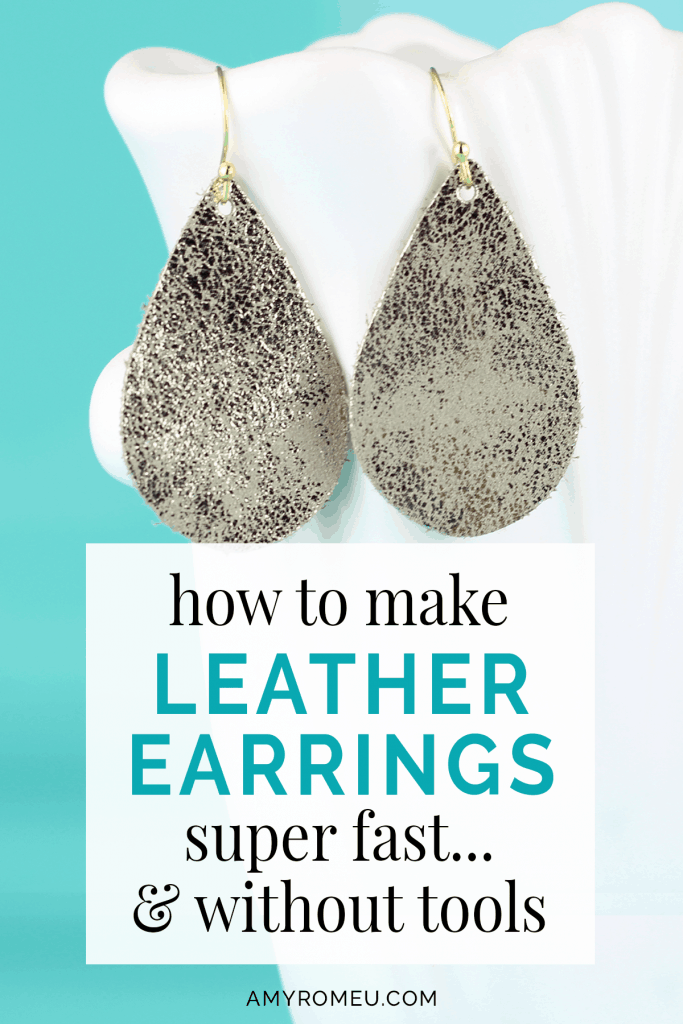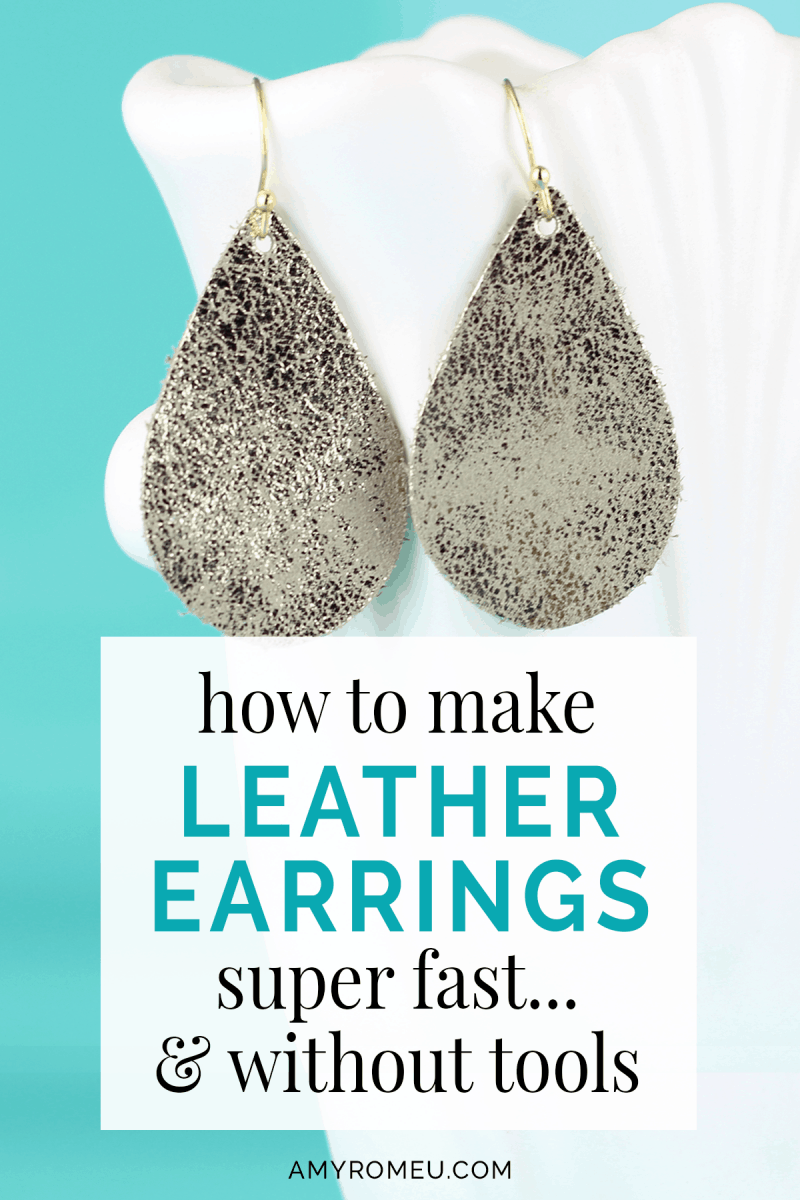 How to make DIY Leather Earrings Super Fast… and Without Tools
Do you love the leather (and faux leather) earrings that everyone is wearing nowadays? I know I do! They are very lightweight and easy to wear, and so fun to make!
But what if you don't have any jewelry making tools yet? That's no problem! If you want to make a super quick pair of leather teardrop earrings without using any jewelry making tools, keep reading!
These earrings are super basic, but so fashionable and easy to make and wear. They make great gifts, too!
To see more of my leather earring tutorials, click here.
Now I've used pre-cut leather teardrop shapes for this project to make it super quick and easy! But if you want to cut your own teardrop leather shapes using your Cricut Maker or other cutting machine, I've created a free SVG file with the shapes for you to download and cut yourself. You can get the teardrop shape earrings cut file from the bottom of this post.
This page contains some affiliate links (which means if you make a purchase after clicking a link, I will earn a small commission at no additional cost to you). Read my full disclosure policy here.
Materials for DIY Leather Earrings without tools project:
Leather or Faux Leather teardrop shapes with pre-drilled holes (pre-drilled holes are important!). I used this exact pair from Hobby Lobby. They are sold in 2 packs with 2 coordinating colors of leather teardrop earring pairs in each package. If you want to cut your own shapes using your cutting machine, you can get my FREE SVG file with these teardrop shapes at the bottom of this post.
Ball Ear Wires (see photos below – the exact type is important to keep this earring project "tool free"). I used are these exact ones, also from Hobby Lobby.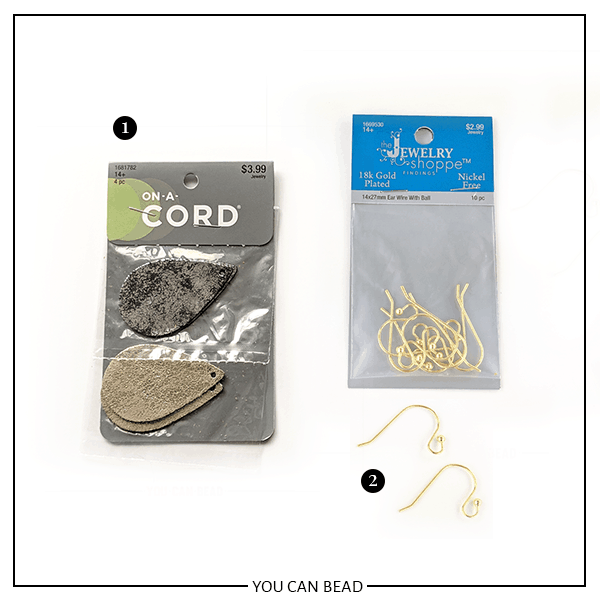 INSTRUCTIONS
Ready for the world's shortest project instructions? Ok, here we go.
STEP 1
Slide the leather teardrop shape onto the earring hook, all the way around until the teardrop hangs on the loop behind the ball.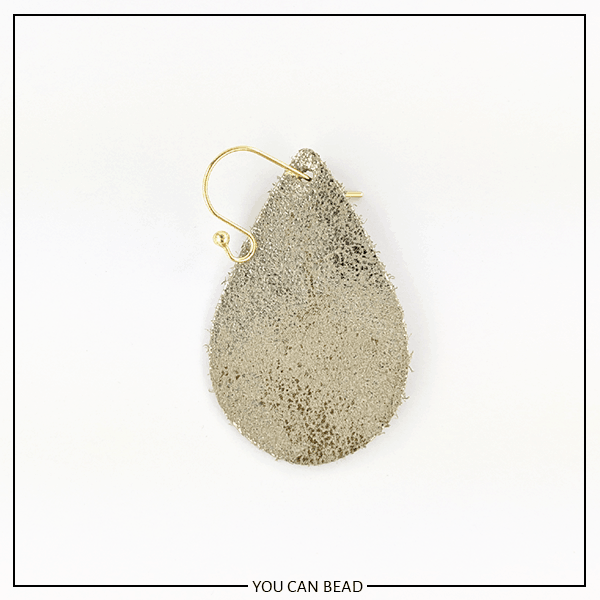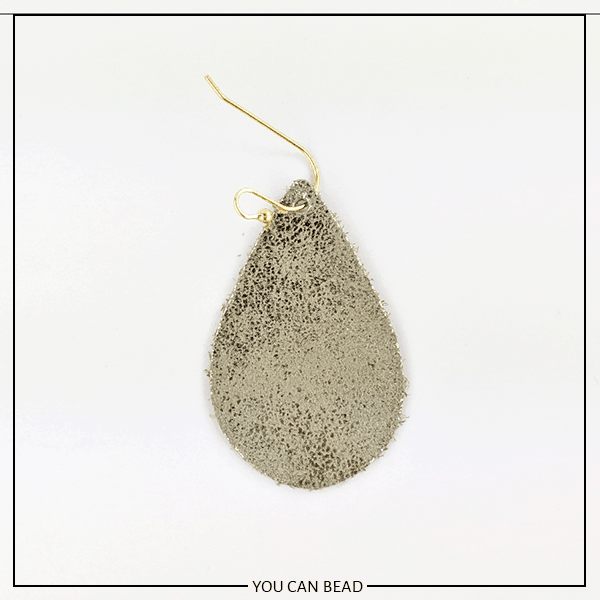 STEP 2
Make sure the front of the teardrop faces forward on the earring hook. If it doesn't, take the teardrop off and redo Step 1.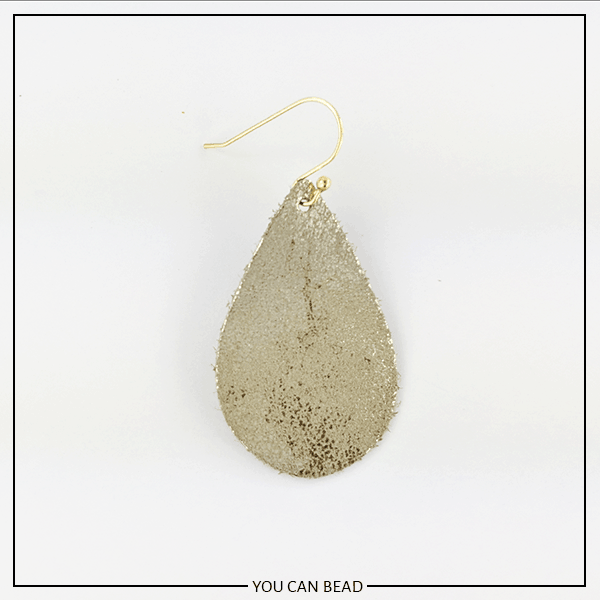 STEP 3
Repeat for the second earring.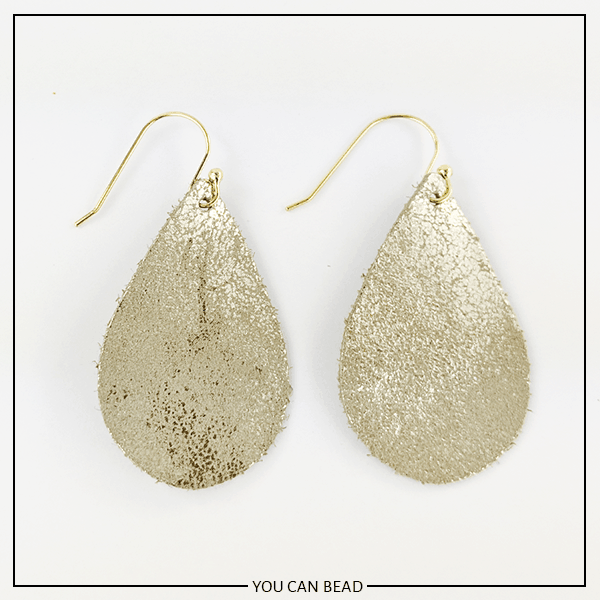 That's it! Wasn't that easy?
Other leather earring ideas
The best part is there are SO MANY leather teardrop shapes available, both in craft stores like Hobby Lobby or online from a variety of sellers on Etsy. The pair of leather teardrops I bought from Hobby Lobby here also come in a variety of colors: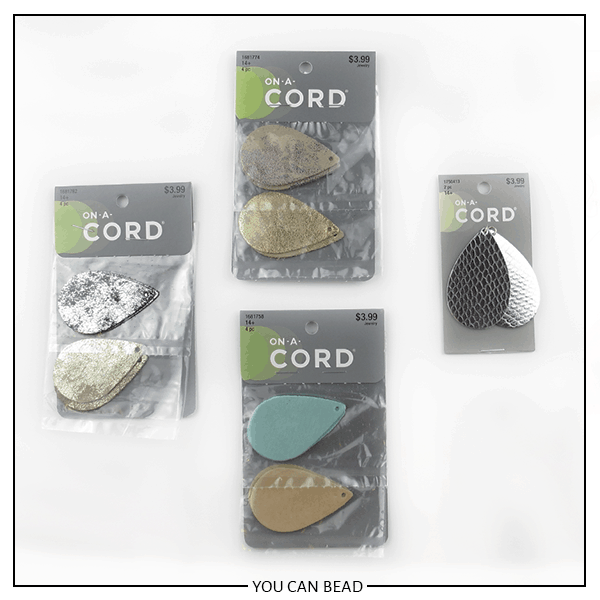 Don't you love the silver snakeskin print ones? I can't wait to make earrings with them! They do have jumprings already attached, so they won't be a tool-free earring project, but we will tackle opening and closing jump rings in a post coming soon!
I also used the same super simple technique to make some faux leather teardrop earrings with some pre-cut shapes from a seller on Etsy. The item I bought is a pack of 5 pairs in assorted colors of faux leather. This is what I received:
Here is a pair of earrings I made from the caramel color faux leather shapes in the photo above. Again, I used ball earrings wires from Hobby Lobby, this time in the antique brass color.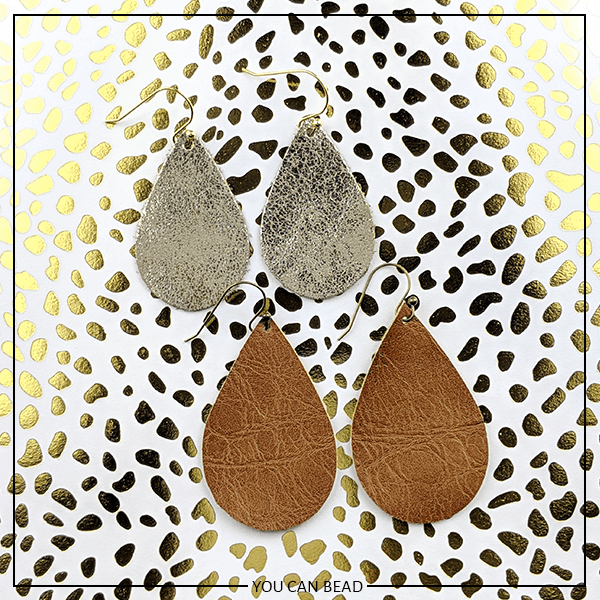 Aren't these earrings so fun and easy to make? I want to make them in a million colors, don't you?
Now, if you're wondering why I wrote this super simple tutorial – it's perfect for people who are very new to jewelry making and are hesitant to make any jewelry projects that require tools. They may not know that ball ear wires exist and are the ideal way to make quick and easy earrings without tools!
Also, these simple leather (or faux leather) earrings can be worn as is – or embellished with chain, charms, pendants, or crystals. The sky's the limit!
In fact, I took the caramel color faux leather earrings above and turned them into these, with just ONE tool – wire cutters.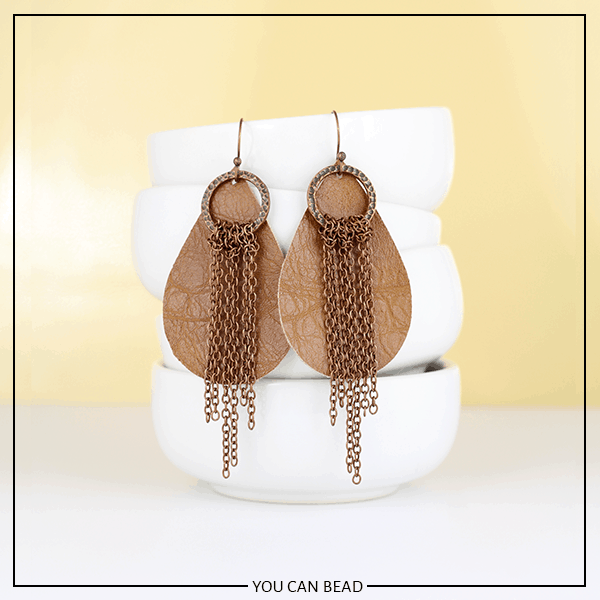 Interested? If you're ready to take the next step and learn how to make these faux leather earrings, I've got you covered! Click here to see all of my leather earring tutorials!
Have you made leather earrings, or other earrings using ball wire hooks and NO tools? Let me know in the comments below!
Until next time… and happy creating!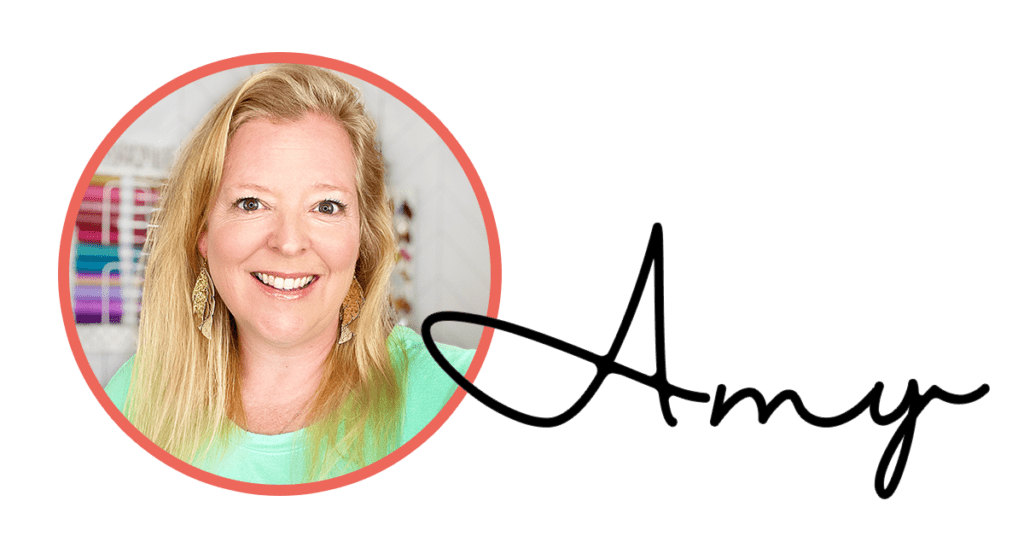 Want the FREE Leather Teardrop Shape SVG Cutting File?
Get it from our Resource Library! You'll receive the password for the Resource Library instantly after filling out the form below!
Want to remember this? Post this Leather Earring Without Tools DIY Tutorial to your favorite Pinterest board!