Hello! My name is Amy Romeu (pronounced ro-MAYO). I love sharing my passion for crafting, beading, jewelry making with others. Thanks for stopping by!
How This Blog Was Born
I've been crafting and making jewelry and since I was a little girl. I used to love to craft with my mom, Kathy, and my grandma, Rose. My grandmother was a seamstress and she sewed the most amazing dresses! I loved to play in her sewing room as a child, and I was mesmerized by all of her buttons and beads! My mom loved to craft, too, and we made all kinds of home decor items and gifts together. As a teenager, I was so proud when I taught my mom how to make jewelry! She made me a beautiful triple strand necklace that I'll always treasure.
Now that I'm an adult and I have children of my own, I've really enjoyed sharing creative projects with my kids. They are so eager to learn, and are curious about everything I can make and do. It's reignited my creativity, and I want to continue to share my passion for beading and crafting with them, and others.
Here's a picture of one of my little crafting companions, O: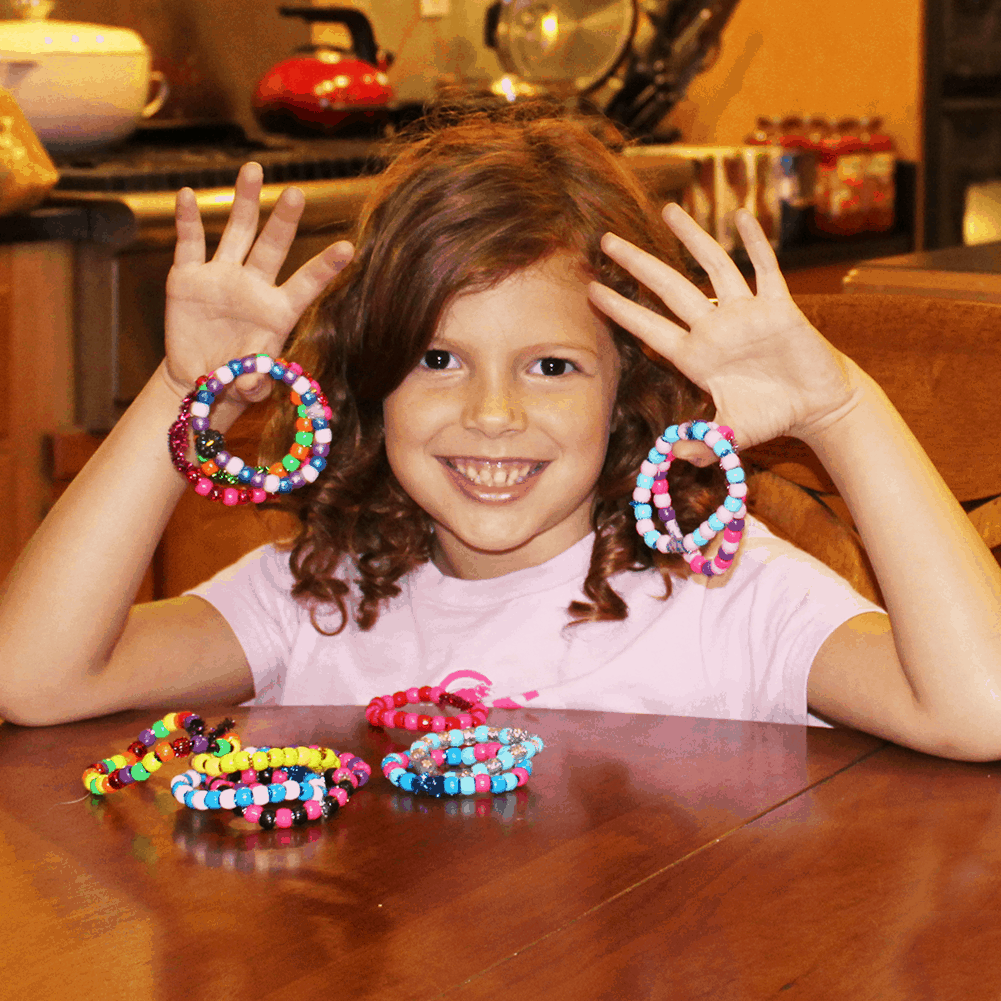 My background
I grew up in Miami, Florida, and I had a dream job right after high school as the manager of a bead store. I absolutely loved it, and taught literally thousands of adults and children how to make jewelry. Eventually I had to say goodbye to the bead store when I headed off to college out of state to complete my first college degree. I graduated from Smith College (Northampton, Mass.) with my Bachelors degree in Art History.
After college, I worked in a museum as a research assistant, as an Art & Antiques assistant buyer for a dot.com start up (hello, early 2000's!), and as an Assistant Buyer at Macy's. I left the corporate world for good when we started our family. Since having kids, I've been blessed to work from home. Since 2011, I've turned my creative skills into a multiple six figure business as an online seller on both Amazon and Etsy.
10 fun facts about me:
As an only child, my childhood was pretty quiet and lonely. Now I'm blessed to be a mom to four kids, all two years apart. Our house is never, ever, lonely or quiet, and I'm okay with that.
I am a early riser – up no later than 5am, even on the weekends. I love the quiet time before everyone wakes up, and it's often the most productive time of my day.
I'm an avid reader. My dream day involves staying all day in bed with lots of good books on my Kindle – with unlimited coffee, of course!
I'm a vegetarian in a house full of meat eaters. Dinner time is always interesting at my house!
I can watch The Office on Netflix over and over and over without ever getting tired of it.
I've spent countless hours at baseball with my kids over the past 7 years – three of our boys play travel baseball so my most precise estimate is I've probably spent a million, billion hours at the field. Funny thing is, I don't understand baseball, beyond the basics. My kids roll their eyes a lot about that but I get points for showing up, right?
I can recite every word of the Broadway musical Hamilton. Every. Single Word.
Along the same lines, I can guess almost any 80's song from listening to the first 5 seconds of it. It's true. Ask my sister in law.
My favorite cities are Miami Beach (where I lived after college) and Portland, Oregon. I also love visiting New York City!
My retirement dream is to travel the country in an Airstream (with my husband, our dogs, and all of my beads and crafts on board, of course!).
I'd love to hear from you! Please feel free to reach out to me via email at hello@amyromeu.com if you have any questions.