The 10 Days of Crafting Event: Win a Cricut Maker & More!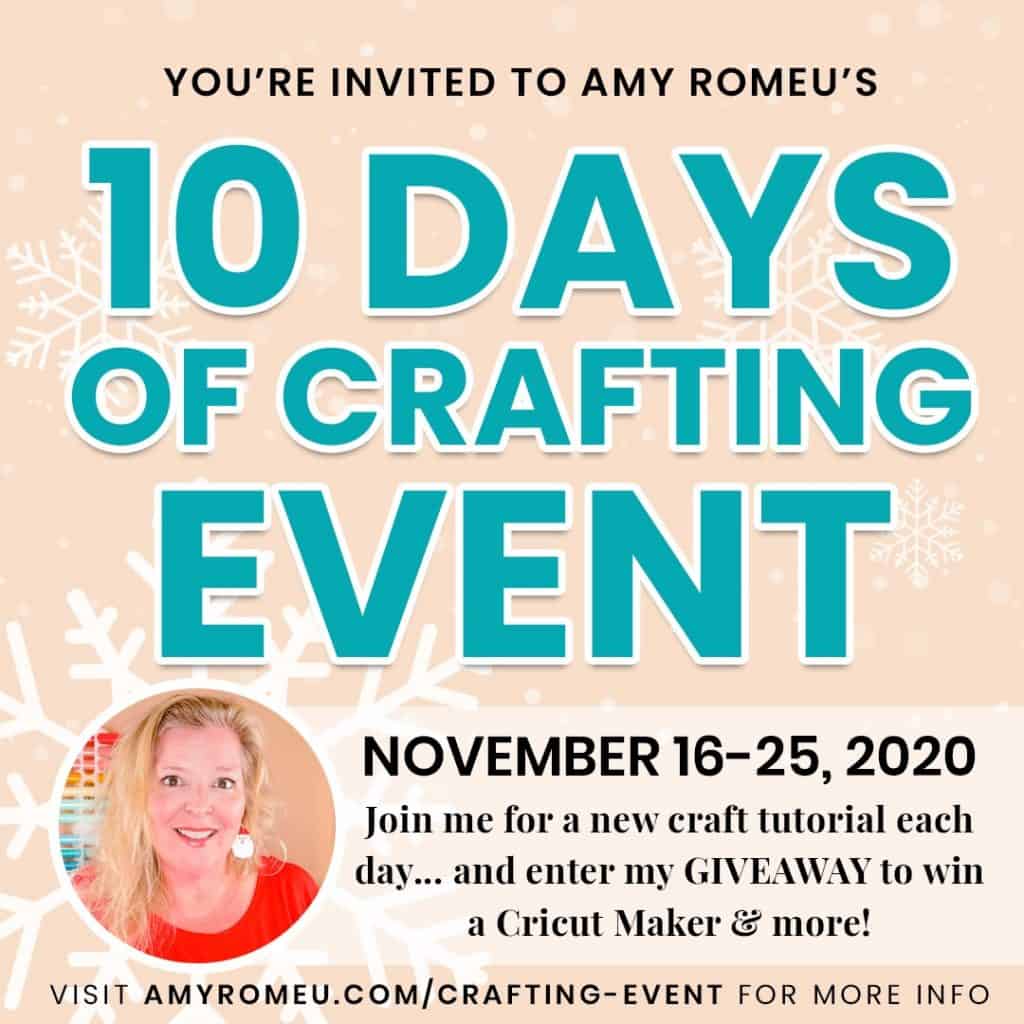 Even though 2020 has been a crazy year, I'm so grateful and blessed for all the support I've received for my blog this year. To say THANK YOU, I've created my 10 Days of Crafting Event, just for you! I'll be celebrating with brand new projects and YouTube videos EACH DAY! I'll also have TEN GIVEAWAYS for you!
The 10 items I'll be giving away during this event are:
(1) Cricut Maker (Champagne color)
(1) Bundle of a Cricut Easy Press Mini & a Cricut EasyPress Mat (8″x10″ size)
(4) Fiskars 1/16″ Hole Punches (my favorite tool for making holes in faux leather earrings!)
(4) Digital Copies of my Cricut Earrings Made Easy Workbook & Digital Files Bundle
To enter the giveaway, fill out the form at the bottom of this page! ↓↓↓↓↓
10 Days of Crafting Tutorials
Now let me tell you how the 10 Days of Crafting Event will work!
I'm so excited to bring 10 awesome NEW jewelry making and crafting projects to you during my 10 Days of Crafting Event, happening November 16-25, 2020. Every day during the event, I'll post a brand new tutorial on my blog as well as a new YouTube video for that project.
The images and links below won't be active until the event begins! Bookmark this page on my website so you can come back each day during the event to see each new project.
Even though you can't see the tutorials yet, the good news is, you can enter the GIVEAWAY now! Scroll down to enter. I also need project ideas, so you can get an additional entry (1 per day) if you give me a project idea you'd like to see me demonstrate! You'll see the option to earn bonus entries after you make your first giveaway entry.)
I'll have all of the FREE SVG template files in my Resource Library for you, too, so be sure you've subscribed to my blog so you have access to the library as soon as the event begins.
GIVEAWAY ENTRY FORM
↓↓↓↓↓
If you don't see a form below, click here to enter the giveaway!
Please note giveaway prizes will only be awarded and delivered to addresses within the United States due to sweepstakes laws preventing prize distribution in countries outside the United States. All federal, state and/or local taxes, fees, and surcharges are the sole responsibility of the prize winner. Failure to comply with the Official Rules will result in forfeiture of the prize.
For all of the Giveaway rules, help or questions about the Giveaway, visit our Giveaway Help page here.
So stay tuned…
I'll be updating this page all throughout November with exciting details about the event. I'll also be adding the new daily projects to this page, so be sure to bookmark this page and check back each day during the event!
Thank you again to all of my readers for all of the love, support, and encouragement you've given me this year. I love to craft, create, and share, and through my blog, I've been able to do that all year long because of you!