Supplies List for the 25 Days of Cricut Christmas Earrings Event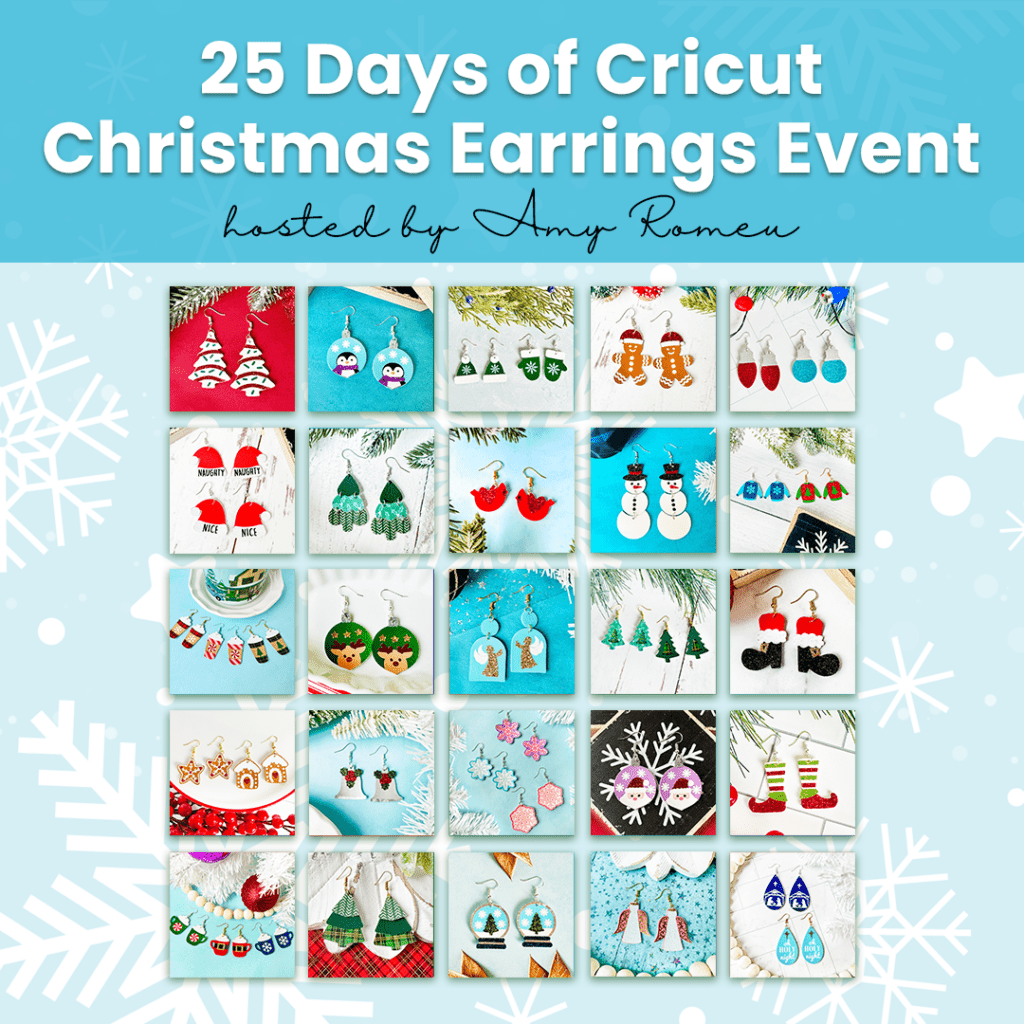 This list contains all of the supplies and materials I used to make all 25 earring SVG designs featured in the 25 Days of Cricut Christmas Earrings Event from Thursday, November 17 through December 11, 2022.
To visit the 25 Days of Cricut Christmas Earrings Event Page to see all of the daily designs with links to the SVG templates and tutorials, click here.
To purchase the Cricut Christmas Earrings Event SVG Bundle including all 25 days worth of SVGs from the event with a small business commercial use license included, click here.
General Supplies Used
This page contains some affiliate links (which means if you make a purchase after clicking a link, I will earn a small commission at no additional cost to you). Read my full disclosure policy here.
Event Project Supply Lists
Please keep in mind that supplies and materials often are sold out during crafting events like this one. If something on the list below is out of stock, you are welcome to send me an email at [email protected]. I'd be happy to look for substitutions and update the list.
But please don't let things out of stock discourage you from creating earrings you'll love! Use your imagination and take my samples as a starting point. Use materials you have on hand and shop for additional colors and patterns you love to create truly original earrings from the event SVG templates. I can't wait to see what you create.
Below you will find lists of ALL the faux leather and vinyl I used to make each of the sample projects. Beneath that are supply lists by day.
Don't let this list intimidate you! Most of these colors can be substituted and used with what you have on hand.
You can also use heat transfer vinyl to "create" a color of faux leather you don't have. You can see how I do this in this video on my YouTube channel.
Faux Leather & Vinyl Supply Lists (All)
Faux Leather – Solid Colors
Faux Leather – Prints
Heat Transfer Vinyl – Solid Colors
Heat Transfer Vinyl – Glitter & Foil Colors
Faux Leather & Vinyl Supplies By Day
Day 1 – November 17, 2022 – Christmas Tree Cake Earrings
Day 2 – November 18, 2022 – Penguin Ornament Earrings
Day 3 – November 19, 2022 – Winter Hat & Mitten Earrings
Day 4 – November 20, 2022 – Gingerbread Man Earrings
Day 5 – November 21, 2022 – Christmas Tree Light Bulb Earrings
Day 6 – November 22, 2022 – Naughty & Nice Santa Hat Earrings
Day 7 – November 23, 2022 – Connected Christmas Tree Earrings
Day 8 – November 24, 2022 – Cardinal Earrings
Day 9 – November 25, 2022 – Snowman Earrings
Day 10 – November 26, 2022 – Christmas Sweater Earrings
Day 11 – November 27, 2022 – Christmas Coffee Cup Earrings
Day 12 – November 28, 2022 – Reindeer Ornament Earrings
Day 13 – November 29, 2022 – Arched Angel Earrings
Day 14 – November 30, 2022 – Cutout Christmas Tree Earrings
Day 15 – December 1, 2022 – Santa Boot Earrings
Day 16 – December 2, 2022 – Gingerbread Cookie Earrings
Day 17 – December 3, 2022 – Christmas Bell Earrings
Day 18 – December 4, 2022 – Snowflake Earrings
Day 19 – December 5, 2022 – Santa Ornament Earrings
Day 20 – December 6, 2022 – Elf Boot Earrings
Day 21 – December 7, 2022 – Hot Cocoa Cup Earrings
Day 22 – December 8, 2022 – Layered Christmas Tree Earrings
Day 23 – December 9, 2022 – Snow Globe Earrings
Day 24 – December 10, 2022 – Angel Earrings
Day 25 – December 11, 2022 – Nativity & O Holy Night Earrings