The 25 Days of Cricut Christmas Earrings Event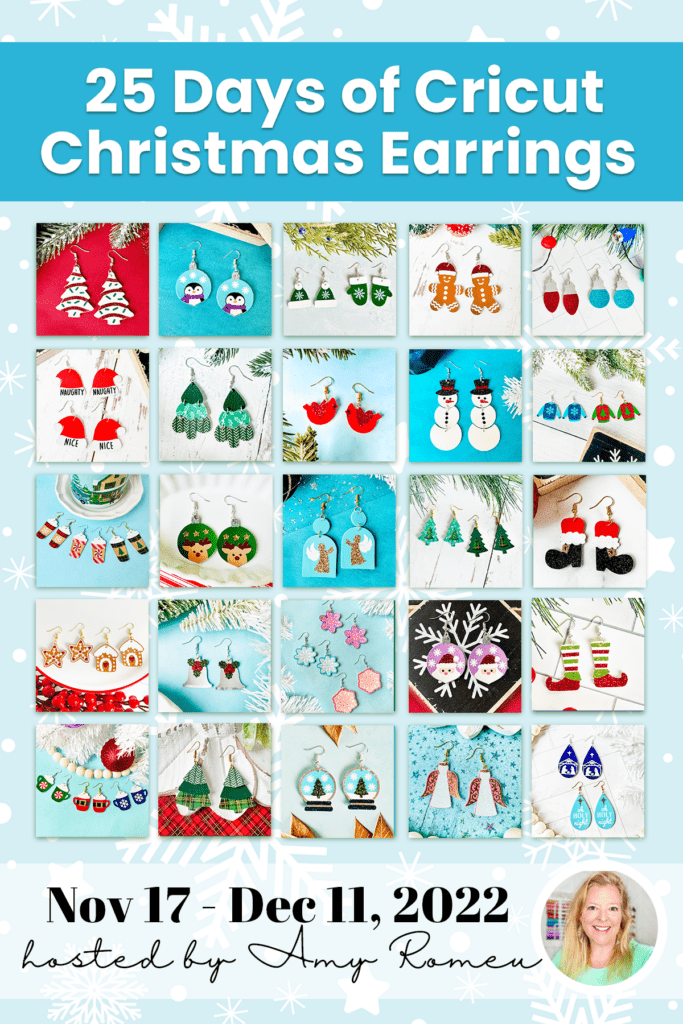 Welcome!
It was so exciting to bring you 25 all new Cricut faux leather earring SVG designs each day during my FREE 25 Days of Cricut Christmas Earrings Event from November 17 – December 11, 2022.
The Event Has Ended…
But you can still enjoy the 25 project tutorials and earring SVGs made for the event.
Scroll down to view the event days and view links to each design's SVG in my shop, as well as links to the written tutorial and materials list.
Purchase the Event Earring SVG Bundle
To purchase the earring SVGs for all 25 days of the event (and get a small business commercial use license for all the event earring designs) click here.
Project Supplies
The tutorials will have the materials list for each project with shopping links for your convenience.
You can find a general list of all the supplies and materials used in each of the projects for the 25 Days of Christmas Earrings Event here.
The Giveaway Has Ended…
Winners of the 25 prizes below (totaling over $1154 in prizes) have been notified via email on Monday, December 12. Winners listed below the prizes!
(1) Cricut Maker 3 + Essentials Materials Bundle ($399 value)
(2) Cricut Joys ($129 value each)
(5) Bundles of a Cricut Easy Press Mini & a Cricut EasyPress Mat (8″x10″ size) ($47.49 value each)
(6) 1/16″ Hole Punches (my favorite tool for making holes in faux leather earrings)($7.99 value each)
(1) Cricut Earrings 101 Workshop ($37 value)
(5) Mystery Faux Leather Assortment Bundles ($15 value)
(5) $20 Store Credit to my SVG Shop ($20 value)
All winners have been notified via email and have 48 hours to claim their prizes!
WINNERS OF A 1/16″ HOLE PUNCH (6 winners)
Denise L, Kittanning, PA
Jodi I, Newport, OR
Sue M, Las Vegas, NV
Christine R, Chino, CA
Jennifer M, Akron, OH
Cathy R, Pomona Park, FL
WINNERS OF A FAUX LEATHER MYSTERY BUNDLE (5 winners)
Suzanne N, Greenville, NC
Laurie F, Cincinnati, OH
Alicia V, Arlington, MA
Heather P, Glouster, OH
Danetta H, American Fork, UT
WINNERS OF $20 CREDIT TO MY SVG SHOP (5 winners)
Cynthia M, San Antonio, TX
Lisa R No City, State
Cindy Lou P, Mansfield, OH
Gabriela W, York, PA
Kathleen G, Madison, WI
WINNER OF THE CRICUT EARRINGS 101 VIDEO WORKSHOP (1 winner)
Jessie H, Warrington, PA
WINNERS OF A EASYPRESS MINI & EASYPRESS MAT (5 winners)
Dawn S, Newport News, VA
Jane H, Xenia, OH
Cathy C, Brentwood, TN
Elane H, Mesa, AZ
Tabitha M, Winchester, VA
WINNERS OF A CRICUT JOY (2 winners)
Patricia S, Puyallup, WA
Krista G, Henderson, NV
GRAND PRIZE WINNER OF A CRICUT MAKER 3 + ESSENTIALS MATERIALS BUNDLE
Mary W, San Jose, CA
25 DAYS OF CHRISTMAS EARRINGS