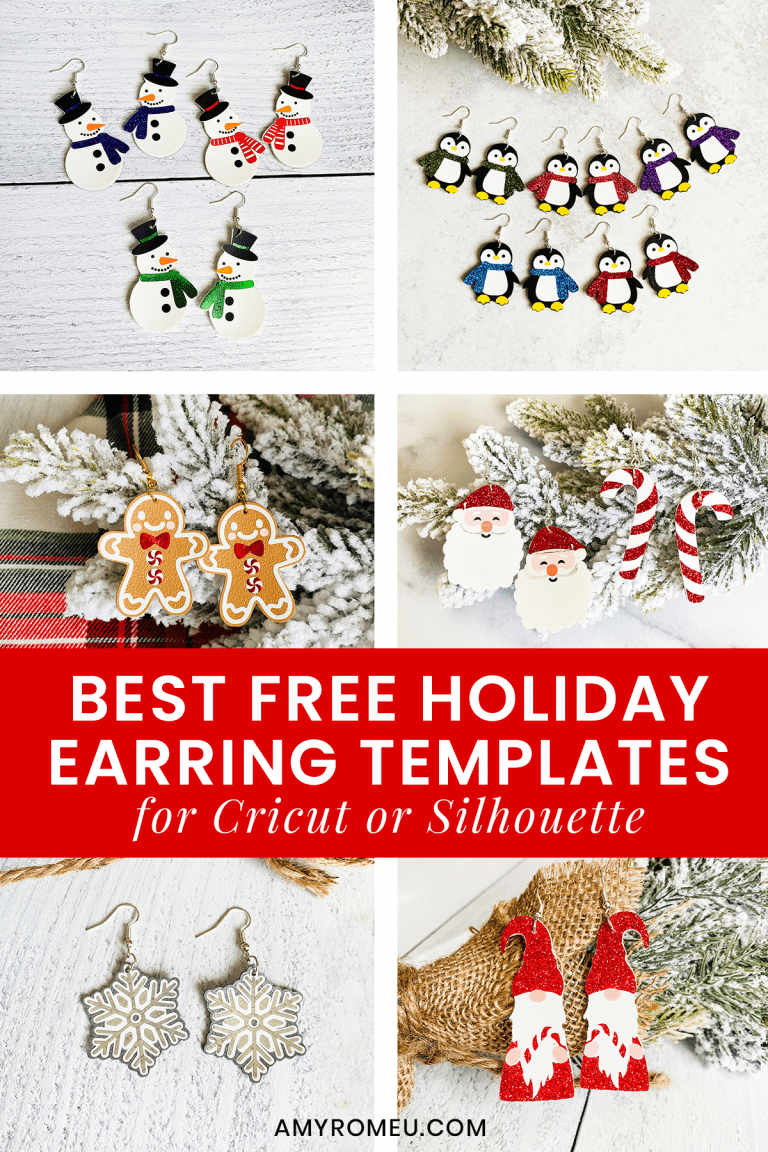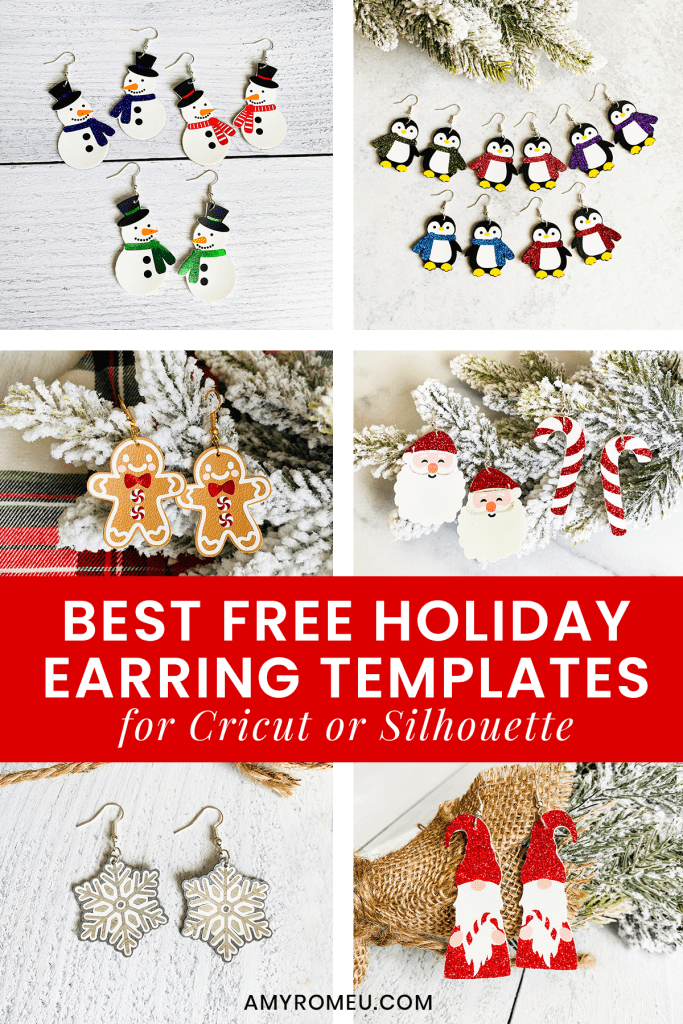 Best Free Christmas Earring SVGs for Cricut and Silhouette
Do you love making earrings for the holidays? I certainly do. This year I've made so many fun and festive Christmas earrings, I decided to put them all together in one post! Below you'll find my best FREE holiday earring SVG templates so you can make lots of Christmas earrings with your Cricut to give as gifts this year!
All of these SVG files for these designs are inside my FREE Resource library! Visit any post on this page through the link below the image, and you'll be able to sign up for the password to my library and get instant access! You'll be crafting fun and easy Christmas faux leather earrings in no time.
Let's get started!
#1 - Snowman Earrings
The base for these adorable snowman earrings is made from white faux leather, black and orange heat transfer vinyl. Then the scarf can be made from the heat transfer vinyl of your choice - glitter HTV, solid HTV, or Foil Iron-On! This is an easy Cricut Christnas Earrings tutorial you'll love.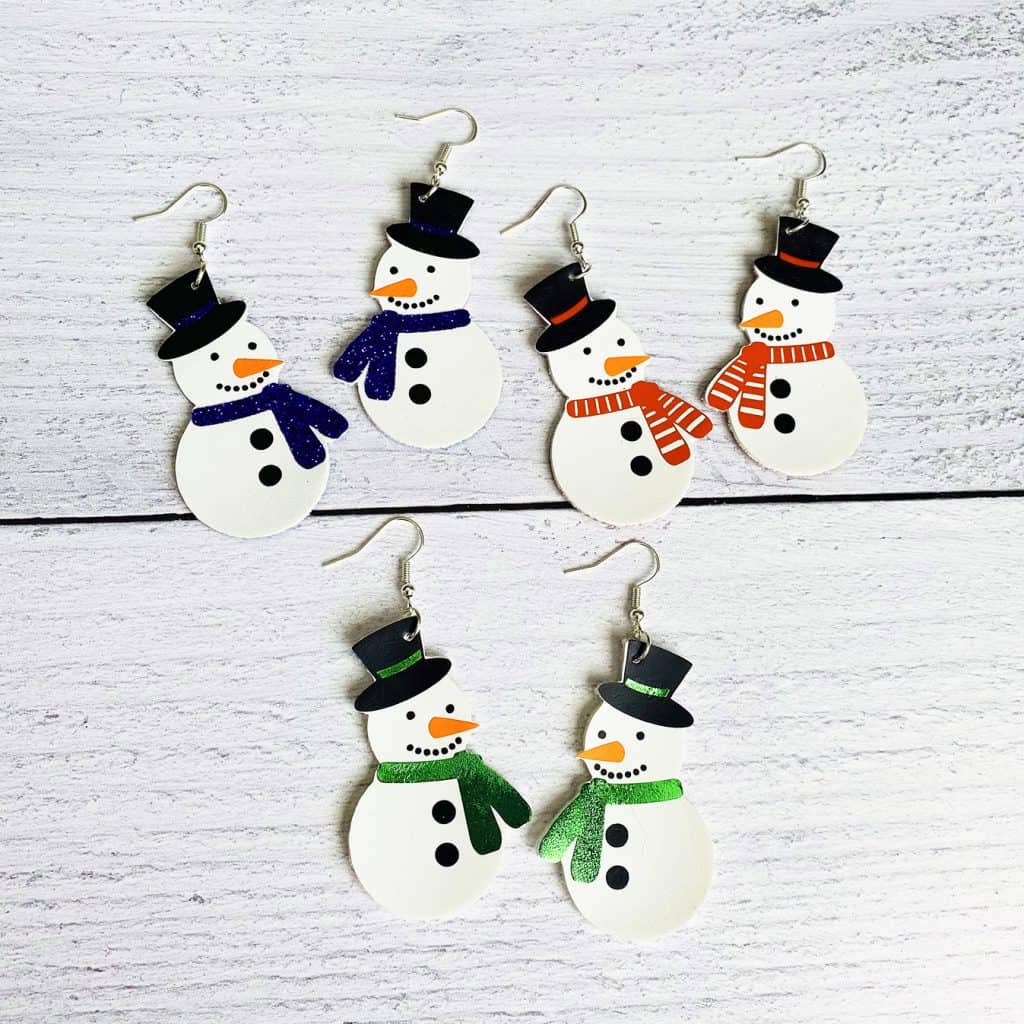 #2 - Penguin Earrings
These penguin earrings have been SO popular! The size is perfect for kids' earrings, too. These fun and easy penguin earrings are made from black faux leather, white and yellow heat transfer vinyl, and the vinyl color of your choice for the scarf! Which colorful penguin is your favorite?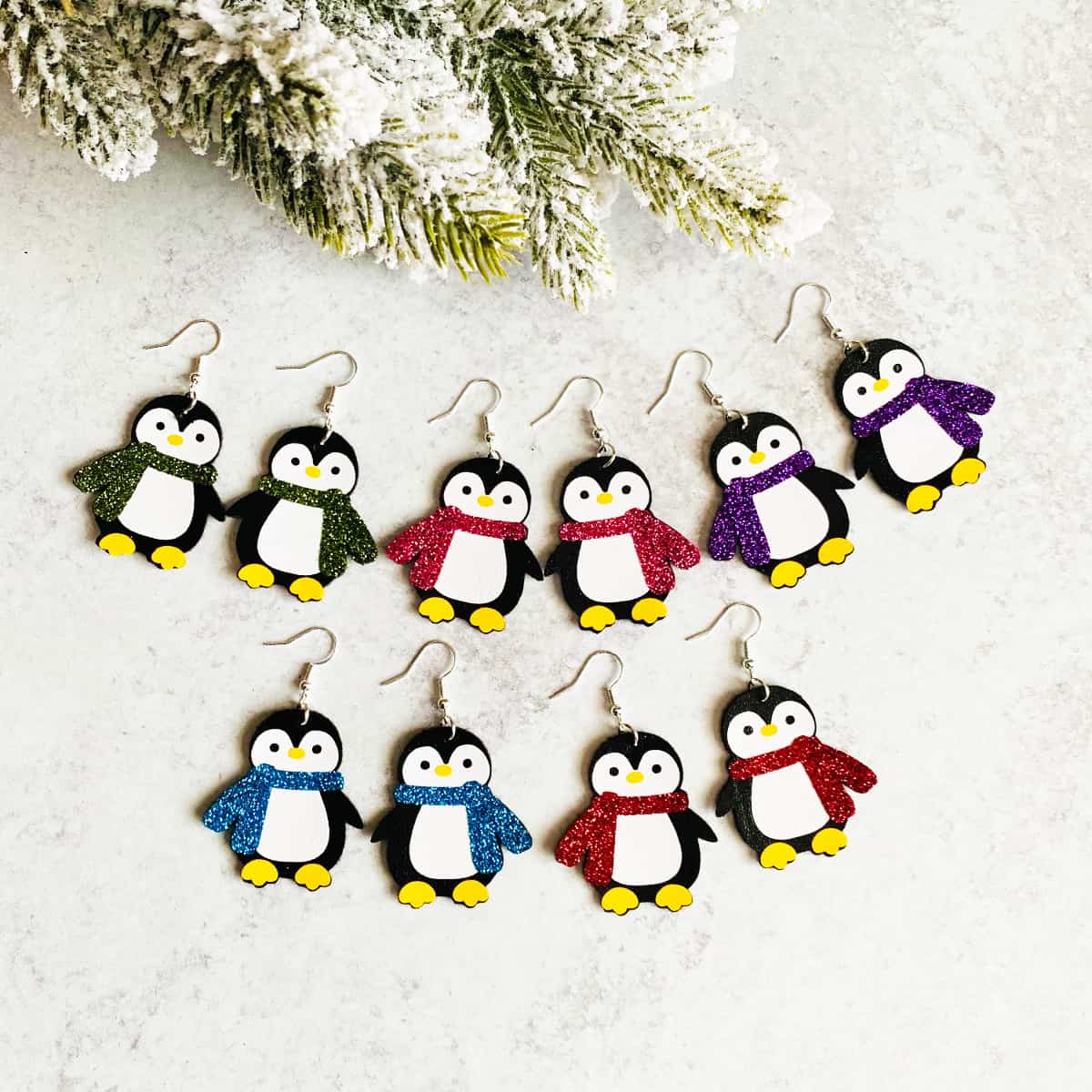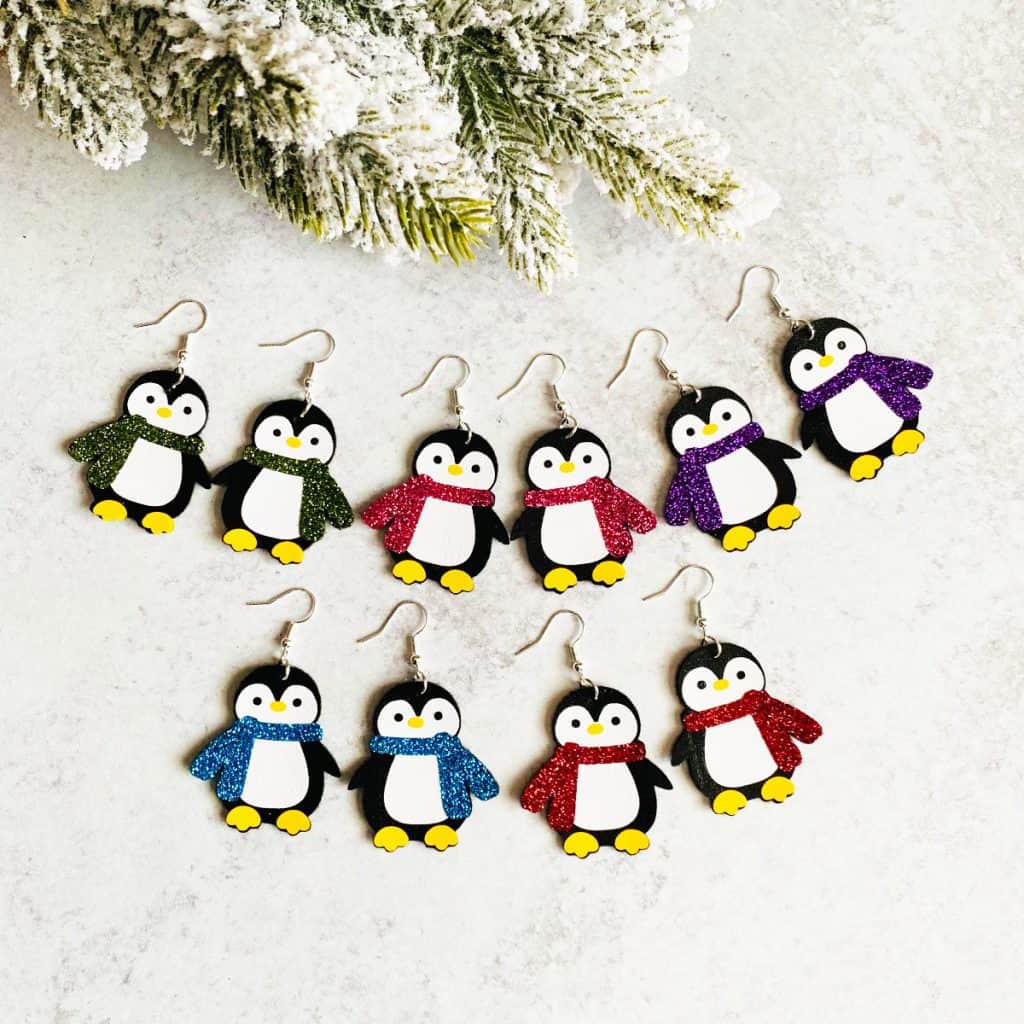 #3 - Gingerbread Man Earrings
Everyone loves gingerbread man cookies, right? I do! I decided to make these adorable little gingerbread man earrings for Christmas from faux leather, heat transfer vinyl, and a Cricut! I used a Cricut Joy in the tutorial, but you can make these with a Cricut Maker or a Cricut Explore Air 2. Check out the full tutorial below.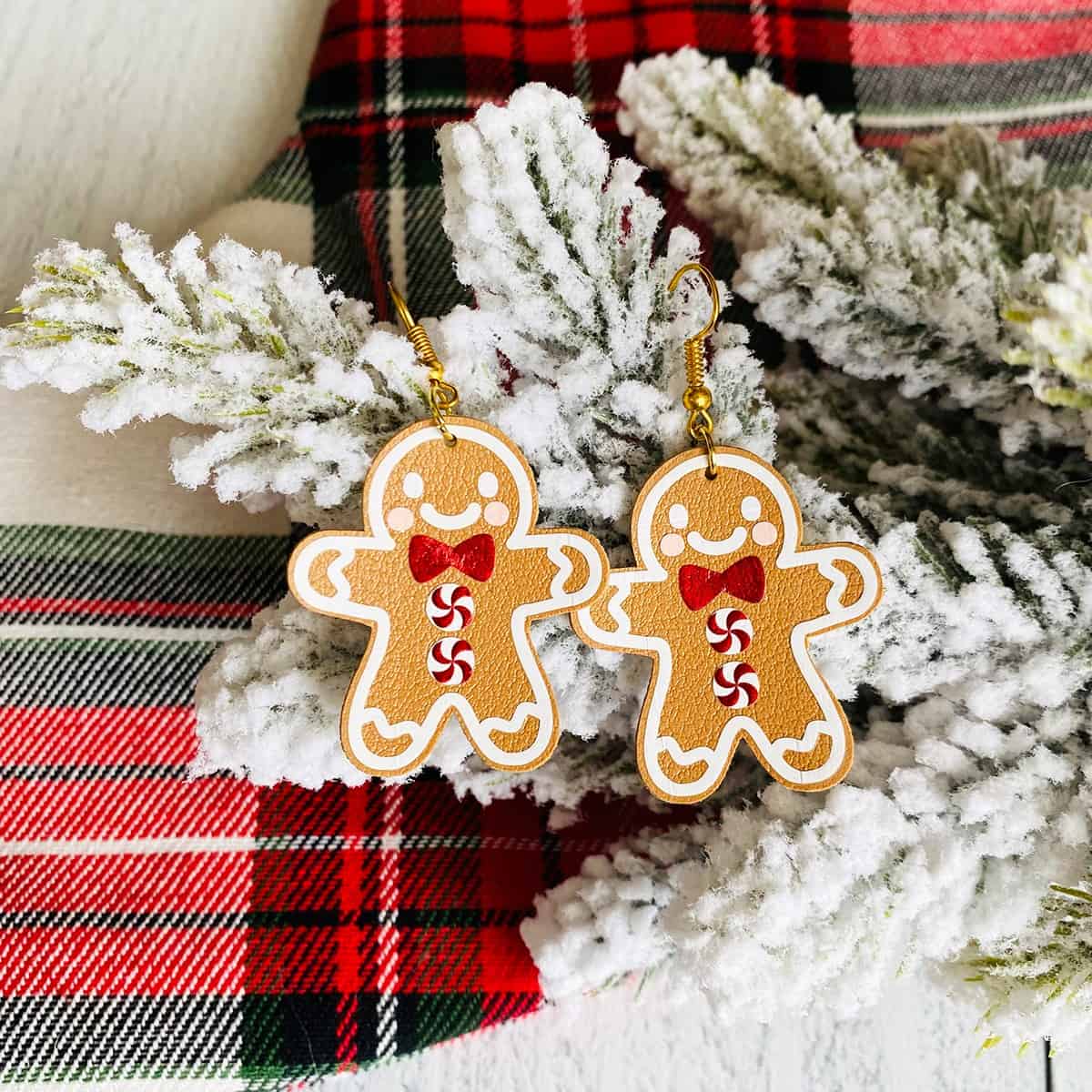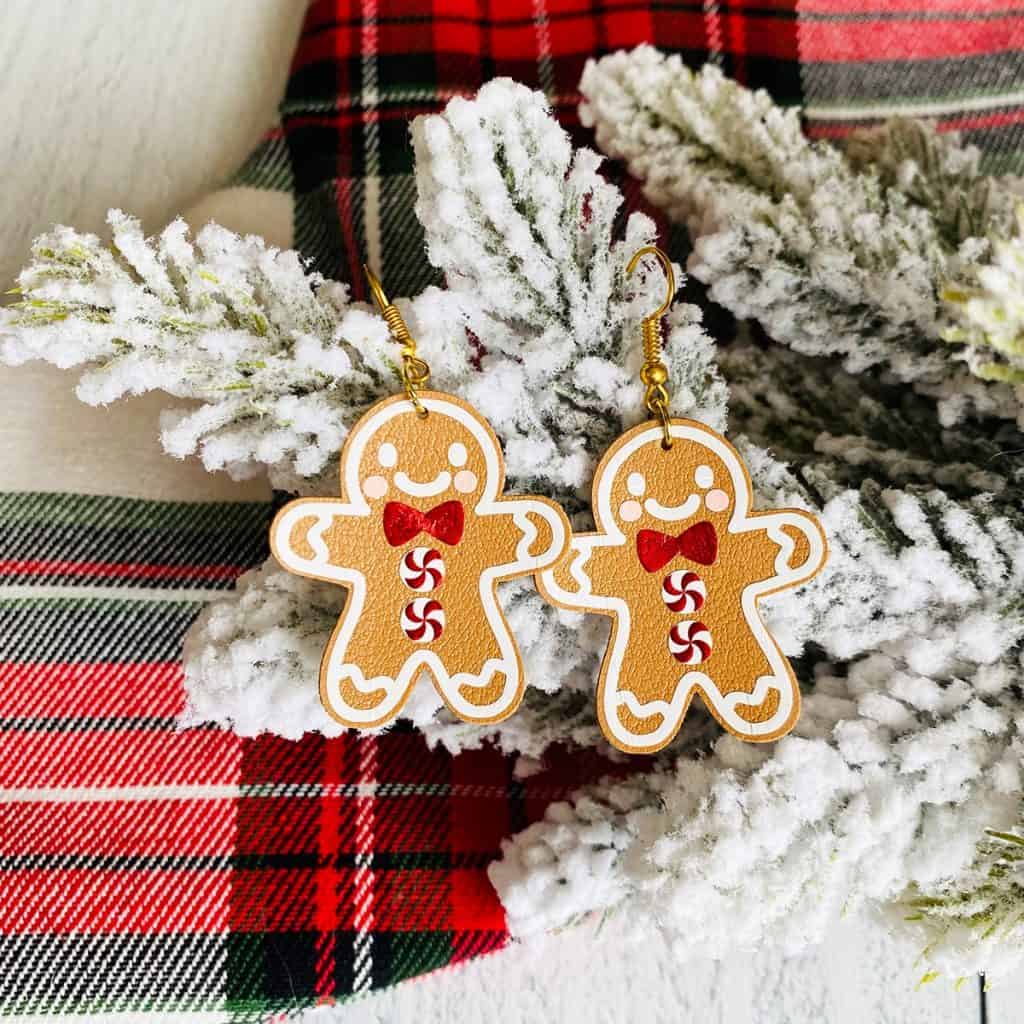 #4 - Santa and Candy Cane Earrings
The North Pole wouldn't be complete without Santa and Candy Canes - maybe Santa should get Mrs. Claus a pair of these earrings? These fun Christmas earrings are made from white faux leather and layers of heat transfer vinyl. Cut this holiday earring SVG with your Cricut Maker, Explore Air 2, Cricut Joy, or your Silhouette!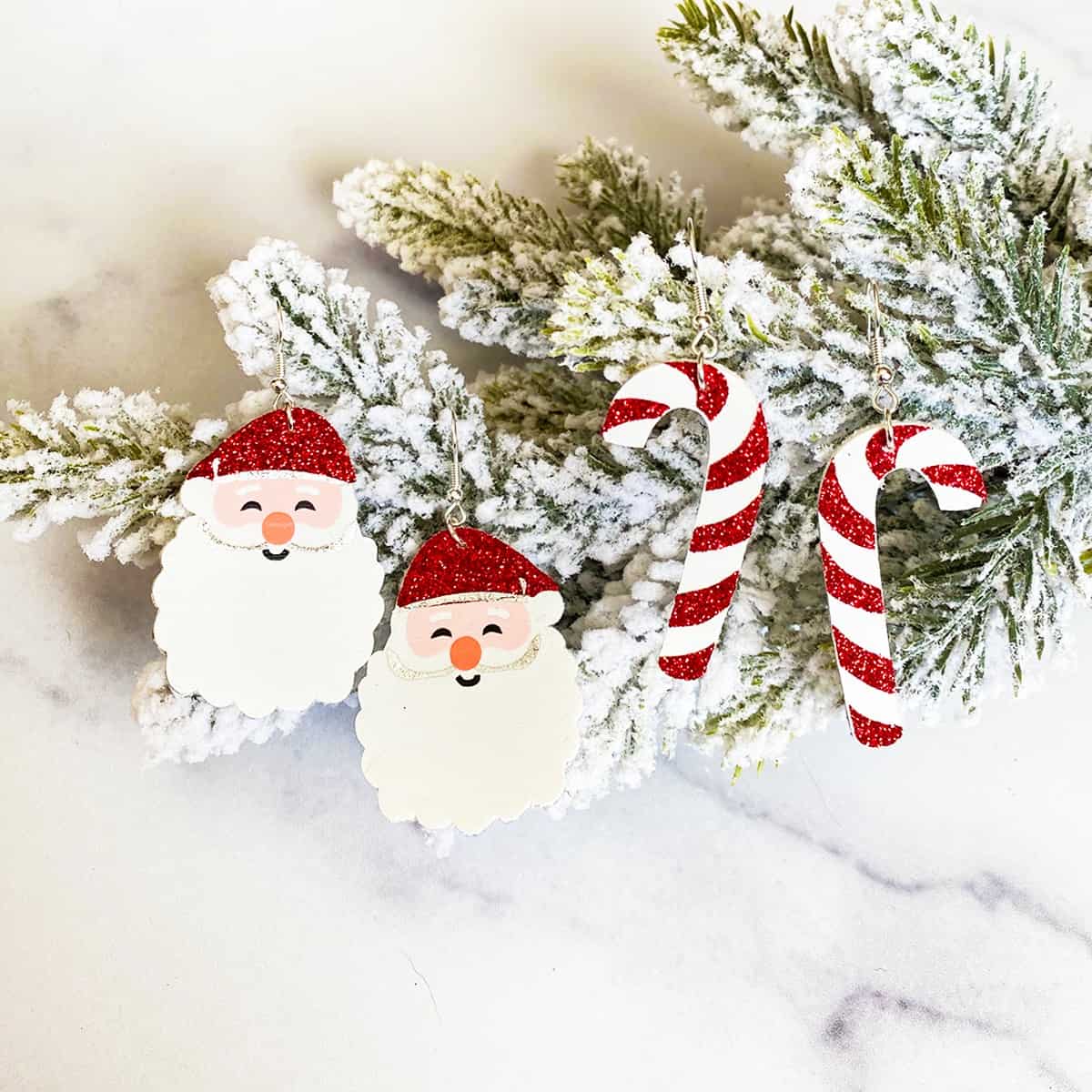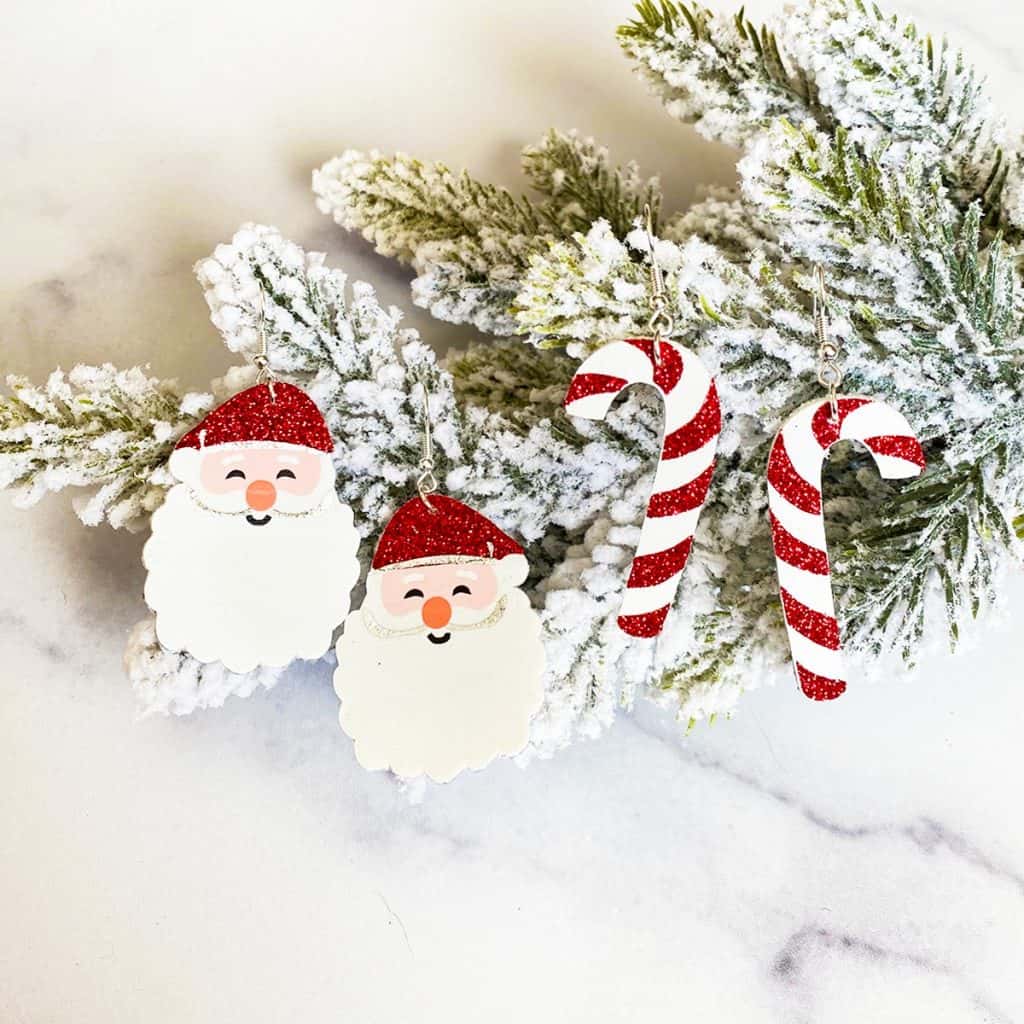 #5 - Snowflake Earrings
These tiny snowflake earrings are one of my favorite Christmas earring SVG designs. They are made from faux leather for the base and then two layers of heat transfer vinyl. I used silver faux leather, white solid HTV, and silver foil iron on to create these DIY holiday earrings with a Cricut. You can use any colors of faux leather and heat transfer vinyl (icy blue shades would be nice!) to create a winter wonderland for your ears!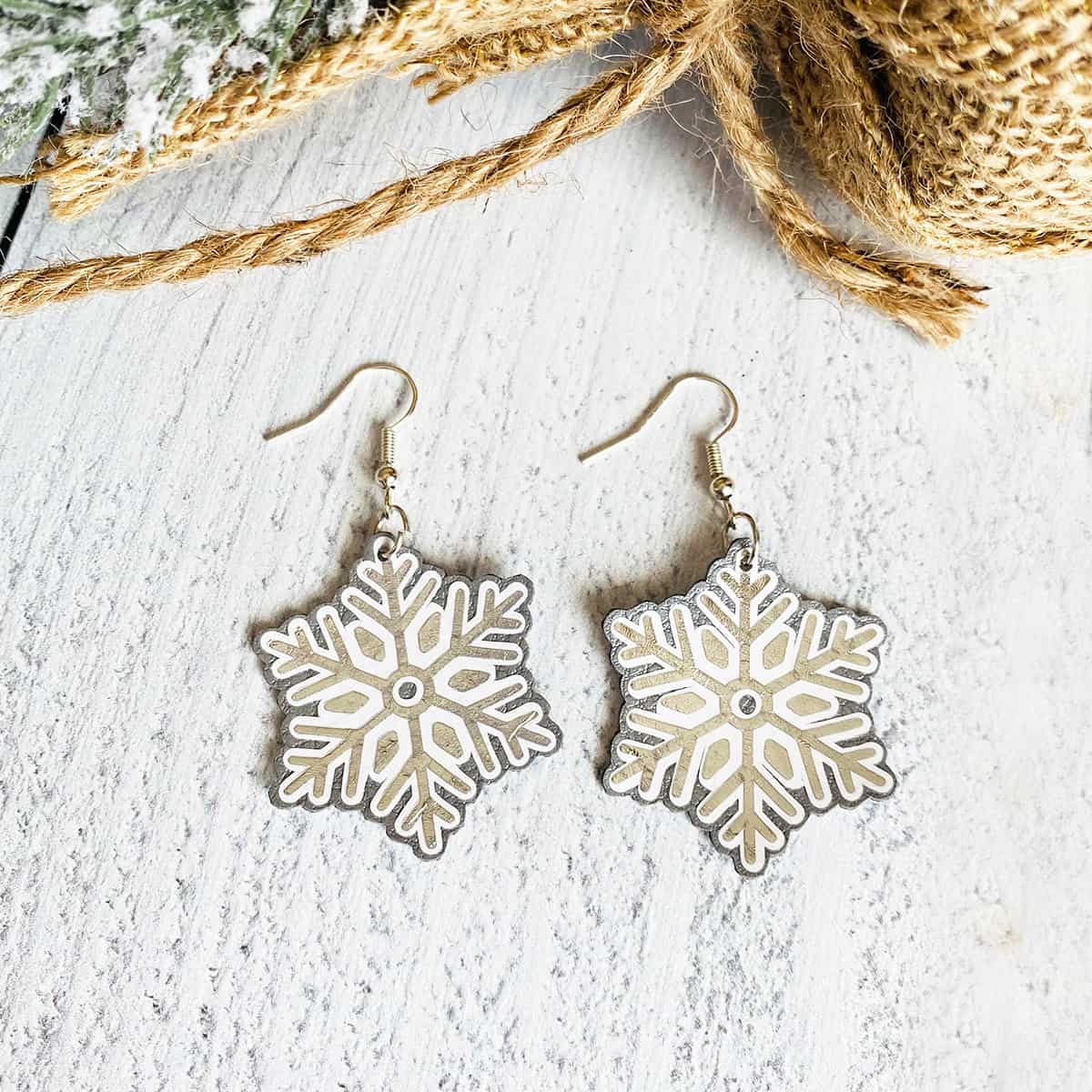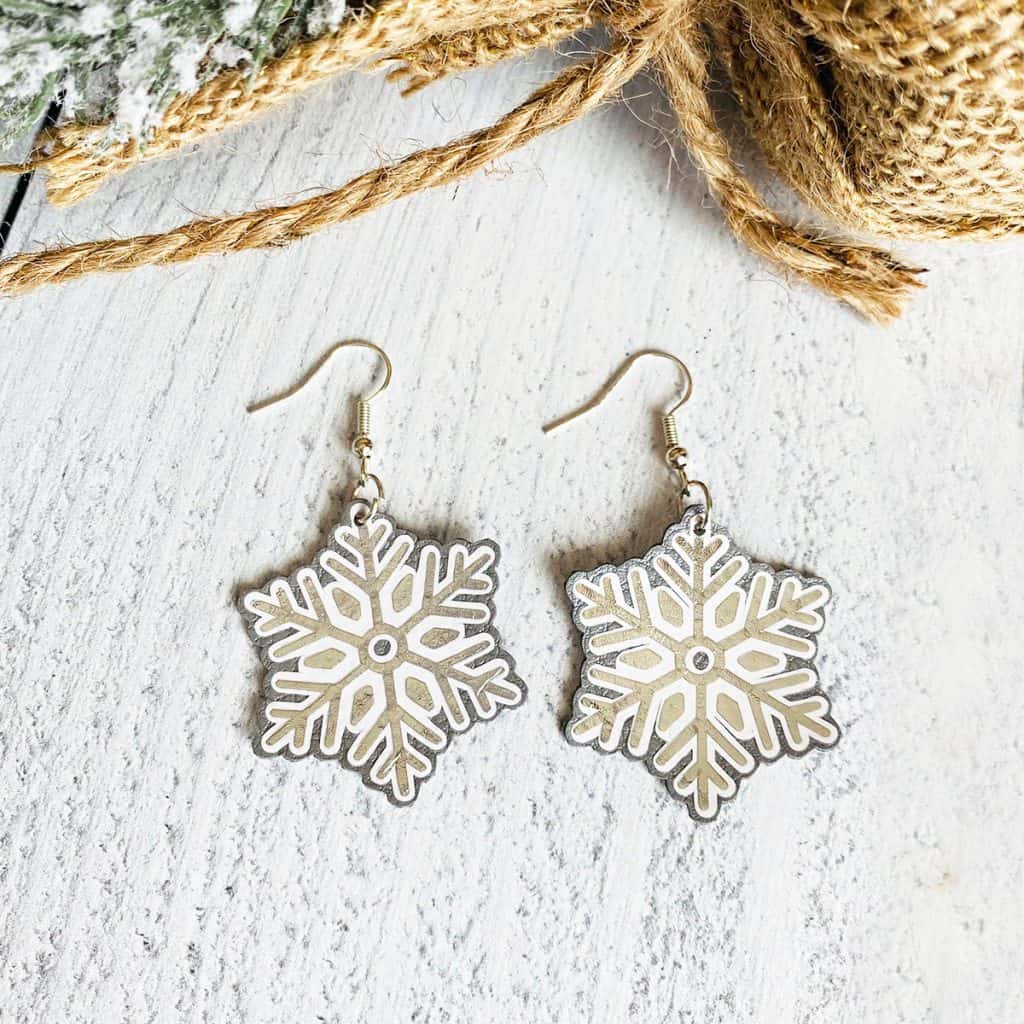 #6 - Gnome Earrings
Gnomes are all the rage in holiday decorating, and now you can make these festive Christmas gnome earrings with your Cricut to gift to family and friends. The gnome earring SVG earring template is designed for easy crafting - these little guys are made from one layer of white faux leather and just two layers of heat transfer vinyl. Easy peasy! Get the link to the tutorial and the FREE SVG earring template below.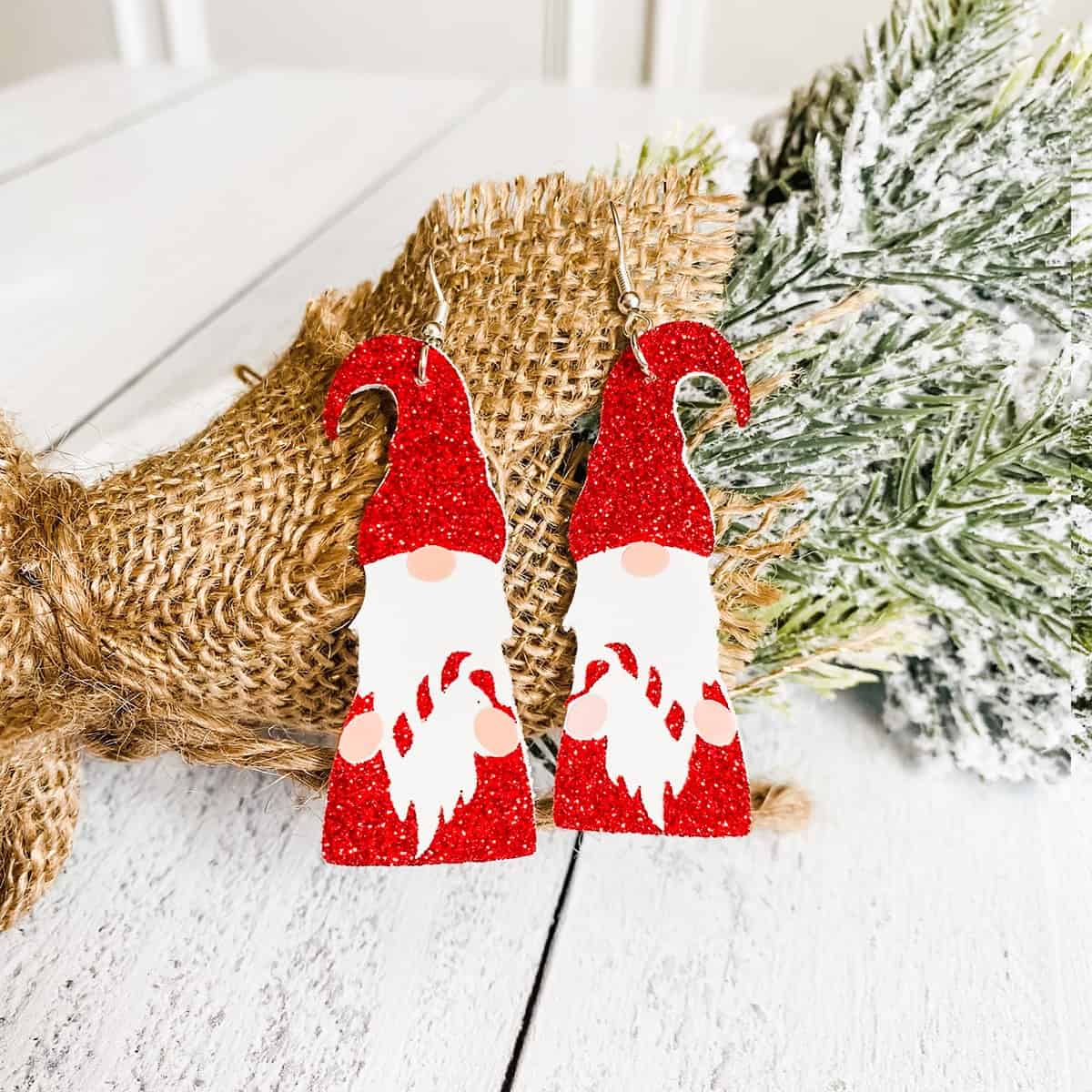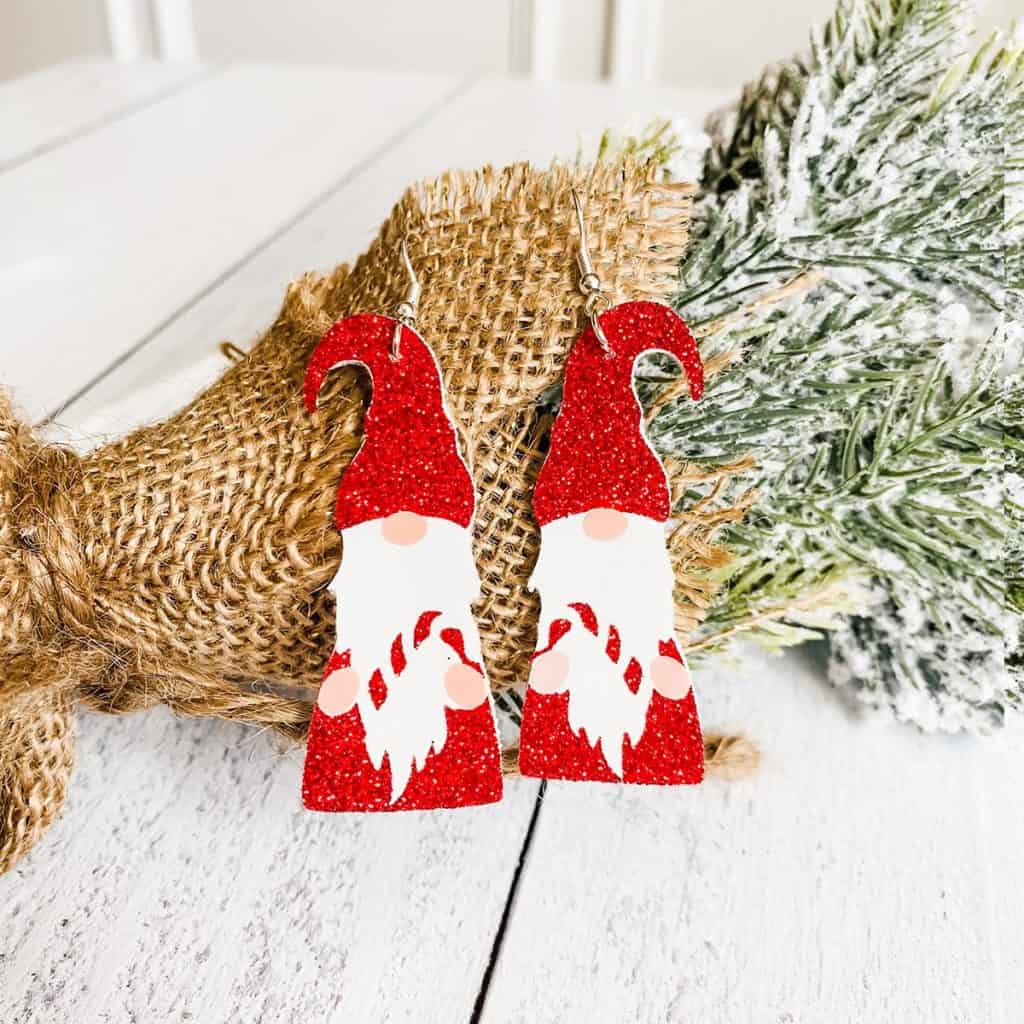 #7 - Easy Holiday Earrings
If layering vinyl is new to you and feels intimidating, then this holiday earrings project is for you! These earrings are made from one layer of faux leather and one layer of heat transfer vinyl. Simply choose from 6 free holiday earring SVG templates and you'll be making easy holiday earrings with faux leather and a Cricut for gifts, or for yourself!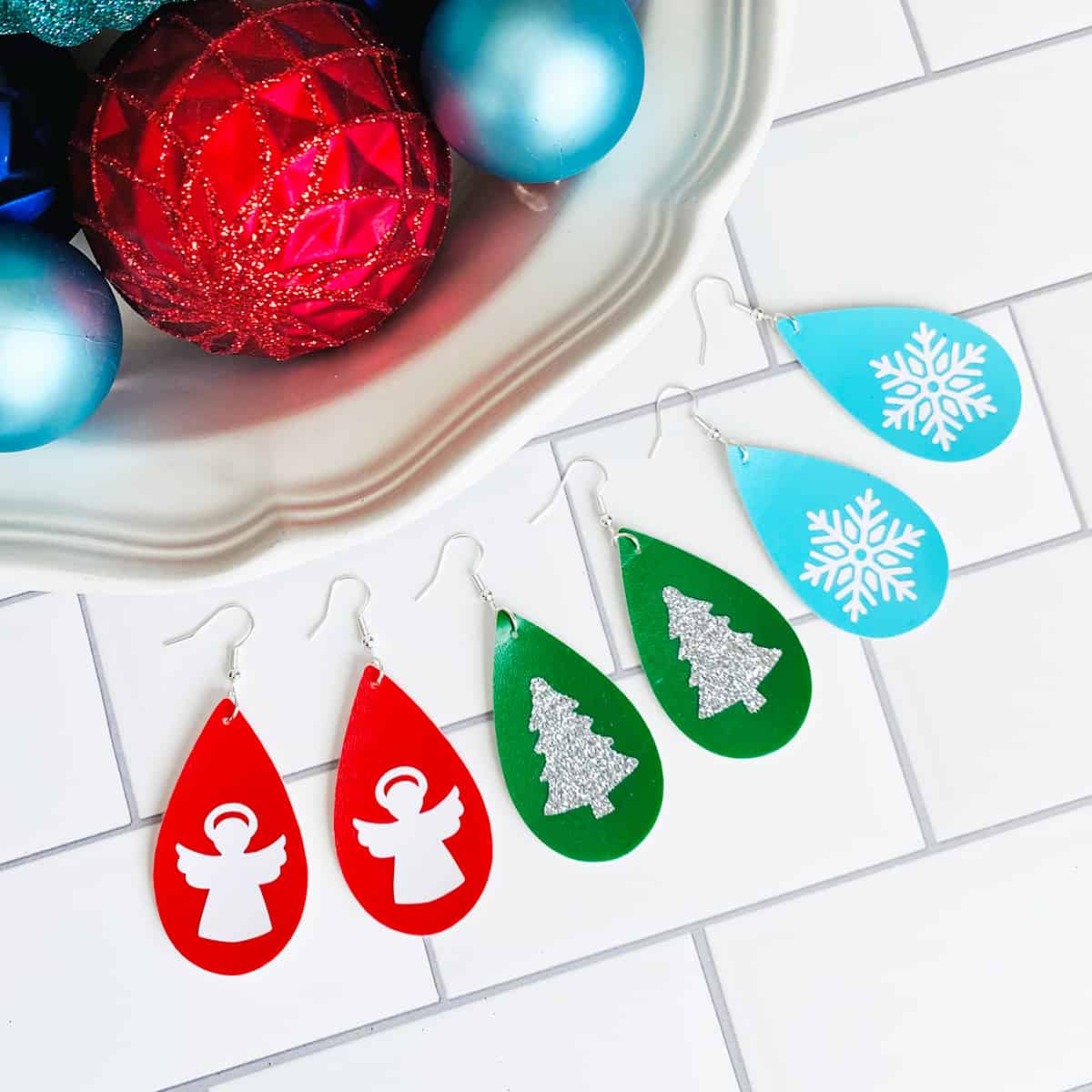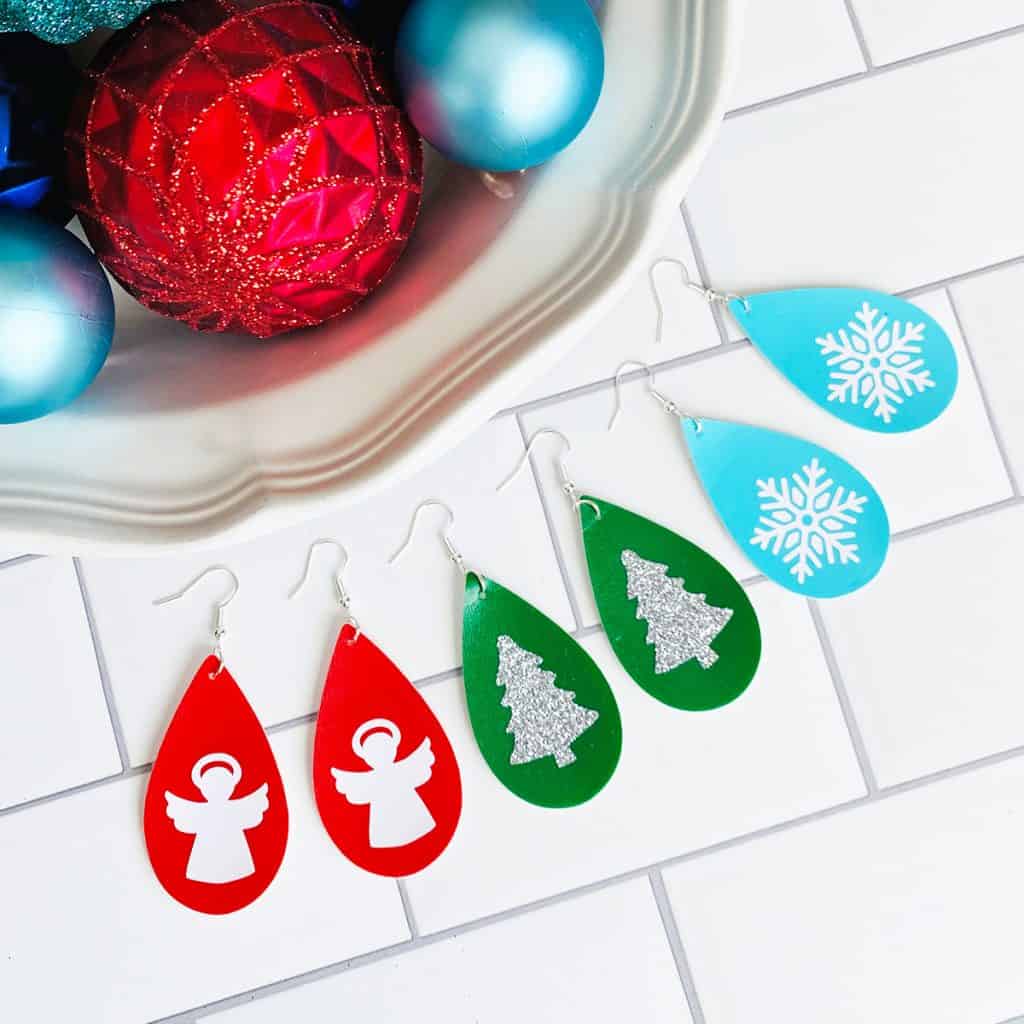 INTERESTED IN SELLING EARRINGS MADE FROM MY HOLIDAY EARIRNG SVG FILES?
I hope you love ALL of these Christmas earring SVG designs as much as I do! All of my designs are free for personal use only. If you want to use my designs to sell, I have commercial licenses available.
Single design licenses are available in my shop here:
Single Design Commercial Use License
If you want to make and sell earrings from more than one of these designs, I have an unlimited use commercial license (for these and more designs from my 10 Days of Crafting Event and the Holiday MakerFest) available in my shop here:
Unlimited Commercial Use License
If you do make any of these easy Christmas earrings with your Cricut or Silhouette, I would love to see them! Please share a photo of them in the comments, or tag me on Instagram: @amyromeucreative
Want to see all of my Cricut earring & jewelry tutorials? CLICK HERE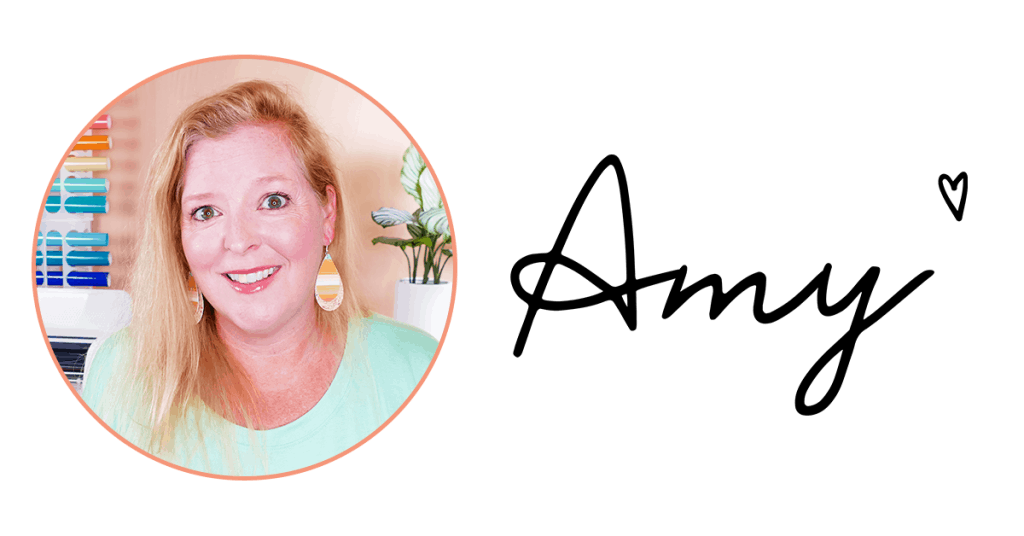 WANT TO REMEMBER THIS? POST THIS COLLECTION OF CHRISTMAS EARRINGS TO YOUR FAVORITE PINTEREST BOARD!