Easy Sublimation Earrings with Cricut Infusible Ink
Learn how to make Easy Sublimation Earrings without a Sublimation Printer using Cricut Infusible Ink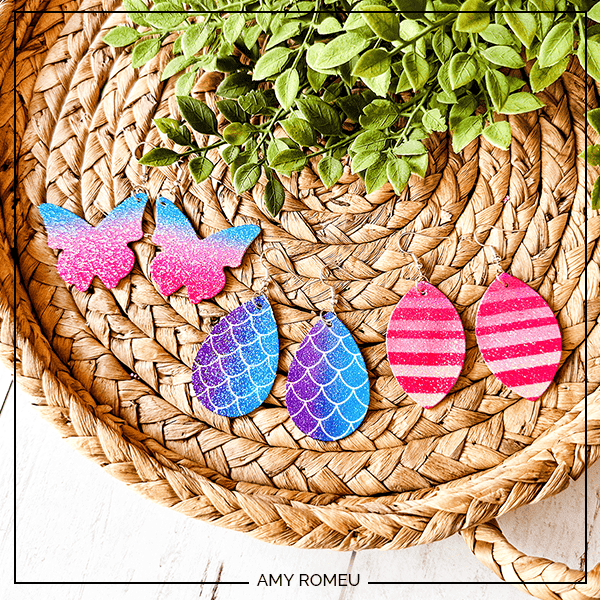 Interested in making Sublimation Earrings but don't have a sublimation printer? You can get started making sublimation earrings without a sublimation printer easily and inexpensively by using Cricut Infusible Ink. Keep reading to learn how!
Learn how to make Sublimation Earrings without a Sublimation Printer
Sublimation is the latest crafting craze, and crafters everywhere are making vibrant colored t-shirts, coffee mugs, garden flags, signs, and so much more.
Making sublimation jewelry is possible, too, but if you don't yet have a sublimation printer due to the heavy investment cost of sublimation supplies, you may wonder if you can make sublimation earrings without a printer. The answer is, yes, you can!
Cricut Infusible Ink transfer sheets are pre-printed sublimation ink sheets perfect for making sublimation items without an expensive sublimation printer.
You only need special sublimation earring blanks, some infusible ink, and a heat press to get started.
So if you want to learn more about what supplies you need to make sublimation earrings using Cricut Infusible Ink instead of a sublimation printer, let's get started!
How to make Easy Sublimation Earrings Step by Step
This page contains some affiliate links (which means if you make a purchase after clicking a link, I will earn a small commission at no additional cost to you). Read my full disclosure policy here.
Materials you'll need to make Sublimation Earrings without a Sublimation Printer
Step by Step Instructions
Step 1: I used Cricut Infusible Ink for this easy sublimation earrings project. This Mermaid pattern includes four different sheets of infusible ink. Take the sheets out of the protective packaging.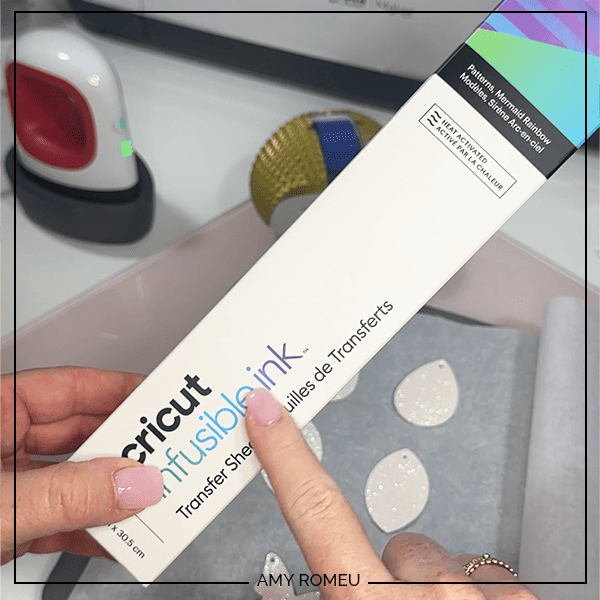 Step 2: Using clean and dry hands, cut a piece of infusible ink to a size just larger than the earring blanks. If the infusible ink has a pattern, color fade, or direction to it, be sure you cut the same design or pattern for both earrings.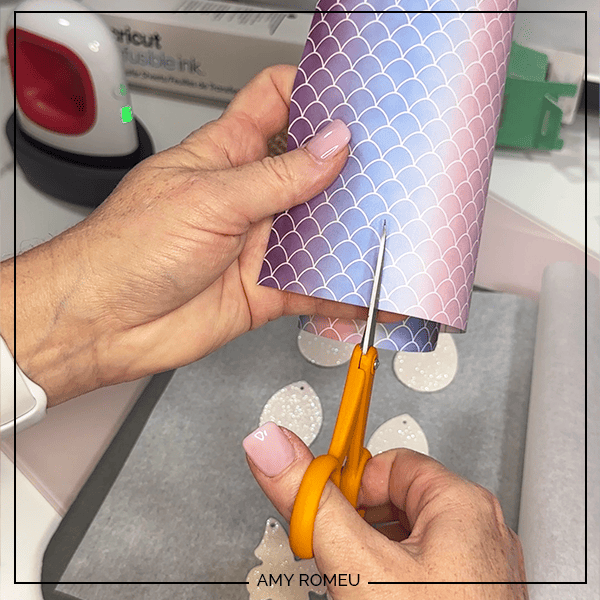 Step 3: I'm using sublimation earring blanks that are flexible and have a canvas-like feel with white glitter on both sides. The white glitter will sublimate beautifully.
As an alternative, you can also use sublimation earring blanks that have a MDF core and a sublimation coating on top (often these are also double sided).
Place the sublimation earring blank on the desired section of the Infusible Ink pattern. Be sure to line up both blanks on the exact same part of the Infusible Ink sheets so your earrings will be symmetrical.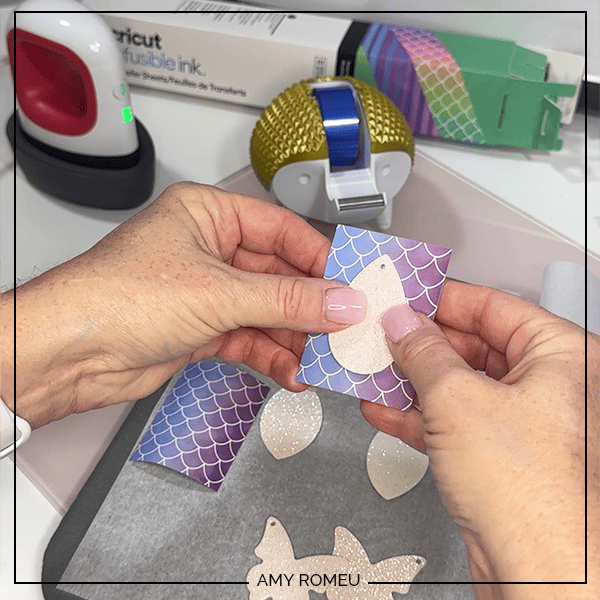 Step 4: Using some heat resistant tape, tape the earring blank to the Infusible Ink sheet.
Turn on your Cricut EasyPress Mini to the HIGH setting, or an Easy Press or Heat Press to 400 degrees.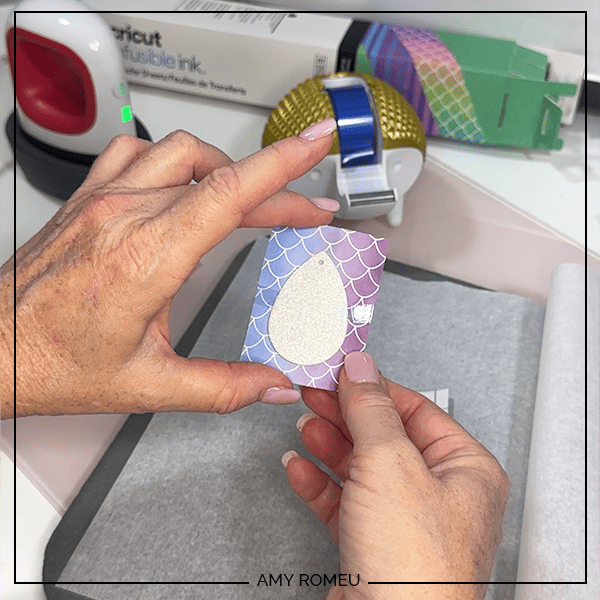 Step 5: On a heat pressing pad, place a piece of butcher paper, parchment paper, or cardstock down to protect the surface of the pressing pad from ink transfer.
Place the earring blanks Infusible Ink sheet side up on the parchment paper. Then cover with another layer of protective paper like parchment paper or butcher paper.
Step 6: When the heat press has reached 385-400 degrees, start pressing the earring blanks for 60 seconds each.
Step 8: Carefully remove the top cover sheet, then peel away the Infusible Ink sheet from the earring blank. Repeat the pressing process with the second earring.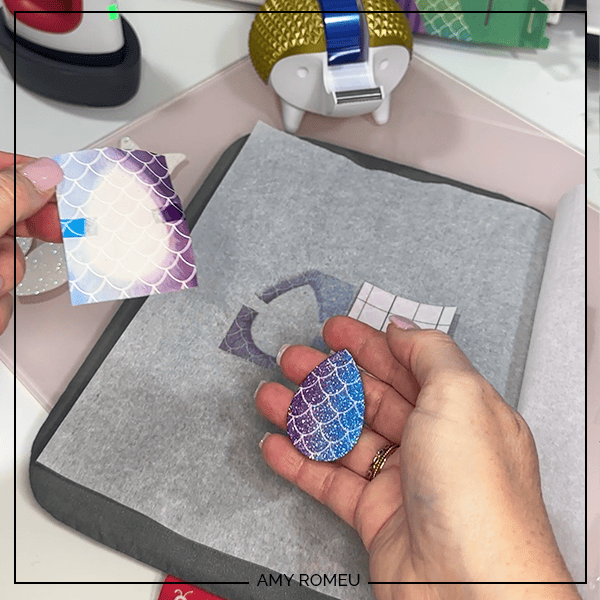 Step 9: Use flat nose pliers to open the jump rings and connect the earring hook to the sublimation earring. Repeat with the other earring.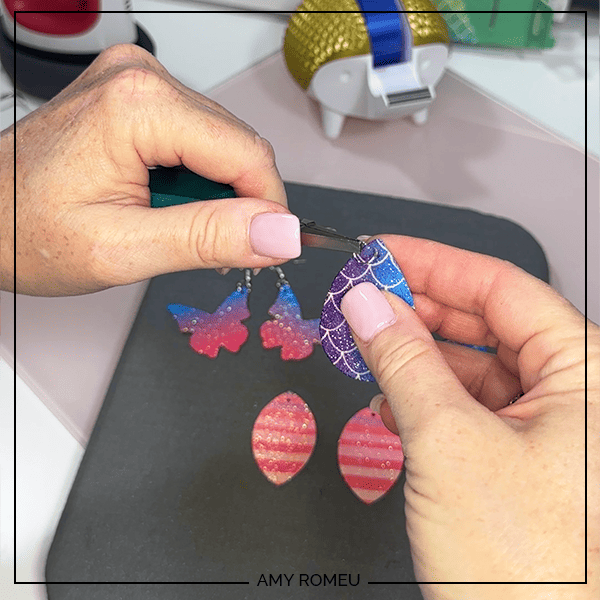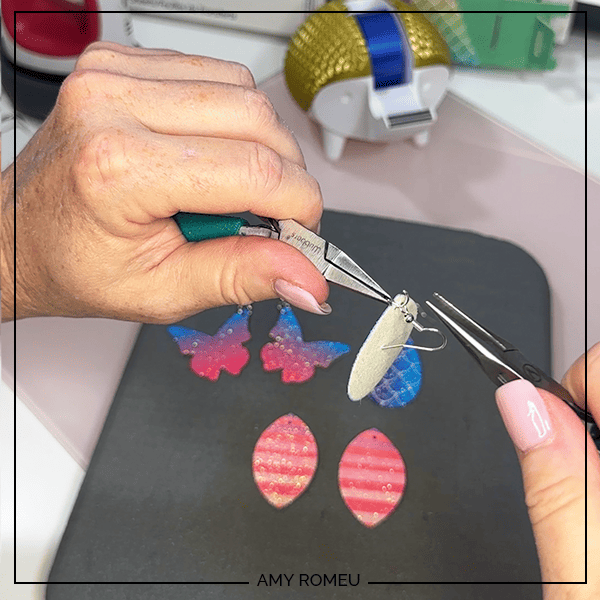 Step 10: Repeat pressing the rest of the earring blanks using different areas of the Infusible Ink sheets for a variety of different and colorful earrings!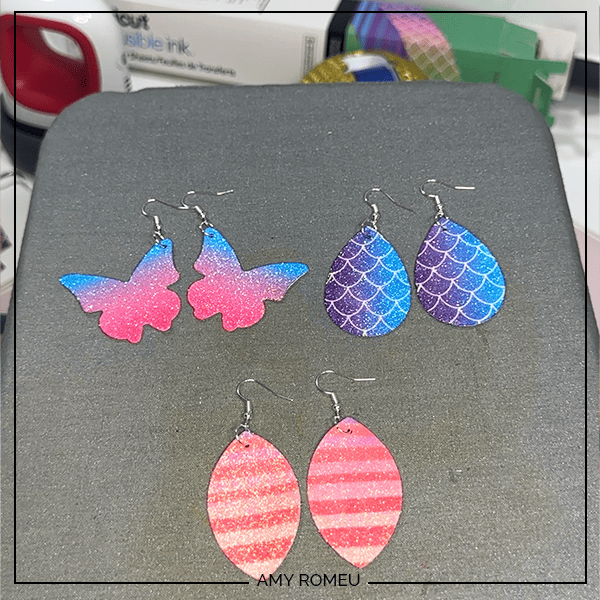 That's it! Easy Peasy! Remember Infusible Ink can be layered, cut with a Cricut, or with scissors to create an endless assortment of easy sublimation earrings without a printer!
Until next time… happy crafting!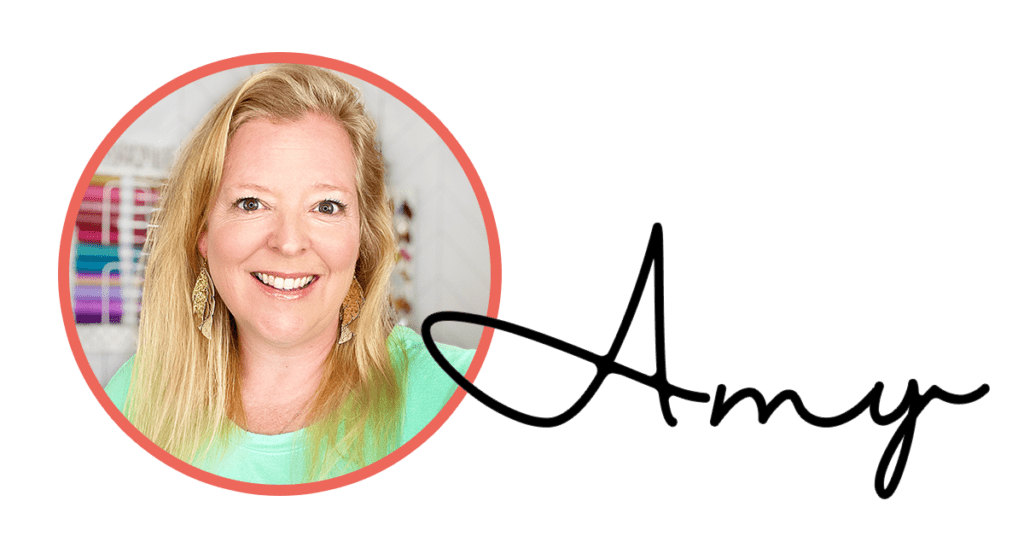 If you loved this project, you'll love these projects too:
Answers to your questions about making Sublimation Earrings with Cricut Infusible Ink
Q: Can you sublimate on earrings?
A: Yes! You can sublimate earrings by using special sublimation earring blanks and a heat press. You can use a sublimation printer to print sublimation designs to press on the earring blanks, or if you don't have a sublimation printer you can use Cricut Infusible Ink to make easy sublimation earrings.
Q: What are sublimation earrings made of?
A: Sublimation blanks are often made of a MDF core with a sublimation coating outside. There are also sublimation blanks like the ones I used in this project that are a canvas core with white glitter on the outside that accepts sublimation ink beautifully.
Q: How long do I press sublimation earrings?
A: I press sublimation earrings for 60 seconds.
Q: What is heat temperature for sublimation earrings?
A: I press sublimation earrings at 385-400 degrees, or on the High setting on the Cricut Easy Press Mini.
Want instant access to my Free Resource Library full of SVG files?
Just Enter your name and email Below!
By signing up, you'll get instant access to my FREE SVG Library with hundreds of crafting SVG templates! You'll also get my weekly newsletter full of crafting ideas, tutorials, and inspiration! Unsubscribe anytime.
Want to remember this project? Save this tutorial to your favorite Pinterest board!