Personalized Cricut Infusible Ink Keychains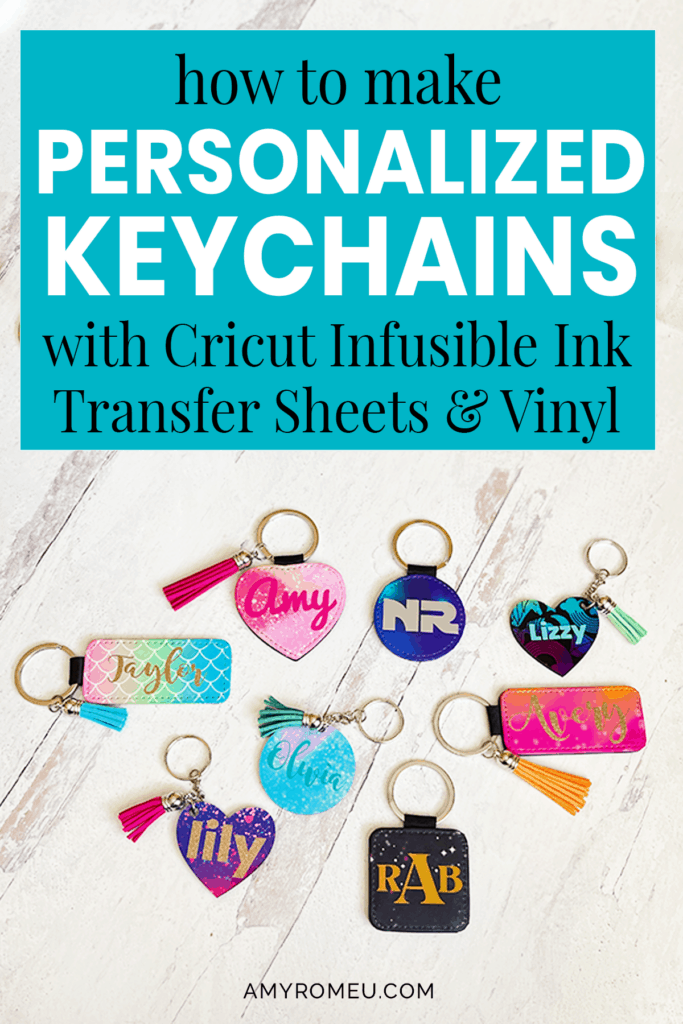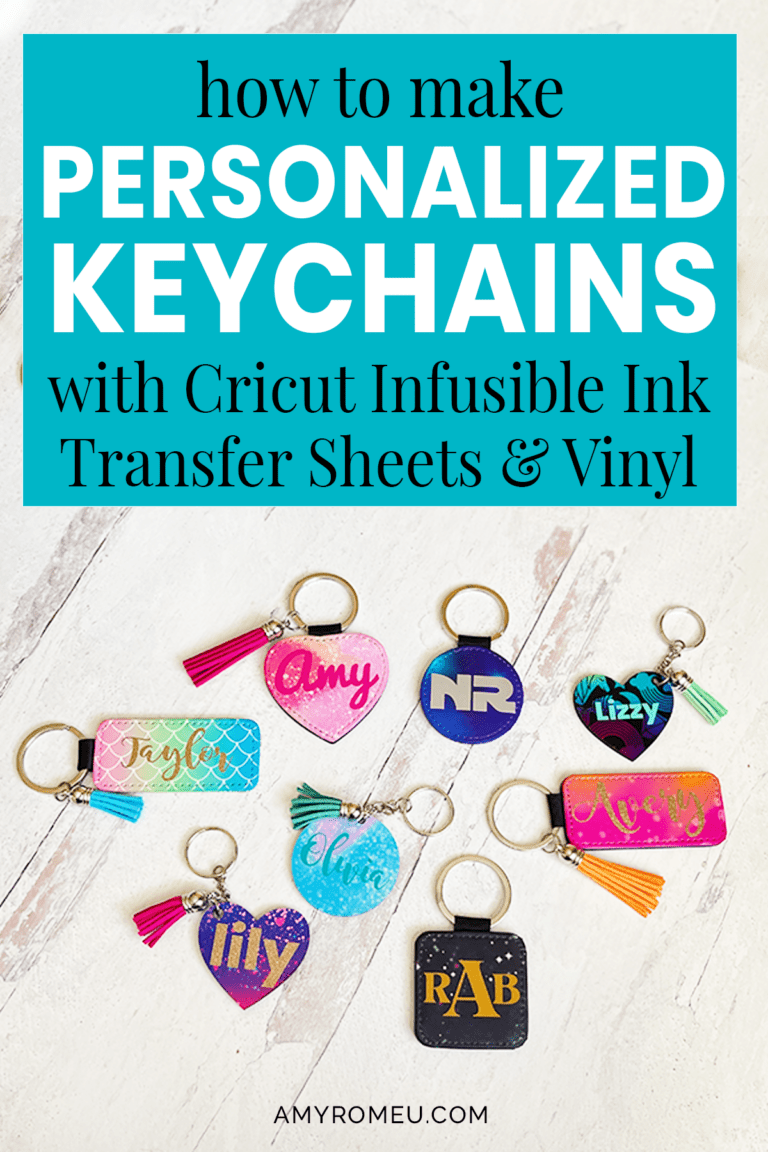 Make Personalized Keychains with Cricut Infusible Ink
My Cricut Infusible Ink stash has been growing larger all year, and with Back to School around the corner, my daughter asked if I could make her and her friends some personalized keychains for their backpacks.
Not only was I happy to help, I knew making Cricut Infusible Ink Keychains would be the perfect project to create colorful and vivid designs using all of my infusible ink prints and patterns!
Cricut Infusible Ink is essentially a form of sublimation, and uses heat to transfer brightly pigmented color to blanks that are designed to receive the ink transfer. One of the benefits of infusible ink is it permanently bonds with the surface of the blank instead of vinyl, which is only applied as a layer to the top of the surface underneath.
The result is rich, vibrant color that won't peel off, bubble, or scratch.
I used Cricut Infusible Ink to create these colorful, personalized keychains, perfect for Back to School backpack tags, party favors, gift tags, or stocking stuffers! Ready to learn how to make Cricut Infusible Ink Keychains? Let's get started!
If you'd rather watch a video of this project, click below:
Want to see all of my Cricut earring & jewelry tutorials? CLICK HERE
This post contains some affiliate links (which means if you make a purchase after clicking a link, I will earn a small commission at no additional cost to you). Read my full disclosure policy here.
Cricut Infusible Ink Personalized Keychains – Materials List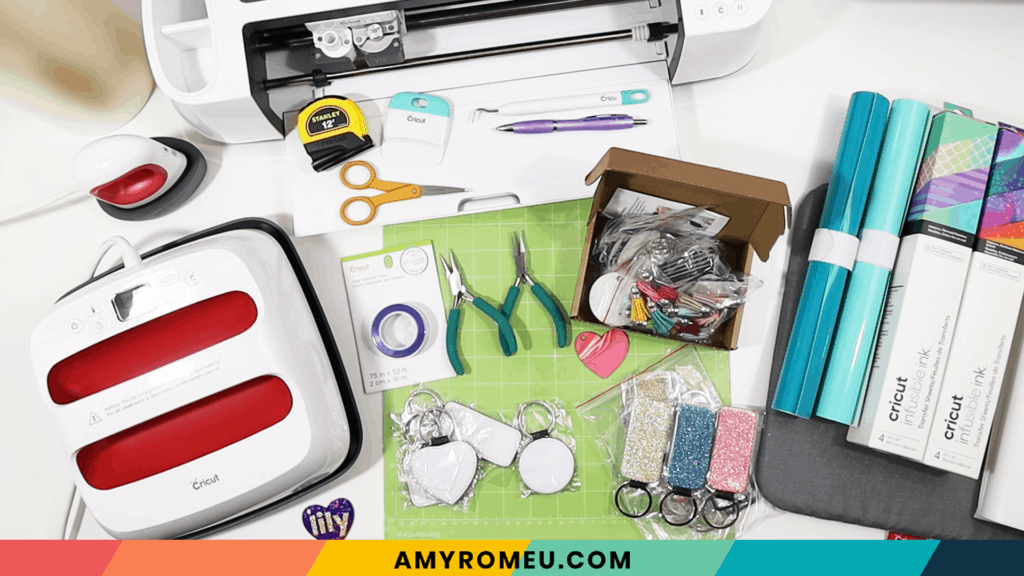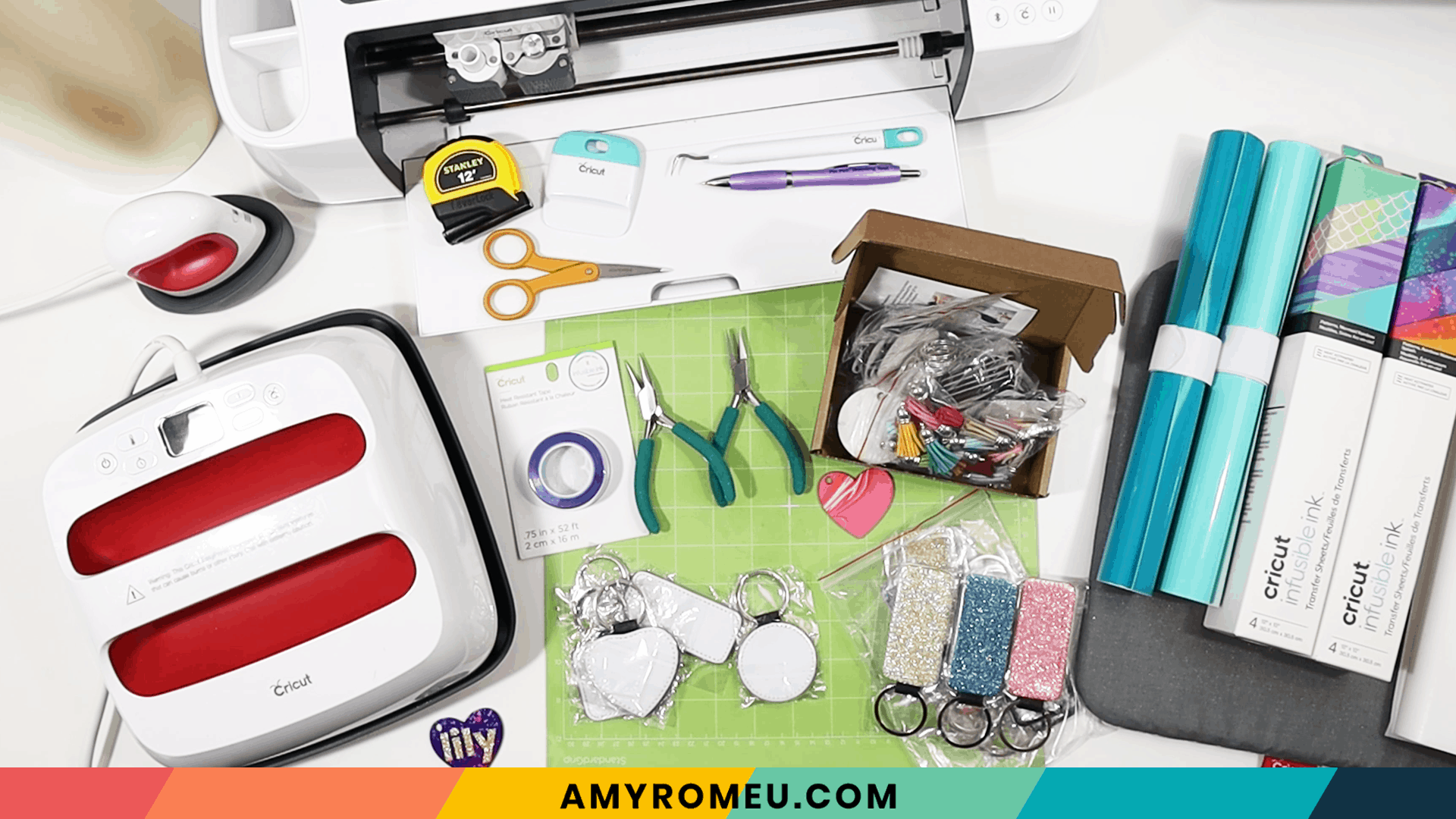 A Cricut cutting machine (or other cutting machine like a Silhouette). I used the Cricut Maker, but you can use the Cricut Maker 3, the Explore Air 2 or Explore 3, or the Cricut Joy.
EasyPress Mat to press your items without damaging your work surface. I used the 12×12 size mat, available on Amazon here.
Permanent Vinyl in the colors of your choice. I used this Gold Glitter and this Turquoise permanent vinyl.
A weeding tool, a scraper, and scissors. I love the weeding tools in my Cricut tool set, which I got from Amazon here. You can get also get the basic Cricut tool set at Michael's here.
PROJECT INSTRUCTIONS
STEP 1 – Press Infusible Ink onto Keychain Blank
It's important to protect your work surface well when using Infusible Ink. Have clean and dry hands. Oil, sweat, or warmth on your fingers can cause a transfer of infusible ink.
Open the infusible ink package carefully. You'll notice the colors seem faded or muted – that's normal. The colors will be much more vibrant after pressing.
Infusible ink requires 400 degree heat to transfer the ink into the keychain blank. I used my 12×12 Easy Press at 400 degrees for 60 seconds. For other blank materials, consult Cricut's Heat Guide for the recommended time and temperature.
While the Easy Press is pre-heating, cut a piece of infusible ink transfer sheet just slightly larger then the keychain surface.
Place an Easy Press Mat on your work surface. Cover the mat with a layer of butcher paper or parchment paper (butcher paper is included in the infusible ink package).
Using heat resistant tape, tape the infusible ink colored side down in place on the keychain blank. The transfer sheet should be taped securely so it doesn't wiggle or move.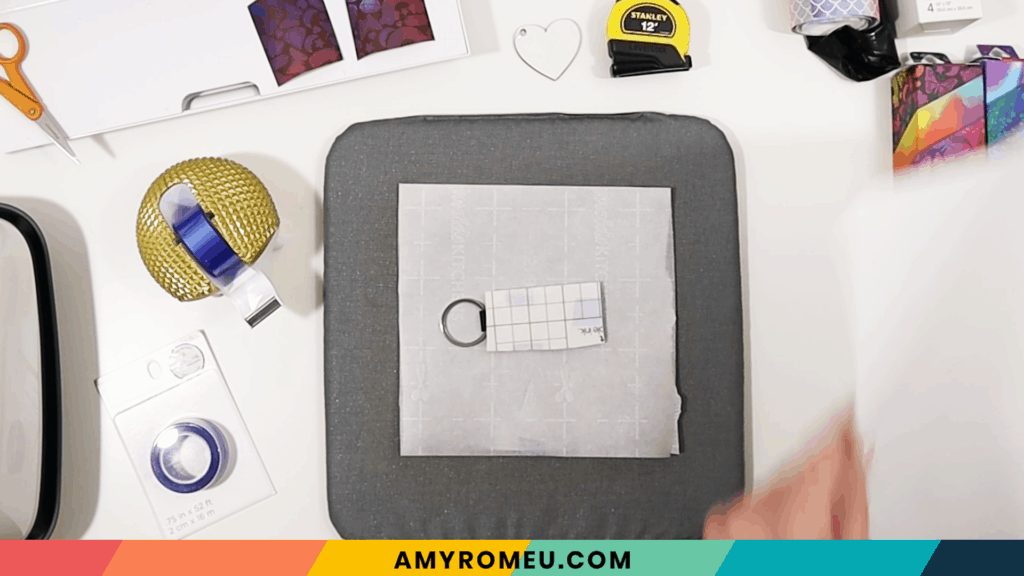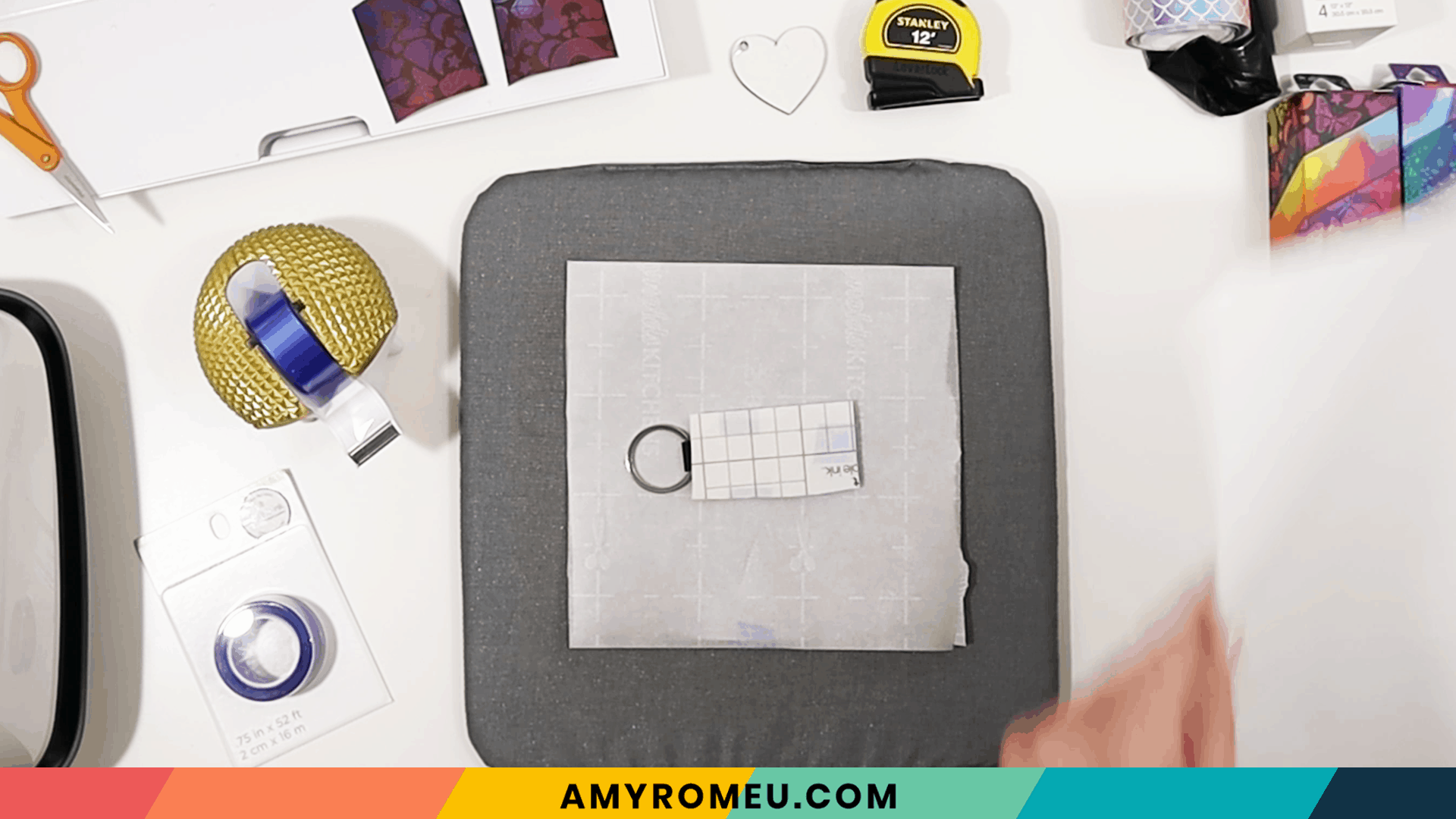 Place the keychain blank down on the mat. Cover with another piece of parchment paper or butcher paper.
Carefully place the Easy Press onto the covered keychain blank. Press the C button to begin the countdown timer. It isn't necessary to apply pressure to the Easy Press.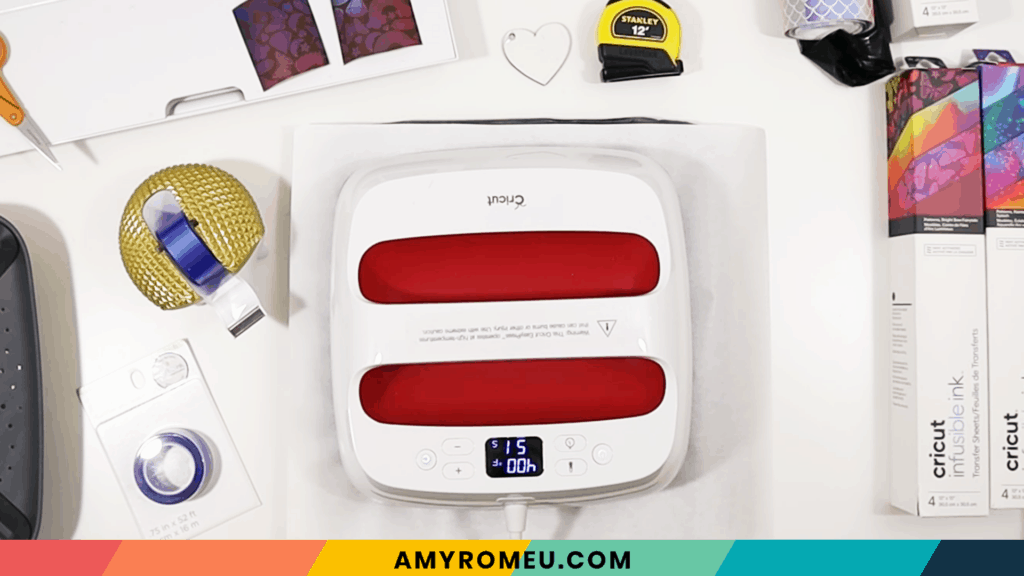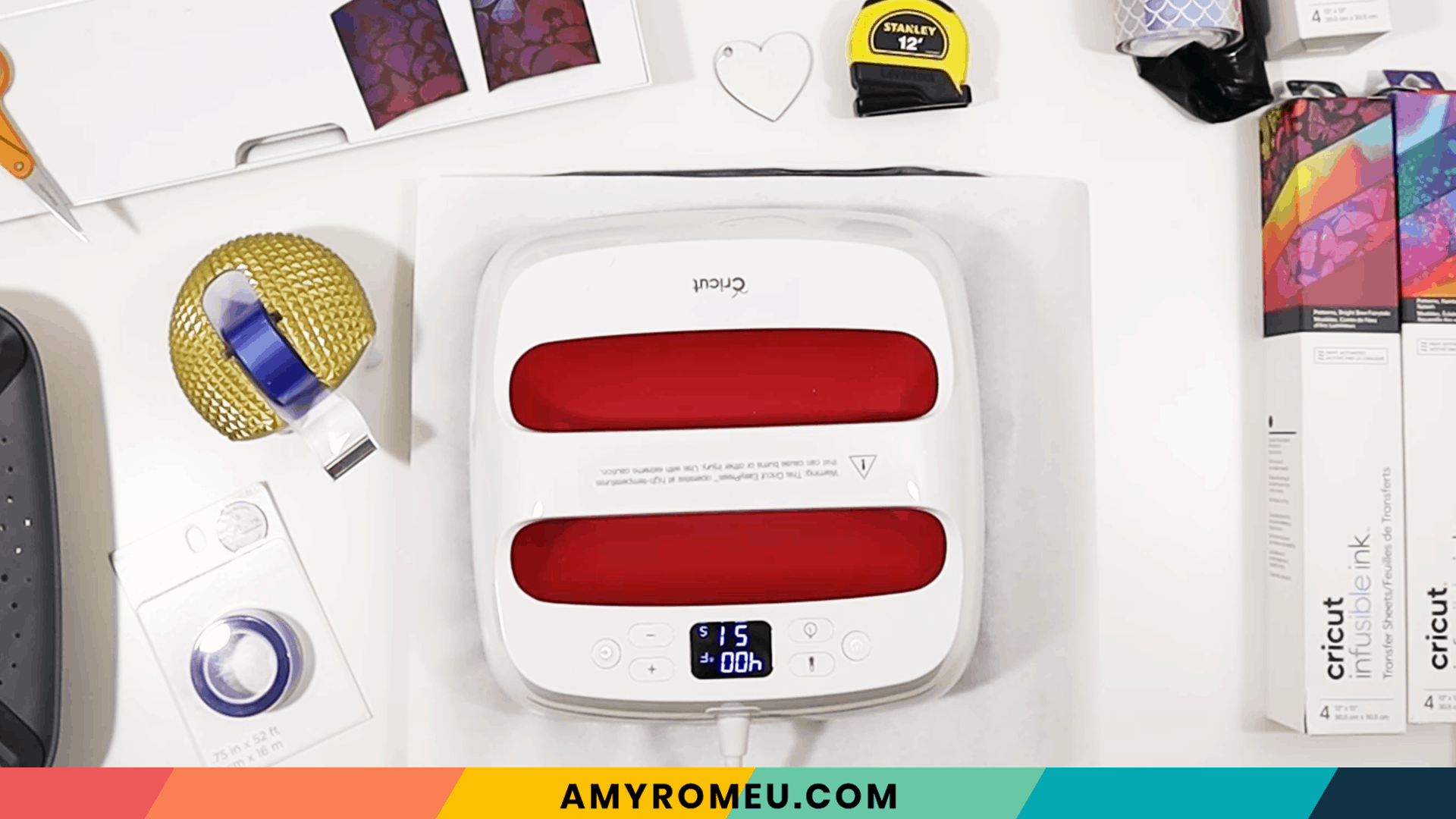 When the timer beeps, carefully return the Easy Press to it's base. Remove the cover sheet and allow the keychain to cool for approximately 5 minutes.
When the keychain has cooled, use small scissors to cut away the heat resistant tape and reveal the pressed keychain.
You can see how much more vibrant the colors are as compared to the infusible ink transfer sheet.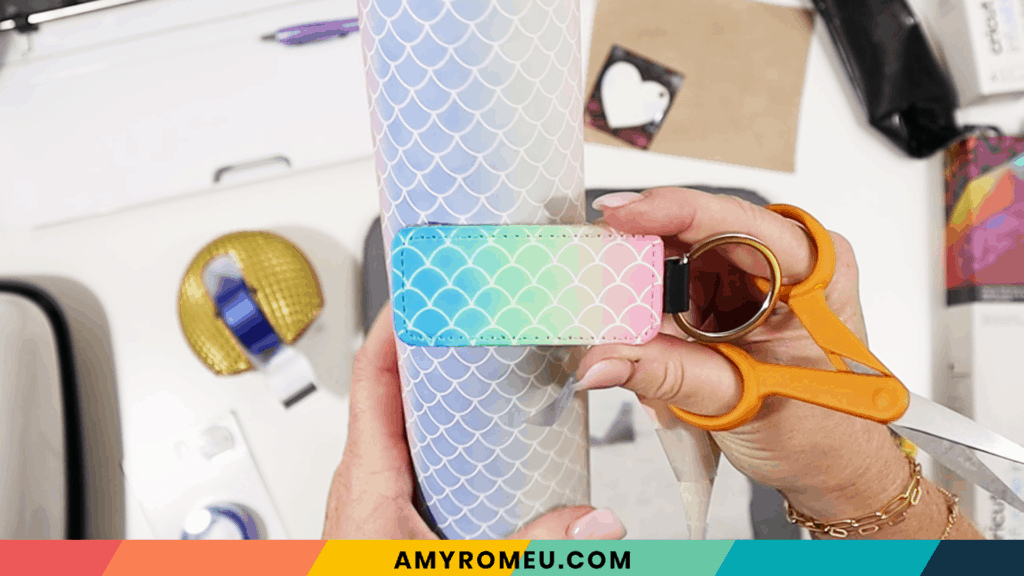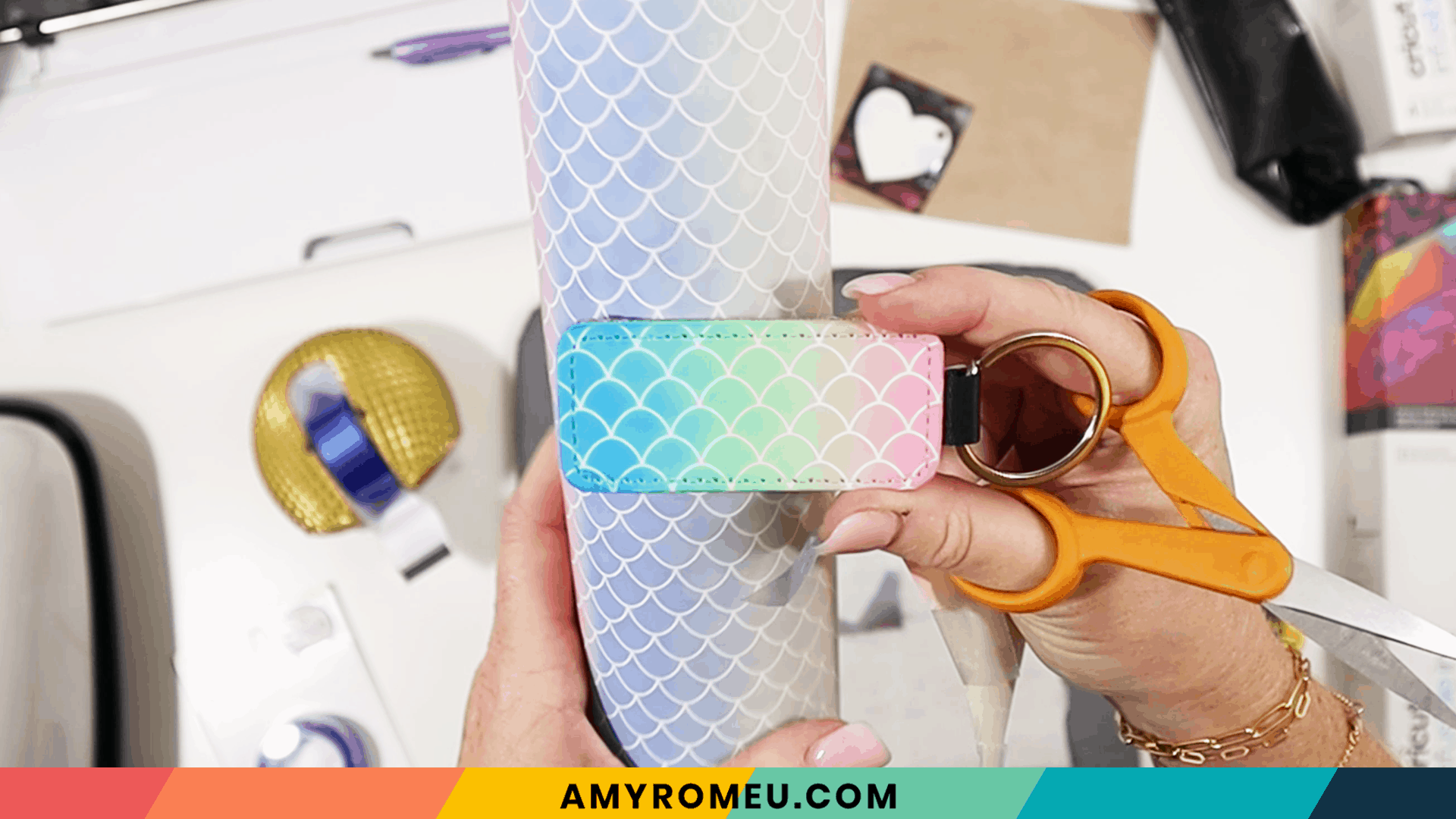 If you are using a double sided blank, repeat the steps above to press infusible ink onto the reverse side.
IMPORTANT: Many sublimation blanks (MDF ones especially) are covered with a protective plastic coating. It may be clear, or blue. You must peel off the protective coating before pressing. If pressing double sided blanks, keep the protective coating on the back side until you are ready to press that side.
Measure the space your text will go in, being sure to leave room around the edges and not cross over any stitching. Make a note of the maximum space measurement to use in the next step. For this keychain the maximum size my text should be is 2.5 inches wide and 1 inch tall.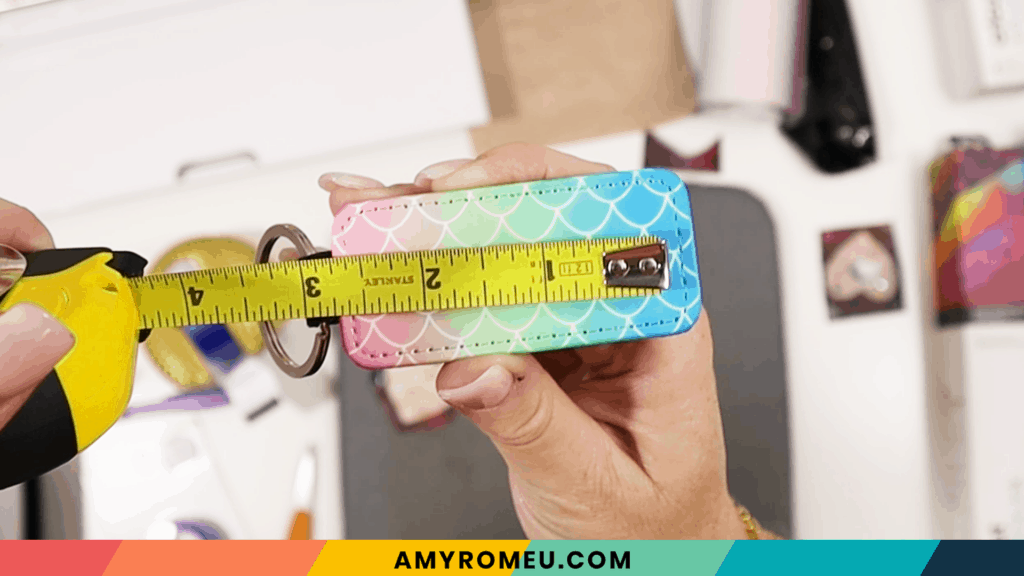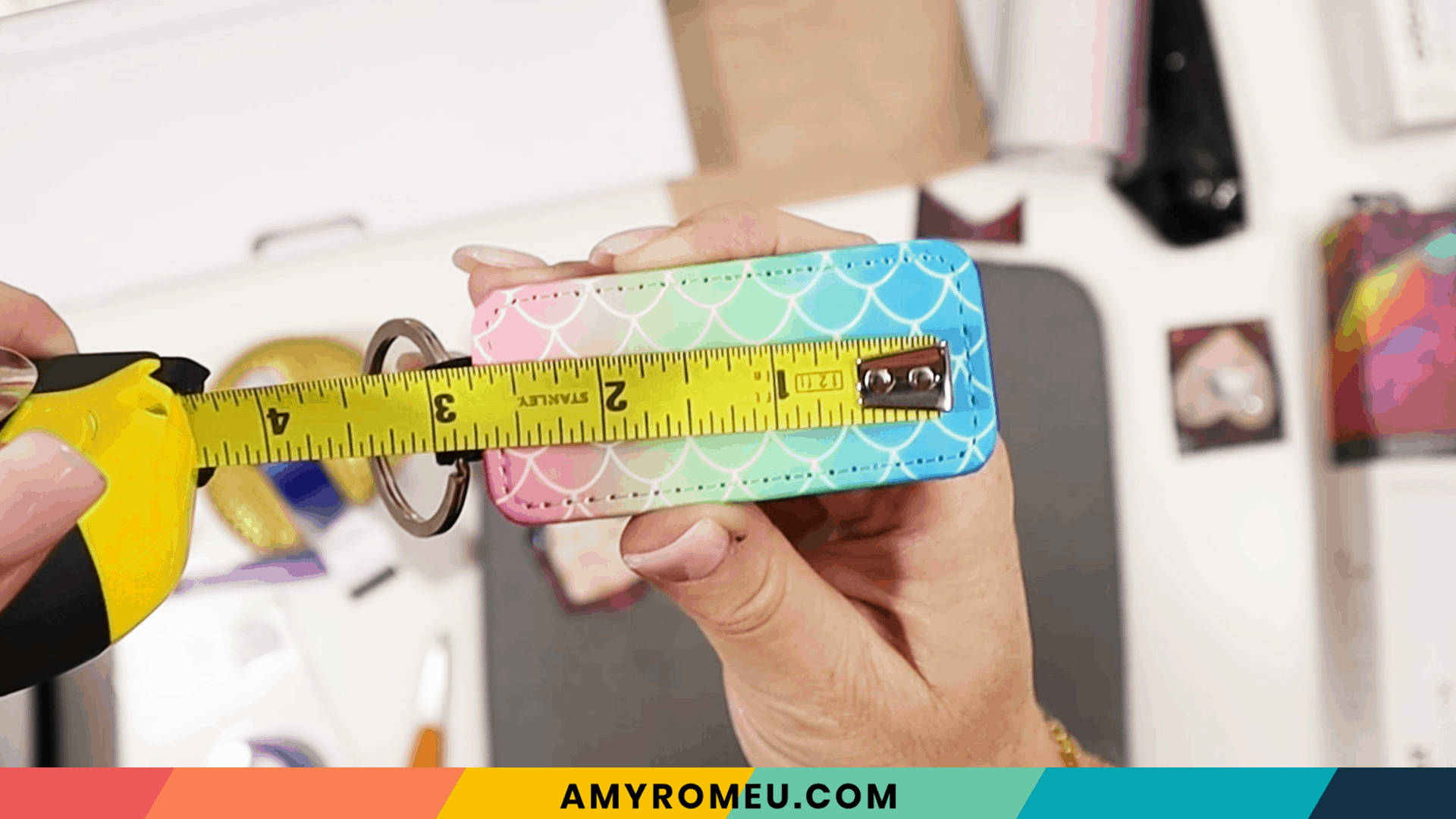 STEP 2 – Design Text in Design Space
In a new canvas in Cricut Design Space, type out your desired text. Use a thicker font if possible. Resize your text to fit within the measurements you noted earlier.
If you are using a double sided blank, make a DUPLICATE of your text for the backi side.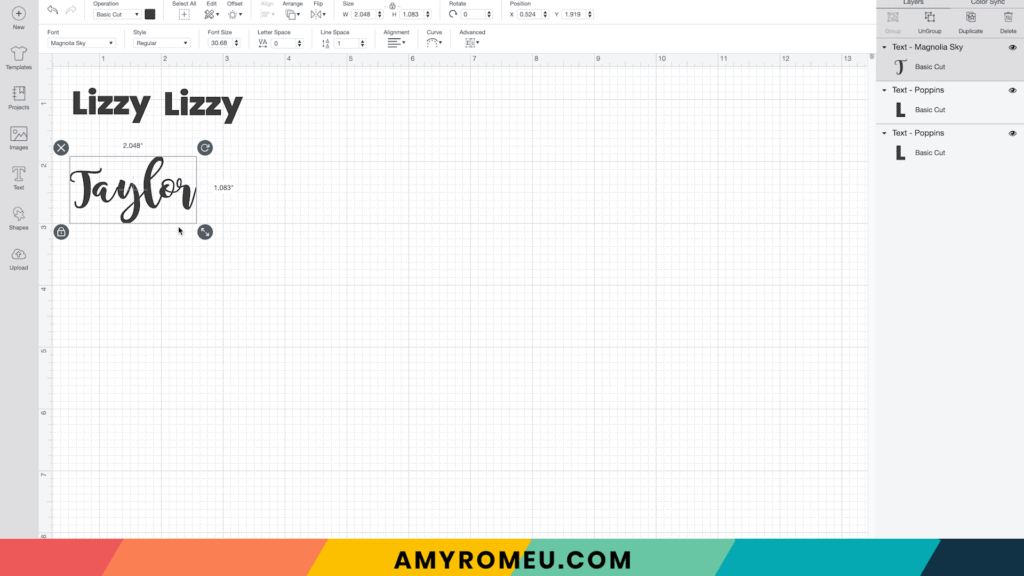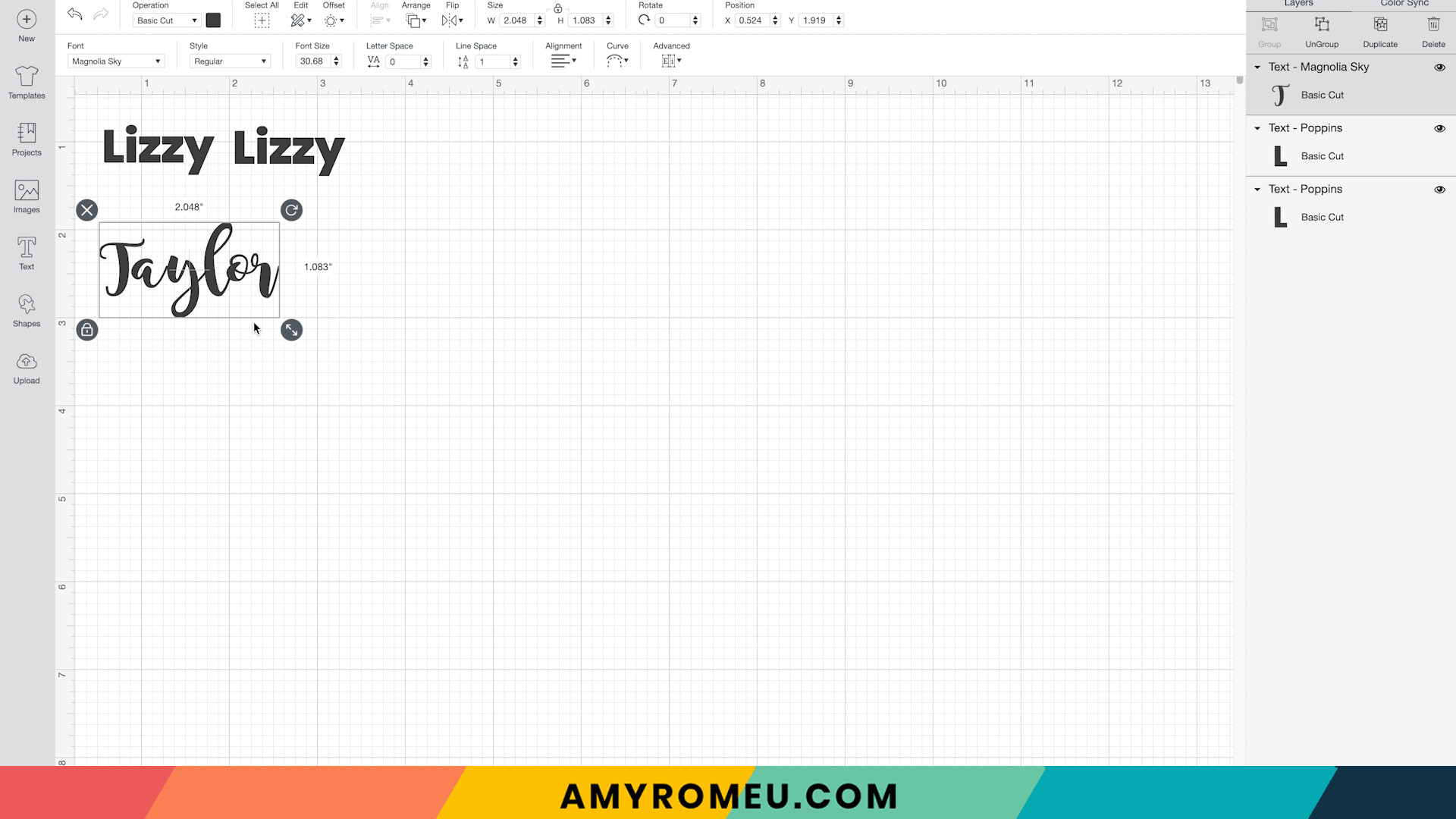 Once you are happy with the text, click MAKE IT.
Don't MIRROR your text if you will be cutting the text from permanent vinyl like I did.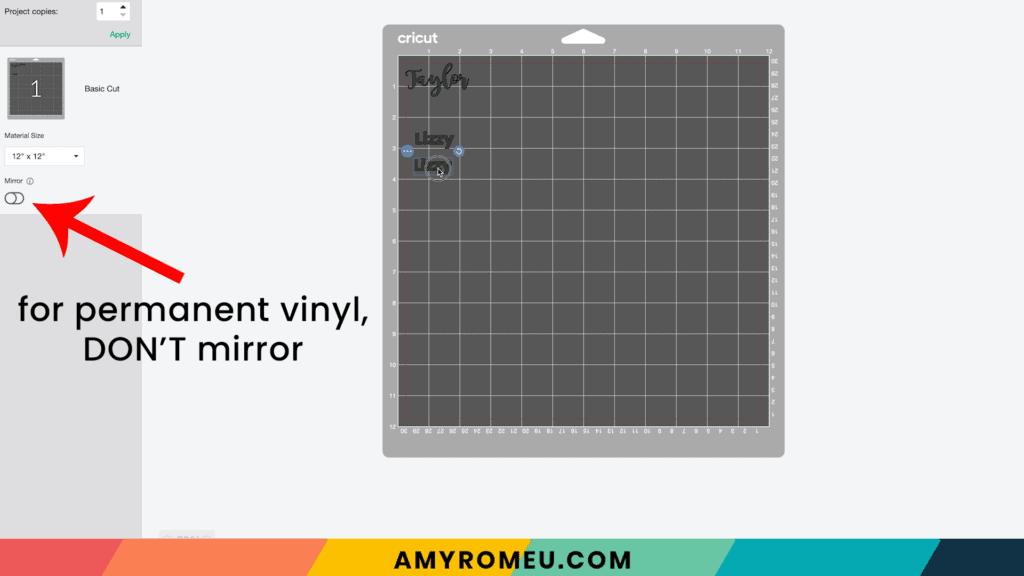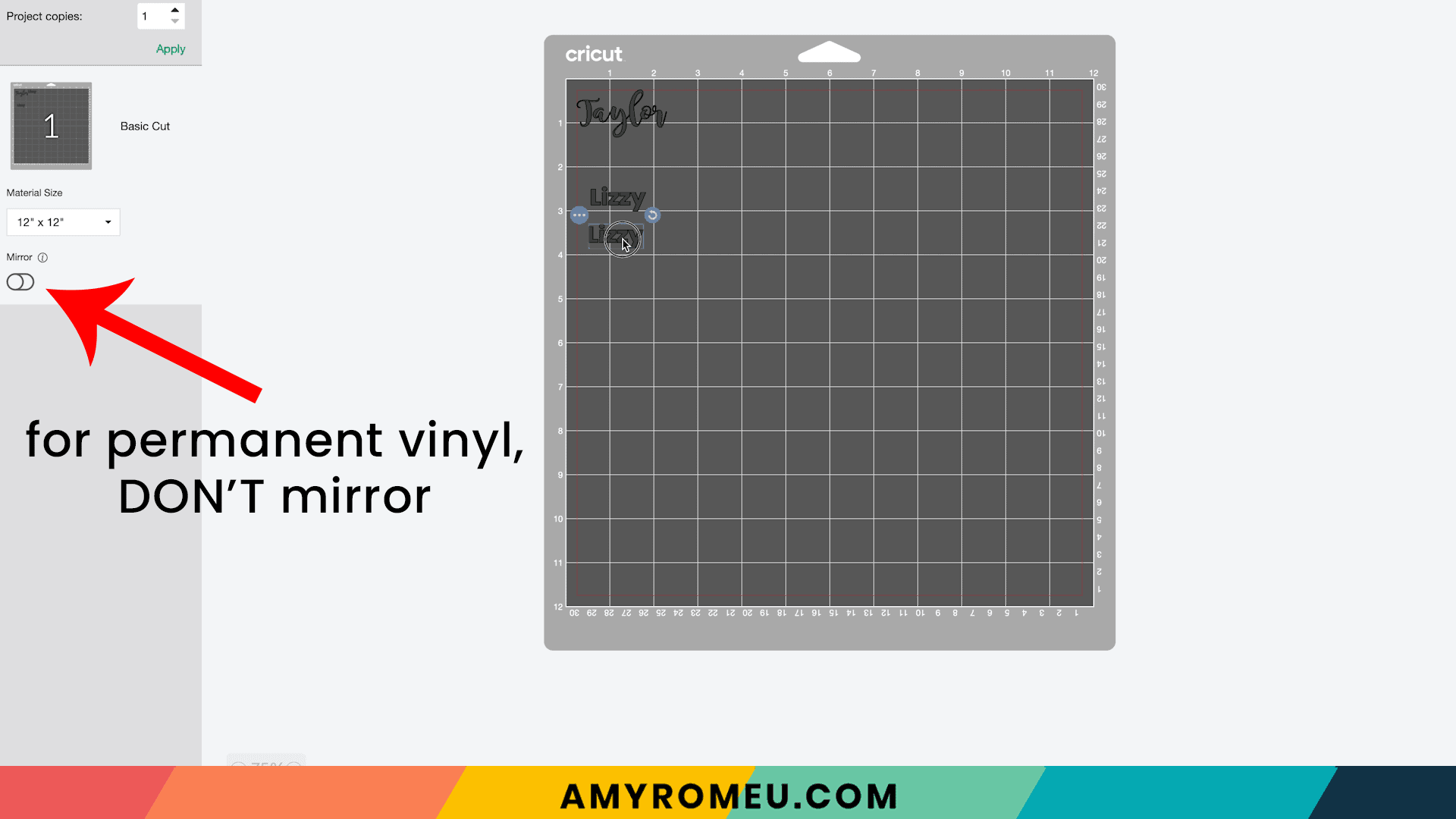 Choose your desired material setting based on your chosen material. I like using the Washi Sheet setting with "default" pressure, but it's up to you.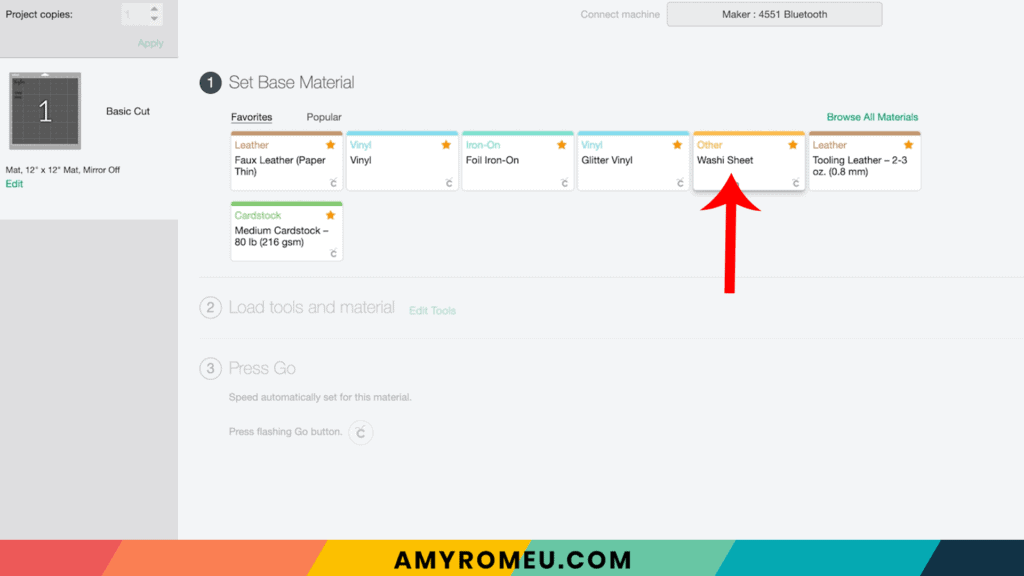 Place your permanent vinyl pretty side up on a green cutting mat.
STEP 3 – Cut Vinyl Text
Load the mat into the Cricut and press the C button to begin the cut.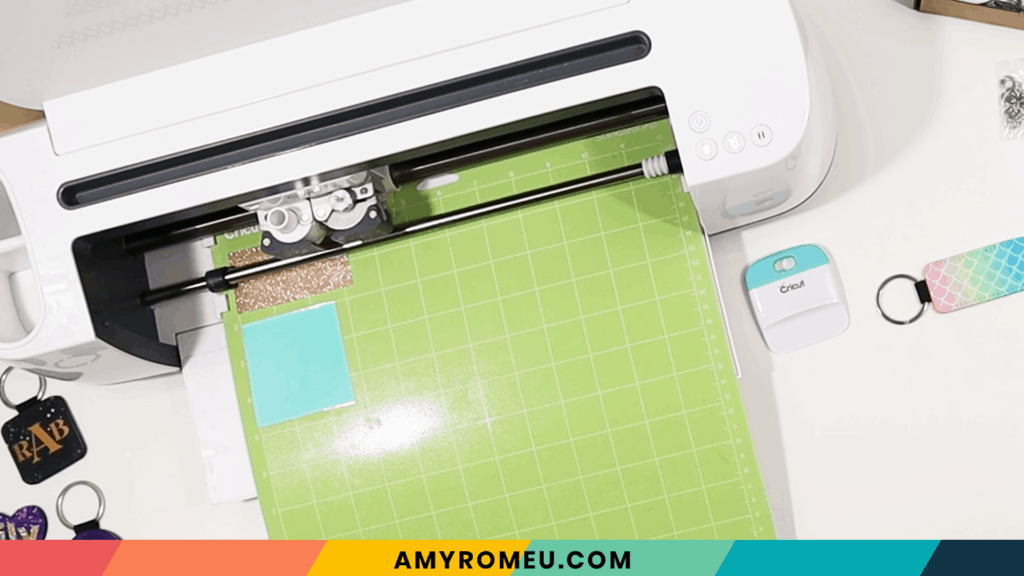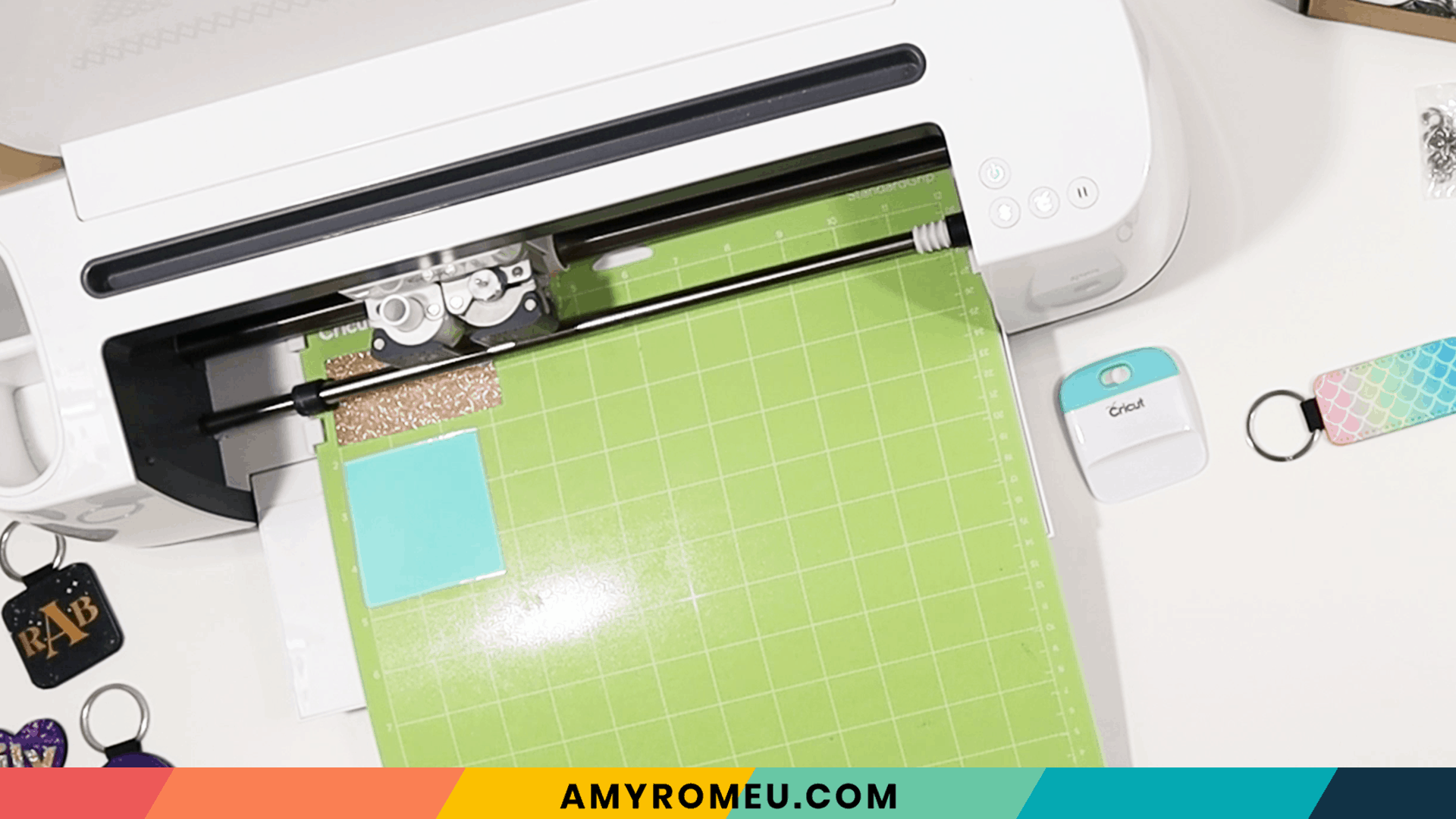 When the cut is complete, unload the mat and weed away the excess vinyl from the text.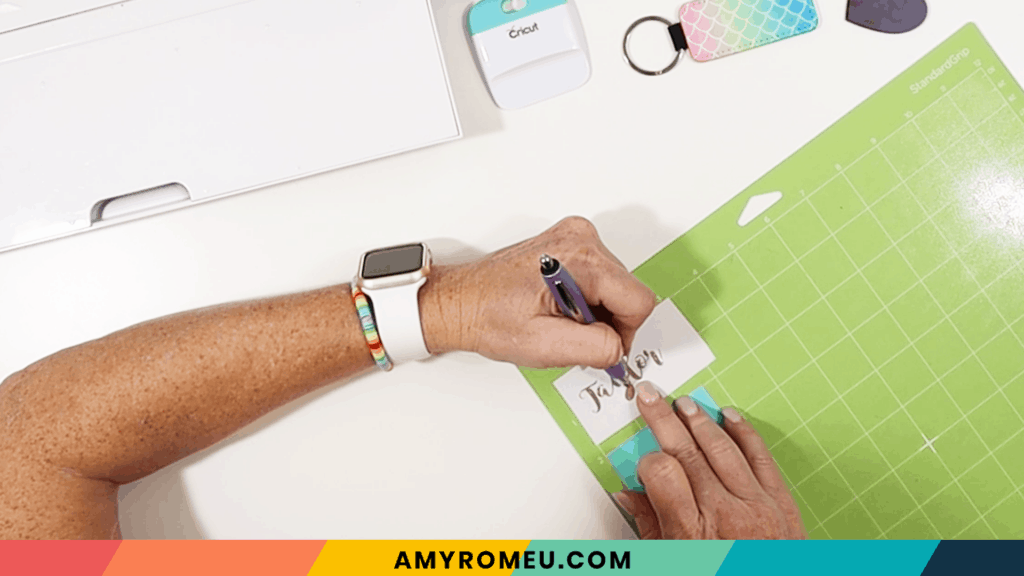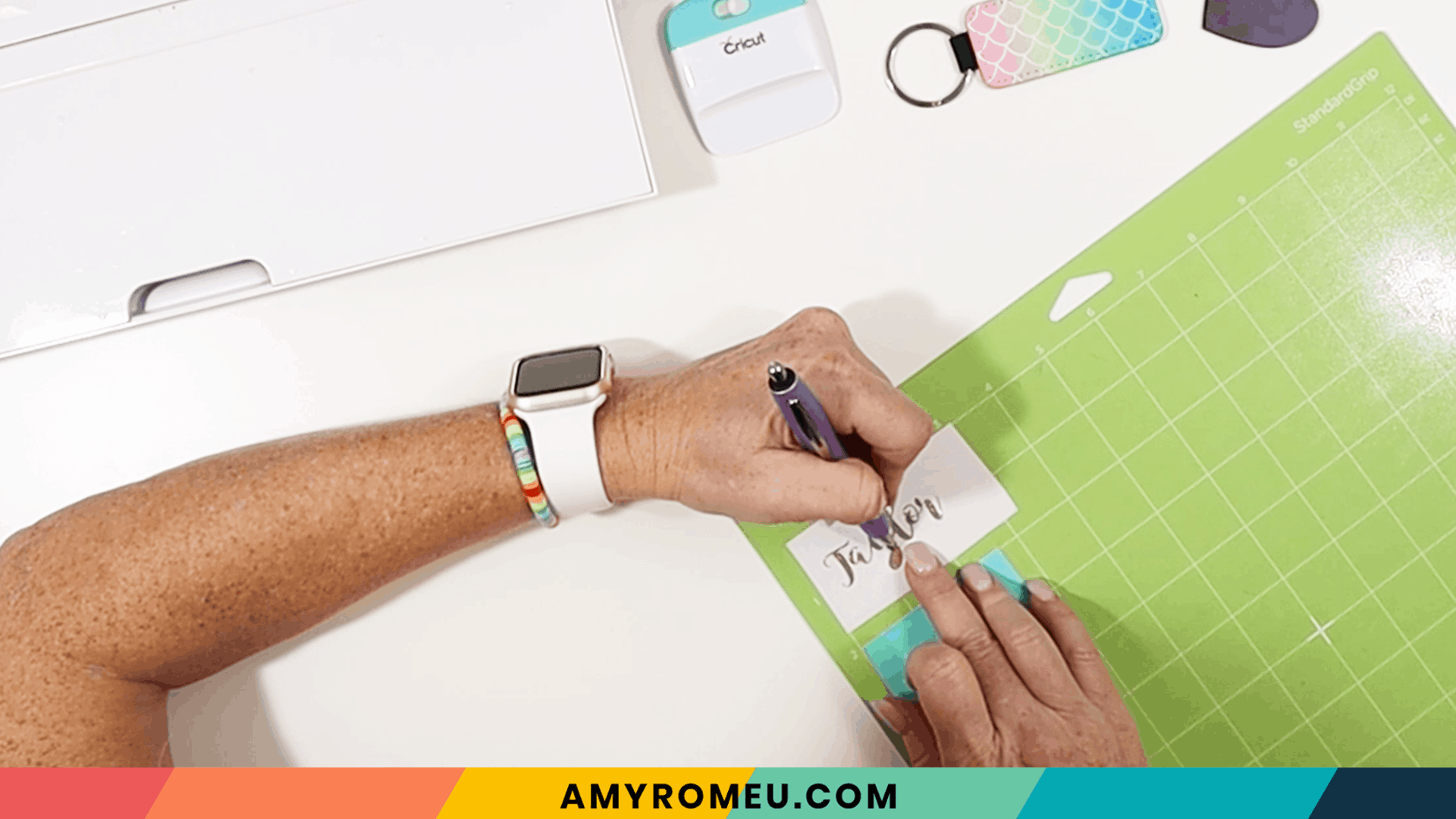 Cover the vinyl text with a piece of standard grip transfer tape and rub firmly all over with a Cricut scraper or old credit card.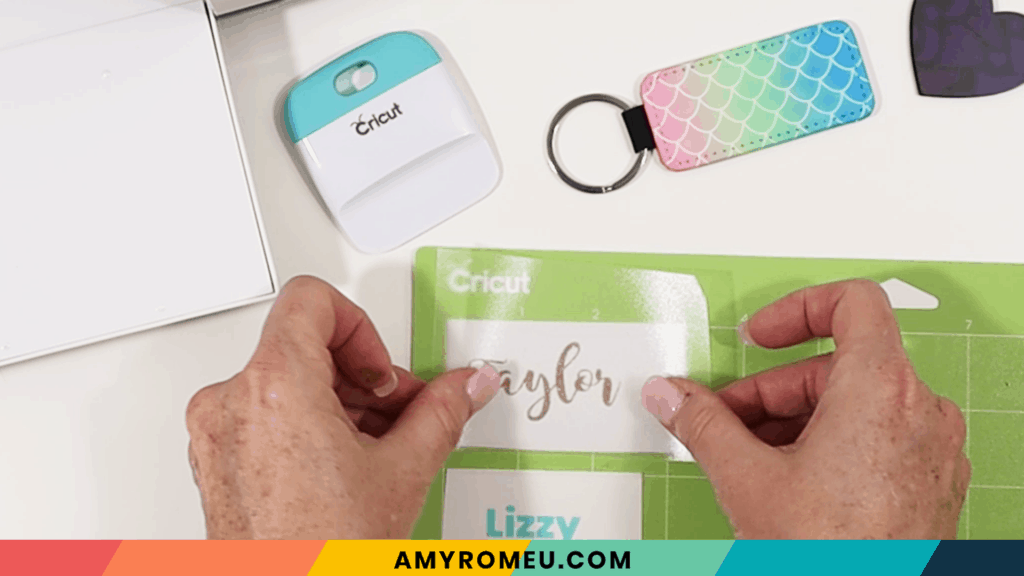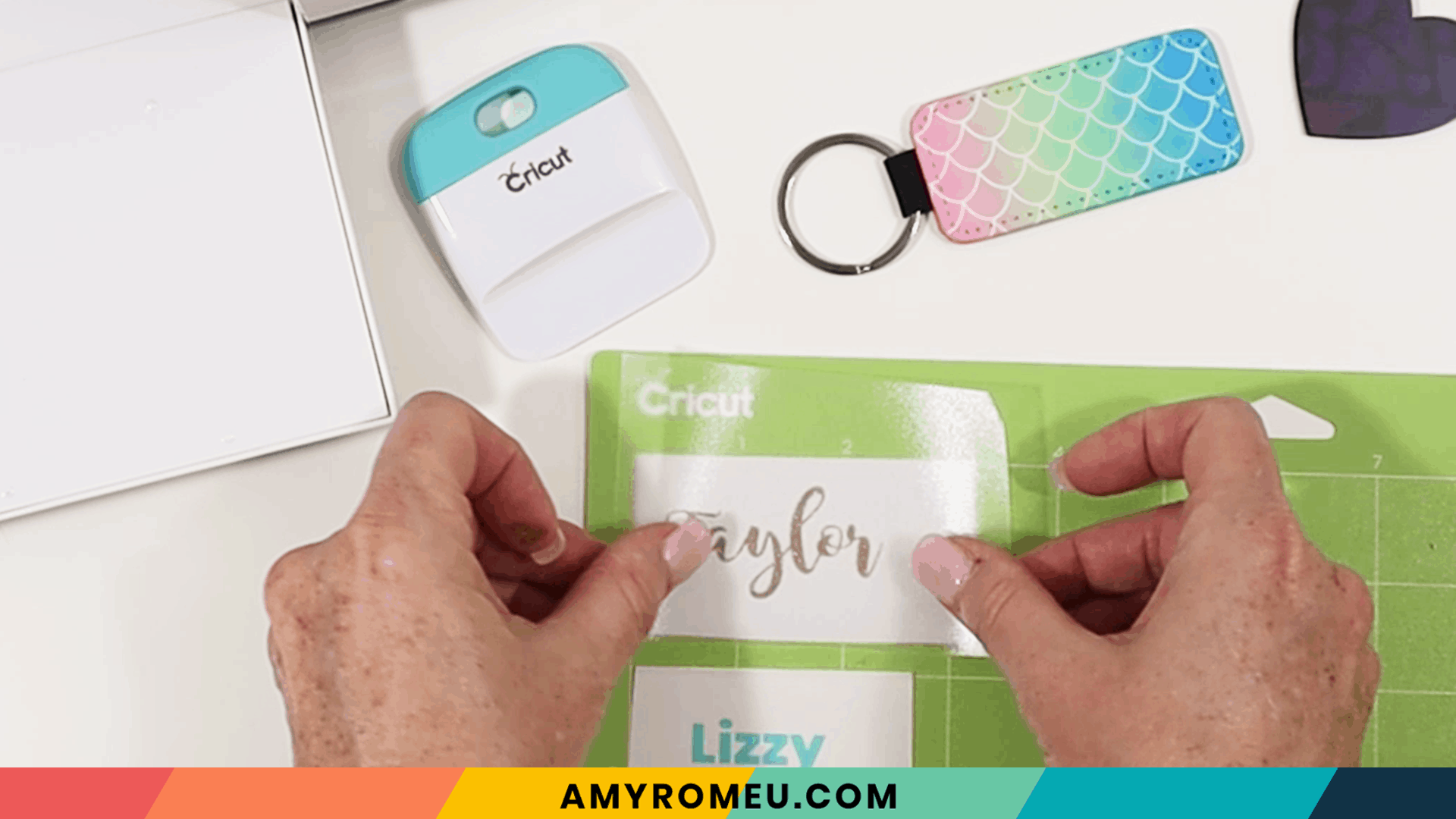 Carefully peel up the transfer tape, ensuring all parts of the vinyl stick to the transfer tape.
If they don't, lay the transfer tape back down and rub again with the scraper tool. Be patient and do this part slowly so your entire vinyl text lifts up with the transfer tape.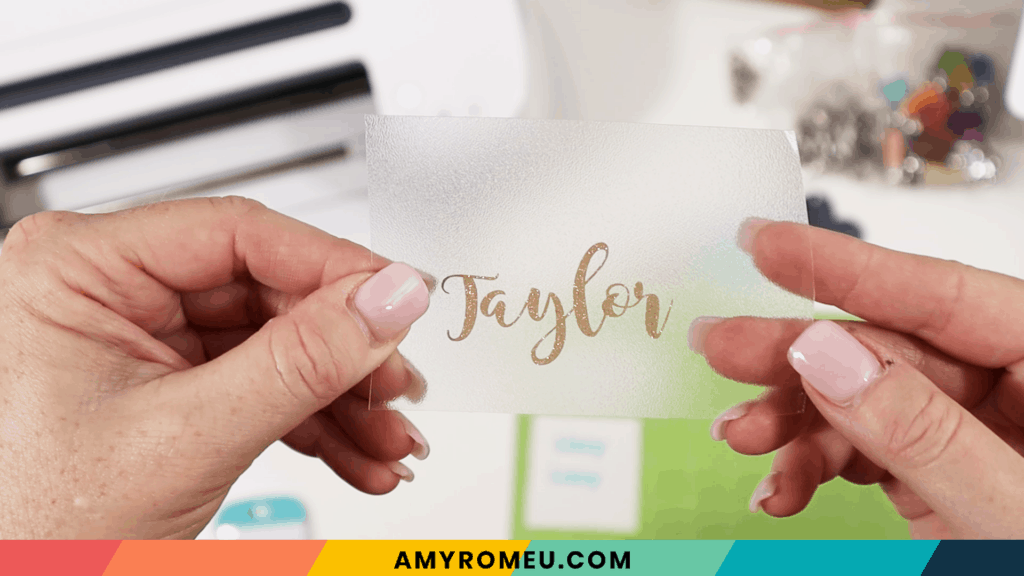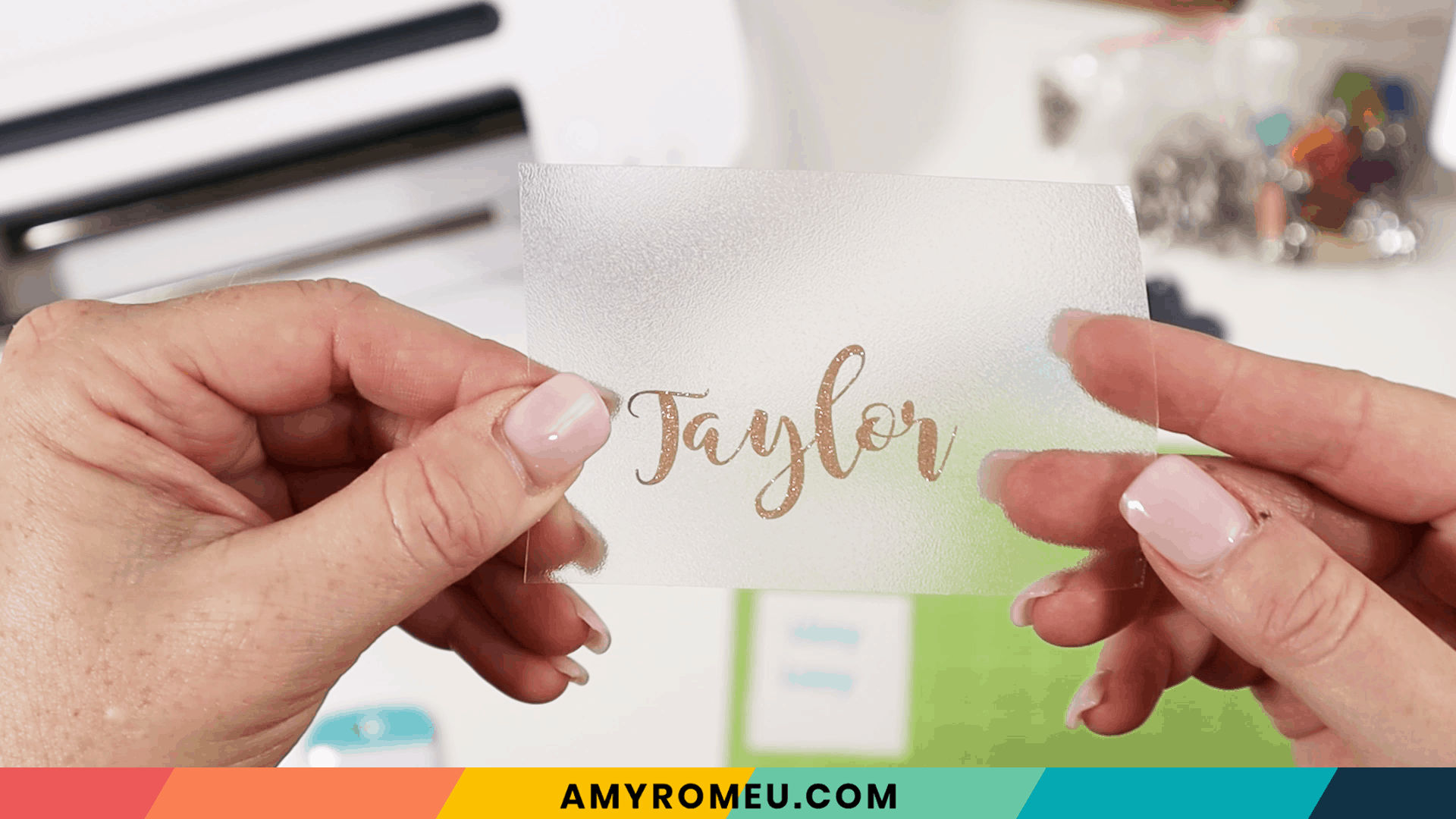 STEP 4 – Press Vinyl to Keychain Blank
Place the transfer tape into position on the keychain blank. Press firmly with your fingers all over. Then rub all over with the scraper, being careful not to scratch the vinyl or the blank.
Peel away the transfer tape carefully.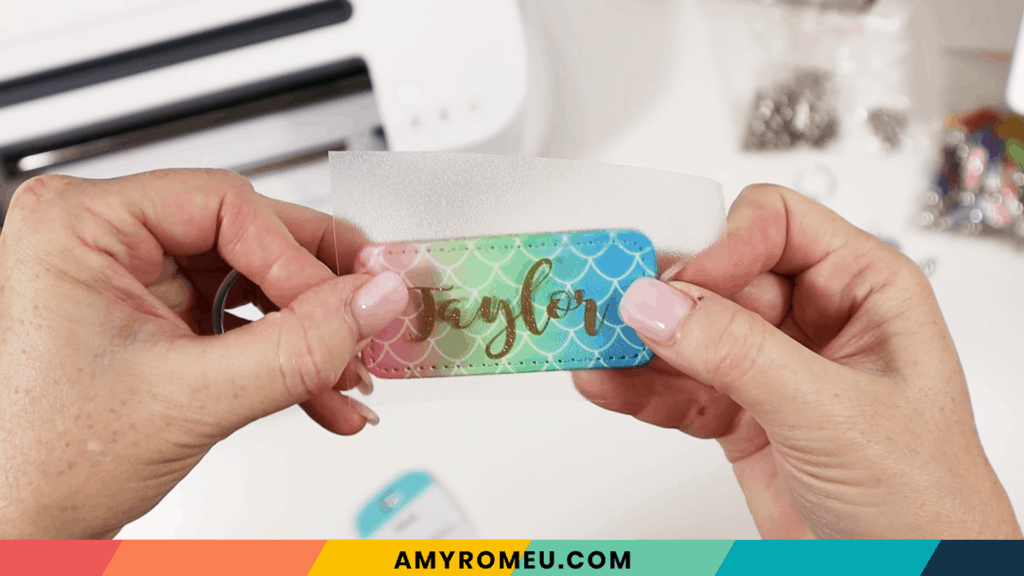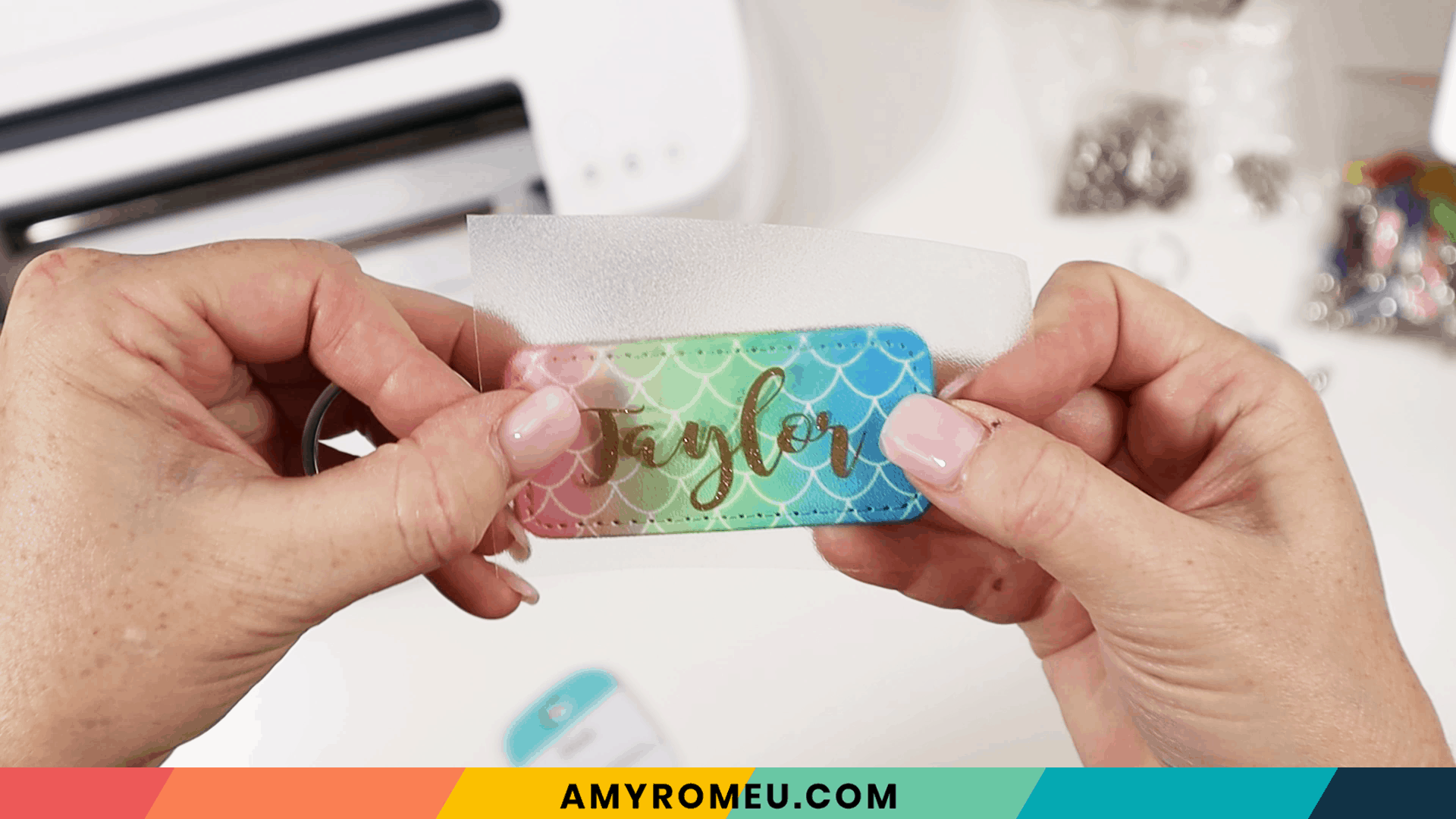 STEP 5 – Add Keychain Hardware/Tassel
To attach any keychain hardware or a tassel, use two pliers to open the jump ring, slide on the keychain and a tassel (if desired). Then close the jump ring again.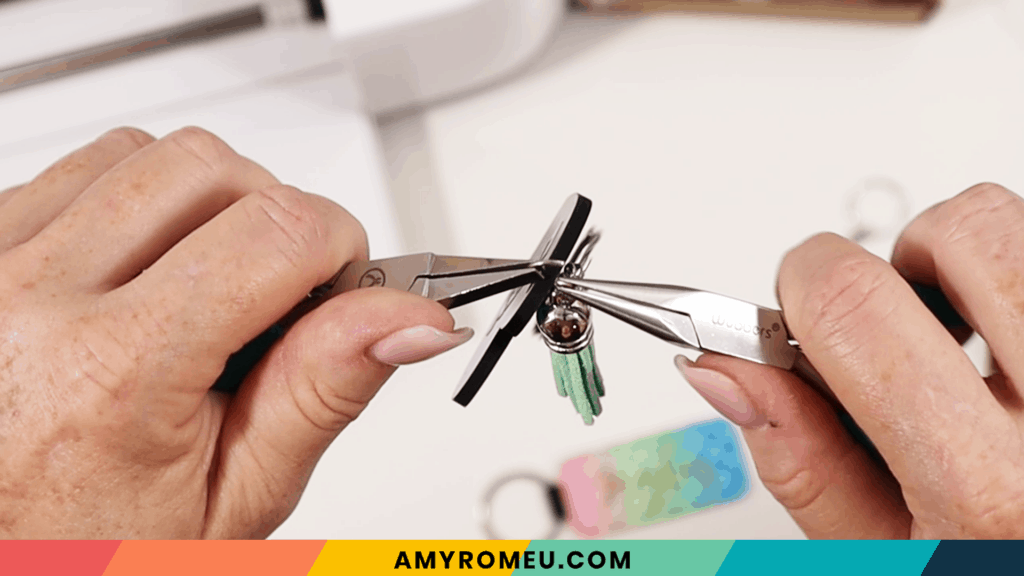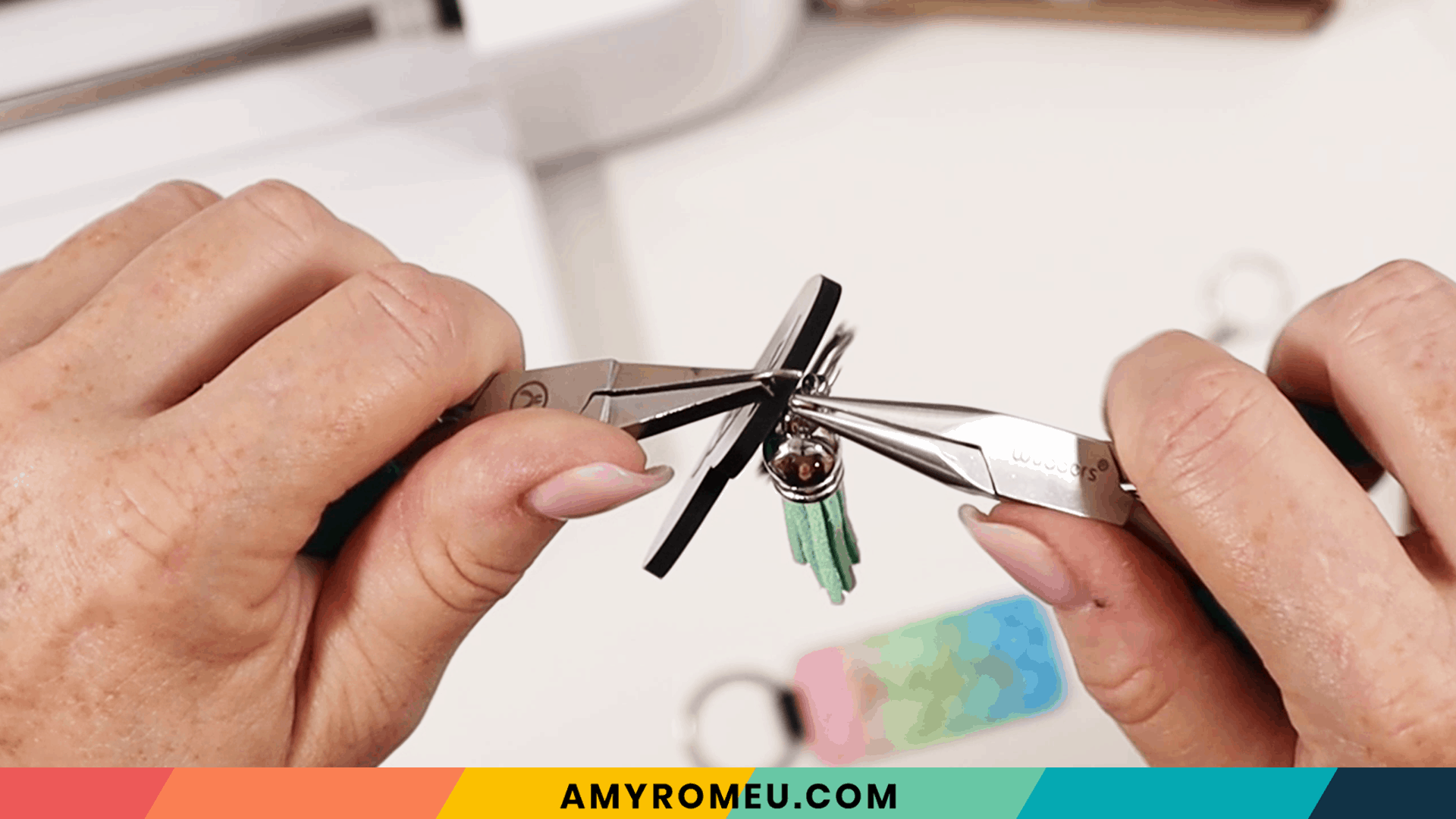 That's it! Aren't these personalized Cricut infusible ink keychains so cute and colorful?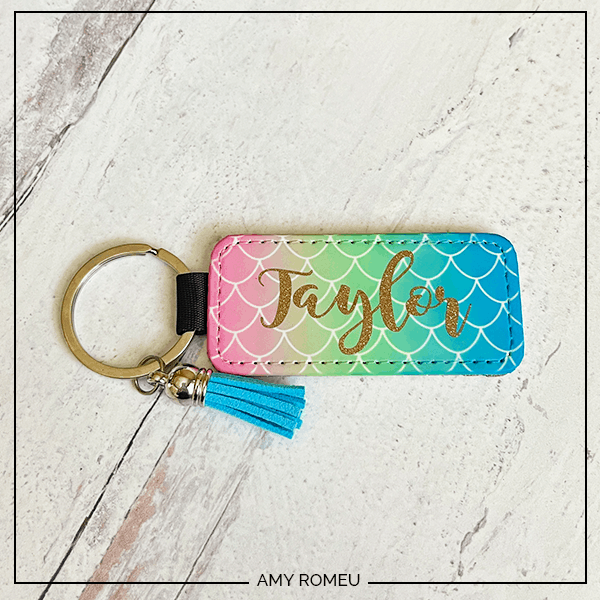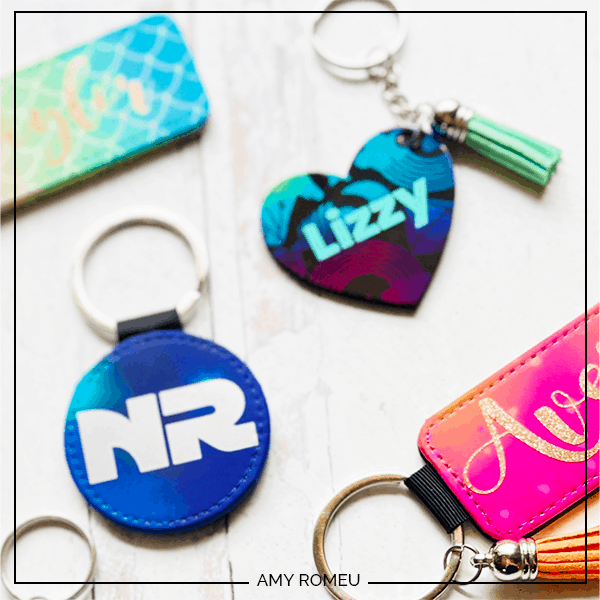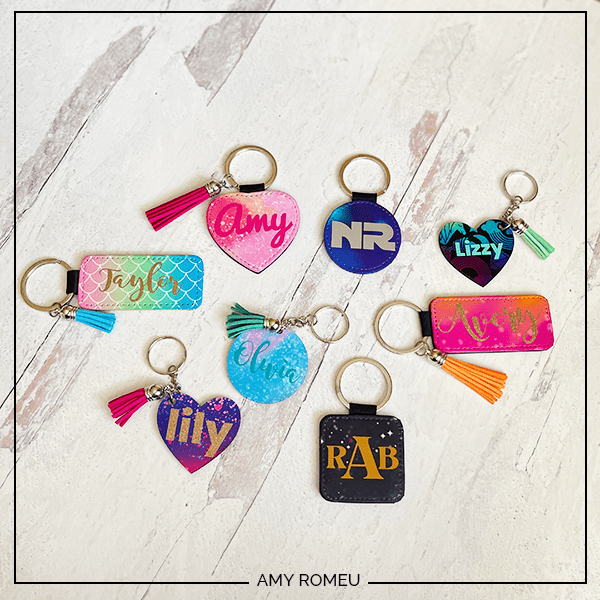 Are you going to try this personalized infusible ink keychains project? If so, I'd love to see your creations! You can tag me on Instagram: @amyromeucrafts
Want to see all of my Cricut earring & jewelry tutorials? CLICK HERE
Until next time… and happy crafting!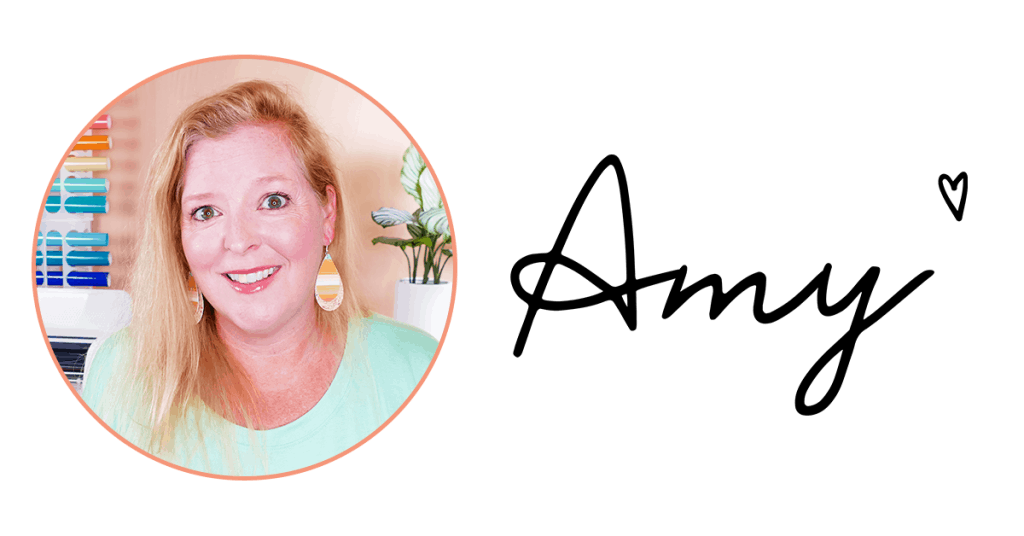 Want INSTANT ACCESS to my Free Resource Library full of jewelry making and crafting SVGs files and templates? You'll receive the password for the Resource Library instantly after filling out the form below!
WANT TO REMEMBER THIS? POST THIS CRICUT INFUSIBLE INK TRANSFER SHEET KEYCHAIN PROJECT TO YOUR FAVORITE PINTEREST BOARD!