DIY Cricut Valentine's Day Love Letter Earrings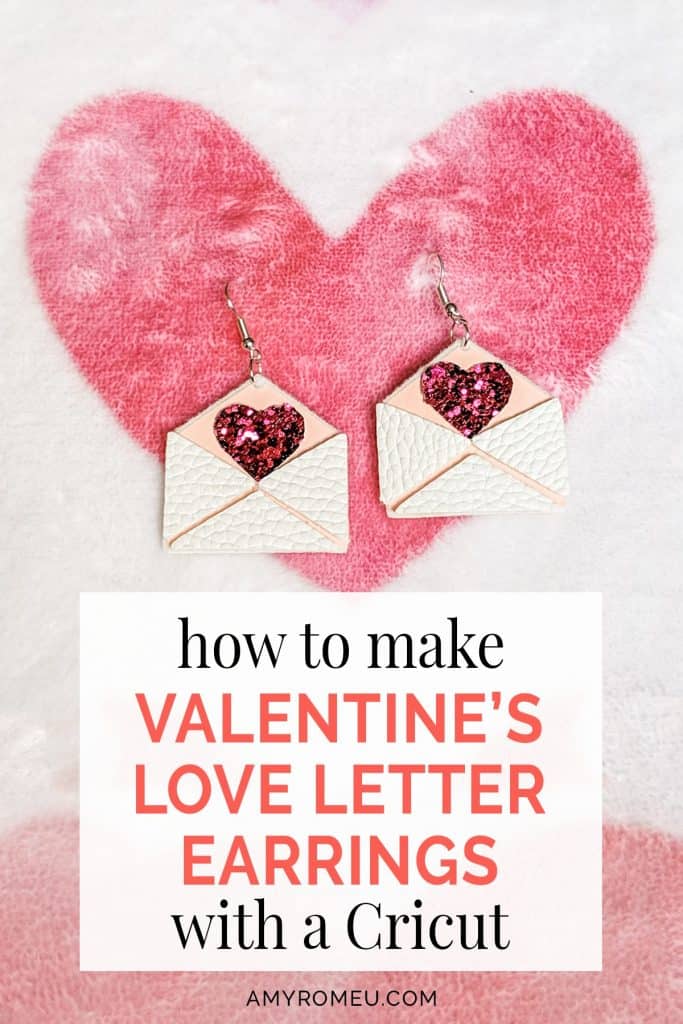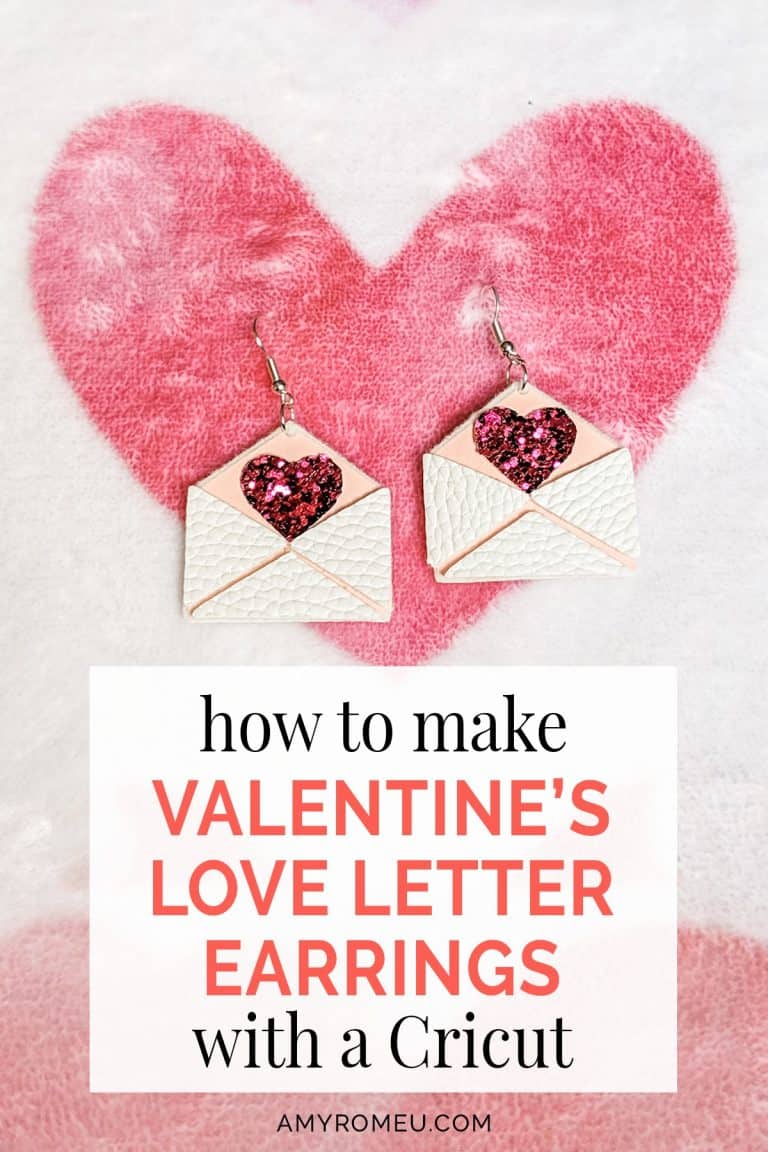 How To Make Cricut Valentine's Day Love Letter Earrings
Now that the holidays are behind us, I'm excited to focus on one of my favorite holidays for jewelry making – Valentine's Day! Today I'm going to share all the details of how I made these cute "love letter" faux leather earrings with my Cricut. They were so fun to make! I'll tell you a secret, too… they weren't even my idea! My daughter asked if I could make some earrings to wear for her class Valentine's Day party, the special day when the kids exchange Valentine's Day cards. Challenge accepted!
This sweet request got my creative juices flowing, and these little DIY Cricut Valentine's Day earrings designed to look like love letters is what I came up with. She loves them, and I hope you will too.
These earrings are made from three materials – faux leather, HTV, and chunky glitter faux leather. There are no color rules, though – you could make them from whatever colors you have at home. Use your imagination!
The best part is I cut all the shapes for these earrings with just the Cricut Fine Point Blade, which means they can be made with either the Maker or the Explore Air 2!
If you're interested in how I made these charming and fun Cricut Valentine's Day earrings, keep reading for all the info! I'll also share my secret for cutting chunky glitter without ruining my mat by getting glitter stuck all over it. It's a time and money saver!
Finally, I'll give you my SVG cut file for these earrings FREE so you can make these adorable Valentine's Day Love Letter earrings for yourself, or to sell! You'll find out how to download my free SVG file for this project at the bottom of this post.
Want to see all of my Cricut earring & jewelry tutorials? CLICK HERE
Ready? Let's get started!
This page contains some affiliate links (which means if you make a purchase after clicking a link, I will earn a small commission at no additional cost to you). Read my full disclosure policy here.
CRICUT Valentine's Day Love Letter EARRINGS – Materials List
White Faux Leather. For this project, I used a pebbled faux leather that's no longer sold on Amazon, but I much prefer using smooth faux leather like this one here.
HTV Vinyl in the color of your choice. I went with Siser Easyweed in Light Pink for this project from Amazon here, but you can pick any color you want, even Cricut Iron-On Foil or Glitter HTV.
Cricut Strong Grip Transfer Tape. This is to protect your mat from the chunky glitter residue AND hold your chunky glitter sheet firmly to your cutting mat. I like the Cricut brand for this application because it's super sticky. I bought mine from Amazon here.
Blue painters tape (as needed). This will help keep your glitter vinyl in place on your mat. (If your mat is new and very sticky, you may not need to use it.) You can get it at any hardware store and most big box or grocery stores. Amazon also has it here.
A vinyl cutting machine. I have the Cricut Maker, available at Amazon here. You can also use the Cricut Explore Air 2 or any cutting machine you have that will cut a thicker material like canvas backed chunky glitter.
Cricut Strong Grip (Purple) Cutting Mat. You can buy these on Amazon here, or at Michael's here. They are also available at Hobby Lobby, Joann's, and Walmart.
Cricut Standard Grip (Green) Cutting Mat, available on Amazon here. They are also available at Michael's, Hobby Lobby, Joann's, and Walmart.
A Cricut Easy Press or a Cricut Easy Press Mini (what is what I use for pressing earrings). I bought my Easy Press Mini from Amazon here. You may already have an Easy Press, but if you don't and want to get one, I recommend the 9×9 size. It's a great size for making jewelry and other craft items like baby onesies and more. It's available on Amazon here. (You can also press your earrings on a traditional heat press if you have one. If you do use a traditional heat press, be sure to use light pressure with the pebbled faux leather. Too much pressure can flatten out the pebbled texture.)
If you will be using the Easy Press Mini like I do, you'll need an EasyPress Mat to safely press your items on. I use the 8×10 size, which you can see on Amazon here.
A weeding tool and a small spatula tool (if you have one). I had all the tools I needed in my Cricut tool set here. You can get also get the basic Cricut tool set at Michael's here, or from Hobby Lobby, Joann's, or Walmart.
Glue with a fine tip. My favorite is Art Glitter Glue with the precision tip. Don't worry, it doesn't have glitter in it! You can get it on Amazon in a small bottle here or as a large and small bottle set here. The screw on precision tip allows you to squeeze very small amounts of glue in very small spaces, perfect for Cricut faux leather earrings.
A small hole punch (if you plan to punch holes in your earrings after you cut the shapes instead of having the Cricut cut them). This is my go-to hole punch for making Cricut earrings from Amazon here.
Earring hooks – I used earring hooks from this assortment of earring hooks in different finishes these from Amazon here. Hobby Lobby, Michael's, and other craft stores, as well as your local bead store, will have lots of earring hooks as well.
Small jump rings – I used this assortment of 6mm size jump rings in different metal finishes from Amazon here. Again, your local craft store or bead store will have plenty of jump rings to choose from if you want to pick some up in person. You could use 5mm size or even 4mm size if that's what you have, but I wouldn't go any smaller than 4mm or larger than 6mm for this project.
Two pairs of flat nose pliers – I'm using one pair of wide nose pliers and one pair of needle nose pliers here, but you can use any two flat nose pliers you have in your jewelry making tool box .My favorites are Wubbers brand in the "Baby" size. You can see the Baby Wubbers Chain Nose Piers on the left on Amazon here, and the Baby Wubbers Flat Nose Pliers on the right on Amazon here.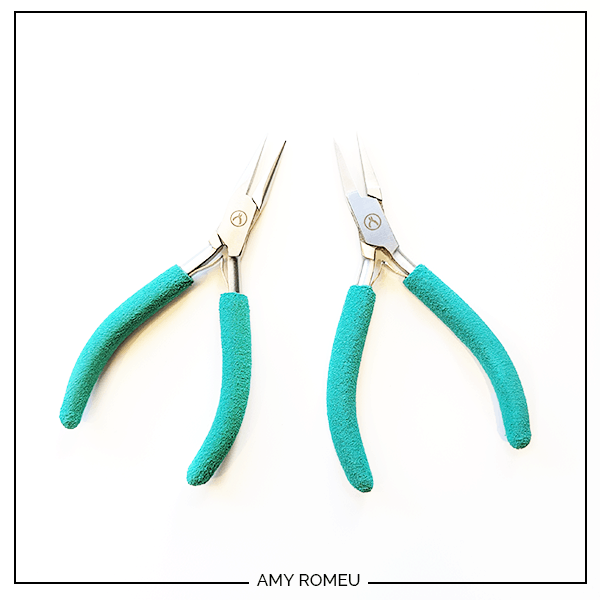 Note: Be sure to check out my post Beginner's Guide To Jewelry Making Tools for all the information you need to know about buying and using jewelry making tools.
PROJECT INSTRUCTIONS
STEP 1 – Download Free SVG
Download the free SVG cutting file for these earring shapes from my free Resource Library. It's Design #117. You can fill out the form below to get the password to my Resource Library.
Save the zipped folder that downloads to your computer. You'll need to unzip or extract the files FIRST before you can upload the cutting file to Cricut Design Space. Make a note of the file location after you unzip it so you can find it in the next step.
STEP 2 – Upload SVG to Cricut Design Space
When you open Cricut Design Space, click on NEW PROJECT to get started. Then click on UPLOAD from the left hand side menu.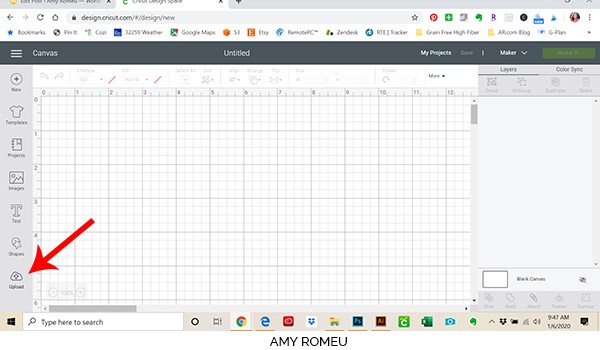 Click on the UPLOAD IMAGE button, then click BROWSE to locate your file.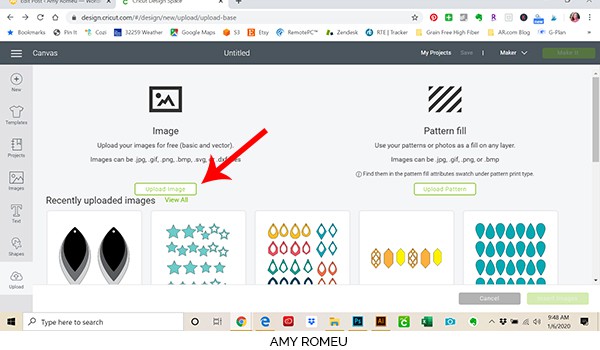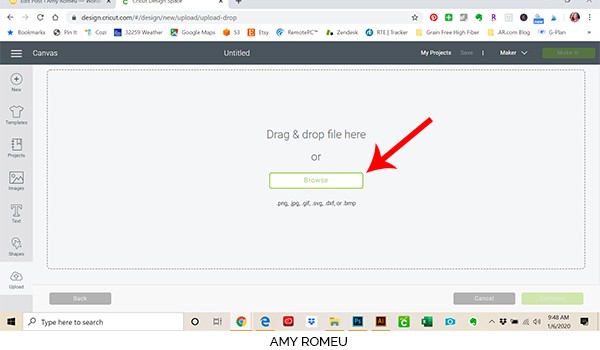 Navigate to where you've saved the already unzipped SVG file for this project. Double click on the SVG file to bring it into the upload screen in Design Space.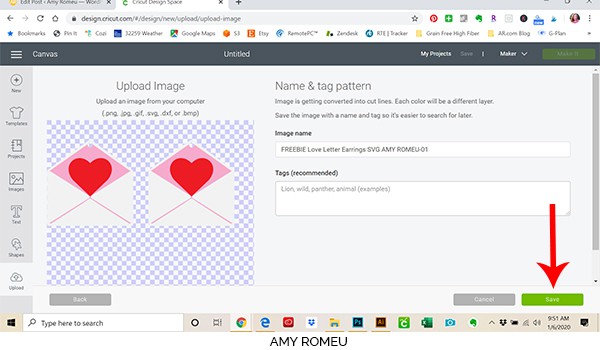 You'll see a preview of the earring shapes for this project. Hit the green SAVE button.
After you've selected your file to upload, you'll see it as the first item in your "recently uploaded designs" row.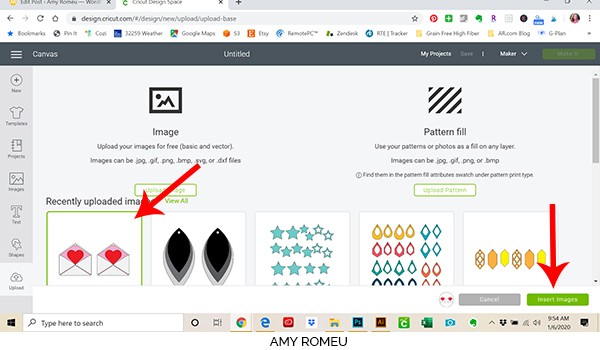 Click on it so it is outlined in green. Then click on the green INSERT IMAGES button in the bottom right corner.
STEP 3 – Prepare SVG for Cutting
This brings the three layered earring shapes into Cricut Design Space. The little envelopes are already perfectly sized for earrings, so you don't need to resize them. The earring holes are already in the file, and your Cricut will cut them our for you. If you want to make the holes instead with a hole punch or a sharp tool, you can hide the holes so your Cricut doesn't cut them. I'll have instructions for hiding the holes from cutting a little later in the next step.
Note: You can make the earrings larger or smaller if you want, but keep in mind that adjusting the size will make the earring hole larger or smaller as well.
I often cut the earring holes myself – the hole punch I use to make perfect sized earring holes in faux leather is available on Amazon here.
Use your cursor to draw a box around all the elements, and drag the rectangle up to the top most left corner of the screen. You'll be placing your material to cut on your mat in the upper left hand corner.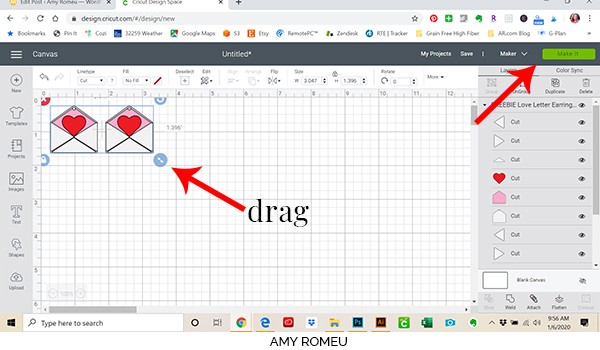 If you want to cut the holes out the earring shapes as shown in the file, you can hit the green MAKE IT button. If you plan to cut the holes yourself, follow the steps below to hide the cut holes before hitting the MAKE IT button.
Optional: How to NOT cut the earring holes (if desired)
To hide the earring holes, first ungroup all the earring shapes by selecting all of them and clicking UNGROUP from the menu at the top right side of your screen. Then select a single shape and click the CONTOUR icon in the lower right.
When the Contour box pops up, click on the hole to hide it. (You may need to zoom in or out using the + or – buttons to see all the parts of each earring shape).
You should see the hole disappear from the Contour pop up window box and also disappear from the screen in Cricut Design Space. Close out the contour pop up window and repeat the steps to hide as many earring holes as you want.
NOTE: For these earrings, I recommend hiding the holes on the white faux leather layer only. The cut out circle shape on the light pink HTV layer will help you with placing your hole correctly when you punch it or poke it out.
After you've hidden the earring holes, hit the green MAKE IT button.
STEP 4 – Prepare Mats for Cutting
This earring project will cut three different materials on three separate mats. Cricut does all the hard work and separates them for you. You can see the three separate mats in a preview on the left.
The first mat that will cut will be the ENVELOPE from white faux leather.
The second mat that will cut will be the ENVELOPE LINING from light pink HTV.
The third mat that will cut will be the HEART from chunky glitter.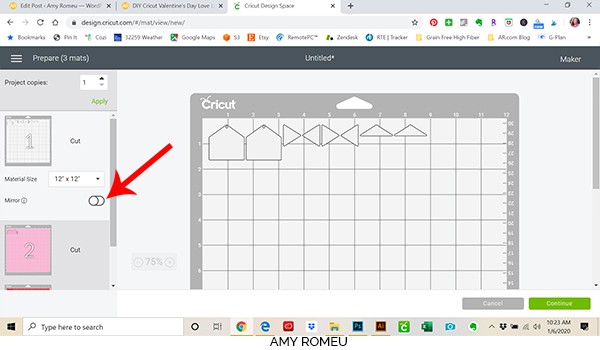 From this project, you can leave the MIRROR toggle set to OFF. It's not necessary to mirror for this project.
From this screen we can see the envelope shapes will cut from a piece of white faux leather that's about 2 inches tall x 9 inches wide. However, I don't like to cut faux leather out of a long and skinny shape – the material is more likely to shift and move while cutting. Instead, I like to rearrange the shapes on this screen before cutting.
To do this, click and drag each shape into position to arrange them in more of a short and wide rectangle. Be sure to keep your shapes inside the red border line!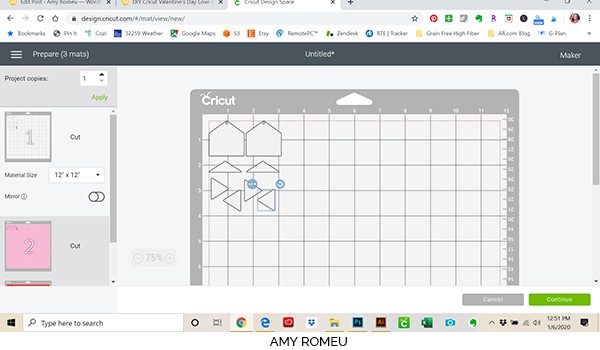 Now we see our envelope shapes will cut from a roughly 4 inch tall x 3.5 inch wide square of material. Make a note of this measurement and click the green CONTINUE button.
STEP 5 – Choose Your Materials
For the white faux leather, I select Faux Leather (Paper Thin) as my material setting. This material automatically cuts your design out twice, which is perfect.
Cricut Maker users: Search for Faux Leather (Paper Thin) as your material.
Cricut Explore Air users: turn the dial to CUSTOM, and search for Faux Leather (Paper Thin) as your material.
You may also want to change your cut setting to MORE from the second drop down menu on this screen, depending on the newness of your blade and how your Cricut normally cuts.
STEP 6 – Prepare Mats For Cutting
Gather your materials for this next step. You'll need a square of white faux leather cut to the size you noted earlier, blue painter's tape, and a purple (strong grip) mat.
(I love my Fiskars Rotary Cutter to cut my faux leather material to the exact size right on my mat – just don't press too hard! It's are available on Amazon here.)
Cut your faux leather to size and press it at the top left corner of your purple mat. Then tape down all the sides with blue painter's tape. This will keep your material from shifting on your mat as you cut it.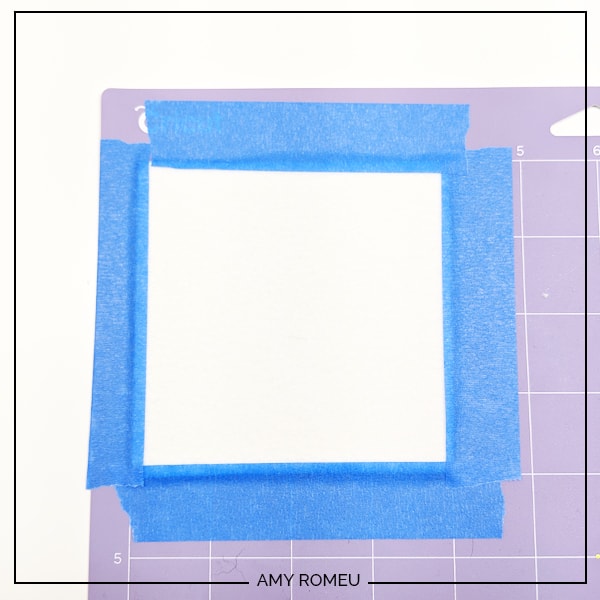 STEP 7 – Cut The White Faux Leather
Load your mat into your machine by pressing the button with the two arrows. Then press the flashing GO (C) button to start cutting.
After your Cricut cuts your faux leather, unload your mat by pressing the button with two arrows again.
Remove the blue painter's tape carefully. (I like to set the tape pieces aside reuse them for the chunky glitter mat in a few minutes.)
Using the mini-spatula and/or your weeding tool, carefully pull the excess faux leather off the mat, leaving the cut pieces on the mat.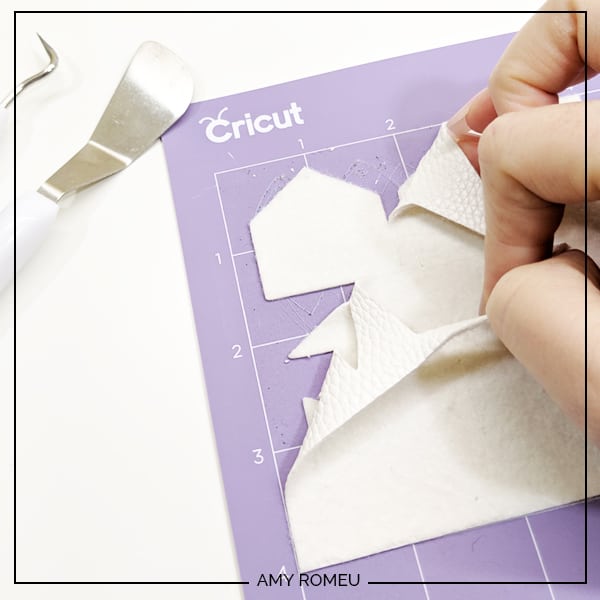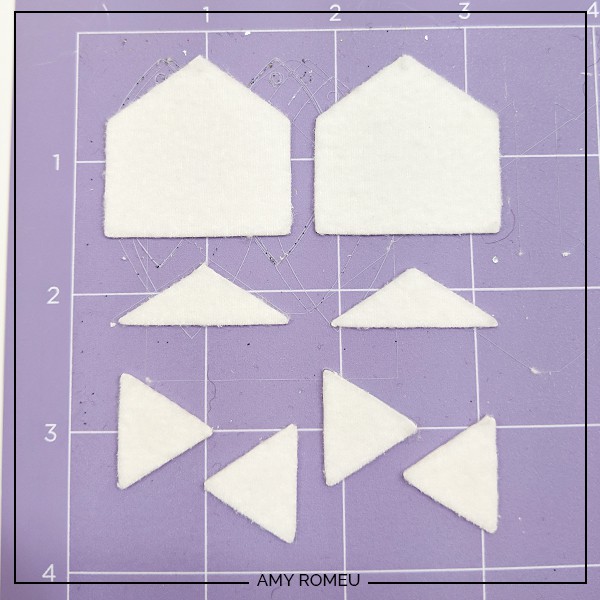 Then pull the white pieces off and set them aside (see tip below)!
In my experience, this faux leather with the cotton backing doesn't cut the holes out very well. If your earring holes didn't cut cleanly, you can trim the excess material with some small pointed scissors. I love my 4 inch curved tip Fiskar scissors that I got on Amazon for this task!
If your holes didn't cut all the way through, don't worry about it. There will be enough of an opening to slide the jump ring through, which is all you need. You can also use a hole punch to make the hole.
This is the hole punch I use for making Cricut earrings. It's from Amazon here.
TIP: When you remove the shapes from your mat, try to keep the small triangles in the same orientation as they are on the mat. The triangles have specific sides that match up to the sides of the envelope, and you'll go crazy trying to match them up to the envelope if you scramble them up now! Ask me how I know. 🙂
STEP 8 – Cut The Pink HTV
For this design, I'm going to use light pink HTV for the envelope liner and bright pink glitter for the hearts. You can use any colors or combinations you want, though, so be creative!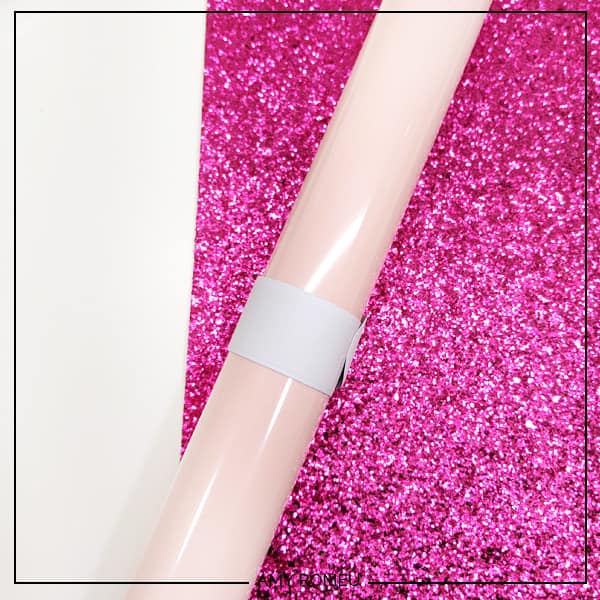 Note: If you're wondering what the white band around my HTV tube is, it's a white slap bracelet! They are great for keeping my vinyl rolls neatly wound. You can get slap bracelets in lots of colors, but I prefer the all white slap bracelets from Amazon here.
In Cricut Design Space, hover your mouse over the little image of the pink mat on the left hand side. This is the mat we will cut next. You can see the size you want to cut your light pink material to.
Cut your pink HTV and place it shiny side down on your green cutting mat. Press it down all over to be sure it sticks firmly.
Cricut Maker users: Change your material selection for this mat to Vinyl and leave the cut pressure at Default (unless you know your machine cuts regular HTV better with the MORE or LESS setting).
Cricut Explore Air 2 users: Turn the dial to Vinyl.
Load your mat and press GO. When your mat is finished cutting, unload the mat and weed the excess vinyl around your shapes. Remove the HTV clear liner with your pink shapes on it from your mat and set them aside.
STEP 9 – Cut The Chunky Glitter Hearts
To cut the chunky glitter mat, I used the Faux Leather (Paper Thin) material again.
Cricut Maker users: Search for Faux Leather (Paper Thin) as your material.
Cricut Explore Air users: turn the dial to CUSTOM, and search for Faux Leather (Paper Thin) as your material.
We will use the purple mat for cutting, and chunky glitter vinyl will need to go glitter side down. To protect our mat from getting glitter stuck all over it, we are going to put some Cricut Strong Grip Transfer Tape down on the mat first, and then stick the glitter to that.
Once you've selected Faux Leather (Paper Thin) as your material, choose MORE from the dropdown cut menu to add more pressure if necessary. I like to cut with MORE selected for faux leather and chunky glitter, but your machine may cut differently.
Now it's time to prepare your purple mat for cutting the chunky glitter.
Hover over the red mat with the hearts to see what size glitter sheet you'll need. Cut a piece of chunky glitter that size, and a slightly larger piece of Cricut Strong Grip Transfer Tape.
Place your Cricut strong grip transfer tape STICKY SIDE UP on at the top left corner of your Cricut purple strong grip mat. I placed my transfer tape outside of the area I knew I would be cutting just a little bit. Press the piece transfer tape as much as you can so it sticks well to the mat. This step will protect your cutting mat from getting glitter stuck all over it after you make your cut.
Place your glitter sheet piece with the glitter side down in the top left corner of your mat. Press it down all over to get a good stick on the transfer tape.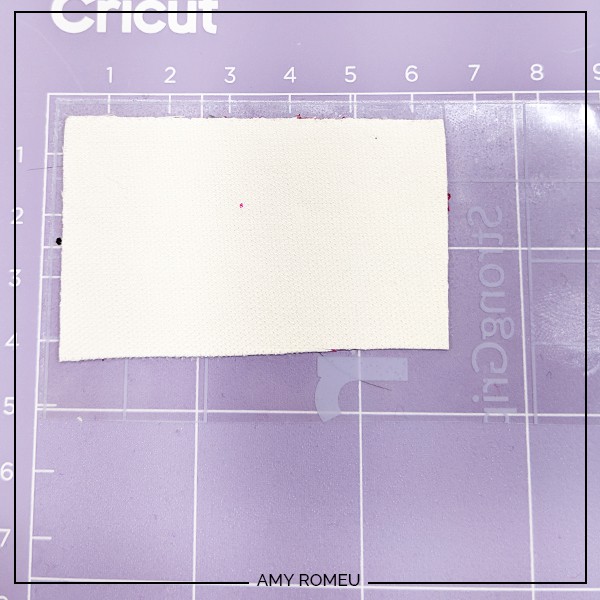 Then tape the sides down with blue painters tape.
Before you load your mat, remember to move your white star wheels off to sides of your roller bar so they don't make track marks in your glitter sheet.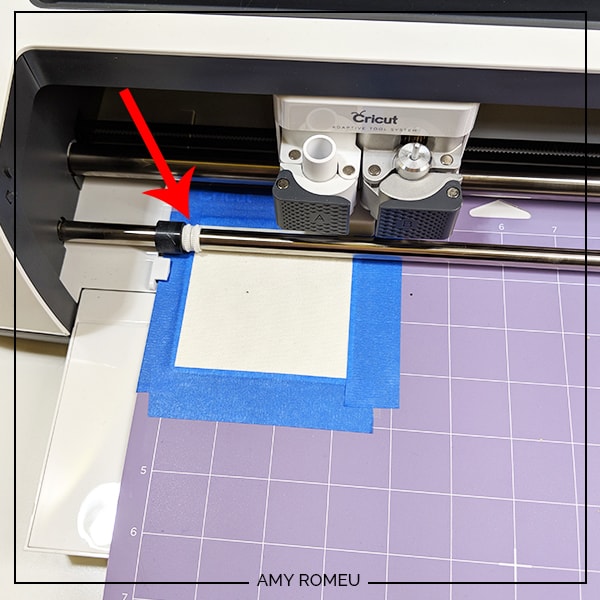 Load your mat into your machine by hitting the load button (two arrows) on your Cricut Maker.
Then hit the GO button and your machine will start to cut.
When your machine has finished cutting, unload the mat and remove the glitter hearts. Now we're ready to assemble our love letter earrings!
Don't forget to remove the clear transfer tape from your mat – or you can leave it on and reuse it if you'll be cutting more chunky glitter.
STEP 10 – Assemble The Love Letters
All of your cut pieces should look like this: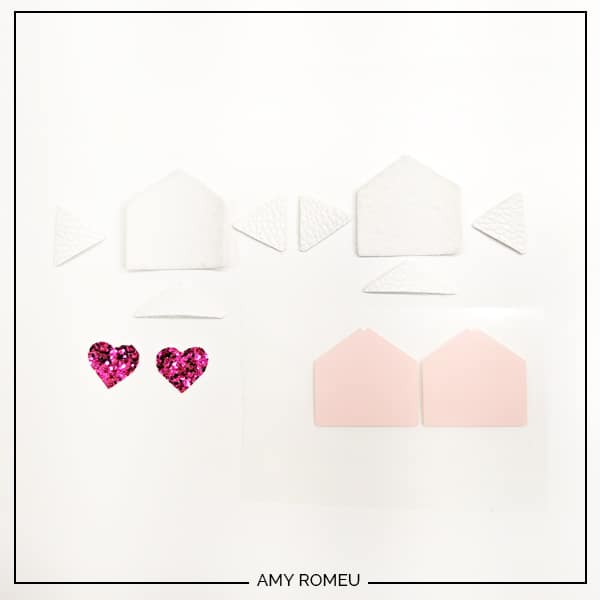 Next we will press the HTV "envelope liner" onto the white faux leather envelope. I like to press the HTV onto the cotton-y backside of the faux leather, so the finished earring back has the nicely textured faux leather.
You can use an Easy Press or my favorite, the Easy Press Mini. You can use a heat press, too, but don't use too much pressure or you'll lose the texture in the faux leather.
I used the lowest heat setting on the Easy Press Mini for these earrings. Layer your HTV over the white faux leather piece, cottony side up. Make sure you have your Easy Press Pressing Pad or a towel in place and press for 10-15 seconds. Repeat for the other pink HTV piece and then peel the protective layer off both pieces.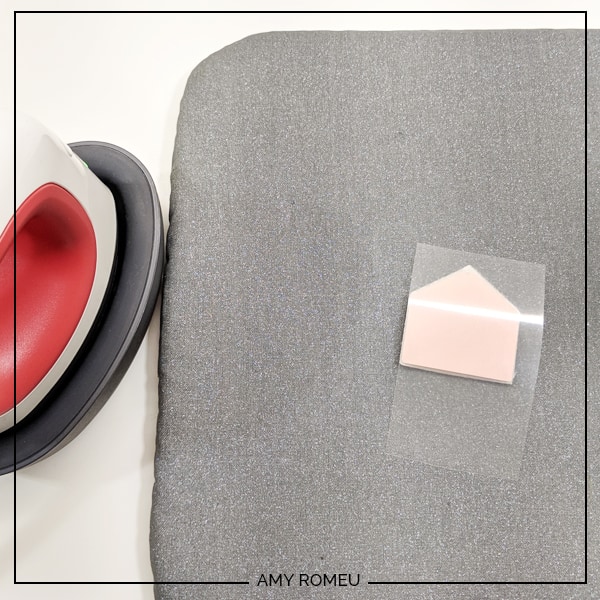 Now it's time to glue the envelope parts to the front of the envelope. I like to use Art Glitter Glue for this step (it doesn't have any glitter in it, and it dries clear). It glues fabric well (which is what the faux leather is, really) and the bottle comes with a fine tip attachment that is SO helpful!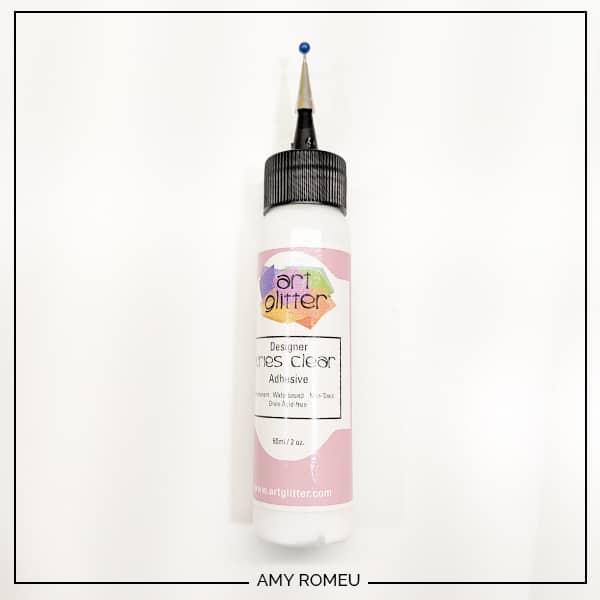 Lay out the little envelope parts in place before gluing. I designed the envelope so the inside color would peek through the "folds." If the triangles don't seem to line up like the ones in my photo, try rotating them until you get the right fit – an even gap with a little pink showing through.
Carefully apply small dabs of glue on the back of the faux leather pieces and lay them down one at a time. Use tweezers to help with this part! After you glue the three envelope parts down, repeat on the other earring.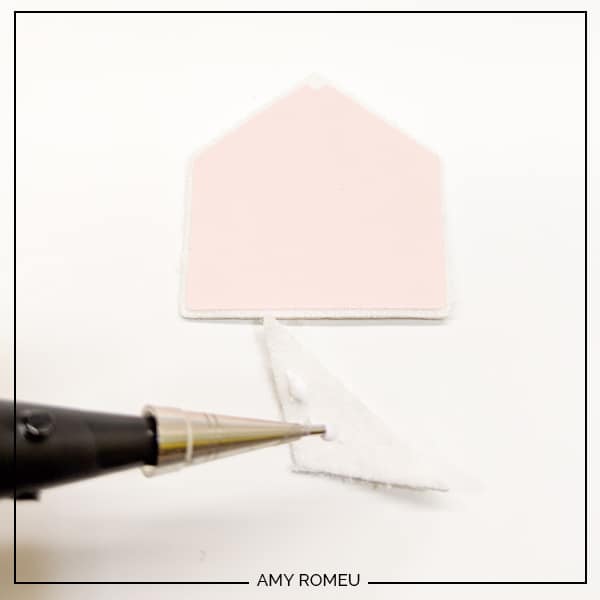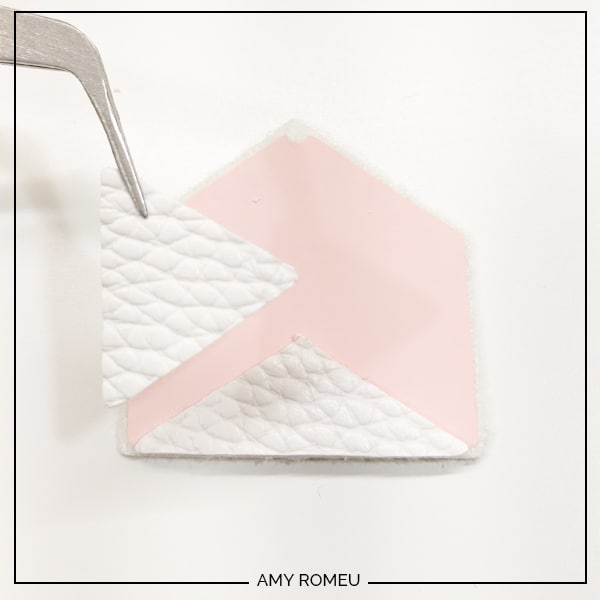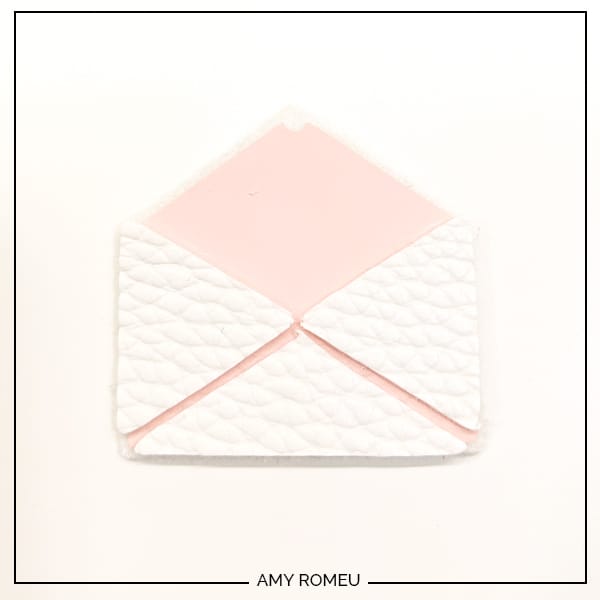 Repeat this process and glue the glitter hearts in place.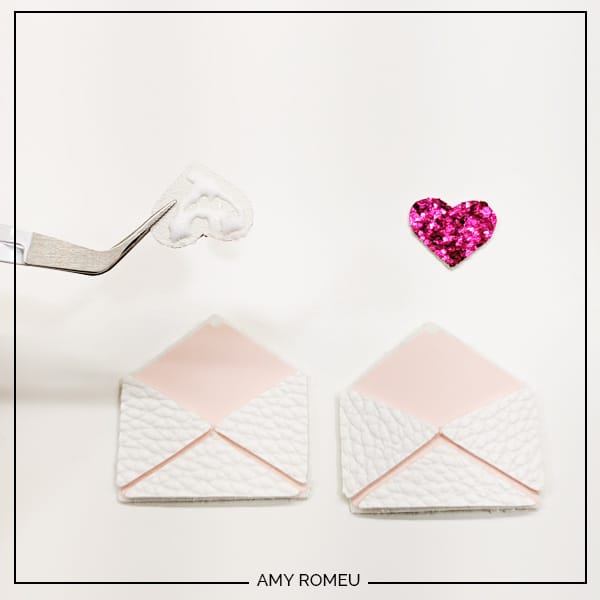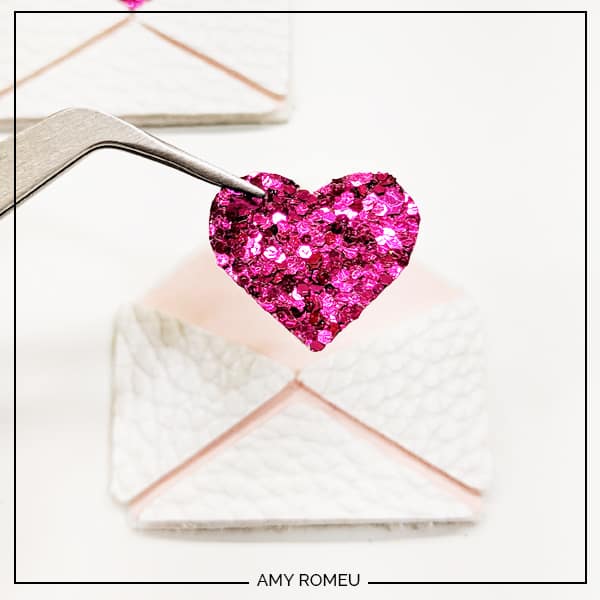 That's it for making the love letters! Place the glued earrings under something heavy like a book for at least an hour before proceeding to the next (and final!) step.
STEP 11 – Attach the Earring Hooks
Now it's time to assemble your earrings!
You'll need small jump rings, earring hooks, and two pairs of flat nose pliers.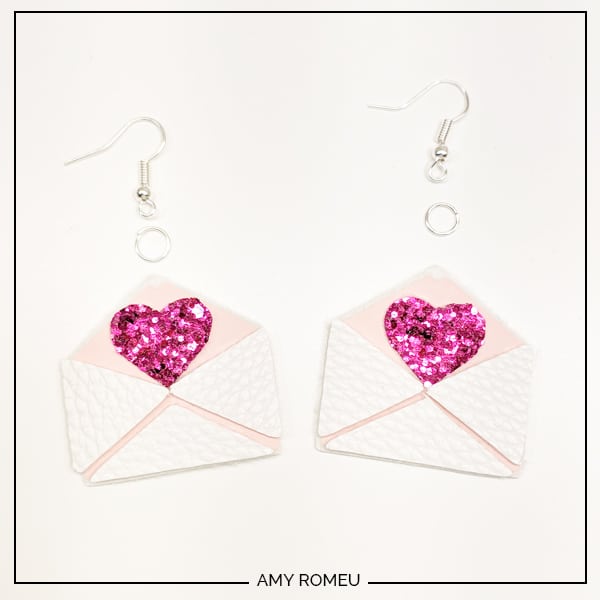 NOTE: You may be wondering why you need jump rings to connect the leather shapes to the earring hooks (instead of just hanging the lovve letters directly from the loop on the earring hook). There are two answers to this very common question!
1. Using jump rings makes your earrings look professionally finished.
2. The jump ring is the key to letting your earrings dangle and move easily naturally as you wear them.
That being said – if you want to hook your earring shapes directly onto the earring hooks, go for it! There are no earring police!
So, to connect the earring hooks to the love letter earrings, you'll first need to turn the bottom loop on the fishhook sideways so your earrings will hang correctly. See the example image below to see how the orientation of the earring hook has to change so your earrings will hang straight.
To see more about this, visit my post about how to make faux leather earrings hang straight here.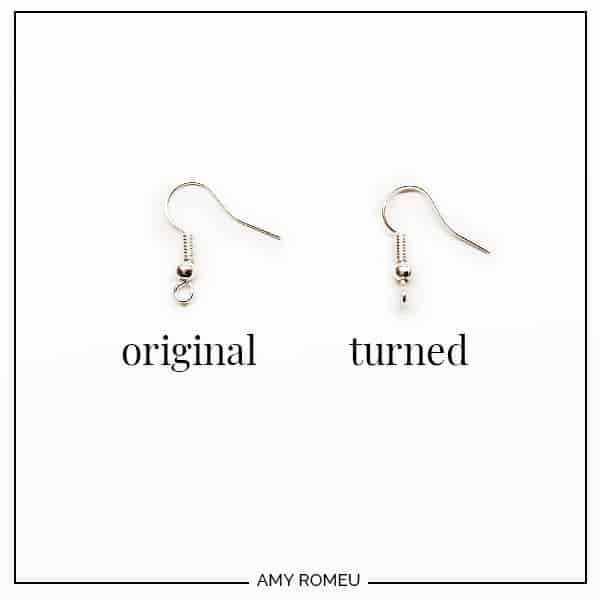 You'll do this using one pair of flat nose pliers. While holding the hook firmly between two fingers, grip the entire earring loop between the pliers and twist your wrist until the loop is perpendicular to the earring post. Repeat with the second earring hook.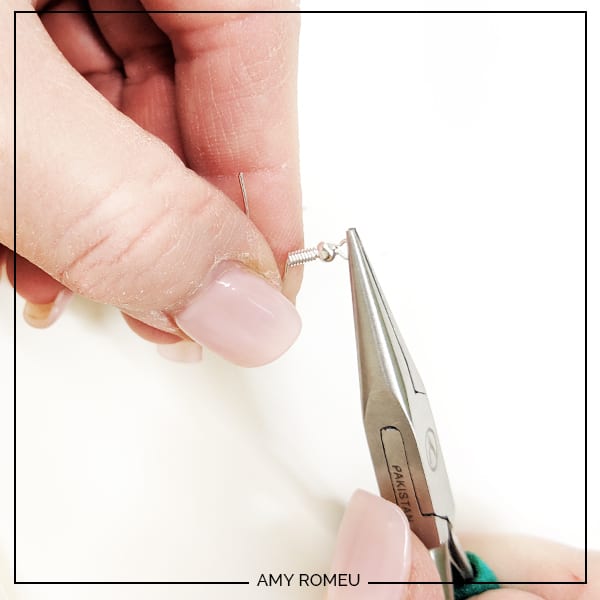 Now you'll need to open your small jump ring to slide the love letter earring and the earring hook on. Using two pliers, grip each side of the jump ring, making sure the opening in the jump ring is facing up (the twelve o'clock position).
Rotate one wrist forwards or backwards, so the circle creates an opening but doesn't bend out of it's circle shape.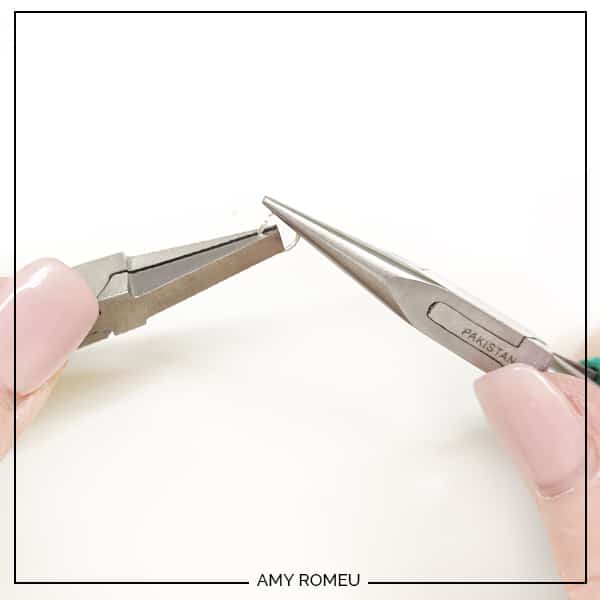 When your jump rings are open, it's time use them to attach the earring hooks to your love letters.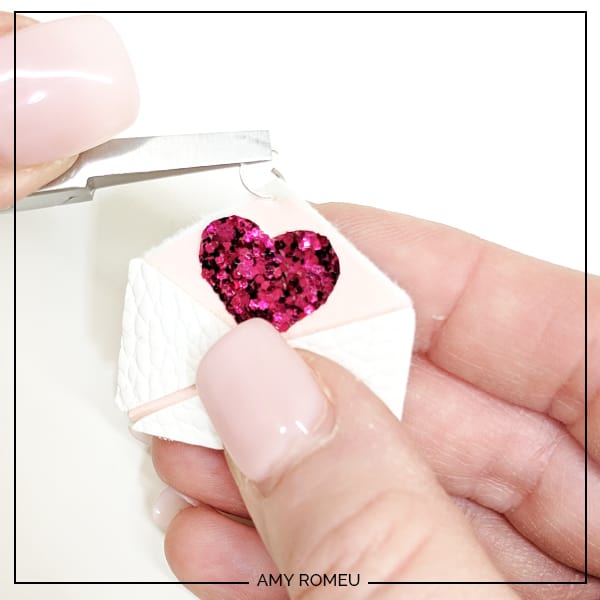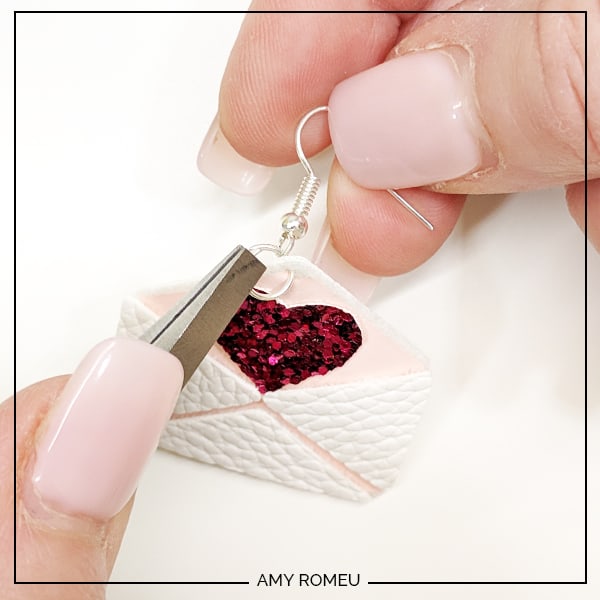 Slide your love letter onto your jump ring, then slide your earring hook onto the jump ring.
Pay attention to which side is the front of your earring as you do this to be sure your earring and hook are both facing the right directions.
Then use your two pliers to close the jump ring again using a wrist twist in the opposite direction. This takes a little practice, but you'll get it!
Repeat with the other earring. That's it!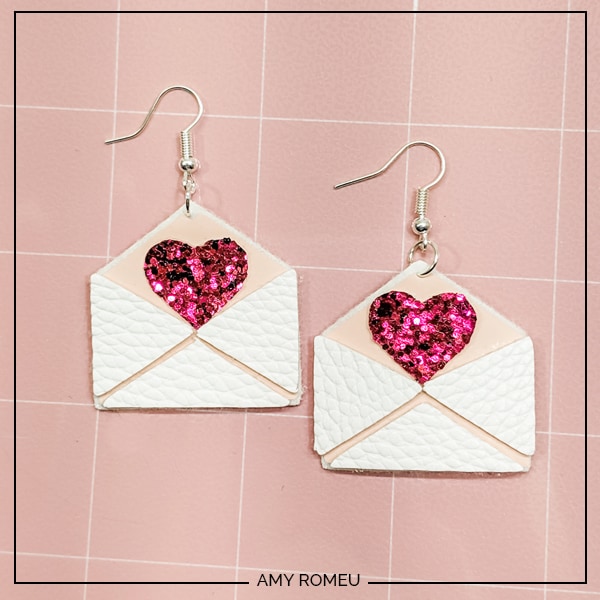 Now, I made some other color versions that you might like, too! Here they are: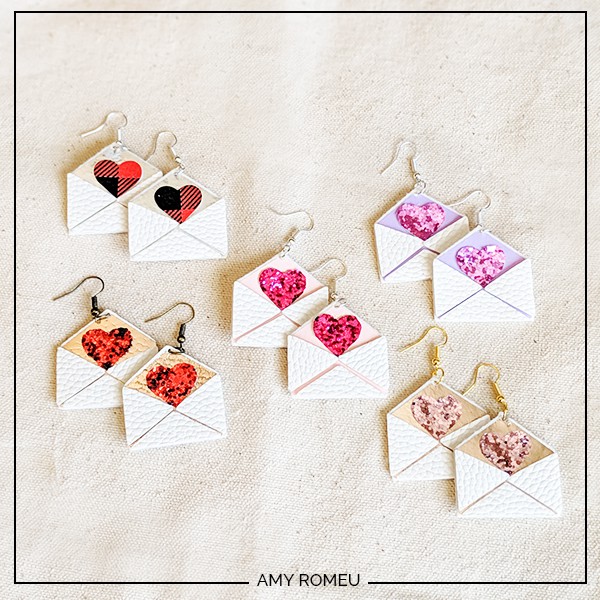 If you want to know what materials I've used for each earring design, see below!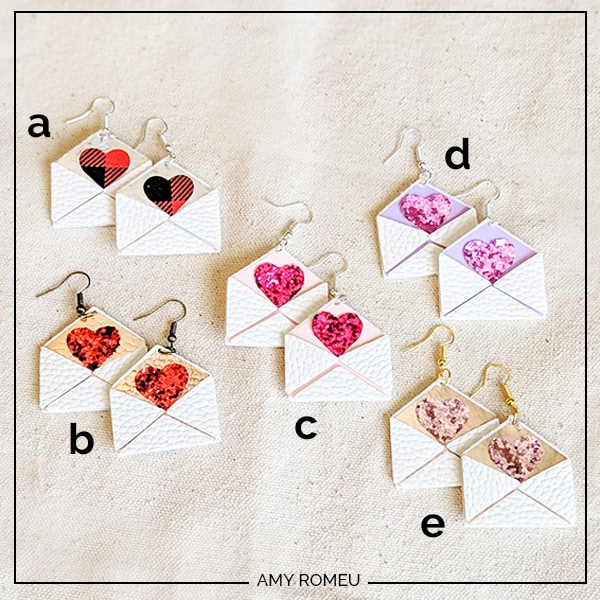 A
B
C
D
E
Are you going to try this project? If you do, please post a comment and attach a photo of your finished earrings! I would love to see what combination of Valentine's Day colored HTV and glitter you choose!
Want to see all of my Cricut earring & jewelry tutorials? CLICK HERE
Until next time… and happy creating!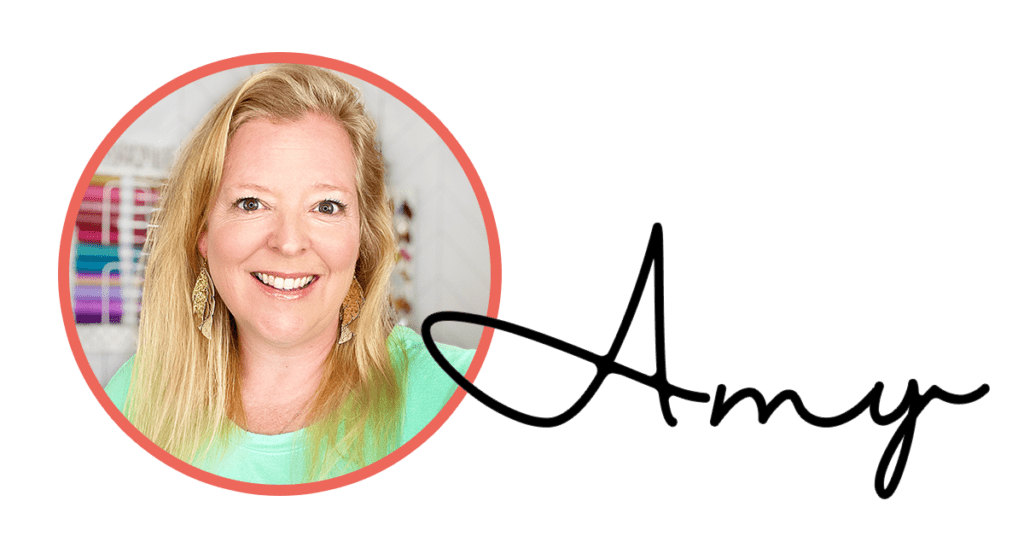 Want the FREE SVG file you so you make these CRICUT VALENTINE'S DAY EARRINGS yourself?
Get it from our Resource Library! You'll receive the password for the Resource Library instantly after filling out the form below!
Want to remember this? Post this CRICUT VALENTINE'S DAY LOVE LETTER EARRINGS project to your favorite Pinterest board!