How to Make 3D Flower Sublimation Earrings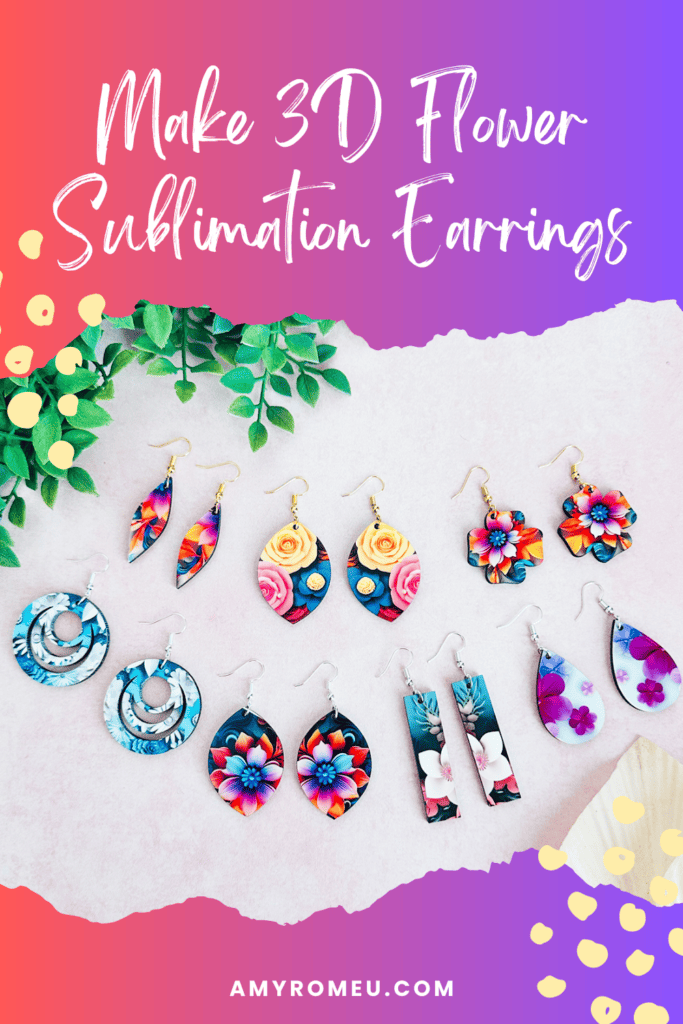 If you've been loving the 3D Flower sublimation trend, but the designs are too large to make 3D Floral Sublimation earrings, then this is the tutorial for you! I'll show you how to make trendy and popular sublimation earrings using my 3D Flower sublimation designs made just for using with sublimation earring blanks.
If you're ready to learn how to make these colorful 3D Flower Sublimation Earrings, let's get started!
Learn how to make 3D Flower Sublimation Earrings
Sublimation with 3D Floral designs is all the rage right now, and crafters everywhere are making vibrantly colored sublimation flower tumblers, plaques, mousepads, mugs, and so much more.
I wanted to hop on this trend and make some 3D Floral Sublimation earrings, but all of the designs I found (like these at Creative Fabrica and these AH-MA-ZING floral sublimation designs from Jennifer Maker) were scaled too large for earrings. So I decided to make my own!
I used AI (Artificial Intelligence) to create 8 different 3D Flower designs. Then I scaled them down and mirrored them so the pair of earrings made from the designs would be symmetrical.
To create these beautiful, colorful 3D Flower Sublimation Earrings like I did, you will need special sublimation earring blanks, a sublimation printer, some sublimation paper, sublimation ink, and a heat press to get started.
I'm sharing my 3D Flower Sublimation designs for you absolutely free! They are ready to download and print and create gorgeous 3D Flower earrings with!
More on how to get the designs below in the Materials section of this tutorial.
Want to watch a video tutorial on YouTube instead? Check it out below!
How to make 3D Flower Sublimation Earrings Step by Step
This page contains some affiliate links (which means if you make a purchase after clicking a link, I will earn a small commission at no additional cost to you). Read my full disclosure policy here.
Materials you'll need to make 3D Flower Sublimation Earrings
Get the Free 3D Flower Sublimation Earring files sent via email instantly!
Step by Step Instructions
IMPORTANT! Before starting any sublimation project, be sure you have heat resistant gloves on hand and you are in a well ventilated area. The process of sublimation does release fumes and sublimated items are very hot after pressing.
Step 1: Get my free 3D Flower Sublimation designs from my blog here.
Check your email – the download will be in your inbox within 5 minutes. Be sure to check your spam and promotions folders, too.
NOTE: If you still don't see the email, please send an email to [email protected] so I can assist you!
Download the freebie and unzip the download folder.
Step 2: Print either the PDFs or the PNGs using your sublimation printer with sublimation ink on sublimation paper. They will print as full sheets on 8.5 x 11″ letter sized paper.
I printed mine using Sawgrass' Print Manager because I have a SG-500, but you can print yours however you do with your sublimation printer.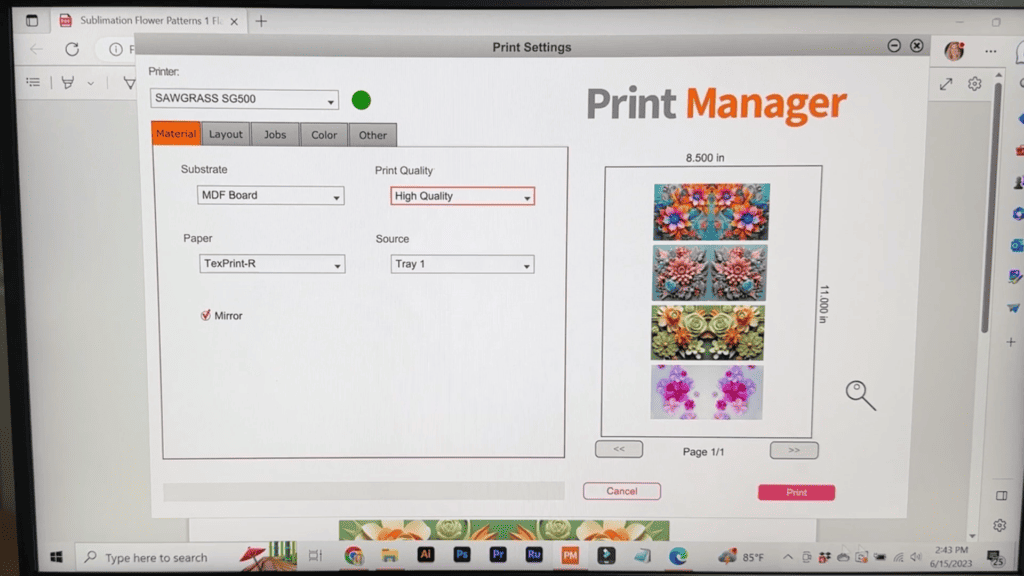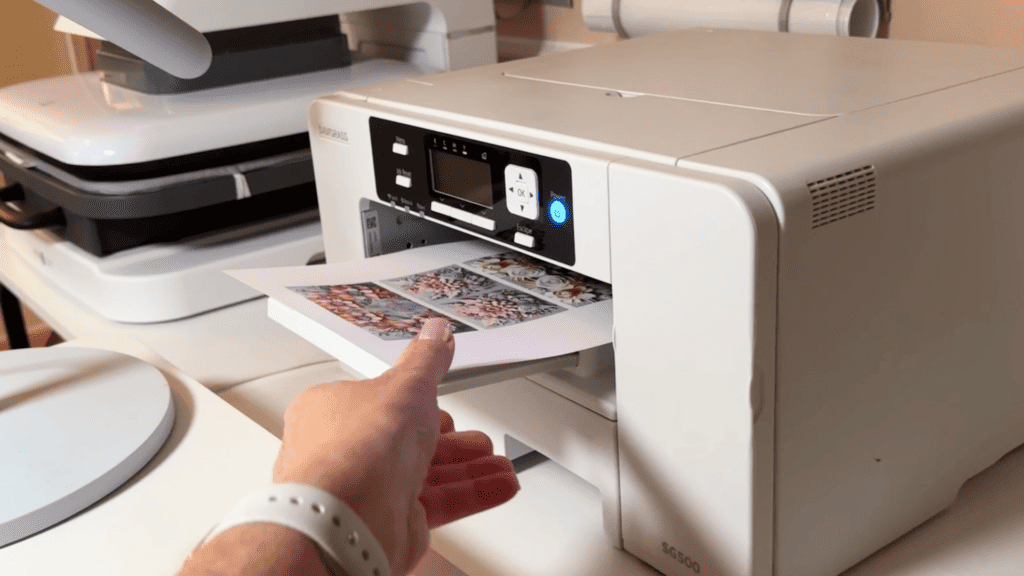 Trim the design you want to use from the larger sheet of sublimation paper.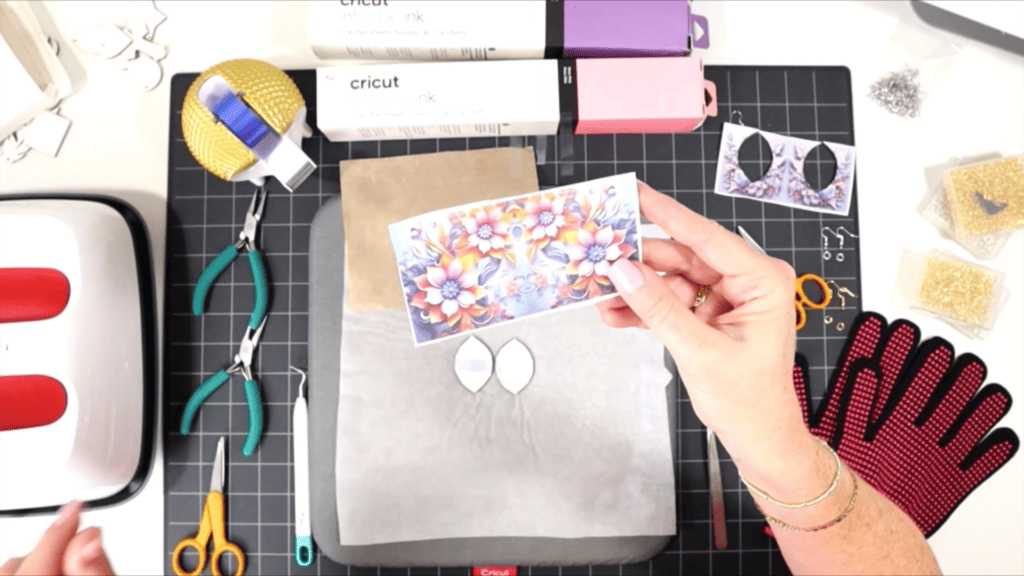 Step 3: Peel the clear protective cover from both sides of the earring blanks using a pin pen weeding tool or a hook weeding tool. Be careful not to scratch the surface of the earring blank.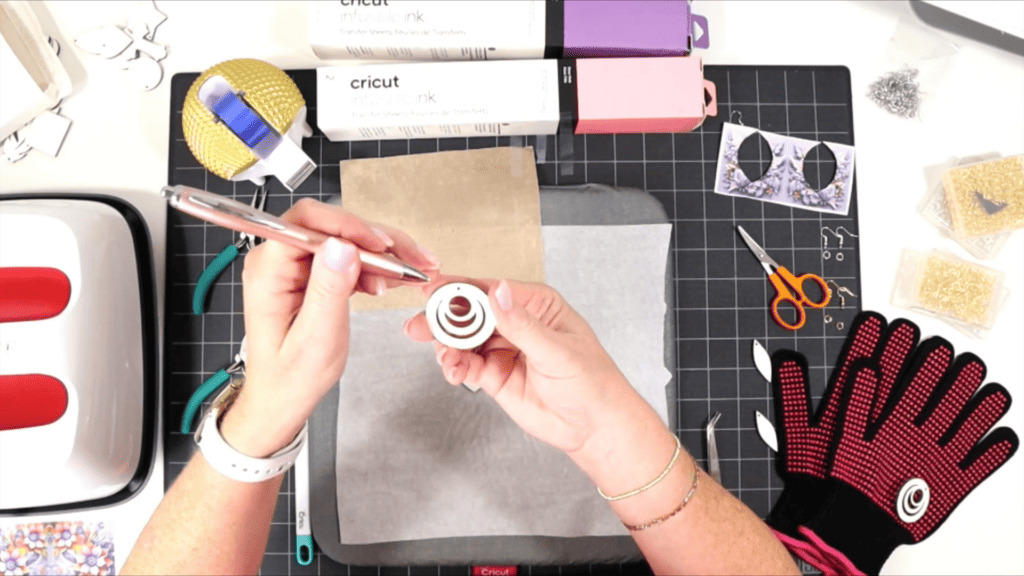 Step 4: Place the first sublimation earring blank on the desired section of the 3D floral pattern. Keep in mind there's more pattern around that shape that could also be used for other earrings if desired.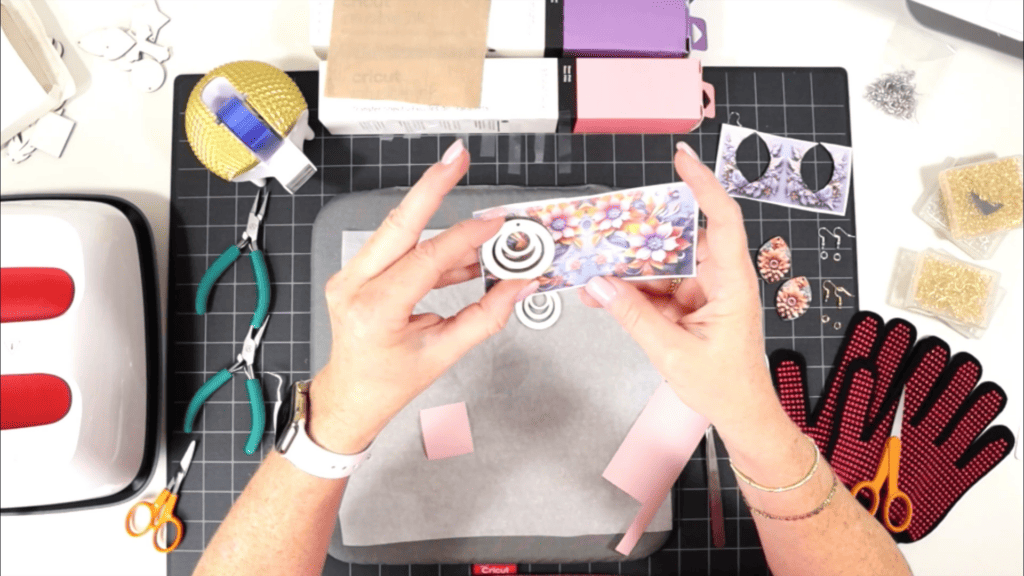 Trim the pattern close to the edges of the earring blank, being careful to leave at least a 1/4″ of pattern overlapping around the earring shape.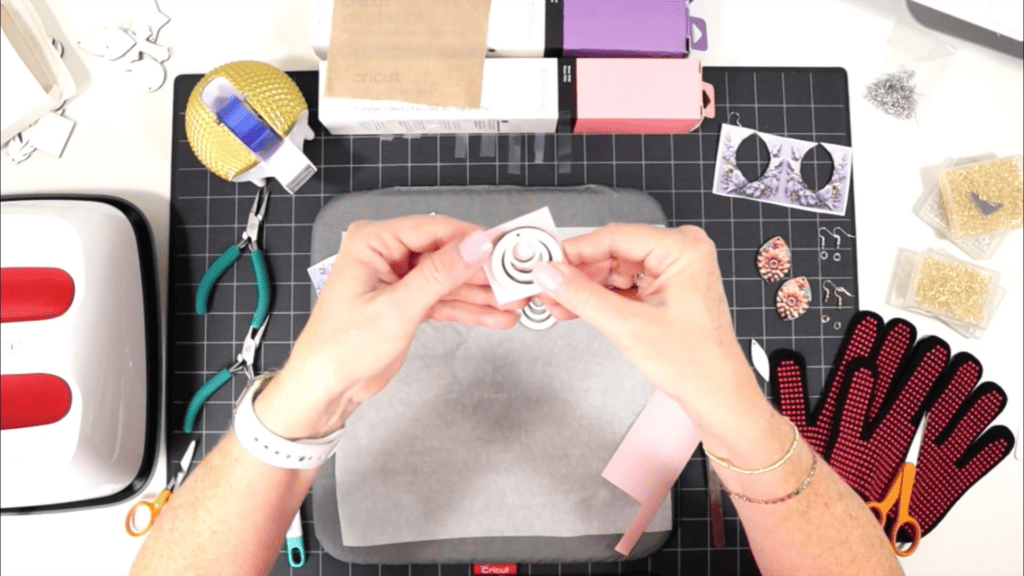 Repeat with trimming the pattern around the second earring blanks.
Be sure to line up the second blank on the exact same part of the 3D Flower pattern sheet so your earrings will be symmetrical.
If you are also putting Infusible Ink on the back of the earrings, trim two small pieces of Infusible Ink down to a size just larger than the blanks, just like you trimmed for the front.
Step 5: Now sandwich the double sided earring blanks in between the Infusible Ink sheet and the pattern sheet. Both the Infusible Ink sheet and the pattern sheet should be facing in. Be sure you've taken the clear cover layer off of both sides of the earring blanks!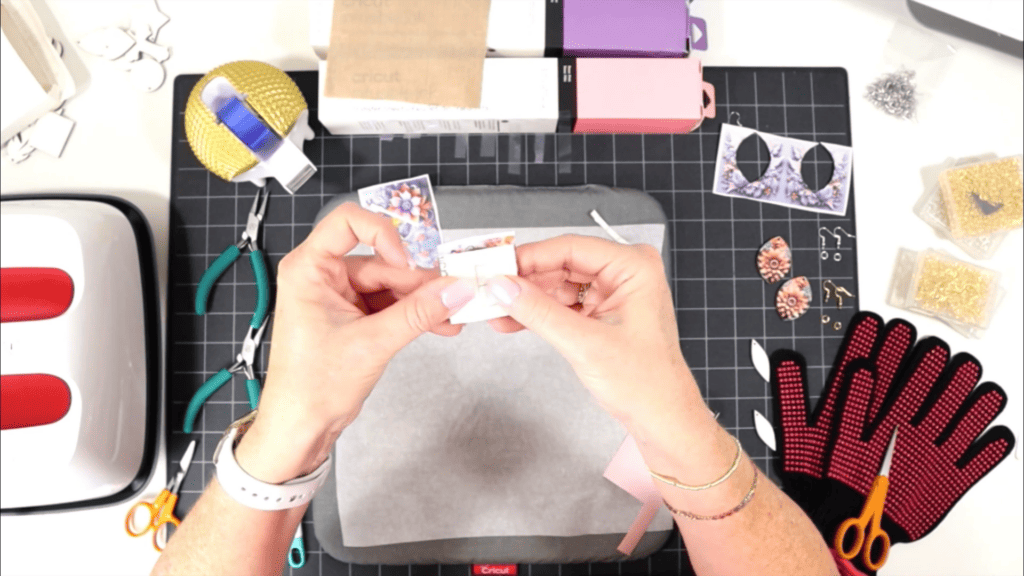 Step 6: Using some heat resistant tape, tape the front sheet to the back sheet on all four sides. Try to wrap the tape tightly on each side to trap the blank inside the "sandwich" so the blank doesn't move.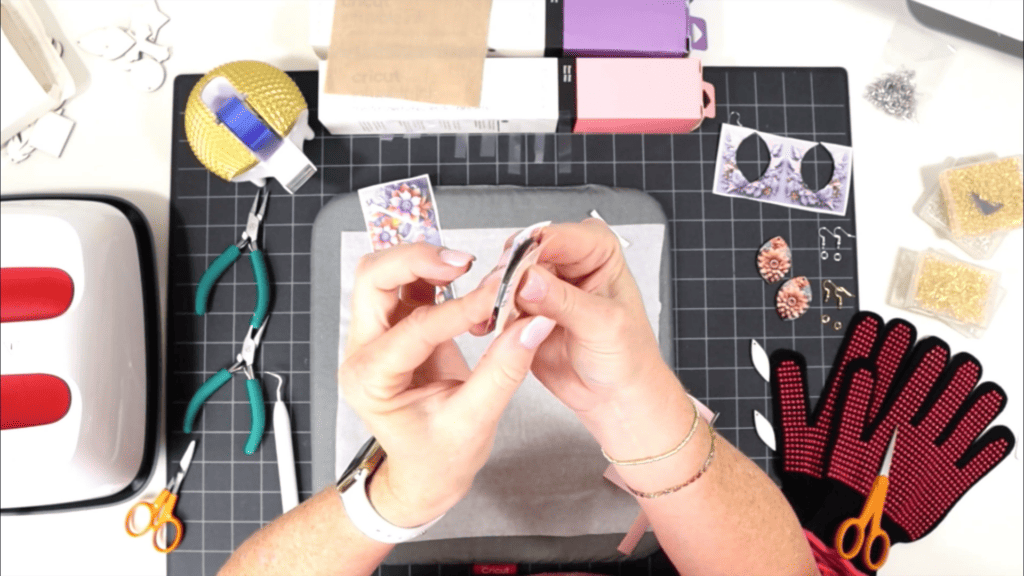 Step 7: Turn on your Cricut EasyPress Mini to the HIGH setting, or an Easy Press or Heat Press to 385 to 400 degrees.
Cover a heat pressing pad with either parchment paper or a piece of cardstock to absorb any ink that may transfer as you are pressing.
Place both sublimation earring blank "sandwiches" on the heat pressing pad. I like to press the earring backs first, so I put the Infusible Ink side of the sandwich face up.
Cover the earring blanks with either a piece of Teflon sheet, parchment paper, or butcher paper.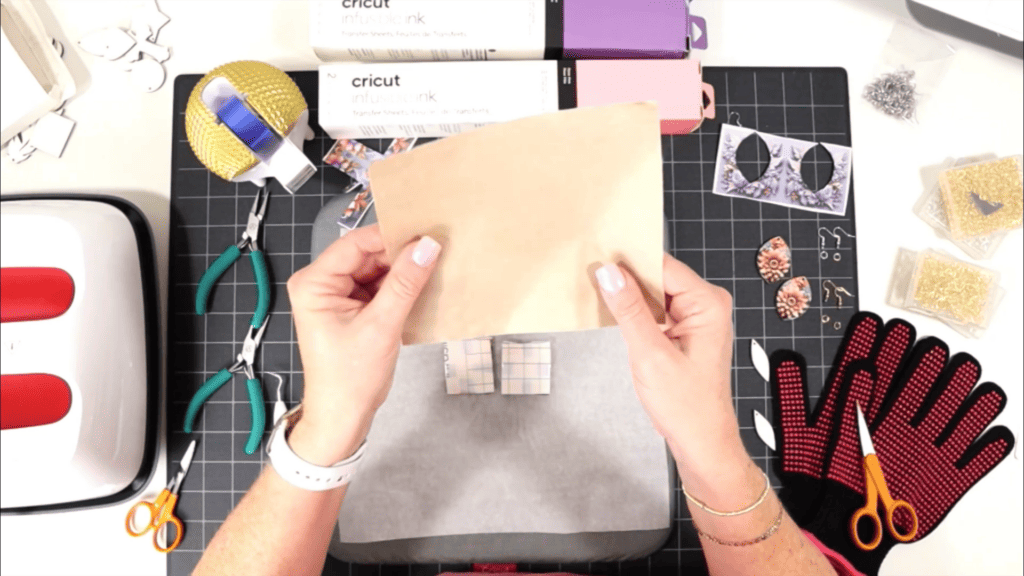 Step 8: When the heat press has reached 385-400 degrees, start pressing the earring blanks for 60 seconds each.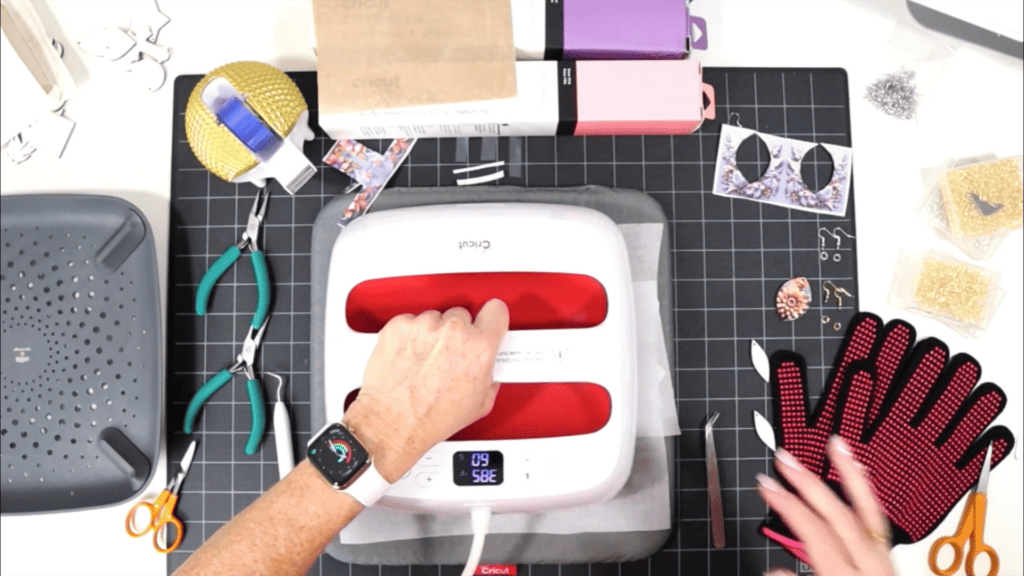 Step 8: Remove the heat press and carefully set it aside. Remove the protective Teflon sheet or parchment paper, too. If you are pressing both the front and the back of the earrings at the same time like I am in this demonstration, DO NOT peel the Infusible Ink layer off of the earring blanks yet.
Instead, carefully flip the blanks over on your heat pressing pad so now the 3D flower pattern is facing up.
I used my sharp weeding tool to flip the blanks without touching them. If you want to flip them with your fingers, be sure to put your heat resistant gloves on first.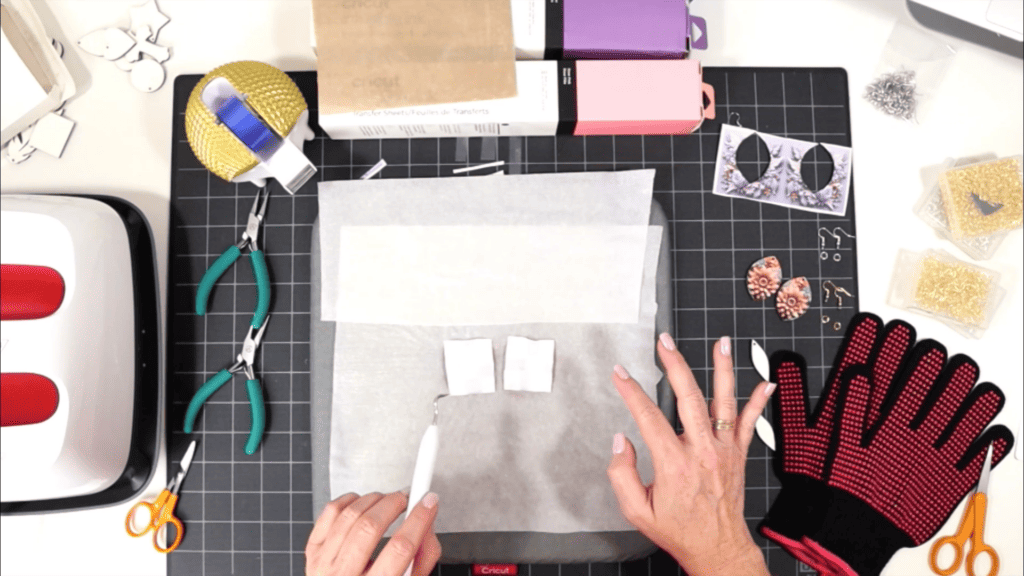 Then recover the blanks with the parchment paper or Teflon sheet and repeat pressing for 60 seconds.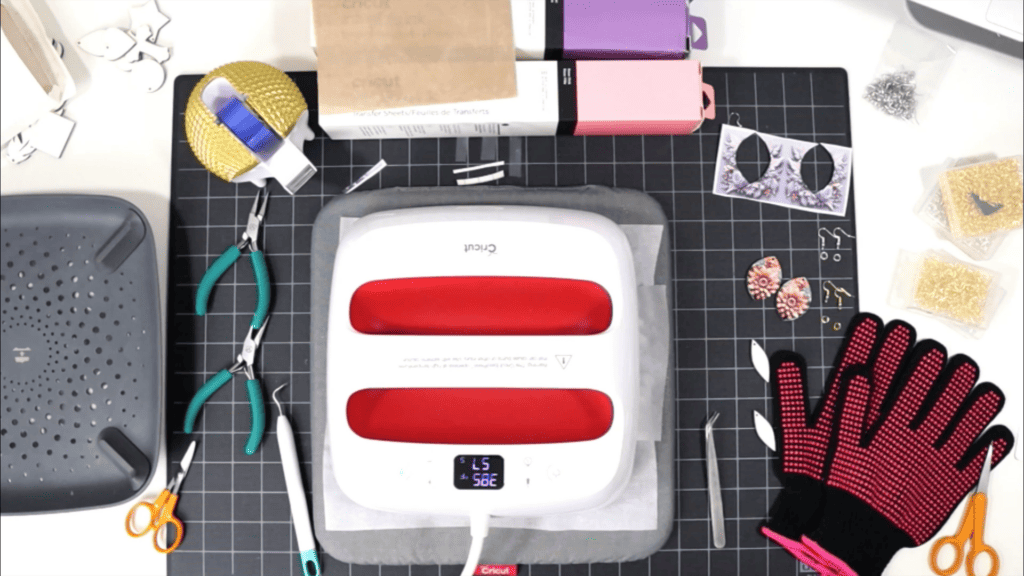 Step 9: Remove the heat press and set aside. Allow the earring blanks to cool for 2-3 minutes before carefully removing the Infusible Ink and 3D flower pattern sheets from both sides of the blank.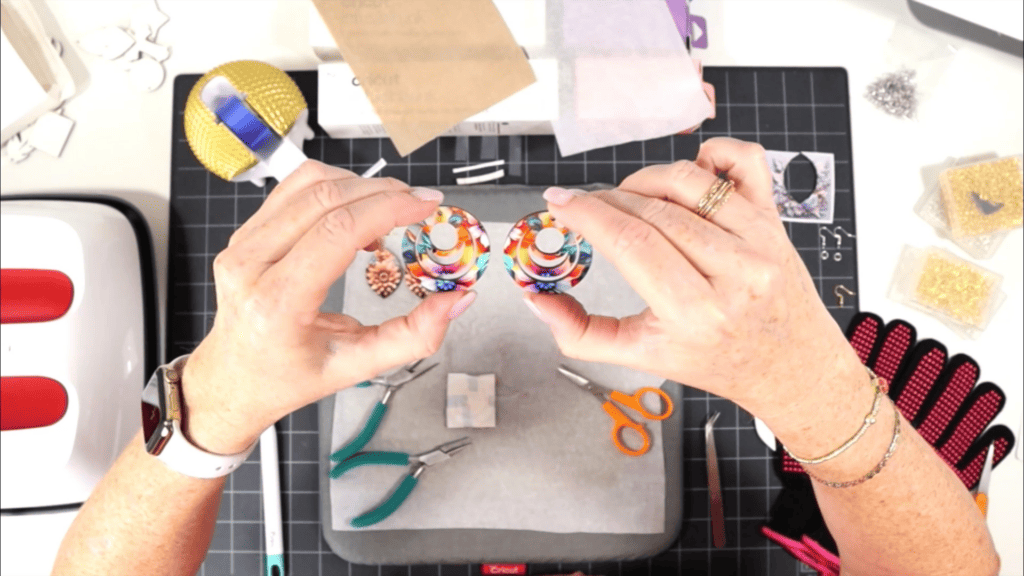 Step 10: Use flat nose pliers to open the jump rings and connect the earring hook to the sublimation earring. Repeat with the other earring.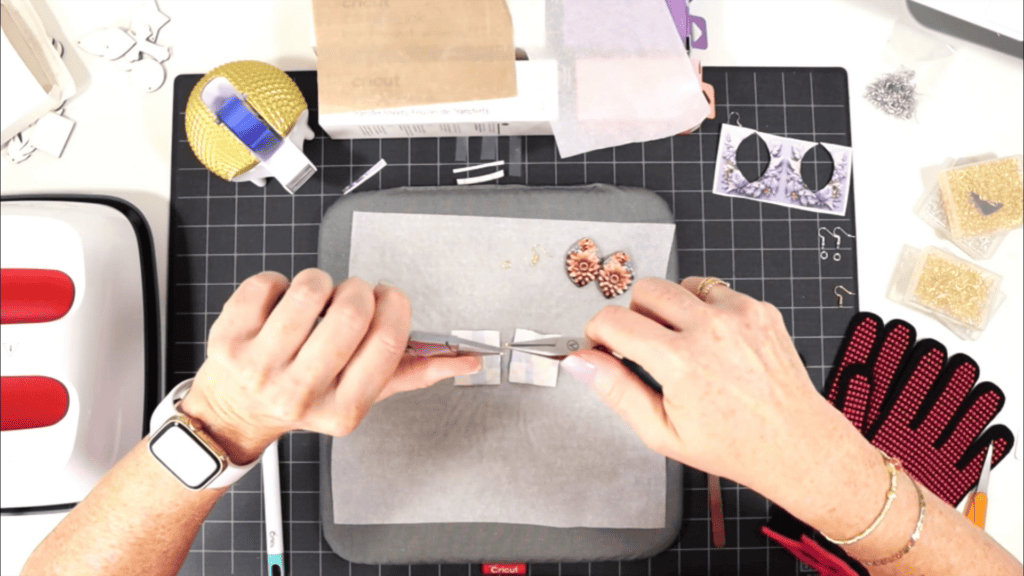 That's it! Your 3D Flower Sublimation Earrings are complete!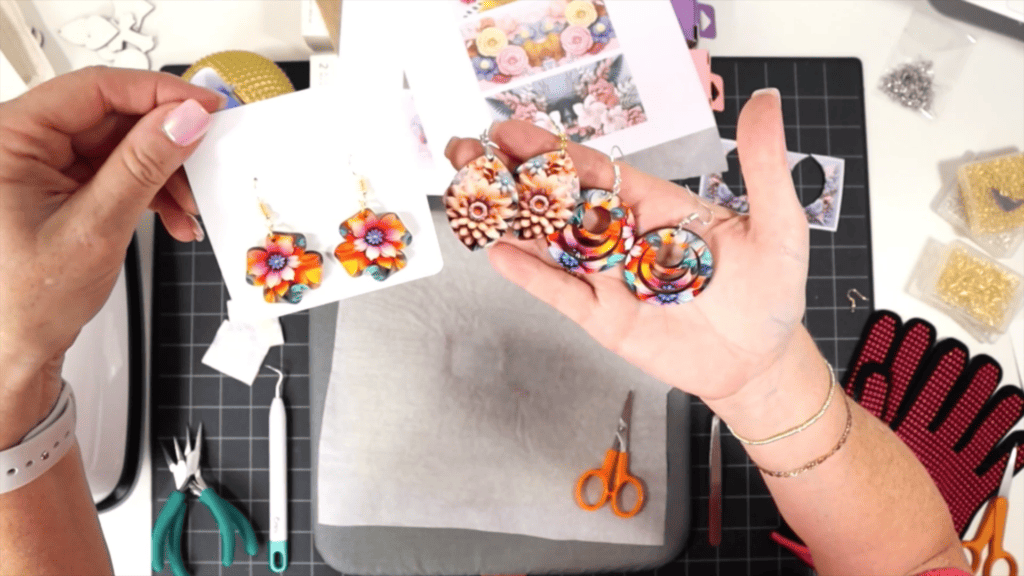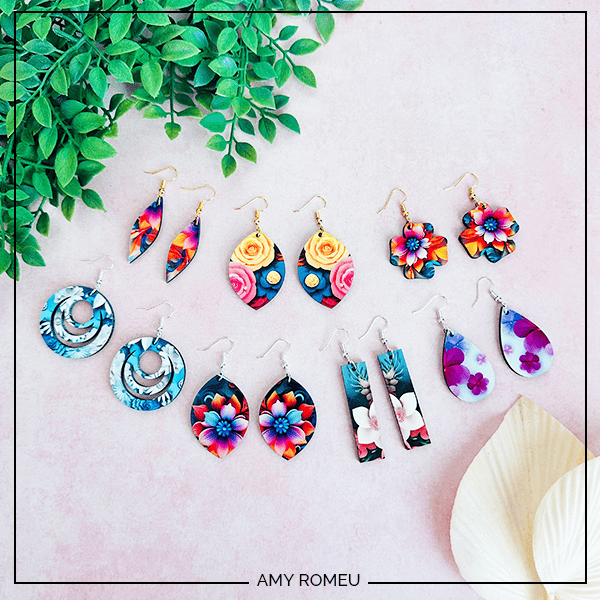 Remember, I've created 8 beautiful 3D Flower Sublimation Earring designs for you and they are totally free on my blog! You can get them emailed to you instantly by clicking the button below.
Get the Free 3D Flower Sublimation Earring files sent via email instantly!
Until next time… happy crafting!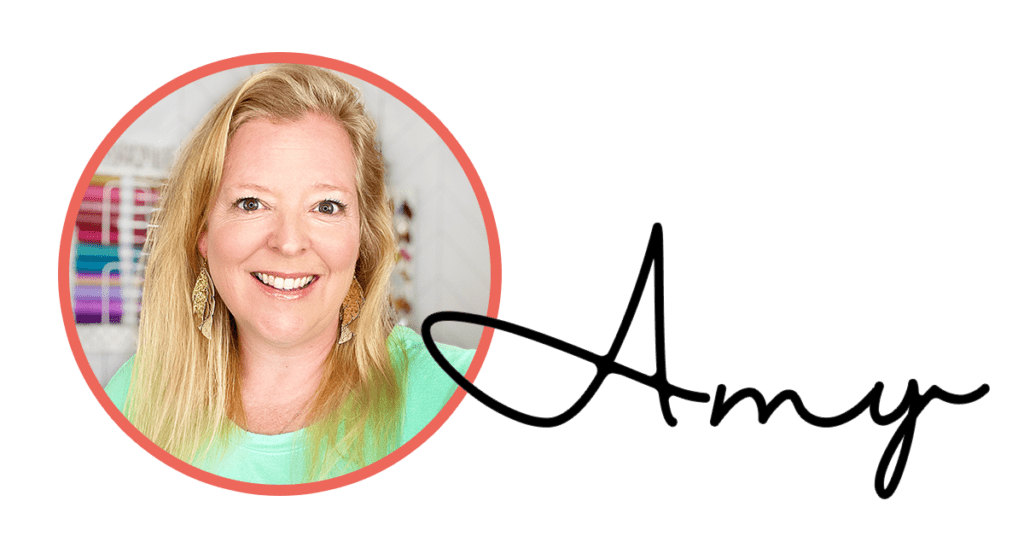 If you loved this Sublimation Jewelry project, you'll love these projects too:
Answers to your questions about making 3D Flower Sublimation Earrings
Q: Can you sublimate on earrings?
A: Yes! You can sublimate earrings by using special sublimation earring blanks and a heat press.
Q: Do I need a sublimation printer to make sublimation earrings?
A: No, you can make easy sublimation earrings without a sublimation printer using sublimation ink transfer sheets like Cricut Infusible Ink. However, this particular 3D Flower Sublimation Earrings project does require a sublimation printer to print out my free 3D Flower sublimation designs. To get the designs sent to you via email instantly, click here.
Q: What are sublimation earrings made of?
A: Sublimation blanks are often made of a MDF core with a sublimation coating outside. There are also sublimation earring blanks with a canvas core with white glitter on the outside that accept sublimation ink beautifully.
Q: How long do I press sublimation earrings?
A: I press sublimation earrings for 60 seconds.
Q: What is heat temperature for sublimation earrings?
A: I press sublimation earrings at 385-400 degrees, or on the High setting on the Cricut Easy Press Mini.
Want instant access to my Free Resource Library full of SVG files?
Just Enter your name and email Below!
By signing up, you'll get instant access to my FREE SVG Library with hundreds of crafting SVG templates! You'll also get my weekly newsletter full of crafting ideas, tutorials, and inspiration! Unsubscribe anytime.
Want to remember this project? Save this tutorial to your favorite Pinterest board!