Easy DIY Faux Leather Stud Earrings
Learn how to make Easy Faux Leather Stud Earrings without a Cricut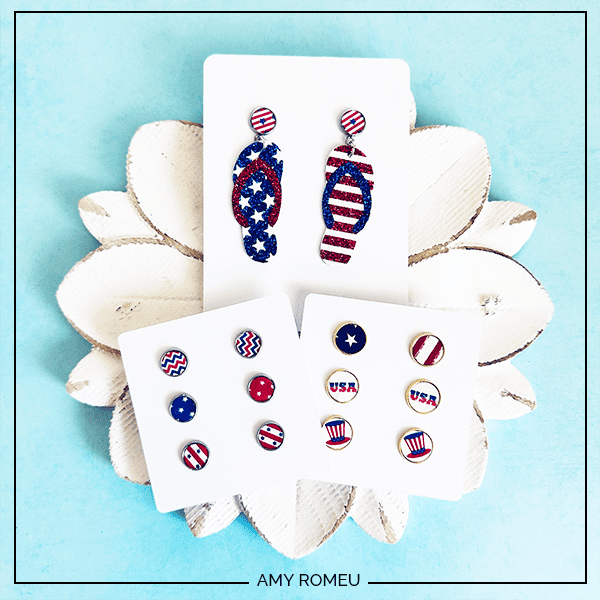 Interested in making Faux Leather Stud Earrings but don't have a Cricut? The good news is, you don't need one! You can get started making stud earrings without a Cricut printer easily with just a few inexpensive supplies. Keep reading to learn how! Or if you'd rather watch a video, see below.
Note: If you DO have a Cricut and want to learn how to use it to cut the stud sized circles and get my free 12mm and 10mm circle SVG, check out this post here.)
How to make Easy Faux Leather Stud Earrings Tutorial Video
Learn how to make Faux Leather Stud Earrings without a Cricut
Stud earrings are so quick and easy to make from faux leather. They are a perfect use of faux leather scraps you may have left over from cutting faux leather earrings with your Cricut, too. If you're wondering how to get started making faux leather stud earrings and you want to know what materials you need to make stud earrings and if you need a Cricut to make stud earrings, let's get started!
(While I'll be showing you how to make stud earrings without a Cricut in this post, I have a great Cricut stud earring tutorial and YouTube video here.)
How to make Easy Faux Leather Stud Earrings Step by Step
This page contains some affiliate links (which means if you make a purchase after clicking a link, I will earn a small commission at no additional cost to you). Read my full disclosure policy here.
Materials you'll need to make Faux Leather Stud Earrings without a Cricut
Shop My Amazon Store
To see all of the supplies below that are available on Amazon, click the button below.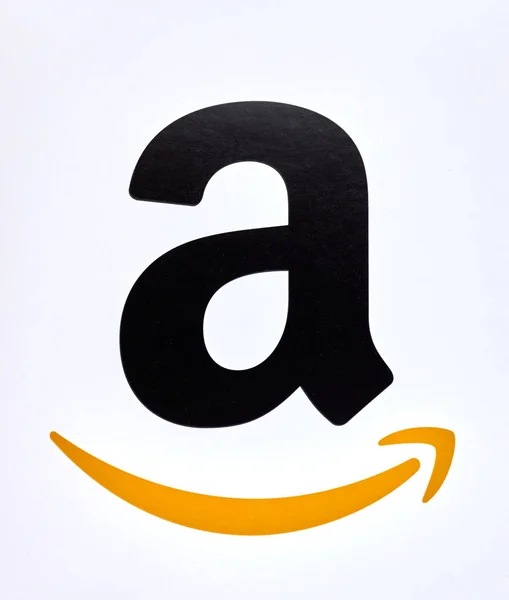 Step by Step Instructions
Step 1: The first step in making stud earrings from faux leather without a Cricut is being able to cut the correct size circles for the stud earring blanks you are using.
I like to use 12mm and 10mm sizes, and I bought a pair of circle punches on Amazon in these sizes (linked above in the materials list).
When making studs, we will use these punches flipped upside down with the translucent punch cover moved out of the way so we can see the print or pattern placement before punching.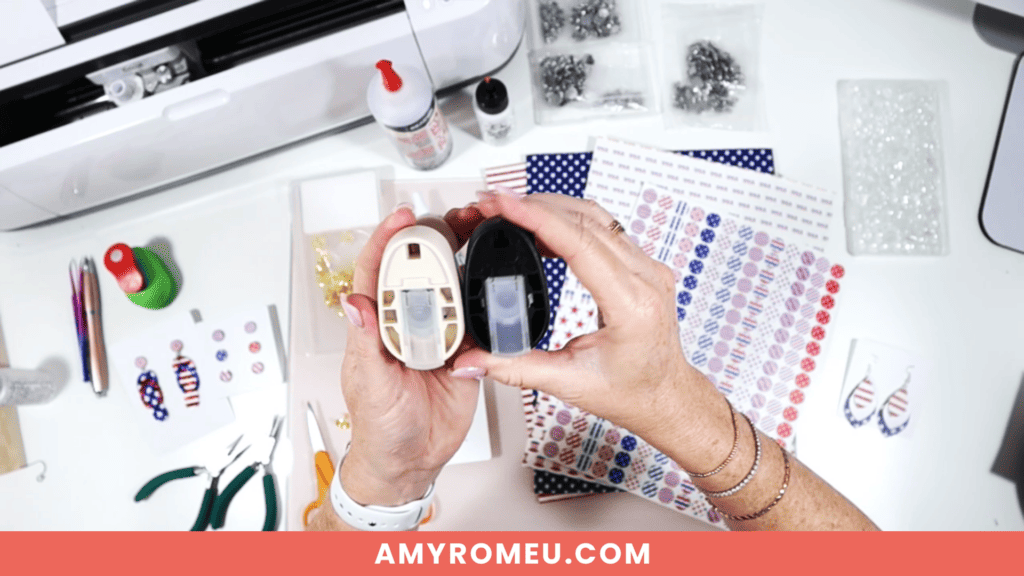 Step 2: Using a scrap of faux leather, or any larger piece of faux leather, position the punch upside down with the faux leather inside the punch so the pattern is visible inside the circle.
Move the faux leather if desired to punch a specific area of the faux leather. Squeeze the punch down firmly to punch the circle out of the faux leather as shown below.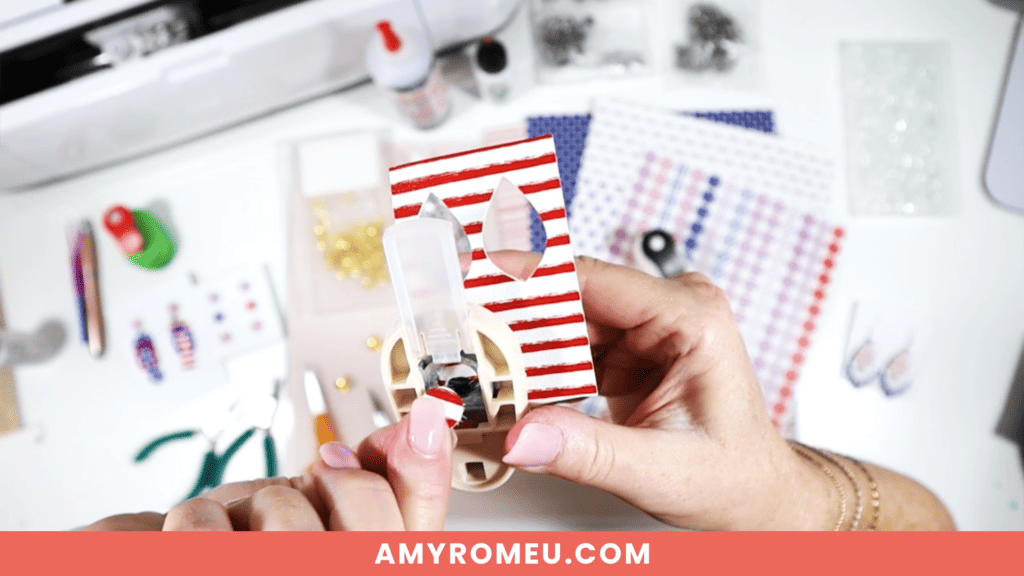 Step 3: If the circle didn't punch cleanly, or if it did but there are little stray fuzzies around the circle, use small curved scissors like these or embroidery scissors to trim the circle edges.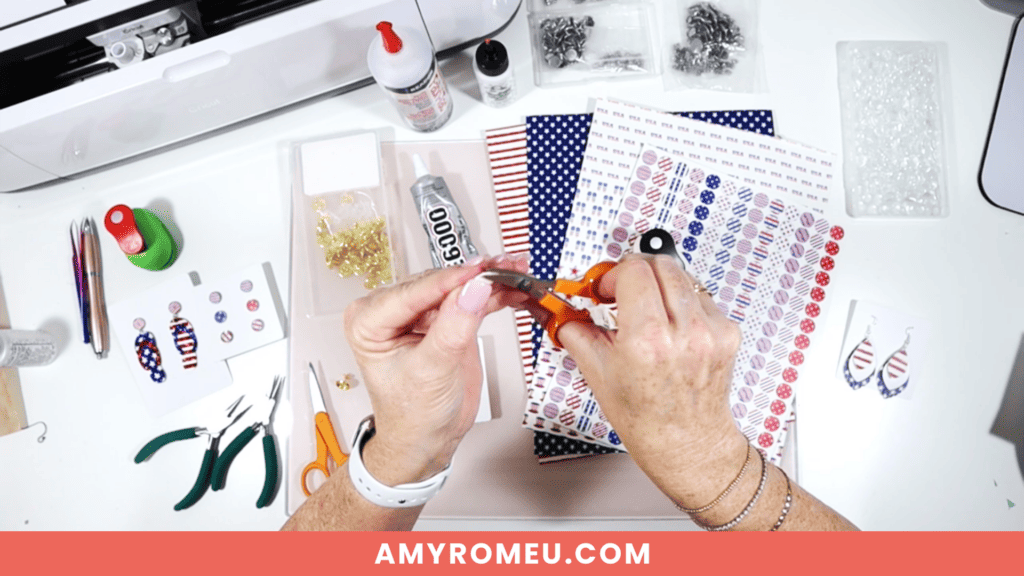 Step 4: Place the stud finding on an earring card or press them into a piece of foam to keep them stable and in place while gluing. Add a small dab of fabric or craft glue inside the stud.
Then position the cut faux leather circle inside the stud setting and press down firmly. Wipe away any excess glue as needed.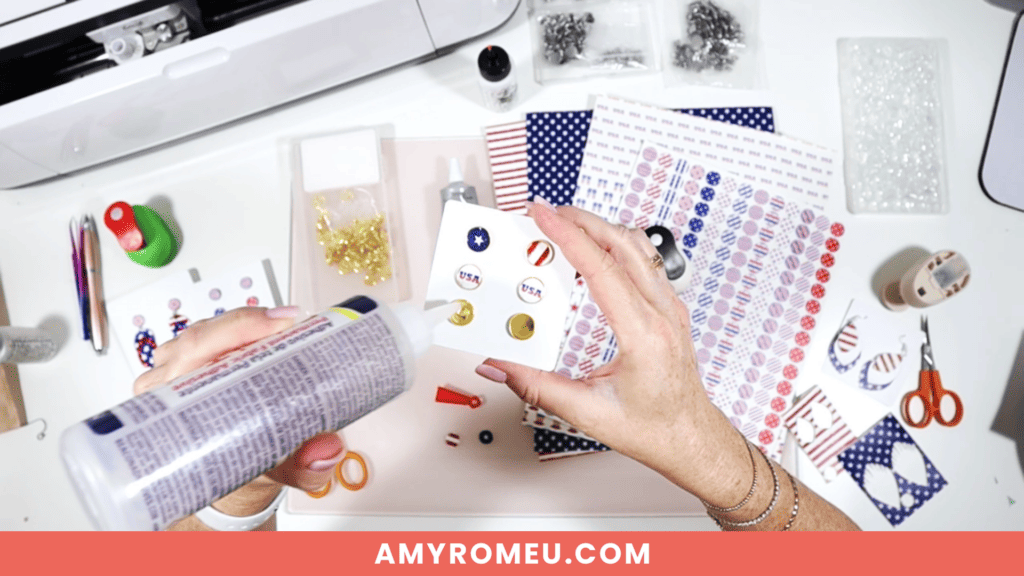 Step 5: Another option is to use faux leather sheets specifically designed for making stud earrings, like these shown below (I've linked to them in the Materials section above).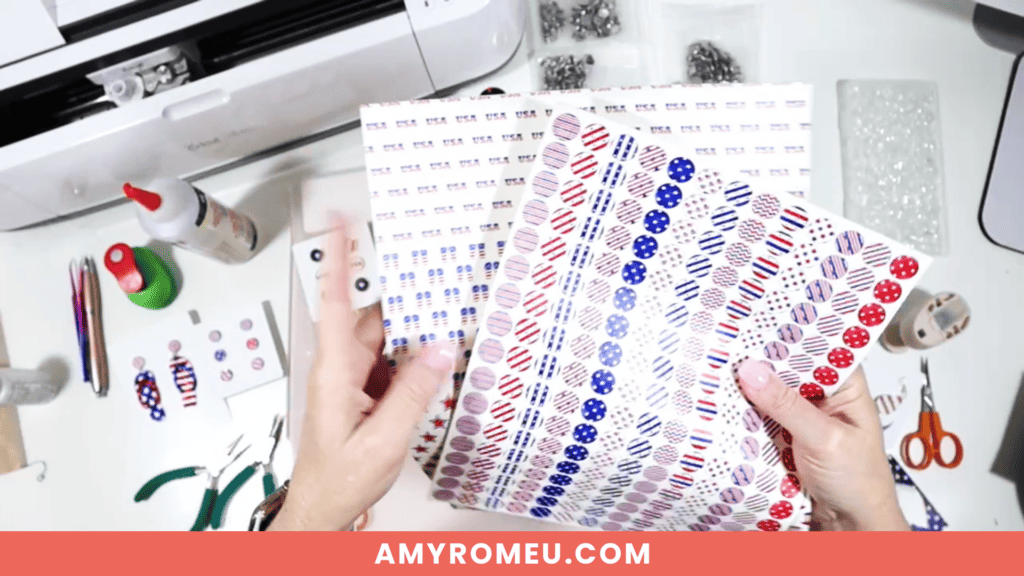 These sheets work the same way with the circle punches. You'll want to pay attention to the size of the stud designs – some of them will work better with the larger sized punches.
For example, the USA design below works nicely as a 12mm stud because there is a small area of white space around the design. If you used a 10mm punch on these, the edges of the design would be trimmed off.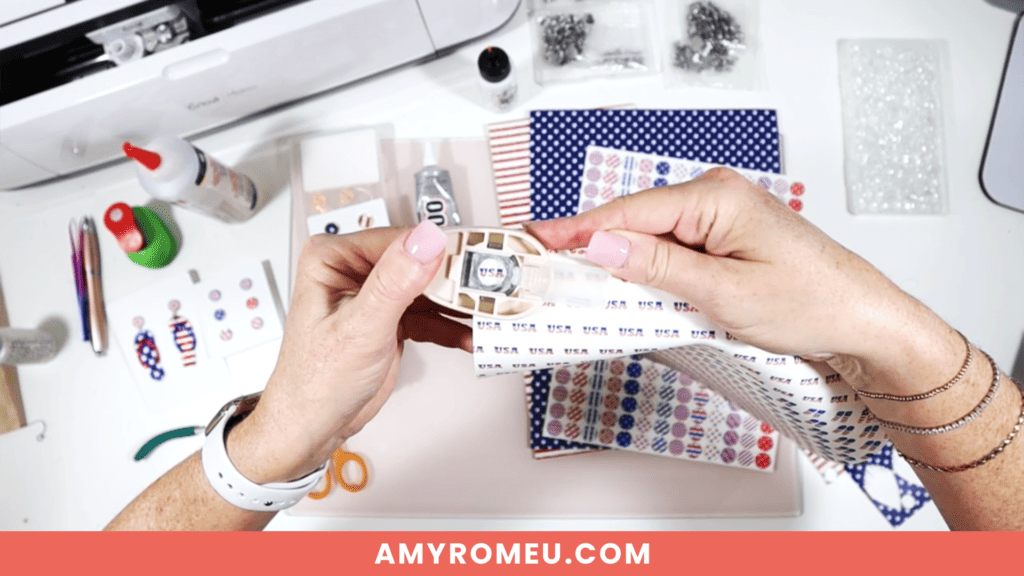 For smaller stud sizes (10mm and 8mm) I prefer using smaller scaled printed circles like these (linked in the Materials section above).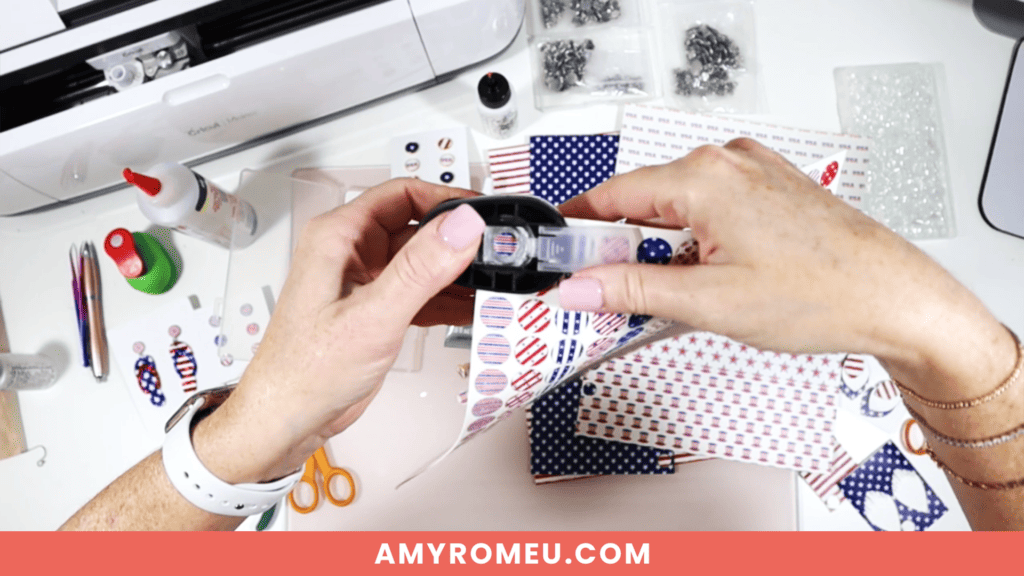 Here is how the 10mm smaller scaled patterned stud circles look as a set of 3 stud pairs. Super cute, right?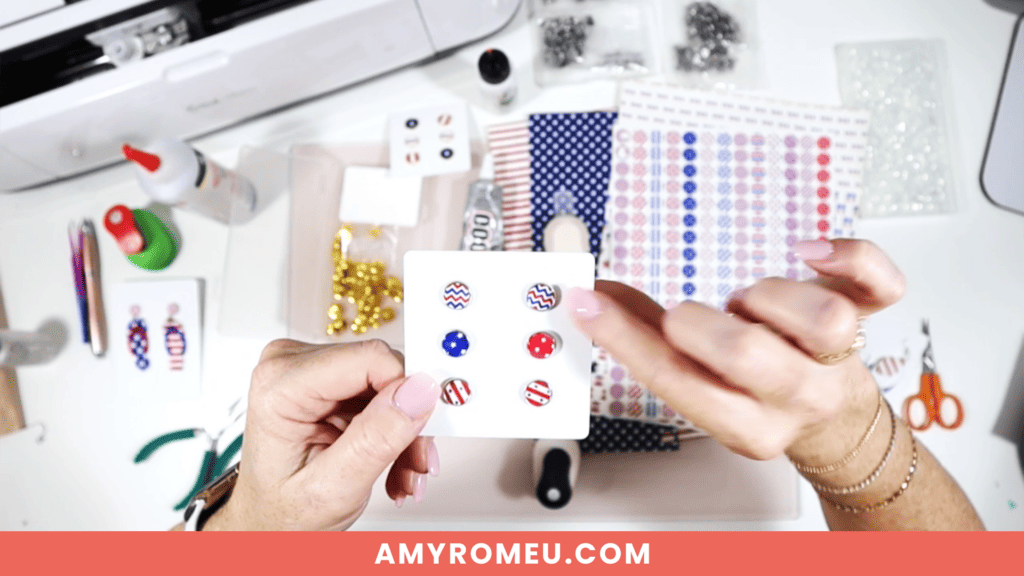 Step 6: You can also use stud findings that have a loop at the bottom if you want to hang a dangle or charm or earring from the bottom.
Pay close attention to the loop placement at the bottom of the stud findings. You want the ones where the loop is parallel to the stud finding, like this one below.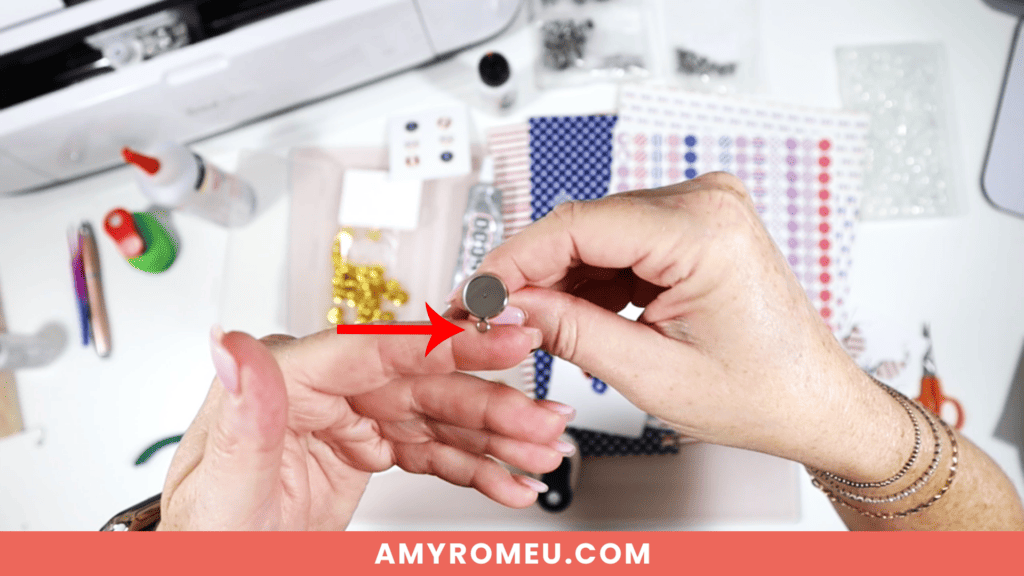 You don't want the kind where the loop is turned sideways on the stud finding. If you use these, you'll need two jump rings to attach your earring or charm instead of just one.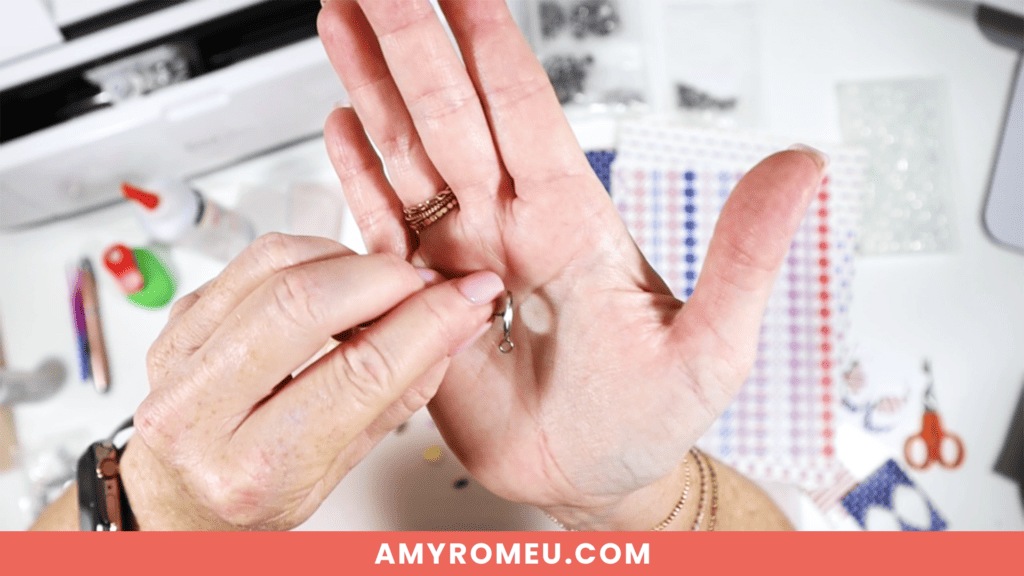 Step 8: To attach an earring to a stud finding with a loop, I recommend using a 6mm jump ring.
The Flip Flop earrings shown below are made using faux leather and heat transfer vinyl and a Cricut cutting machine. You can see the step by step tutorial here. You can get the free SVG from my blog's SVG library. It's Design #197. You can request to get the library link and password sent to you instantly by clicking here.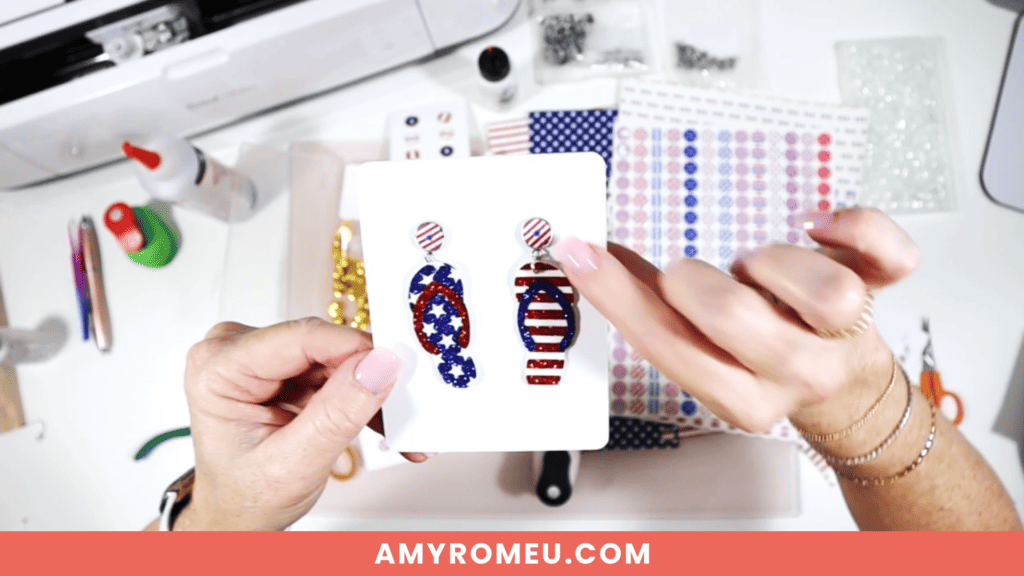 Step 9: That's it! I hope this tutorial has shown you how easy it is to make faux leather stud earrings without a Cricut!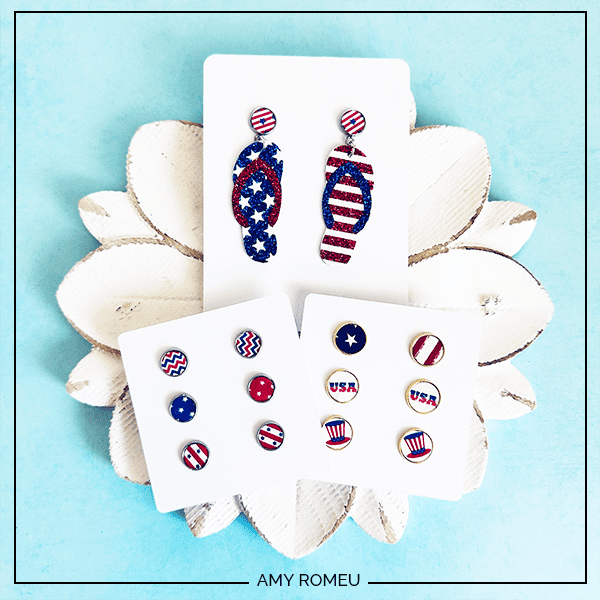 Until next time… happy crafting!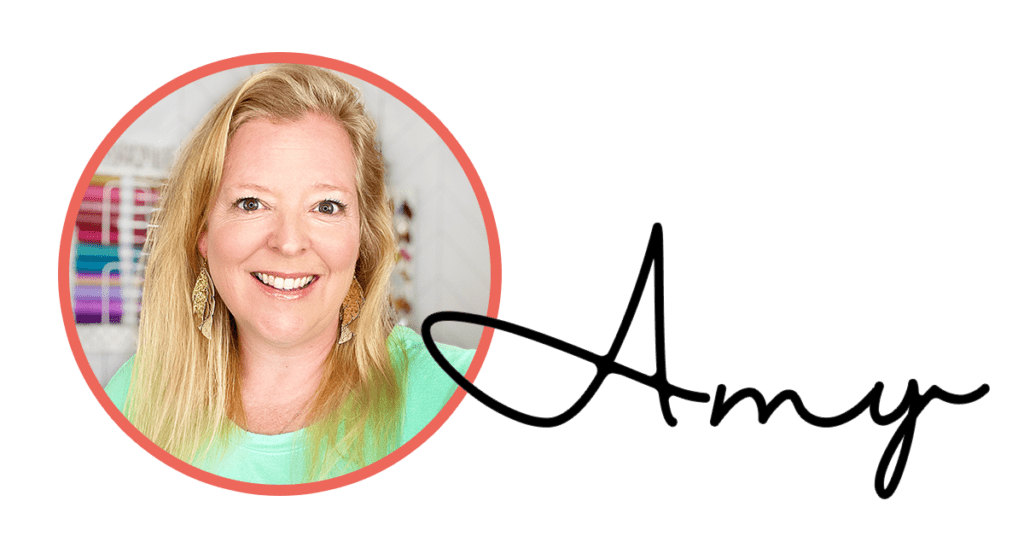 If you loved this project, you'll love these projects too:
Answers to your questions about making Stud Earrings without a Cricut
Q: What do I need to make faux leather stud earrings without a Cricut?
A: You'll need printed or solid faux leather of your choice, stud earring findings, and circle punches in sizes that match the size of the stud earring findings. Sharp curved scissors and a good craft or fabric glue are esssential, too.
Q: What are the faux leather stud earring sizes?
A. Stud earring findings, also called bezel setting earrings, are measured in millimeters. The most common stud earring size is 12mm, which is roughly a half inch. 10mm studs are slightly smaller and are another popular size. You'll also find 8mm studs and larger stud findings that are 16mm in size.
Q: How do I make the faux leather circles for stud earrings without a Cricut?
A: My favorite way to make the faux leather circles for stud earrings is to use a small hand punch. The circle punches are available in millimeter sizes that you'll want to match up to the mm size of the earring findings.
Q: What's the best glue for making faux leather stud earrings?
A: Fortunately there is no one best glue for making faux leather stud earrings. You can use any good craft glue or fabric glue. A glue with a smaller nozzle or a precision tip will help you apply the glue more neatly to the stud earring finding.
Want instant access to my Free Resource Library full of SVG files?
Just Enter your name and email Below!
By signing up, you'll get instant access to my FREE SVG Library with hundreds of crafting SVG templates! You'll also get my weekly newsletter full of crafting ideas, tutorials, and inspiration! Unsubscribe anytime.
Want to remember this project? Save this tutorial to your favorite Pinterest board!