Big Mistakes New Etsy Jewelry Sellers Make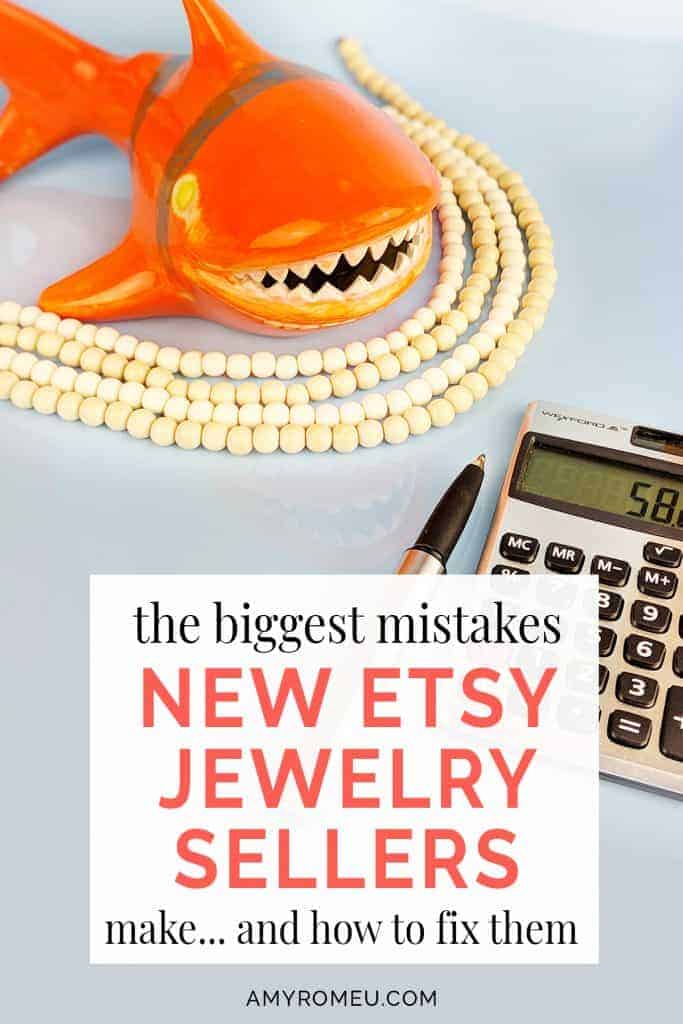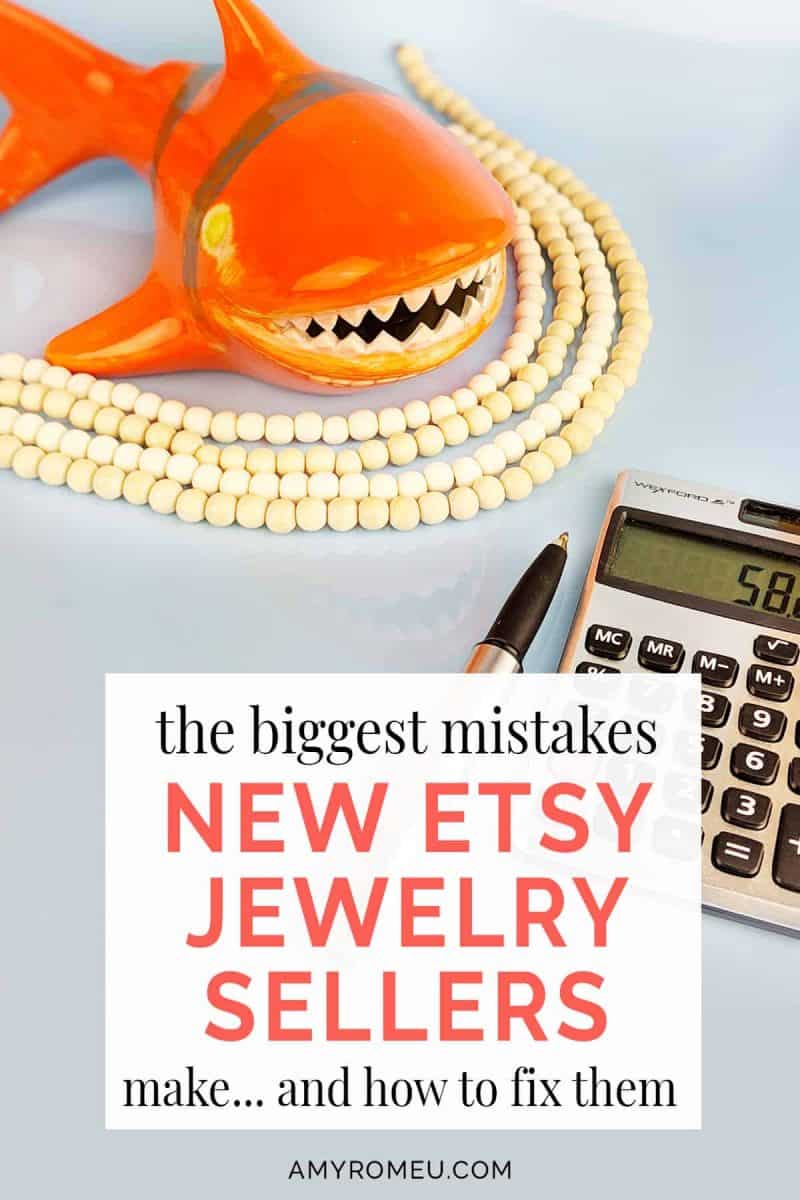 How To Sell On Etsy: Big Mistakes New Handmade Jewelry Sellers Make
Are you a handmade jewelry maker who wants to know how to sell on Etsy? Well, honestly, opening an Etsy shop is pretty easy and quick. However, really maximizing the potential of the worldwide Etsy platform to get the most reach and visibility for your jewelry pieces takes some work.
Jewelry is a very competitive category on Etsy. Maybe the most competitive! To know how to sell on Etsy successfully, it's important to know what NOT to do in your handmade jewelry shop to set you up on the right foot from the beginning.
If you already know how to sell on Etsy, but you are struggling to get sales in your Etsy jewelry shop, it may be time for a shop check up! The tips below will help you look at your shop with fresh eyes so you can really grow your sales.
1. Having low quality, blurry, or boring product images.
So you've taken some quick photos of your beaded jewelry with your phone to show your work to a friend, or to post on your beading Facebook group. A few are a little dark. One's a tiny bit blurry. Another is on a wrinkled tablecloth, but you were in a hurry, so it's not a big deal. Your pieces are so pretty, and your friend loves the pics! Your Facebook beading friends all commented that they loved your work. So those photos are probably good enough to use as your listing images on Etsy, right?
WRONG.
Your listing photos are the single biggest key to having a successful jewelry shop on Etsy. It's not your work. I know that's hard to hear, but it's true. Without top notch product photos, buyers won't click on your listing. If buyers don't click on your listing, your shop will never get off the ground. It's that simple.
Did I bum you out? If so, I'm sorry. But you want to know the truth about how to be successful on Etsy, right?
So, if your product photos are not AMAZING right now, should you throw in the towel and give up your dream of having a handmade jewelry shop on Etsy? Of course not.
Good jewelry photography doesn't have to be hard, and you don't need fancy equipment to take great pictures. The internet offers so many resources for product photography on a budget, with a smartphone, with limited editing with free apps, etc. A quick Google search will show you all kinds of resources with quick tips and tricks for making your product photos better.
Consider these two examples of quick-and-easy jewelry photography. Both photos were taken of the same pair of earrings with my cell phone camera in the same room.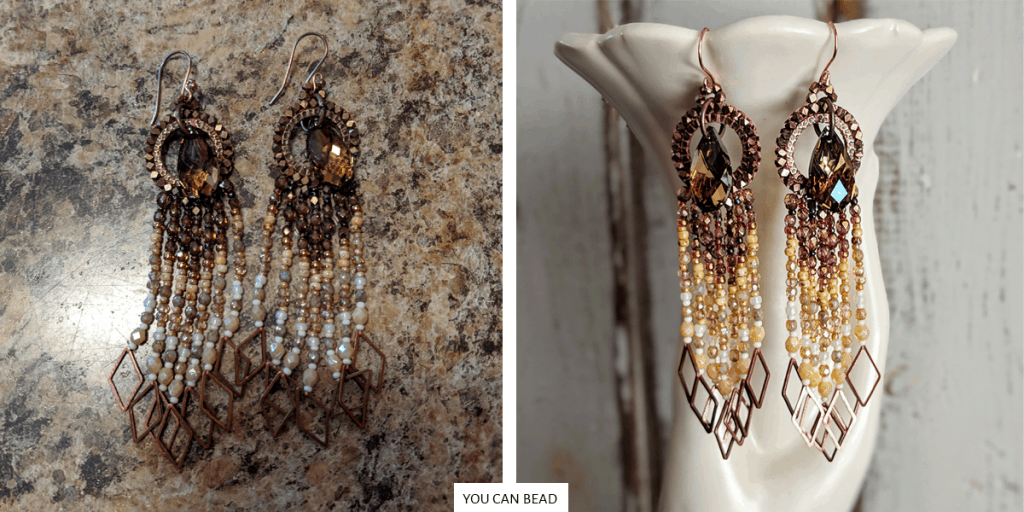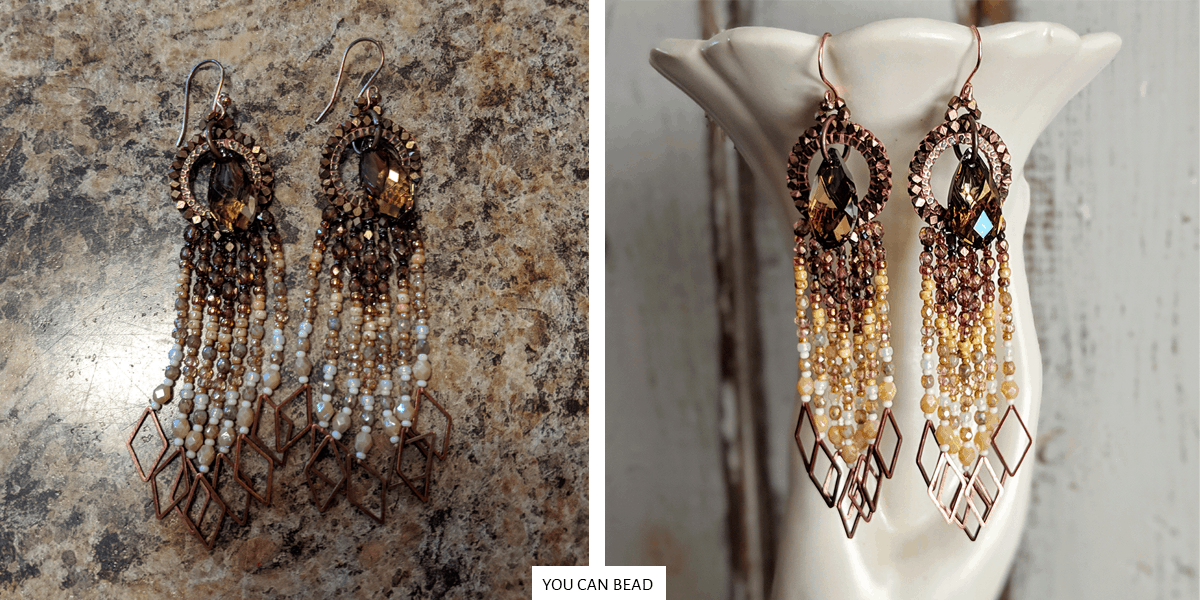 In the first photo, I placed the earrings on a dark and busily patterned table, directly below a harsh, overhead light. I didn't brighten or focus the photo before taking the picture.
In the second photo, I placed my props and background near a window on a sunny day. I used my phone camera's Portrait mode and brightened the shot before taking the photo. See the difference?
Tip: Become familiar with the Portrait mode on your smartphone. This is the feature that allows you to take photos with the jewelry piece in focus and the background a little blurry. This setting will really make your jewelry images pop!
For my stylized photos (not taken near a window with natural light), my current jewelry photography set up is super simple: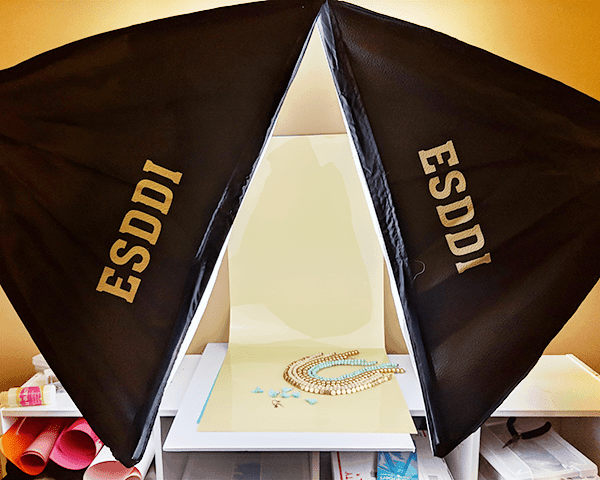 I use a small piece of foam core to build a bottom support to my photo area. Then I use colored sheets to drape over the back foam board and down to the bottom. I have two small binder clips nailed to the wall that the colored sheets hang from. (The curve in the colored sheet where the bottom and back boards meet helps to eliminate shadows.)
I use an assortment of colored background sheets to vary my product images for my blog. To add some interest to my listing images, I also have some inexpensive but interesting backdrops, textured papers, and props.
I also use two inexpensive soft box lights to light the photography area. The exact ones I have here are from Amazon. I place them very close to the area I'm photographing to maximize the lighting. That's it!
2. Be unaware of current beaded jewelry styles and trends
This is a big one, and kind of a pet peeve of mine, especially for beaded jewelry makers who want to start selling their jewelry but refuse to acknowledge this basic fact:
Beaded jewelry is just like all other jewelry. It's an accessory that someone will wear to complement an outfit. If your design, or style, or colors, don't "go" with what your customer are wearing, it won't sell. Period.
Don't get me wrong, I love the art of beadwork and completely respect beaded jewelry makers who spend so much time working on a piece they love. And there are some collectors who purchase beaded jewelry pieces solely because it makes their heart sing, but they are few and far between. Collectors and art appreciators are NOT your target market on Etsy.
I love beading of all kinds, and I appreciate beading patterns and know how easy and fun it can be to get lost in a complex seed bead necklace design. However, so many beaded jewelry creations end up looking like they belong at a local renaissance fair.
Do you know what I mean?
If renaissance fairs are your thing, let me apologize now. for offending you. But if you want to know how to sell on Etsy, and selling your beaded jewelry pieces and building a business from the hobby is something you truly want, then hopefully you'll take what I'm saying to heart.
Am I saying every beaded jewelry creation needs to be Paris runway ready? Absolutely not.
But, your pieces should take current fashion styles and trends into account if you want to be a successful jewelry designer selling on Etsy, or anywhere.
Etsy customers are especially trend conscious, and there's so much great, fashionable beaded jewelry to choose from. If you aren't offering customers what they want, they will pass on your shop, even if your skill and workmanship is spot on.
Quick & Easy Jewelry Trend Research
Wondering how to research beaded jewelry trends? Not sure where to start? Please, don't be intimidated by this idea. It's not hard to do and it doesn't have to be a big thing. In fact, you can do it in small chunks of time a few times a month.
Let me tell you when I do all of my super in depth jewelry trend research… when I'm at the orthodontist.
Wait, what?
Yep, it's true. Every 6 weeks, my son goes to the orthodontist, and while I'm sitting in the waiting room, I stop playing Candy Crush or scrolling through my Instagram feed and pick up the most current fashion magazine. I resist the urge to read about how to lose 10 pounds in 10 days and start looking with a purpose instead. That's it.
What I'm Looking For
I'm looking first for beaded jewelry designs on models, of course. When I find them, I'm paying attention to bead types (glass, crystal, metal, wood) and design styles. But if I can't find any beaded jewelry examples in a fashion magazine, there's still lots of great information I can get from the photos inside.
First, I zone in on the color trends. Are the models wearing neutral colors, or jewel tones? Summer brights, or blacks and greys, or Pastels? I look also at the color balance and harmony. Are the colors tonal shades of the same color, or contrasting, different colors?
I also look at the textures and visual elements in the clothing designs. Are the fabrics solid, or prints and patterns? Floral or geometric? What's the overall style I'm seeing in the magazine? Minimalist, clean and simple designs, with understated accessories? Or are the fabrics flowy and bohemian, with loose and layered accessories?
Finally, I look for metal color jewelry trends, even if the jewelry doesn't have beads. Are the models wearing yellow gold, or silver, or rose gold? Are the pieces mixed metals? Brushed or satin finish, or highly polished?
If anything catches my eye, I take a quick photo of it with my phone so it's easy to refer back to later. And that's it. Usually I only have about 20 minutes to spend on this process, but it's a great habit to get into.
If you don't frequent the orthodonist with your kids (lucky you!), you may pick up a fashion magazine at the grocery store and read it on a long car ride, or during a bubble bath, instead. Or you may want to check out fashion blogs or fashion magazines online and scroll through images instead. Whatever method works for you.
Need help figuring out what bead colors are in fashion? Check out my blog post Foolproof Ways To Choose Bead Color Combinations here.
You just want to be sure you are staying on top of fashion and accessory trends if you want to have a successful handmade jewelry business. All of these clues will help inform your design choices as you make beaded jewelry pieces that are fashionable.
3. Not having a cohesive jewelry style
Etsy customers are VERY savvy. They have become accustomed to finding Etsy shops that have strong branding, great images, and cohesive products. From printable wall art to handsewn dolls to vintage pottery to pillows, the most successful Etsy shop owners bring their A game with their shop's visual presentation. A big part of that is having items that are photographed WELL in a similar fashion, and are somehow related to each other. A big part of knowing how to sell on Etsy is understanding PRESENTATION. An Etsy shop with lots of different items looks less like a carefully curated collection of products and more like a garage sale table.
The same concept applies to your jewelry listings on Etsy. Your shop will look more professional and pulled together if your pieces are related in some way. You may have a color theme for several pieces which makes your listing images look like they go together.
A great example of this is the Etsy shop Mile High Beads. The jewelry maker who owns this shop really knows how to sell on Etsy! She always does an AMAZING job of coordinating her items and listing images. For example, she recently created an entire collection featuring shades of blues, pinks and corals. All of her pieces were photographed on a similar backdrop of fresh flower blooms and other nature elements. Even though each item was photographed and listed separately, a visitor to her shop sees all the images together. That visual unity adds so much pop to an Etsy shop.
Contrast that with a handmade jewelry shop that offers a hodgepodge assortment of earrings and badge holders and woven bracelets and chunky necklaces, all in different colors and on a variety of backgrounds. A shop like this has a flea market feel, and won't be able to attract quality customers who are willing to spend more on handmade jewelry.
4. Not Using Keywords
Etsy is a place for artists and designers to sell their most interesting creations. But artsy, cutesy, pie-in-the-sky product titles and descriptions for your listings won't help you sell your pieces. KEYWORDS will. If you want to know how to sell on Etsy, understanding how to harness the power of keywords is critically important.
What do I mean? Let's say you've created a pair of beaded earrings. Just calling them "Copper and Blue Beaded Earrings" won't drive any traffic to your shop. However, calling them "Bohomian Style Turquoise Dangle Earrings – Boho Earrings, Artisan Earrings, Boho Chic Style" is moving in the right direction.
Etsy shoppers are using these kinds of specific search words in their Etsy searches, and you should be, too.
So how the heck do you know what keywords to use on Etsy? Does this sound like a foreign concept to you? Try not to get overwhelmed if you are just starting out in the world of keywords. There are many tools out there that make mastering the art of keywords on Etsy very manageable.
Enter Marmalead!
The industry standard for Etsy keyword research for sellers who want to know how to sell on Etsy is a website called Marmalead.
Marmalead is packed with powerful tools Etsy sellers in all categories can use to discover and analyze keywords. You can explore keywords in your niche, find variations, and study how many times customers are searching for those keywords. You can also see the seasonality of keywords, meaning the cycle of popularity of certain keywords throughout the course of the year. (For example, beachy, summer jewelry keywords will of course be most often searched in the summer months.)
You can also compare keywords side by side to help you choose the best ones. Once you apply those keywords to your Etsy listings, Marmalead helps you analyze your listings against your competitors. You receive real time data about pricing comparisons, shipping charges, listing image quality, and more.
I highly recommend new (and experienced!) Etsy sellers try a tool like Marmalead to step up their keyword game. The increase in sales many sellers experience after applying keywords to their Etsy listings more than pays for the monthly subscription fee ($19 a month at the time this article was written).
5. Having Ho-Hum Packaging
Once you know how to sell on Etsy, you only have once chance to make a good first impression. In the case of selling jewelry online, the customer experience of receiving and opening their order is your one chance.
Jewelry is small and easily mailed, but that doesn't mean it should be dropped in a kitchen ziploc bag, thrown in an envelope, and sent off. Successful Etsy sellers know that spending just a bit more for professional looking packaging will go a long way with their customers.
You don't need to have custom printed jewelry packaging to impress your customers, at least not at first. Packaging vendors like Uline and Nashville Wraps have great jewelry packaging solutions that don't require a wholesale tax ID number.
Many Etsy sellers buy affordable, personalized earring cards that have their logo or shop name printed on them. Then then put their handmade earrings into a cute organza bag or a neutral colored jewelry box. Add a printed sticker or box to the box for an extra touch.
Either way is a simple, pretty, and inexpensive way to package your products. This also helps remind your customer where they bought their earrings at a later time. They may also tell a friend about your shop if they know your shop name and how to find you easily!
6. Underpricing Your Work
I know it's tempting to price your work so it's very affordable. You think by doing that it will help you make those first few precious sales in your shop. Believe me, I get it! However, not pricing your work correctly is a BIG mistake many handmade jewelry sellers make. Pricing is a huge part of knowing how to sell on Etsy.
Pricing handmade jewelry is such a big topic, I plan to devote a whole separate blog post to it. For now, I'll briefly list the reasons why under-pricing your work is such a negative for your Etsy shop.
Selling yourself (and your profits) short.

When you underprice your work, you are leaving money on the table with each sale. The key isn't to sell everything you make, it is to make a profit on whatever you sell. Knowing that magic price point for each piece is key to your success.

Creating more work for yourself.

Think about it. If you sell your work too inexpensively, you may sell more than you expected. Normally that's a good thing, but in this case, you need to put your nose to the grindstone so you can churn out more jewelry for your customers. More time and less pay in your own dream business? I don't think so.

Lowering the perceived value of your work and brand.

Customers who buy cheap jewelry from you will come to expect bargain basement prices from you – but they will also perceive your work as bargain basement quality. It's easy to start with higher prices and lower them as the market dictates. It's nearly impossible to raise prices on your existing customers without a backlash. Pricing right from the beginning helps reinforce the quality of your workmanship.

No wiggle room to cover additional expenses.

Under priced jewelry pieces may only cover the cost of your materials and (if you're lucky!) a little bit of your time. But what about additional expenses in your business you didn't expect, like waste (tarnished or damaged beads for example), or theft. Packaging, labels, and mailing supplies are also additional expenses you'll need to cover. When you price your work appropriately, you'll have the cost of the extra expenses built into each piece.
I hope these tips help you start off on the right foot with your new Etsy handmade jewelry shop.
If you're already selling on Etsy, did you take action on any of the points mentioned above? Did you freshen up your product photos, take a deep dive into keywords, or adjust your pricing?
Let me know in the comments! I'd love to hear from you!
Until next time… and happy creating!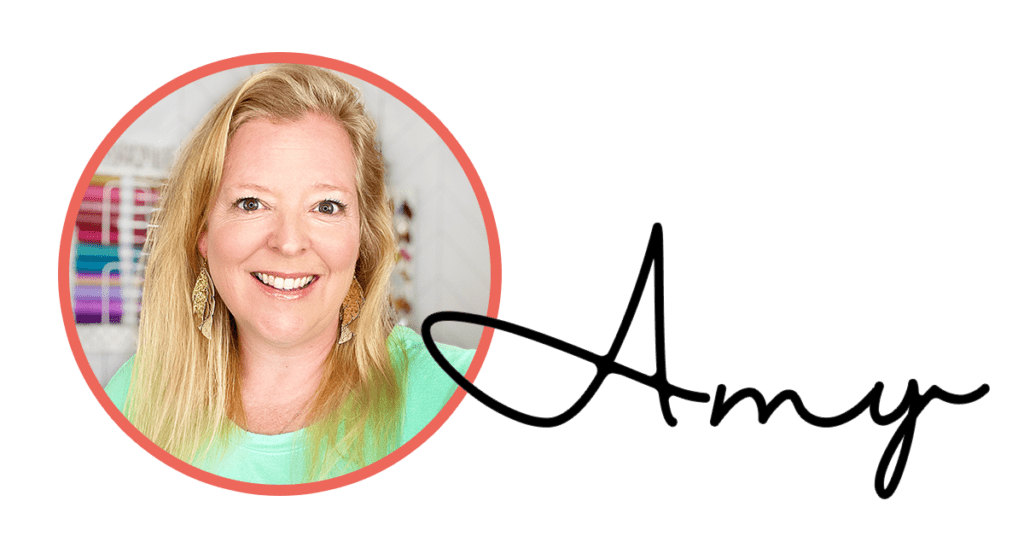 WANT TO REMEMBER THIS POST? PIN "BIG MISTAKES NEW ETSY JEWELRY SELLERS MAKE" TO YOUR FAVORITE PINTEREST BOARD!