Faux-La-La Holiday Crafting Event Supply List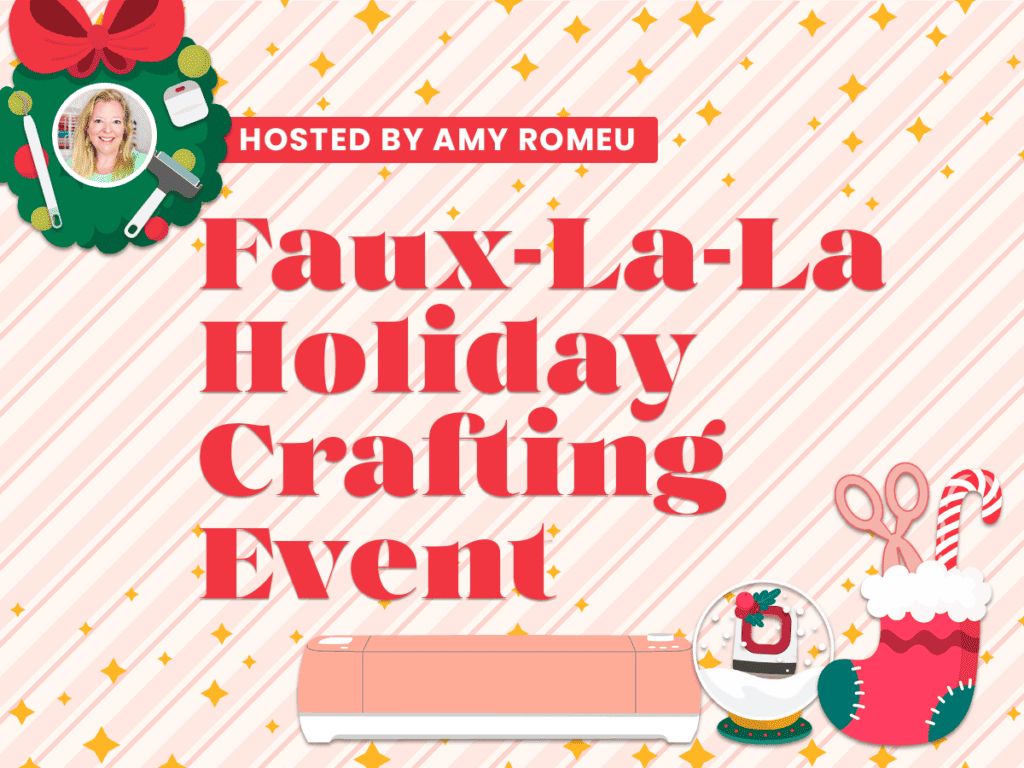 This list contains all of the supplies and materials I used to make all of the faux leather craft projects designs featured in the Faux-La-La Holiday Crafting Event happening from November 20 – December 9th, 2023.
Need a free ticket to the event? Get one here:
SUPPLIES & MATERIALS👇
CLICK HERE TO JUMP DOWN TO THIS LIST
Event project supplies listed by type
CLICK HERE TO JUMP DOWN TO THIS LIST
Event project supplies listed by day
CLICK HERE TO JUMP DOWN TO THIS LIST
Please keep in mind that these lists are the supplies I used to make the samples, but you can create these holiday designs from any faux leather and heat transfer vinyl you have on hand.
Alternatively, you can replace the faux leather for cardstock in most cases, and the HTV with permanent vinyl, if you prefer.
Also please know that supplies and materials often sell out during crafting events like this one.
If something on the list is out of stock, you are welcome to send me an email at [email protected]. I'd be happy to look for substitutions and update the list.
But please don't let things out of stock discourage you from creating faux leather projects you'll love! Use your imagination and take my samples as a starting point.
You can also use heat transfer vinyl to "create" a color of faux leather you don't have. You can see how I do this in this video on my YouTube channel.
This page contains some affiliate links (which means if you make a purchase after clicking a link, I will earn a small commission at no additional cost to you). Read my full disclosure policy here.
General Supplies Used
In the event, I also have a bonus video that shows my papercrafting friends how to replace the faux leather pieces in most of the projects using layers of cardstock. Here are a few of my favorite cardstock supplies.
Faux Leather & Vinyl Supply Lists
The Polka Dotted Peach 🍑 has been kind enough to put together a bundle of all the solids and printed faux leathers from the event. You can check it out here. The only thing not included is the Silver faux leather, which can be found on the Solids list below.
Faux Leather – Solid Colors
Faux Leather – Prints
You can use any printed faux leather you'd like, but if you'd like to know what prints I used for the sample projects, see below.
For more gorgeous printed faux leather that cuts like butter with a Cricut, check out my favorite faux leather supplier on Etsy here. 🍑
Heat Transfer Vinyl – Solid Colors
Heat Transfer Vinyl – Glitter & Foil Colors
Faux Leather & Vinyl Supplies By Day
Day 1 – November 20, 2023 – Red Truck Christmas Ornament
Day 2 – November 21, 2023 – Nutcracker Bookmarks
Day 3 – November 22, 2023 – Initial Ornaments
Day 4 – November 23, 2023 – Holiday Earrings
Day 5 – November 24, 2023 – Angel Ornament
Day 6 – November 25, 2023 – Hot Cocoa Cup Gift Card Holders
Day 7 – November 26, 2023 – Holiday Camper Ornament
Day 8 – November 27, 2023 – Ornament Earrings
Day 9 – November 28, 2023 – Scandinavian Inspired Ornaments
Day 10 – November 29, 2023 – Christmas Candy Hairbows
Day 11 – November 30, 2023 – Cardinal Ornament
Day 12 – December 1, 2023 – Initial Bookmarks
Day 13 – December 2, 2023 – Paw Print Ornaments
Day 14 – December 3, 2023 – Santa's Milk & Cookies Earrings
Day 15 – December 4, 2023 – gingerbread House Ornament
Day 16 – December 5, 2023 – snowflake Keychains
Day 17 – December 6, 2023 – Stocking Name Tags
Day 18 – December 7, 2023 – Happy Hanukkah Window Hanger & Dove of Peace Ornament
Day 19 – December 8, 2023 – Arabesque Tile Ornaments
Day 20 – December 9, 2023 – Design revealed Soon!