Why Etsy Custom Orders Can Hurt Your Beaded Jewelry Business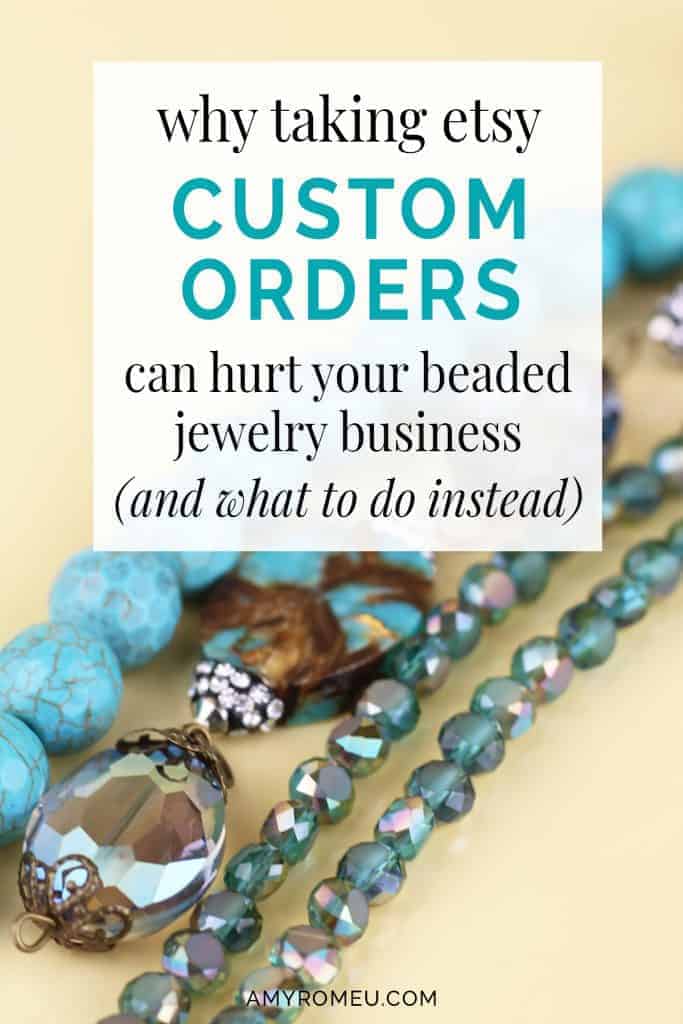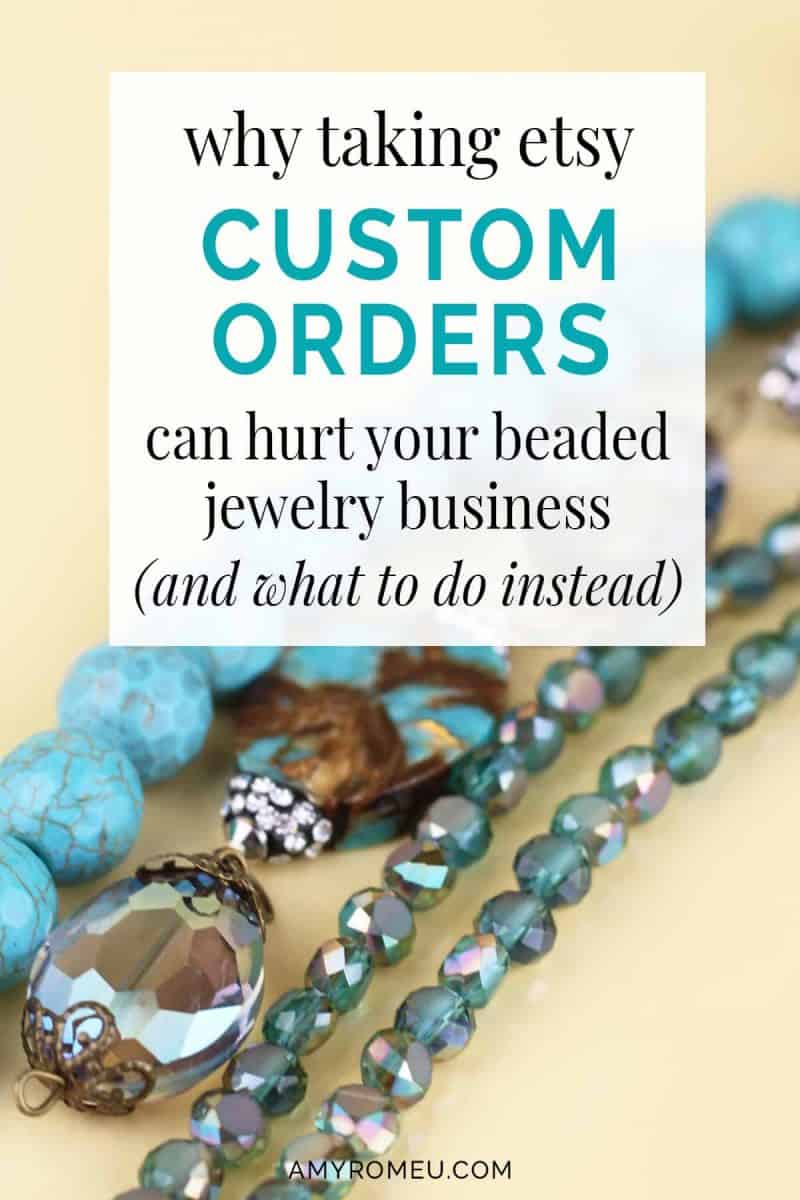 Why Etsy Custom Orders Can Hurt Your Beaded Jewelry Business
We all know Etsy is a great venue for beaded jewelry sellers to showcase our items and sell our handmade jewelry pieces. Etsy also makes taking custom orders easy to do, and it is satisfying to be able to make a customer happy with a custom request. As a beaded jewelry seller on Etsy, are you making custom orders available to your customers in your shop? If so, it's important to know that in the beaded jewelry niche, custom orders can Etsy can take a toll on your profitability. If you are struggling with managing custom order requests from customers, you'll want to read more about how Etsy custom orders can hurt your beaded jewelry business, and what you should do instead.
Also, you'll be able to get my FREE cheatsheet with ideas on EXACTLY HOW TO IMPLEMENT my alternative strategy to Etsy custom orders. You can download the cheatsheet from the link at the bottom of this post.
(If you still need convincing to open a jewelry shop on Etsy, check out my post about all the reasons why an Etsy shop for jewelry sellers is a great idea here.)
The personalization and customization offerings on Etsy continue to grow. Customers can reach sellers directly via convo (Etsy's direct messaging system) and request a custom order in just a few clicks. Additionally, sellers can enable a button on their Etsy shop home page that allows customers to request an Etsy custom order.
You may have already successfully made some custom orders, and you're wondering if you should expand your marketing efforts and let your customers know that you can make anything their hearts desire. Or if you haven't offered custom work before, you may be wondering if it will help grow your jewelry business on Etsy.
The Simple Truth About Etsy Custom Orders
My take on this is: offering custom orders on Etsy can hurt your beaded jewelry business.
Wait, what? Isn't Etsy the premier marketplace for handmade, unique, and custom items? And don't we all love being able to make something special and perfect for someone that also showcases our beading talents?
If so, why wouldn't you want to offer custom designed pieces in your handmade beaded jewelry shop?
Because it's not profitable, that's why.
Let me explain.
What I Mean by "Custom Order"
First, I'll clarify by saying I am not referring to jewelry shops on Etsy that offer monogramming on a bracelet, or personalization on a circle charm, or different chain lengths. Also, I'm not referring to custom orders where a customer wants you to copy a piece in your shop and swap out the black beads for the same beads in yellow.
I'm specifically referring to beaded jewelry sellers who offer Etsy custom orders where the customer has free rein to come up with their own colors, design, size, etc.
These are completely custom orders, where you have to do a lot of prep work and communicate several times with the customer before you can begin the order (and close the sale).
An example of this would be when a customer messages you and says:
I love your work! Can you make a custom order? I really want a bead necklace like this one, but I want it in a different color. Also can you change out some of the beads? I've attached a photo of a necklace I like from another shop. Can you do something like this? But I'm not sure what colors to use. I'm open to suggestions!
You may be thinking, cha ching! This customer is open to me using my creativity, AND I can charge a premium price for the custom work! This is a win/win!
Only it's not really. Let's break this down.
5 REASONS WHY COMPLETELY CUSTOM ORDERS ON ETSY ARE MONEY LOSERS (NOT MONEY MAKERS)
1. It's a misconception that custom jewelry pieces can command a much higher price point.
Personalization and customization used to be unique opportunities to set yourself apart from the competition. Now, it's very commonplace, and customers have come to expect this "special treatment" as standard. They regularly buy custom and personalized items on Etsy (often little or no upcharges) because it's such a competitive selling platform.
I'm not saying personalization and customization aren't great tools for driving sales. They certainly can be. But Etsy custom orders without limits can be a real time suck in the beaded jewelry niche.
In some niches, personalizing doesn't take a lot of extra production time, and it's necessary to make sales. For example, take mother's necklaces with circle disc charms that a mother can put her child's initials on. These jewelry pieces by themselves are rather plain, and wouldn't sell as-is. When they are personalized through the simple process of metal stamping, they become a special, custom piece that the customer will treasure.
But with handmade beaded jewelry, when the customer is requesting patterns, colors or sizes you don't normally make, the extra time and effort it takes to make their custom piece usually won't translate into a significantly higher price point.
It's the regular plight of the beaded jewelry maker – customers don't really understand how much time beaded jewelry takes to plan and produce.
The bottom line is, Etsy customers love custom work, aren't going to pay custom prices.
2. Time spent on custom orders could have been used on pieces that are proven money makers.
There are only so many hours in the day, right? If you've been selling on Etsy for any amount of time, you've already developed a sense of what sells in your assortment. It may be earrings in a bohemian style. It may be bracelets under $25. Or it's anything with beads in shades of teal and turquoise.
Whatever it is, once you identify what sells for you, you need to focus on that and make MORE.
Earrings in a bohemian style? Copy the same earring in three new colorways. Bracelets under $25? Make more colors and styles while keeping the price point the same. Research keywords that relate to gift giving and incorporate those into your listing. EXPAND on what's working. Teal and turquoise pieces? Be sure any new styles have a listing in those colors, and edit your listings to show that color combo as the featured listing item.
All of the above ideas are examples of how you can take what's working in your shop and use that information to drive more sales.
Custom orders, however, detract from all of that. They require time and attention that isn't going towards driving future sales, just that one sale. If you do a lot of custom orders, that time spent may chip away at your ongoing sales growth in the long term.
3. Custom orders don't grow your shop assortment.
Simply put, custom pieces are not going into your inventory, and rarely will become future additions to your core assortment. It isn't going in to your shop as another sample of your work. Also, the time spent on creating a custom piece takes away from time you might spend developing a new collection, or a new line or series. Ideally, every piece you make should add to your shop's assortment, hopefully as a piece that sells well and you have the ability to recreate and sell again and again. Custom pieces are one offs and don't build your assortment.
4. Custom orders are bad for SEO.
To expand on the above point: if your custom work is a one off and will just be listed as a "Custom Order for Nancy," that listing will not have any good keywords for SEO (search engine optimization). Good keywords include the jewelry style, materials, type, intended use, colors, design, etc. Since SEO takes some time to start driving traffic to your shop, listings that have good SEO are also ones that are relisted after they are sold and have staying power. Custom listings are one and done. You don't get any bang for your buck with them in SEO terms.
5. The custom order process may overwhelm your customer.
Have you heard of The Jam Experiment? In 2000, two psychologists (Iyengar & Lepper) from Columbia University and Stanford University conducted a study about consumer choice using jam. Yes, jam
They wanted to see if offering customer more choices in a grocery store increased sales. They set up a display in grocery store with 24 different kinds of gourmet jams for customers to try and purchase. Then on another day, they set up the same display, but with only 6 kinds of jam.
Can you guess what happened? The psychologists discovered that while the larger display invited more interest, the smaller display led to more sales. Why is that? Wouldn't more choices lead to more sales?
Apparently not. What the results of the The Jam Experiment tell us is too many choices isn't a good thing for customers. It overwhelms them and can lead to "analysis paralysis." If customers can't come to a quick and easy decision about even simple purchases like a jelly flavor, they may choose to walk away from the transaction entirely
How does this relate to custom order jewelry? If you offer completely custom work to your customers by telling them you can make ANYTHING, you may think that will make them more encouraged to buy. However, the wide open choices may cause them to become frozen with indecision instead. After all, you are the jewelry designer, not them, and they won't feel confident in choosing the right colors, etc. The end result is they may do nothing instead.
The Solution
So what's the solution? How do you offer your Etsy customers choices and a custom experience, without the hassle?
The solution is to offer customers options that are built into your listings.
Options give them choices that are pre-determined by you. These options narrow the scope of available customizations while still giving customers a semi-custom order experience.
What does this look like in practice? Let's compare a traditional custom order and an order with options.
TRADITIONAL CUSTOM ORDER
A customer sees a pair of blue beaded earrings in your shop. She likes them, but wants them in a different color.
She sees in your listing description that you love to make custom orders, so she immediately sends you a convo message and wants to know if you can make the same earrings, but in red. After a few moments of thought, she sends a follow up message and says she actually wants them in green instead.
You reply that you can make them in green, and ask her what shades of green did she want – forest greens, bright greens, kelly green? You also ask her if you wants silver accents like in the blue pair, or does she want gold instead. She replies that she's not sure, and wants you to send her examples of the different green colors. Also, can you give her an idea of how green beads look with gold accents vs. silver accents? After you photograph your green bead options with gold and silver accents, she replies and asks if you would recommend adding a second color to the design. If so, what color combinations do you suggest? In another follow up message, she also wants to know if you can incorporate a beaded turtle into the earring design.
After several convo messages back and forth with the customer, she can't decide what she wants so she tells you she's not ready to place an order at this time. Since she hasn't placed an order for your custom work, you've lost time AND the sale.
ORDER WITH OPTIONS
A customer sees the same pair of blue beaded earrings in your shop but wants them in a different color. She thinks about sending you a message to ask, Then she sees in your second listing photo that you offer 4 different color choices in this earring – blue, green, red, and black. The customer also sees a listing photo that shows you offer gold, silver, antique brass, and copper earring hooks. She compares the colors in your listing photo that shows all of the choices side by side, and selects the green version. Then she clicks through to the next listing image that shows all the earring hook color choices and decides on gold earring hooks.
She has all the information she needs to add the earrings to her car. The customer selects Green as the color from the first dropdown menu, and then Gold as the earring hook metal color in the second drop down menu. She's happy she is able to customize her earrings to her taste with her choice of bead colors and earring hook metal. She places the order right away and you get a sale.
Results
In this first scenario, the customer became overwhelmed with the free rein of designing her own earrings, and you had to go along for the ride. In the second scenario, your listing was clear and the customer was able to see all of the available options for herself. All of this without having to send you a message and wait for your reply. Your customer is happy and you made a sale without wasting time.
Are you ready to get started, but need some ideas on how to add options to your beaded jewelry listings? If so, I've created a free cheatsheet with my best ideas for adding options to your listings. You can get it from a link at the bottom of this post.
So she didn't place an order in the first scenario – what's the big deal?
It's true that in the first scenario, you really only lost one potential sale. In that sense, convo'ing one customer about a custom order ISN'T that big of a deal. But imagine if you had three similar custom order requests in the same day. You'd need to consider what you DIDN'T get done while you were busy conversing/researching/planning the potential custom orders.
Could you have used that time to:
Analyze your sales data to see that topaz is a popular earring color in your shop, and decided to add a fifth colorway to your blue earring listing.
Made the blue earring style sample with topaz beads.
Photographed your new earring color along with the other four choices.
Added the new color option and new listing image to your Etsy listing.
Updated the keywords on your Etsy listing to improve the SEO.
Posted your new earring sample image on social media and asked your followers what they think of the new color, and which color is their favorite.
Ordered a small batch of the supplies needed to make the topaz earrings when other customers select your new option in the future.
Ideas for Options
I hope you are beginning to see the benefits of offering options that are built into your listings instead of wide open custom orders. This strategy will both drive sales and increase your productivity. Customers will be able to place an order right away, instead of hesitating, or getting distracted, or sending a message and waiting for a reply. You will be able to get more sales and answer a lot less convo messages (which we know can be a huge time suck).
Tips for Implementation
Ready to try adding semi-custom options to your shop? Here are some tips to get started.
Start with your most popular listing and do one at a time (don't change the title or keywords so you don't mess with whatever special search magic you have going on with your listing).
Think about the time of year when adding options. Holidays and seasons provide natural option opportunities (more on this is my cheatsheet in my Free Resource Library).
Check out the competition. What options are they offering in their listings?
Update your listing description to CLEARLY indicate what the options are for the listing, and let them know they can see examples of all the options in the listing images below.
Be sure to update your dropdown menu with your option variations, and change your option prices accordingly if necessary.
Take this opportunity to give the rest of your listing description a once over. Does it need a refresh? Can you clarify or condense your text to make it easier for customers to get the information they need?
For more information about adding variations to your listings, check out the Etsy help page on this topic here.
If you're going to implement this strategy, don't forget to grab my cheatsheet with option ideas for beaded jewelry makers! It's available in my free Resource Library. Get the password below!
I hope this information has been helpful to you. Give adding options a shot in your Etsy jewelry shop and let me know how it goes! I love hearing from my readers and celebrating their seller wins!
Until next time… and happy creating!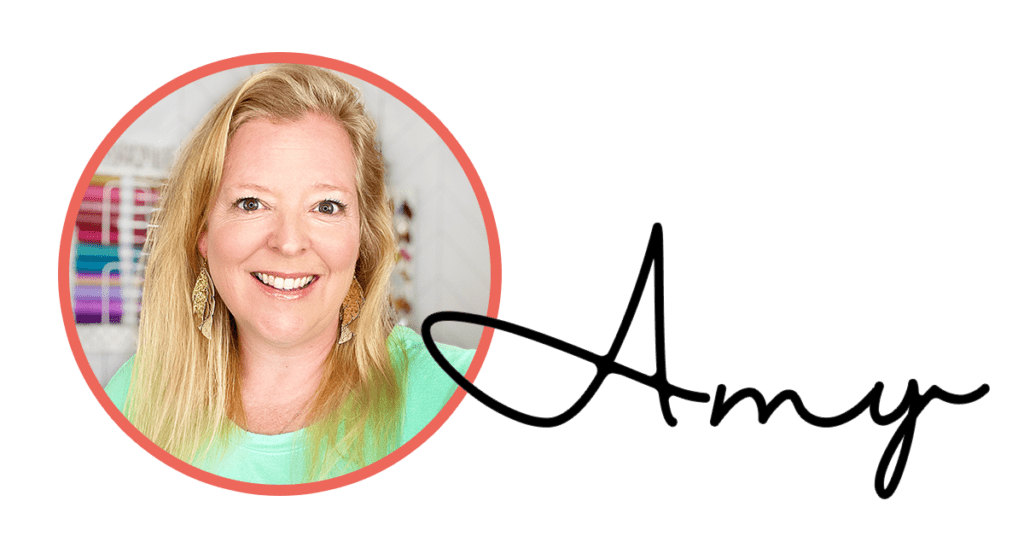 Want my FREE cheatsheet for option ideas to your Etsy beaded jewelry listings?
Get it from our Resource Library! You'll receive the password for the Resource Library instantly after filling out the form below!
Want to remember this? Pin How Taking Etsy Custom Orders Can Hurt Your Beaded Jewelry Making Business to your favorite Pinterest board!