Should You Open An Etsy Shop To Sell Your Jewelry?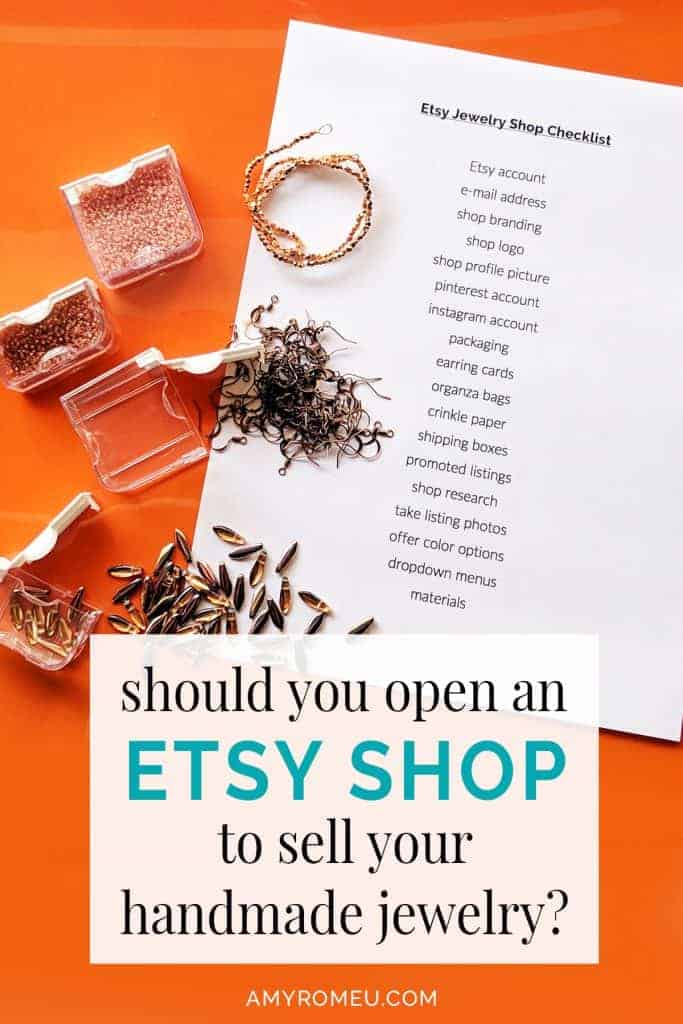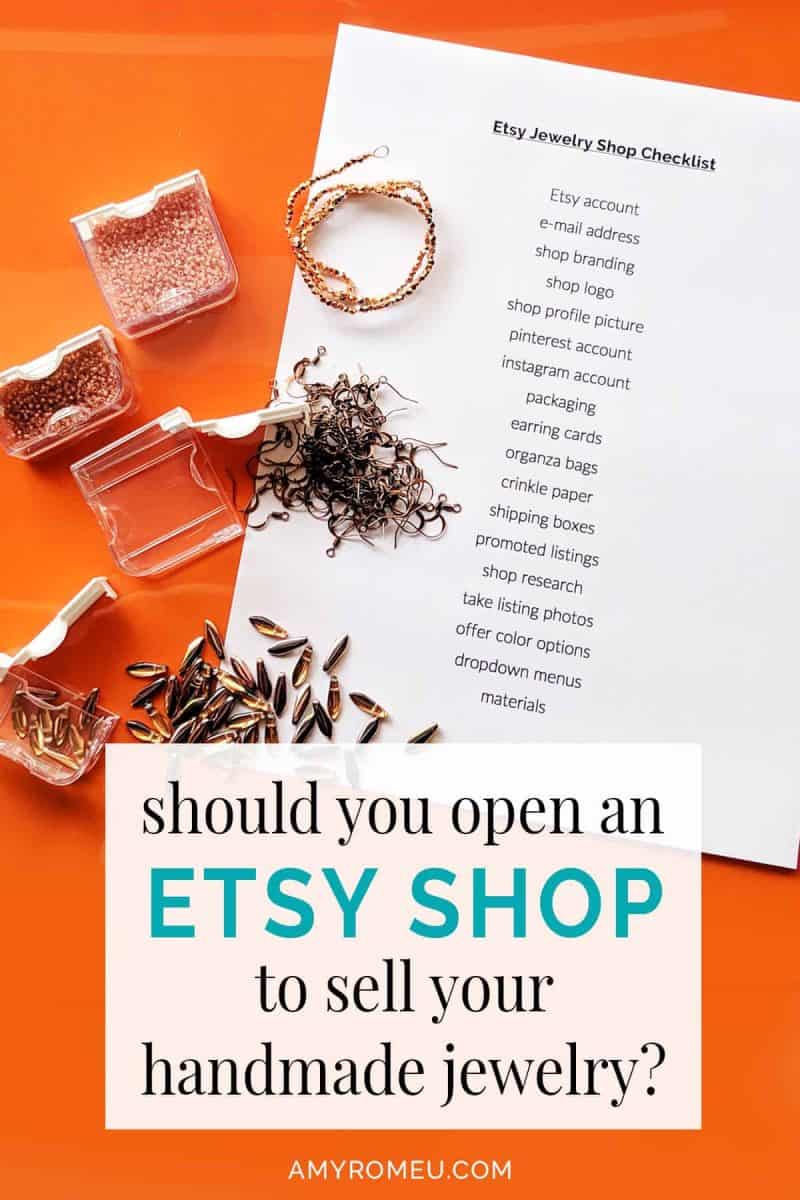 5 Big Reasons Why You Should Take The Leap & Open An Etsy Shop
If you are a jewelry maker (or an aspiring one!) you may be wondering if you should open an Etsy shop to sell your jewelry online.
If you're a craft person like me, you already know Etsy is a AMAZING platform for artists and crafters. I love shopping on Etsy! I've bought everything from custom dog collars to vintage ceramics to clip art files… and of course, beads and findings. I've also been selling on Etsy in various forms since 2008. The platform has grow so much since I started on Etsy. In fact, it's become a full time income source for many creative people.
There are so many pluses for handmade jewelry makers to selling on their platform. If you aren't selling your jewelry on Etsy yet, let me tell you why you should open an Etsy shop so you can very quickly and dramatically change your business.
Take the leap – Open An Etsy Shop!
It really is a great avenue for jewelry makers to sell their items. I'm always surprised when I talk to jewelry makers who aren't selling on Etsy yet. Opening an Etsy shop and selling on Etsy is easy, and FUN!
In talking with so many jewelry makers and aspiring jewelry sellers each week, I hear plenty of reasons why people are hesitant to move to selling on Etsy. For example, let me tell you about three jewelry makers who aren't selling on Etsy yet, but should be.
Who Should Be Selling On Etsy?
A Craft Fair Seller
Joanne has been making beaded jewelry for many years. She used to have a lot of success at local craft shows, but they haven't been working for her like they used to. Her and her husband are getting older, and lugging all of her items and tables and displays to the show is getting tiring. She's also frustrated by the feeling that she's not bringing the right items to the shows. Sometimes it seems the style or the price points of her pieces aren't appealing to her craft show booth visitors. She worries that she's wasting a lot of time and money on making items that aren't selling.
A Mom of Littles
Sarah V. started making jewelry just three years ago. At first she loved the interaction and environment of craft shows her in her area. She loved meeting her customers and talking about her pieces with them. But within that time, she's had a baby, and she's got another one on the way. She know with little ones, her days of being able to sit all weekend at her booth are behind her. She really enjoys jewelry making and wants to continue seller her work, but she needs a more flexible selling avenue.
A Jewelry Maker Ready to Grow
Mary Anne began making jewelry for fun. She was delighted when friends and family started asking her to make pieces for them. She's branched out by posting pieces on her personal Facebook account, but she's ready to develop a more professional internet presence and reach a larger audience.
Do any of these hurdles sound familiar to you?
Having an Etsy shop also eliminates many of the negative aspects of other forms of selling handmade jewelry, either at craft shows or on Facebook. Let's quickly talk about some of the benefits of selling on Etsy.
Benefits of Selling On Etsy
1. Reach
Simply put, when you open an Etsy shop and begin selling jewelry on Etsy, you are putting your products in front of a worldwide audience of interested buyers. The Etsy selling guide homepage (as of today's date) says that 33 million buyers worldwide spent more than $3 billion on Etsy in 2017. That's a lot of handmade items being sold! (By the way, you don't have to sell worldwide if you don't want to, and I don't recommend you do that until you've gotten some experience under your belt, but it's great to know that the option is there.)
Etsy listings have better visibility on search engines and Google Shopping from the start because of the site's tremendous power and rank. This means your items, when listed right with great photos and keywords, will be shown to potential buyers without you having to actively advertise or market. This gives new jewelry makers a head start in their online jewelry selling business. (Etsy does offer lots of advertising and promotion tools, but you don't need to do any of them when you are just starting out.)
2. Flexible Schedule
As I'm writing this, it has been hard to decide if this really should be the BIGGEST benefit to selling on Etsy. For me as a creative entrepreneur AND a mom, and I suspect for a lot of my readers, this is definitely the most attractive reason to open an Etsy shop and start selling jewelry on Etsy.
Etsy sellers have the flexibility to "work in" their Etsy shop at times that are convenient to them, instead of the hours of a craft show or a boutique shop. Even while you are sleeping, buyers are finding your items, visiting your shop, and making purchases, without you doing a thing! There's nothing more exciting as an online seller than waking up to orders in your seller account!
If you open an Etsy shop to sell your jewelry, it doesn't mean you will necessarily work less, but you can design your work schedule around your life and family. If you have young kids, you can wake up a few hours early once or twice a week and work on your shop listings before the kids get up. When you take the kids to the park, you can do some research from the park bench on keywords and competitors from your phone quickly and easily. Naptime will provide another opportunity to check in on your shop, respond to customer emails, etc. Maybe after bedtime is when you pack and prepare your orders for shipment.
The bottom line is: you can work on your Etsy shop at the time of day that works for you.
If you have older kids, or grown kids, or you travel a lot, or you like to stay up late, selling on Etsy allows you to work on your shop on your schedule. Etsy is always open, and buyers are always shopping.
3. Location, location, location
Like the reason above, once you open an Etsy shop, you have the flexibility to sell your handmade jewelry from anywhere. You are no longer tied to a physical storefront, consignment store, or craft show booth. No need to worry about the weekend weather ruining the turnout at the craft fair you're signed up for. You don't have to run over to the consigment shop multiple times a week to check on your merchandise. You also don't have to experience the disappointment of being stood up – again! – from a buyer on Facebook. As long as you have reliable internet access, you can be in touch with customers and selling items from your Etsy shop.
This is a huge plus for older jewelry makers who are retired and enjoy traveling. One of my readers lives full time with her husband in their RV. Her beading supplies, shipping supplies and inventory of earrings doesn't take up too much room inside the camper, so she can make and ship items from any location. She uses the camera on her smartphone to take her product photos. It's fun for her to use the local environment as interesting backdrops for her pieces. She has a small printer and a laptop so she can print her own packing slips and shipping labels. Then she drops her packages off at a local post office. That's it!
When you open a shop on Etsy and have it up and running, you can take that spontaneous weekend trip, or plan that next vacation. Your Etsy shop will be working for you while you play!
4. Easy Market Research
Have you ever wanted to walk around the craft fair you're in and really study your competitors' items? Not in a creepy copy-their-ideas kind of way, but in an inform-your-own-business kind of way. You know… check out their display ideas, study their pricing, and see what's working for them. I know I've have! But the few times I've tried, I've taken a quick glance and hurried back to my booth out of embarrassment!
Knowing and studying the competition is not an underhanded and sneaky thing to do. It's vital to understanding your market and growing your business. You may not feel comfortable doing this kind of market research in person at a local craft show or holiday gift show. However, on Etsy, it's very easy to do. When you are selling on Etsy, you have the benefit of loads of selling data at your fingertips!
Check Out The Competition
When you visit other sellers' Etsy shops, you can see what items they are selling, how they are photographing their jewelry pieces, what their prices are, what their listing descriptions look like, etc. Of course you are never going to COPY anyone else's designs, image styles, or listings. But seeing what is working for other sellers will help you make decisions about what jewelry to make and sell in your own Etsy shop, saving you countless hours of work and money in materials wasted on items that won't sell.
If you haven't shopped the competition on Etsy before, just search in the top search bar on Etsy for keywords related to your niche. Do you sell beaded earrings? Beading patterns? Whatever it is, just type it in the box and see what – and who – shows up. You can get an immediate sense of the seller's success just from this initial search list of search results. The seller's name is listed below their product image, along with their star rating and number of buyer feedbacks received since the shop opened in parentheses. Not every buyer leaves a feedback, so the number of feedbacks does not indicate the number of sales, but generally speaking, the bigger the feedback number, the bigger and more successful the shop is. These big sellers are great resources for new sellers!
See Life To Date Sales
Tip: When you land on a shop's home page, you'll be able to see their life to date sales on the left hand side. But more on what information can be found on a shop's home page below!
As you scroll through your search results, pay close attention to the listing images. Which ones draw you in? Which ones make you want to click on them to see more? Are there similar images you begin to recognize and identify as belonging to one seller? If so, that's perfect Etsy seller marketing at work there.
Choose a listing from a shop that looks successful and check out the listing page. Are the listing images attractive, colorful, clear, and well lit? Is the description clear? From the listing page you can click on the seller's name and that will take you to their shop's home page. Every seller on Etsy has a shop home page. The home page is another opportunity to present your work and your brand to your buyers.
How To See What's Selling For Other Jewelry Sellers On Etsy
When you visit that seller's shop, check out their category menu on the left hand side. What categories have the most items in them? You can see the number of items in each category next to the category name. For example, a jewelry seller may have 100 earrings in their shop but only 3 ankle bracelets. That information may tell you what the biggest selling items are for that particular seller.
If you want to see what items have sold in the past for a seller, there's a way you can do this on Etsy, and it's super easy! From any seller's shop home page, look under the categories list on the left side. Look under the "contact the shop owner" box for a number of sales. If you see that text and it is underlined, you can click that link and see all of the sold items for that shop, from newest to oldest. (If the text is there but not underlined, it means the seller has opted to hide their SOLD history by checking a box in their seller settings.)
Again, you won't be copying or stealing designs from the sellers you are researching! You are learning about what jewelry sells on Etsy, what the price points are, what colors and styles are popular, etc. All of this data can inform your decisions of what you sell in YOUR Etsy shop. This research will help you spend less time and money making jewelry that doesn't sell so you can make more of the jewelry that will sell well.
5. Loads of Seller Tools
I don't know if you've experienced this, but I know when I was selling "in real life" on Facebook and at craft shows, I felt like I had to figure out everything myself. Things like payment processing, shipping, how to take credit cards, how to print receipts for customers, etc. The great thing about Etsy is they have integrated payment systems and shipping systems built in. This makes it so easy to get started selling on their platform because they've taken the guesswork out of everything!
Once you open your Etsy shop, you can accept credit card payments or Paypal within minutes. The Etsy seller system walks you through the simple set up process as you tell Etsy where to send your payments. That's it! You can also print your invoices from your seller account, as well as purchase and print shipping labels. Etsy really has created a one stop shop for jewelry makers.
When you are ready, Etsy also offers several advanced tools for sellers. Premium service plans include customization options for how your shop looks, follow up emails to potential shoppers, and more. Etsy also offers advertising opportunities through "promoted listings" to sellers. These can help drive traffic to your jewelry listings and increase your sales.
Of course, the Etsy app is another super helpful tool to help you manage your business day to day. You can check your sales, track sales trends, do product research, and communicate with your customers (through messages called "convos") all from your phone. Good stuff!
Hey, But What about Etsy Fees?
A note on Etsy fees: you may have noticed I haven't discussed the fees for selling on Etsy in the article. That's because I don't consider the fee structure to be a compelling reason to start selling on Etsy. Sellers on Etsy pay fees to list items, and transaction fees and payment processing fees when they sell an item. They may incur advertising fees and other promotional fees from time to time.
You can learn about Etsy's current fee structure, and more about how to sell on Etsy, by clicking here.
Some Etsy sellers complain about how the fees are high. However, I don't look at it that way.
I look at Etsy seller fees as simply the cost of doing business. The Etsy platform will get your items more visibility than if you were only selling locally or on social media.
Besides, we know that there are costs with those selling methods too. Examples are: booth rental fees, credit card payment fees for your processor, and the cost of supplies and materials for items you make that don't sell. Etsy fees are a wash with the costs associated with selling your jewelry items via other sales methods. For this reason I don't consider Etsy's selling fees to be a selling point. But I also don't think they should be a reason NOT to sell on Etsy, either.
So, do you sell on Etsy now? Do you like it? Have you experienced success? How does it compare to selling in person, at craft shows, or on social media? Let me know about your experience selling on Etsy in the comments. Or, if you haven't dipped your toe in the water yet, let me know if you think you're ready to give selling on Etsy a shot!
Until next time… and happy creating!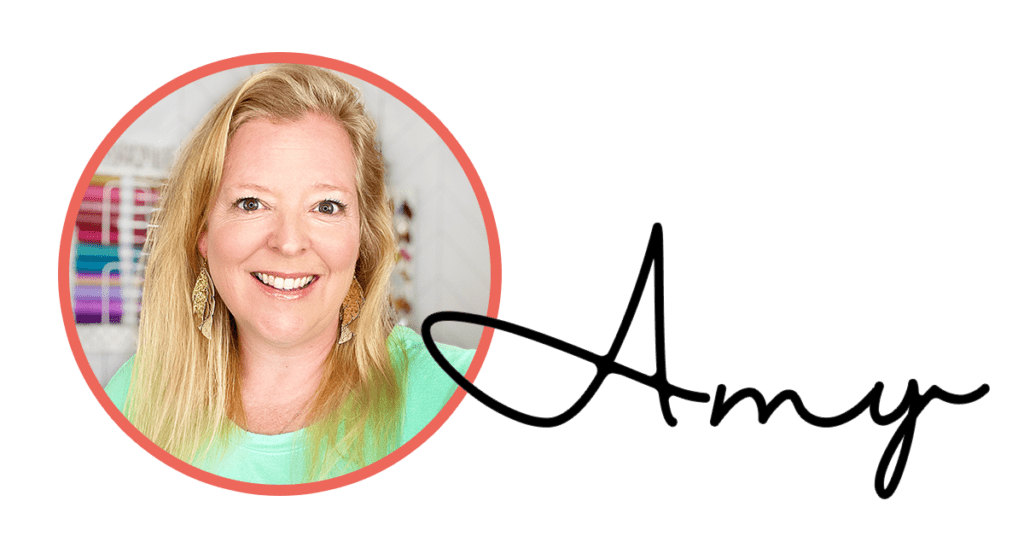 Want to remember this? Post this Should You Open An Etsy Shop To Sell Your Handmade Jewelry to your favorite Pinterest board!