5 Tricks To Making Beaded Fringe Earrings That Lay Flat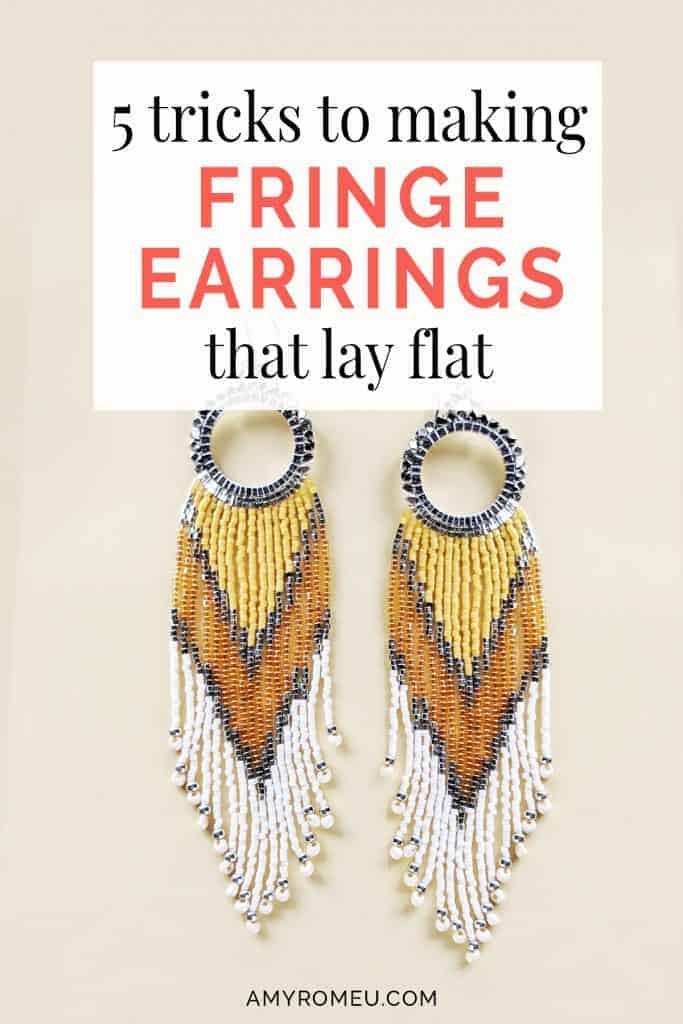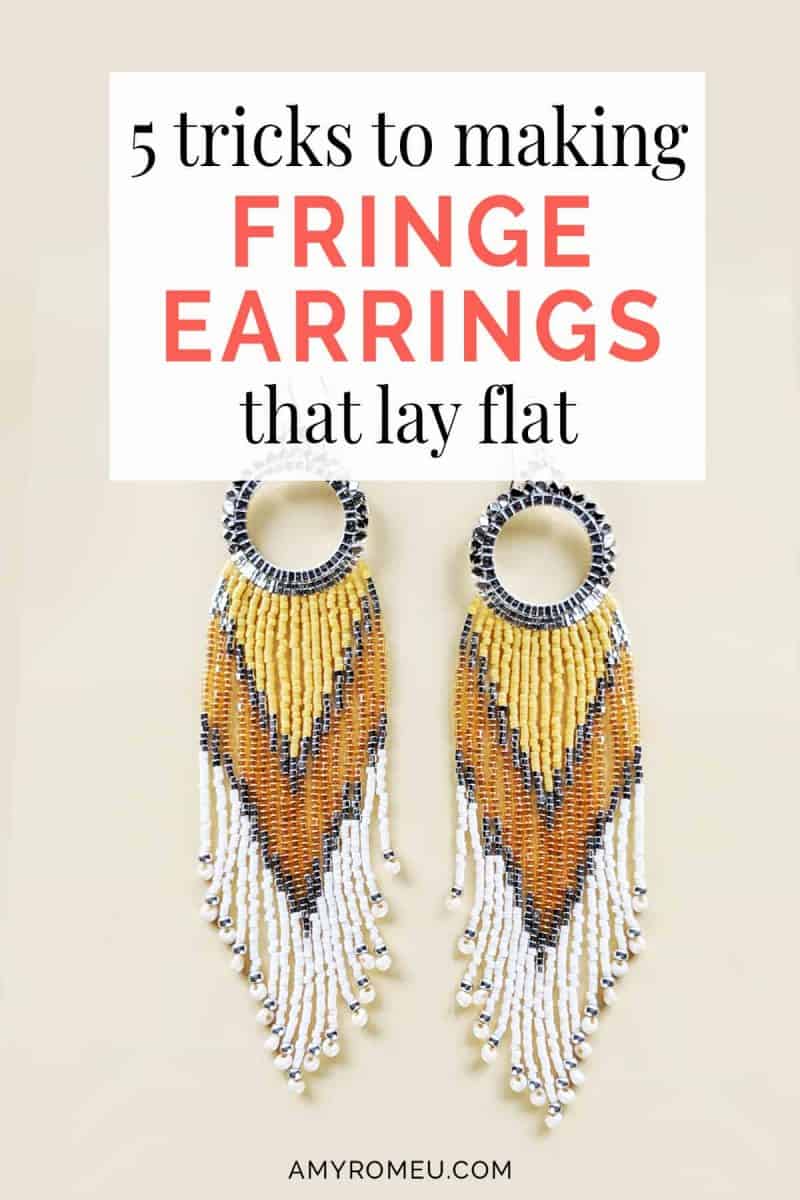 5 Tricks To Making Beaded Fringe Earrings That Lay Flat
I've been beading for over 25 years, but I have to admit, I've always avoided beaded fringe. I know, it's silly! I've beaded so many different projects with a wide variety of beads. But beaded fringe has always frustrated and intimidated me. However, I was recently inspired by some amazing beaded fringe earrings I saw on Pinterest, and I felt encouraged enough to try again. It took several tries and some experimentation, but I finally finished them. The hardest part after I finished beading the fringe was figuring out how to make the fringe lay flat.
But I struck upon a trick that helped flatten the fringe in just a few hours, and I was overjoyed! I'd like to share my secret – and a few other tips – with you in this post.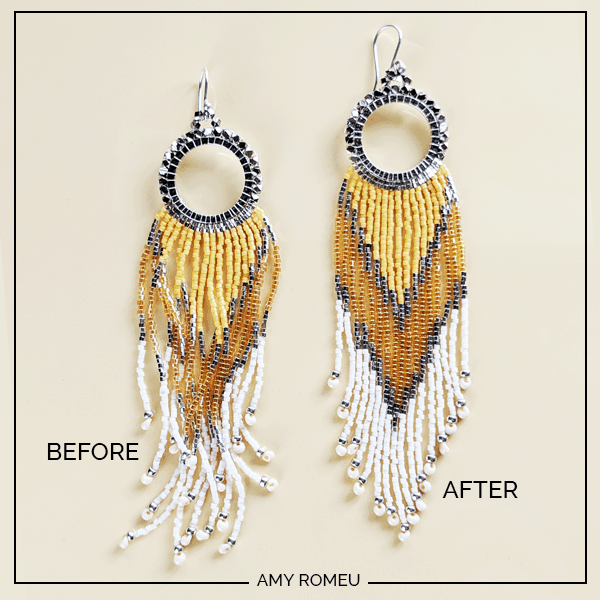 Before we start, let me show you what I mean about getting the fringe to lay flat. Here is a before and after photo of a pair of earrings I made. See how the left one has curly and wild fringe? This is the challenge I've always struggled with when attempting fringe earrings. I never knew how to get the fringe strands to hang naturally and lay flat without leaving a large gap visible in the fringe thread. Until now! Here's what I did to finally tame the beaded fringe… and what's gotten me hooked on making these beautiful beaded fringe earrings!
This page contains some affiliate links (which means if you make a purchase after clicking a link, I will earn a small commission at no additional cost to you). Read my full disclosure policy here.
Trick #1 – Using a Soft Thread
I've been beading with seed beads, mostly peyote stitch with size 11/0 Delicas, for many years. I used Nymo thread for a long time, and recently switched to Fireline. Since peyote stitched pieces need some structure, the slightly stiffer Fireline is a perfect fit. In these earrings, I've used Fireline to brick stitch the faceted metal beads around the circle component. However, the beaded fringe needed a softer, less structured thread if I wanted the best chance for drapey fringe.
I use KO thread for my bead embroidery projects, and I'm really happy with how it added to the softness and drape of the fringe. I could have used Nymo, but I had gold KO thread from this pack on hand, and I wanted to use a complementary thread color. The center section on these earrings use transparent beads, and I knew the thread would be visible through the beads.
Using a softer thread on fringe is a key ingredient to making the fringe on your beaded earrings lay flat. If you must use Fireline, use the 4 lb test version. Also, make sure you aren't going back back through your fringe for any reason, after the initial pass down and up to create the fringe strand. Your fringe strands should have only one strand of thread (which will become a double strand after you thread down, then back up) to keep them as soft and fluid as you can.
Trick #2 – Tension, Tension, Tension
Correct tension is the holy grail of beaded fringe! It takes a little practice to bead each fringe strand with the right amount of tension, but it's really important!
You want the beads on each strand to be touching without any visible thread showing between the beads, especially where the fringe strands attach to the earring at the top. At the same time, you don't want the beads so tight though that the strand curls out of shape.
One trick is to put your fingernail between the last bead and the bead above it to create a very small space, however I don't personally use that technique.
I knew I would be pulling the strands down gently and that may already result in a very small gap. You'll see in my last step how I was able to make my fringe straight and flat even when my fringe started out as a little curled. As such, I recommend keeping the tension firm while beading for best results.
Trick #3 – Using a Larger Bead At The Bottom Of Each Strand
I know this step isn't really required to get your fringe to lay flat. I've seen so many amazing beaded fringe earrings that end with a single Delica or size 11/0 bead, but I figured every little bit helps. In my earrings, used a size 8/0 seed bead and a Miyuki fringe drop bead to help add visual interest, and the slightest bit of weight. These beads are slightly larger than the Delicas, and I knew the slight increase in weight would help pull the fringe strands downward. Not by a lot, I know, but like I said, I needed all the help I could get.
Trick #4 – Harness the Power of Long Fringe
It stands to reason that the longer your fringe strand is, the more beads will be on each strand, and the heavier your fringe will be. When your fringe is heavier, it helps to pull the fringe strands downward.
Also, a tip: when you are working on your earrings, attach the earring hooks while your earrings are still in progress. Then hang them as often as you can, both while you are beading them, and when you are taking a break or overnight, to let gravity help your fringe do it's job.
Trick #5 – Rubber Bands Are The Key
So I made my first earring in this set by using all of the above steps. I used a soft thread, had the right tension, weighted each strand with larger beads, and made the strands as long as possible to add weight. However, my first earring, when finished, looked like this: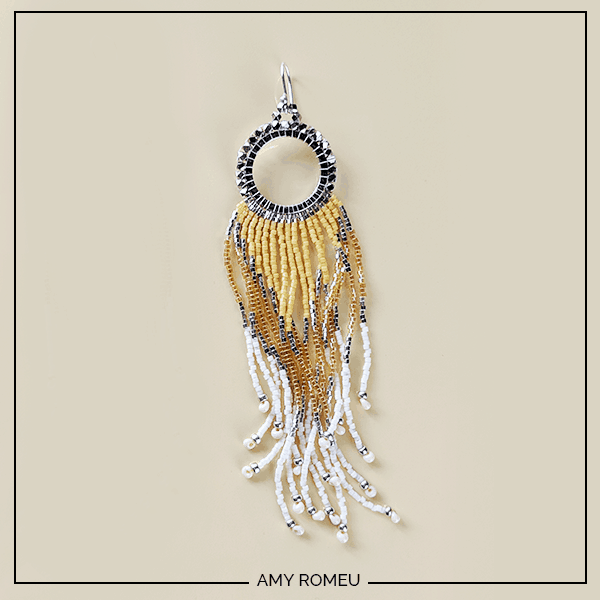 I was totally deflated! I could not figure out how to make the fringe lay flat and straight! A Google search on this topic but didn't find any resources or tips for me. I was so frustrated!
But the next thing I tried was a happy accident. I was hanging the earring from the edge of a canister to let it hang naturally, and I thought. if only I could keep the fringe in place to better follow the pattern for the second earring in the set.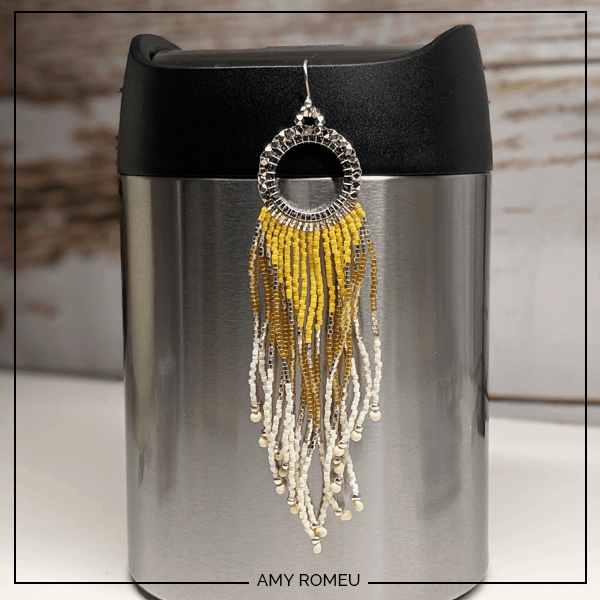 So I placed a rubber band gently around the canister over the fringe section. When I did that, I made sure to line up all the fringe strands next to each other, without any twists or overlaps.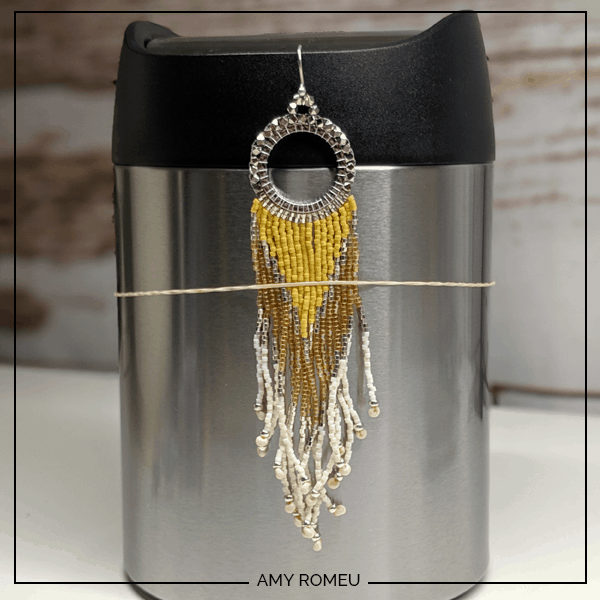 Then I added two more rubber bands, making sure the rubber bands were pulling down ever so slightly on the strands so there wasn't any slack in each strand.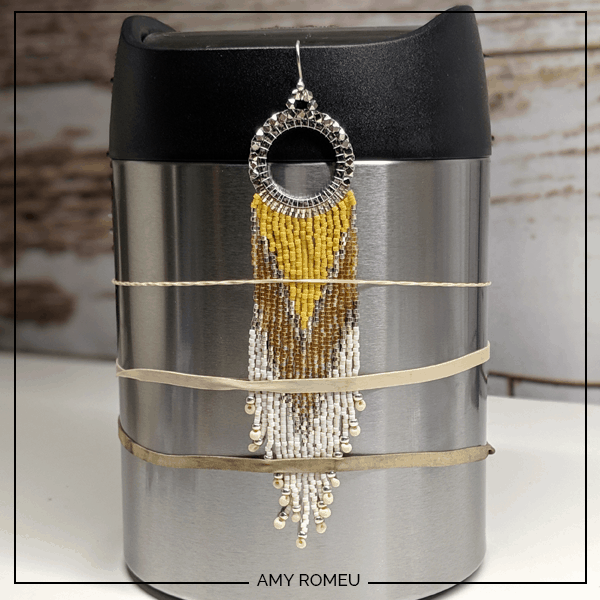 I went to do something else for a short time, and when I returned to my bead studio and removed the bands, I was amazed at how much straighter the fringe was! Suddenly, I was feeling encouraged! I repeated the process and left the earrings banded overnight. Voila! It worked! My fringe strands were straight and hung nicely. Victory!
This simple trick is my secret to making beaded fringe earrings with fringe that hangs straight. Who knew something so simple could be so effective?
I'm going to be making a LOT more beaded fringe earrings from now on!
If you found this quick tutorial helpful and want to see more of my beading and jewelry making tutorials, click here.
Also, be sure to check out my favorite beading supplies here.
If you make beaded fringe earrings, I would love to know if this tip works for you. Also, please let me know in the comments below if you have any tips for making beaded fringe earrings. I would love to hear them!
Until next time… and happy creating!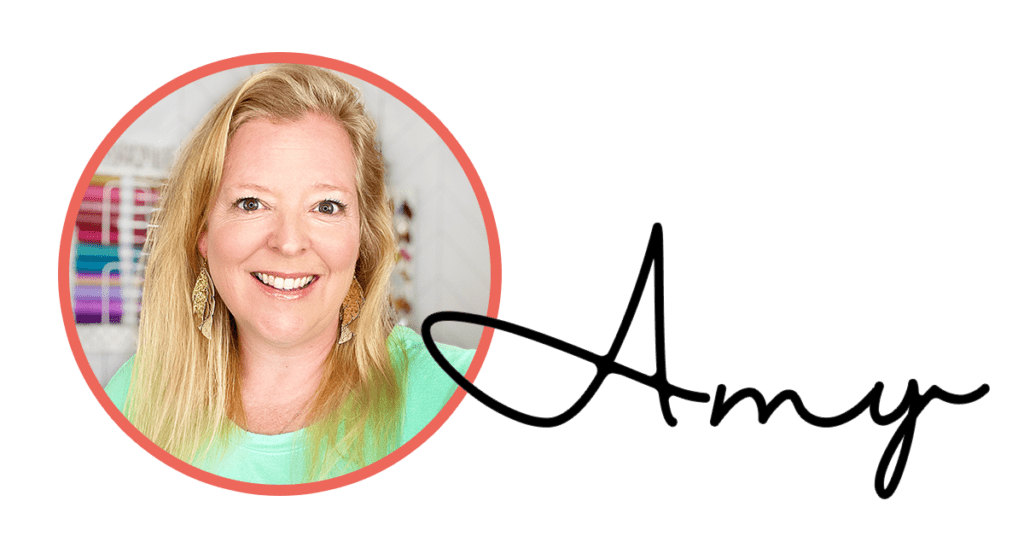 Want to remember this? Post this Secrets To Making Beaded Fringe Earrings That Lay Flat tutorial to your favorite Pinterest board!