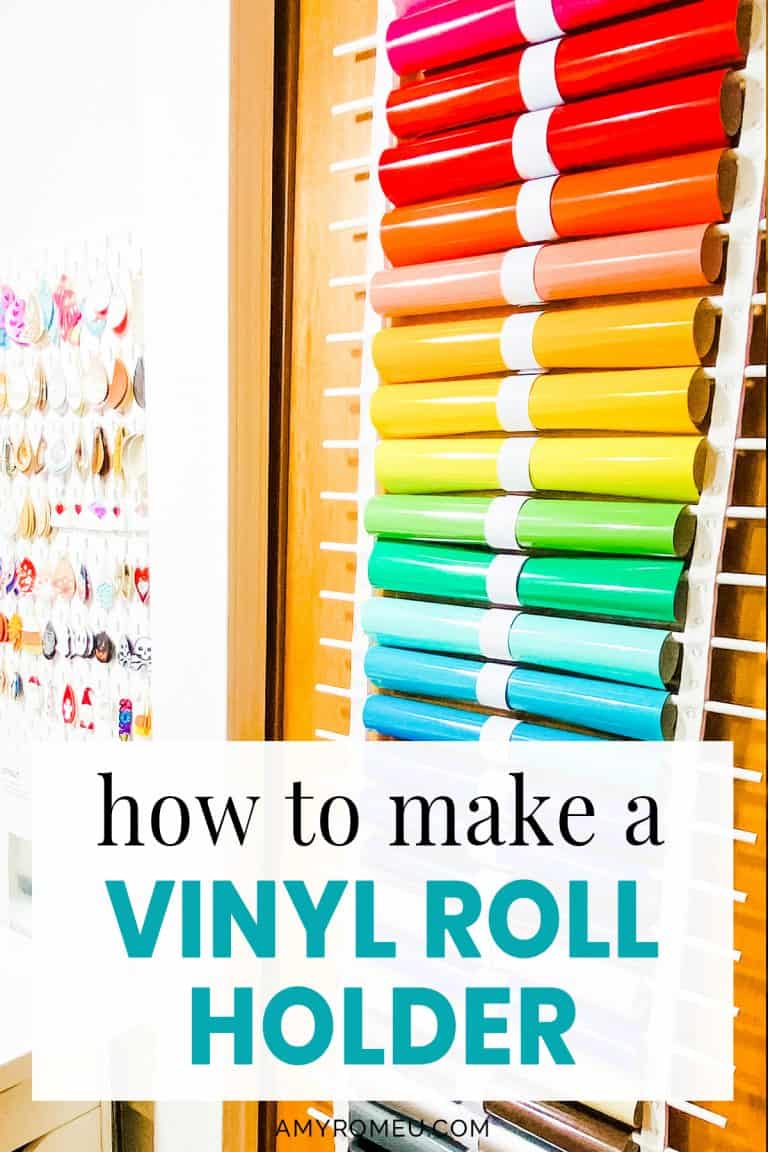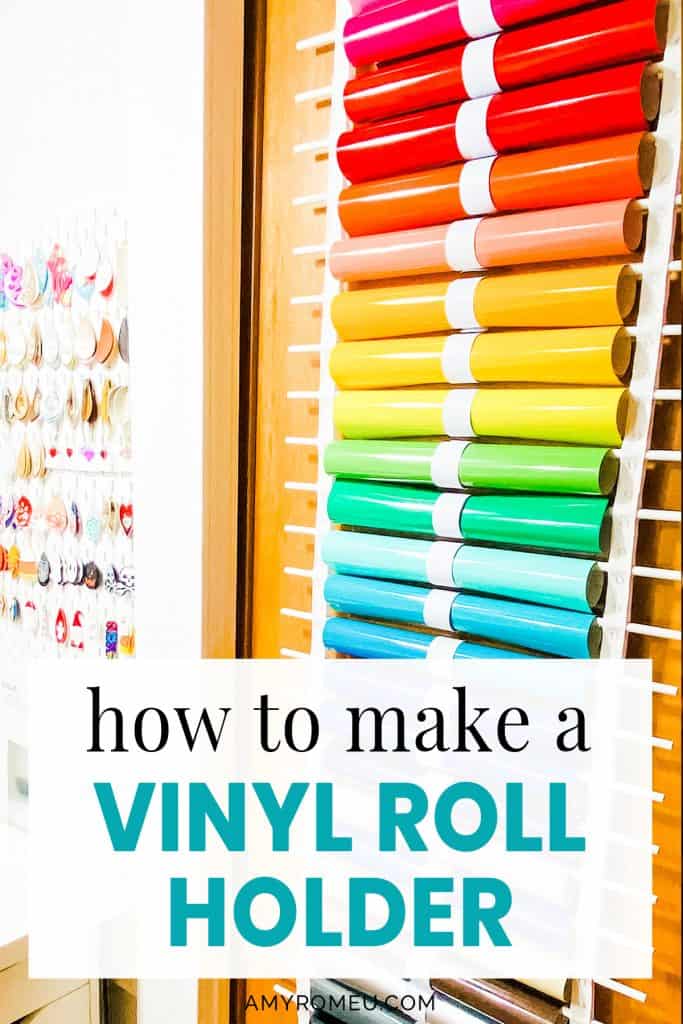 Cricut Vinyl Roll Holder & Easy Vinyl Storage Craft Room Organization Hack
If you love Cricut crafting but find yourself asking "how do I store my Cricut vinyl?" you need this DIY vinyl roll holder in your life! If you're like me and have struggled with vinyl storage in your craft room, I have a great craft room vinyl storage solution for you (and it's budget friendly, too!)
I've tried the IKEA vinyl roll holder hack, but they don't provide enough storage when you really need a vinyl roll storage solution. If you need a vinyl storage DIY that stores a lot of vinyl rolls in a small amount of space to help you with craft room organization this tutorial is for you.
I'll be showing how to quick and easy it is to make your own DIY vinyl roll holder in just minutes from a handful of supplies you can easily get from the hardware store or Amazon. This hanging vinyl roll storage solution will hold 25 rolls of vinyl (or more!) and can be hung in a variety of ways, depending on your craft room organization and craft room storage needs.
If you'd rather watch a video on this project, click below:
Ready? Let's get started!
This post contains some affiliate links (which means if you make a purchase after clicking a link, I will earn a small commission at no additional cost to you). Read my full disclosure policy here.
DIY VINYL ROLL STORAGE - MATERIALS LIST
Before you purchase your supplies for this project, measure your desired height for your vinyl roll holder. I found I needed 9 feet (3 yards) total (two 4.5 foot lengths), of this particular snap tape and 1 package of the dowels to hang 25 rolls of vinyl.
This will vary if you use a snap tape with differently spaced snaps, or if you want a longer vinyl roll holder for your space. For the 2 inch link chain, I needed 10 feet total (two 5 foot lengths) to hang 25 rolls of vinyl.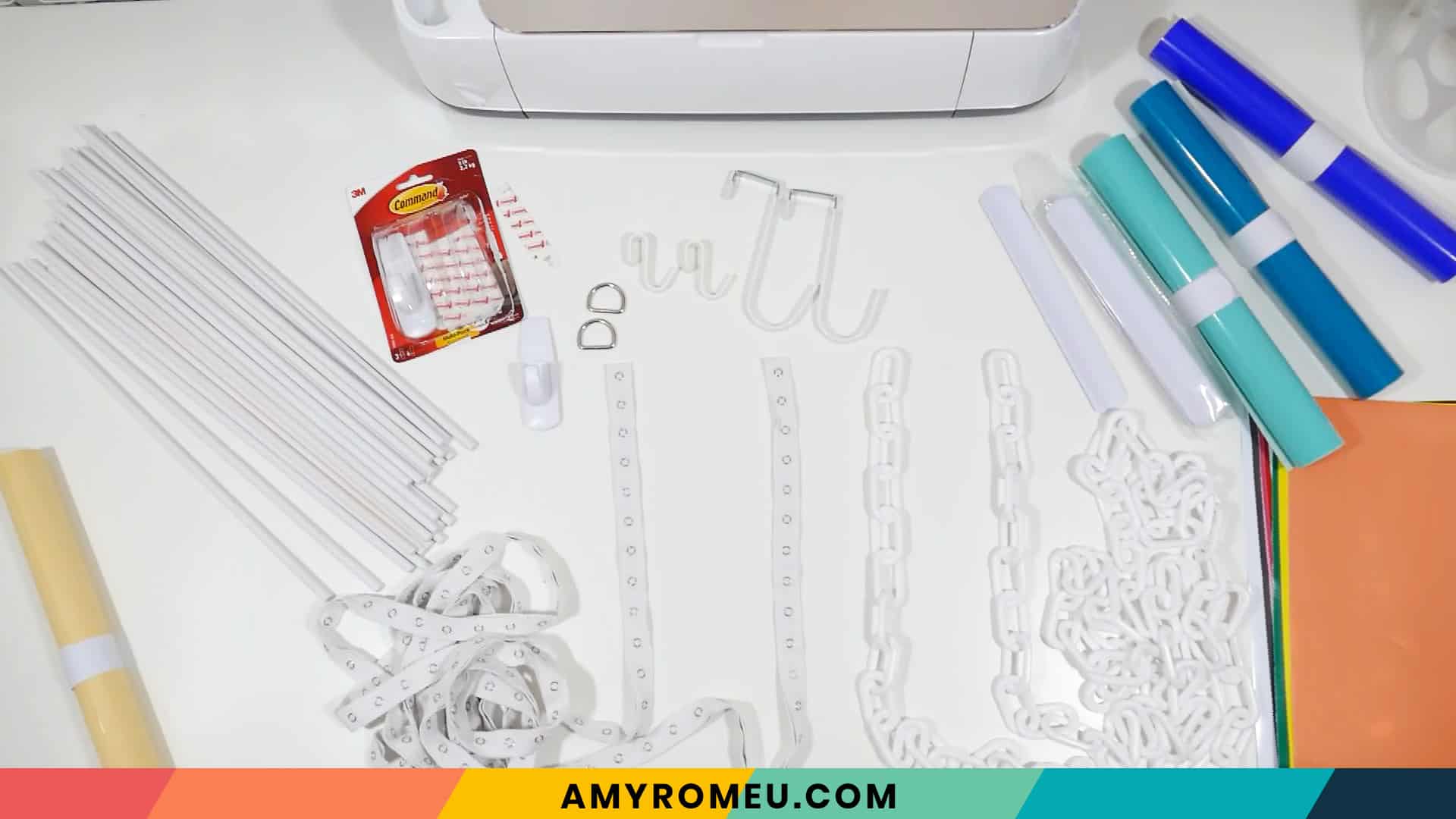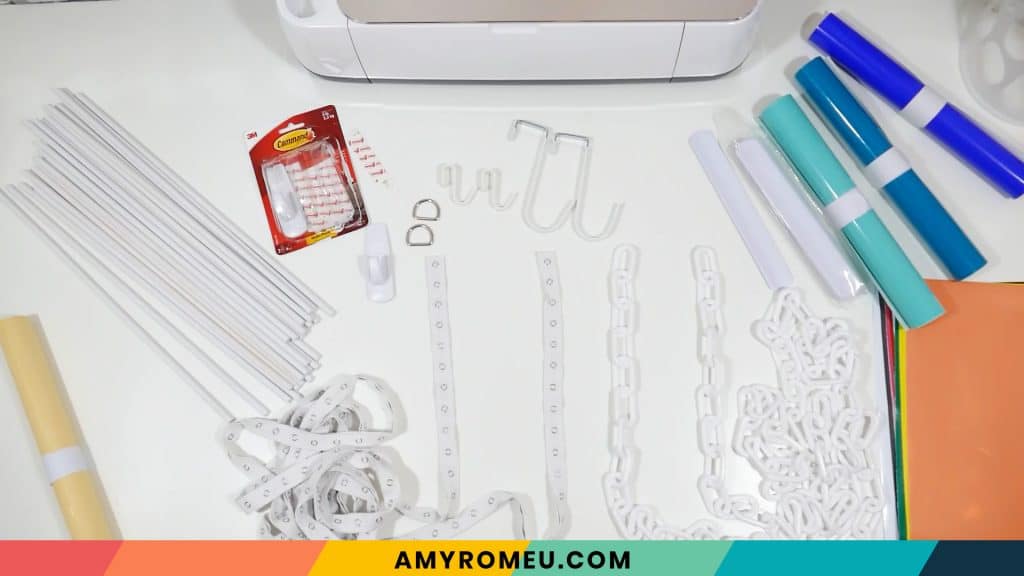 Snap Button Tape or Plastic Chain

I used this 1 inch wide Snap Button Tape from Amazon. It's also available in Black here. You can also get this product at Joann, or Hobby Lobby, or WalMart. The DIY vinyl roll holder will be made from two long sections of snap button tape. Measure out the height you want your vinyl roll holder to be and double that length to be sure you order enough snap button tape. Also be sure you are ordering a continuous piece of snap tape and not pre-cut pieces!

OR Plastic Chain

I used this 2 inch link white plastic chain from Amazon. You can also pick this up at any hardware store. Again, be sure to measure the desired height of your vinyl roll holder and double it so you get enough chain.

Wooden Dowel Rods. I used pre-cut dowels with a diameter of 5/16" x 18" long from Amazon. I like the 18 inch length because you can use both 12 inch or 15 inch vinyl rolls. You can also buy wooden dowels at the hardware store and trim them to size.
Spray Paint (optional). I painted my wooden dowel rods white using this Rust-Oleum Spray Paint in Flat White from Amazon.
D-Rings. I used these 1" size D-rings from Amazon. Also available at any hardware store.
Heavy Duty Command Hooks
OR Over the Door Hangers
Slap Bracelets. These little magical bands help to keep your vinyl rolled up. Amazon has a lot of white slap bracelets, but these are my favorites.
Needle and thread. If you're using the snap tape option, be sure to sew the snap tape onto the D-Rings for extra strength.
PROJECT INSTRUCTIONS
STEP 1
Paint your dowels (if desired) and let dry. I used white flat spray paint. Be sure to paint the ends of the dowel rods because they will be visible when viewing the DIY vinyl roll holder from the side.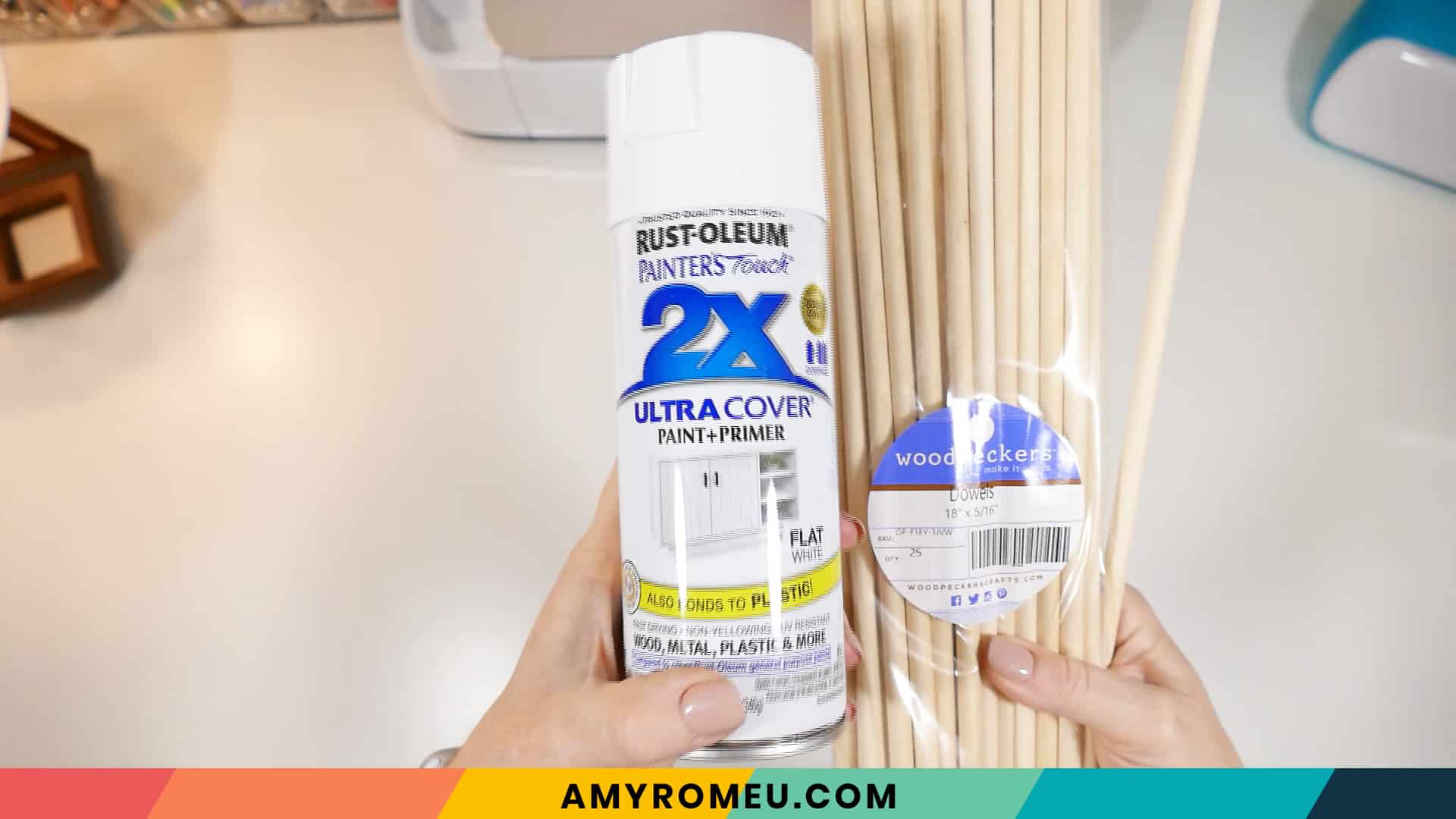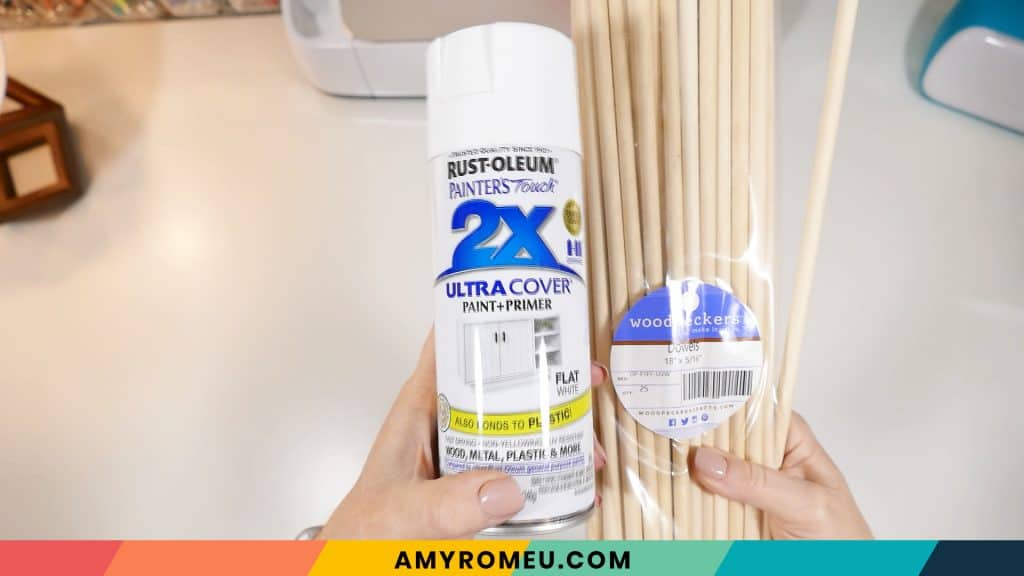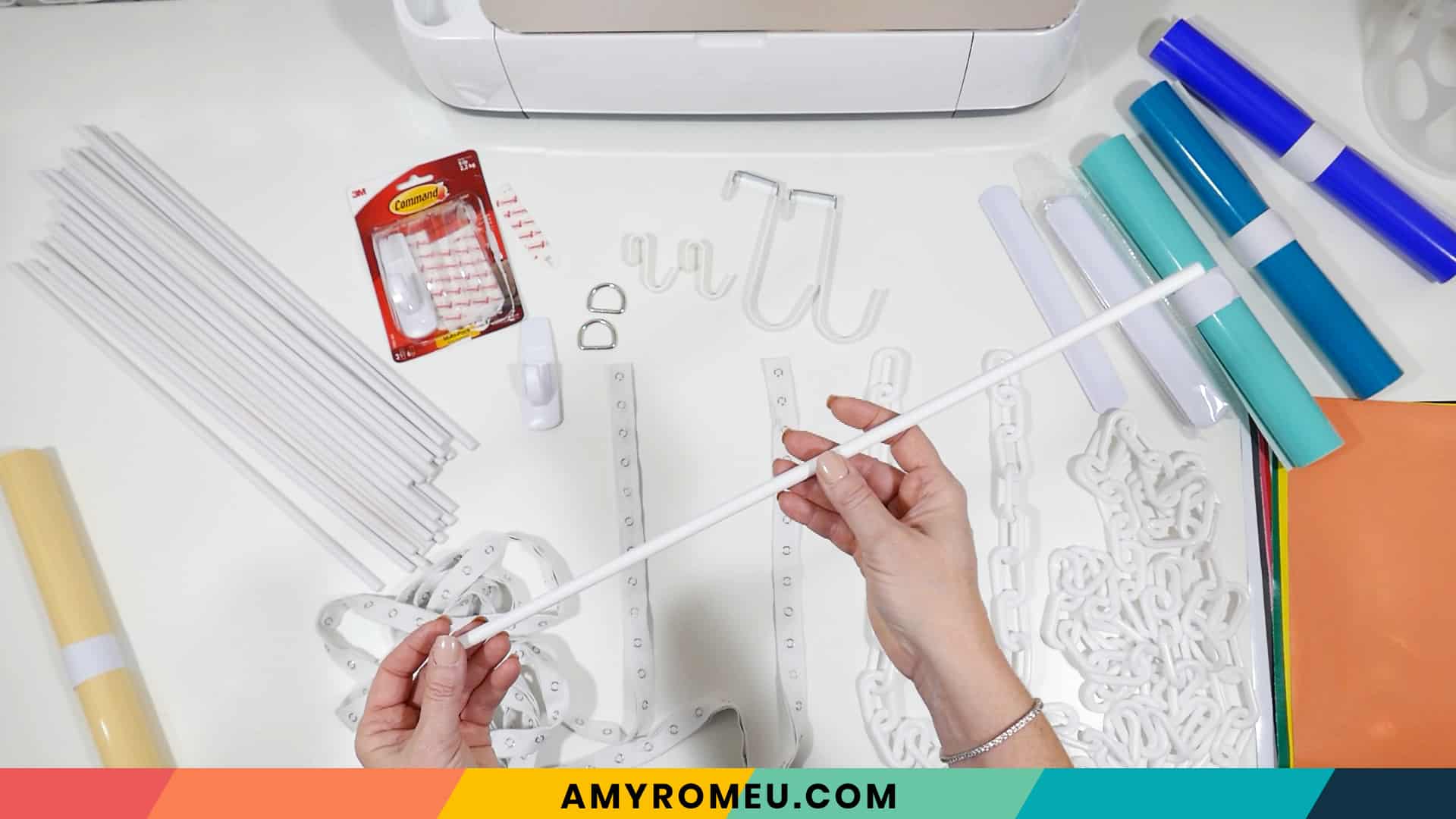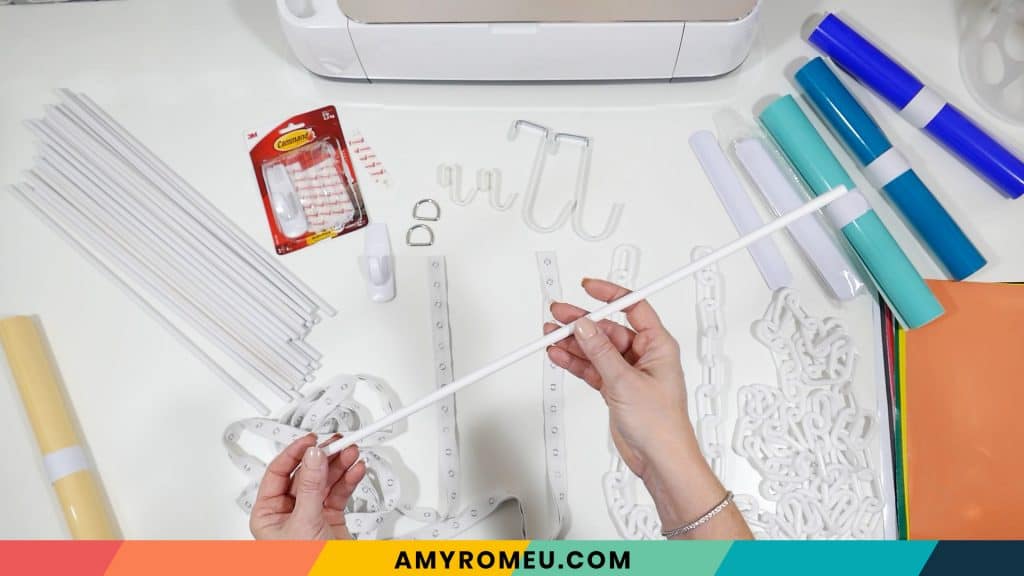 STEP 2
While the paint is drying, measure your area to determine the desired height of your DIY hanging vinyl roll organizer. Cut the snap tape or chain into two equal length pieces a few inches longer than your measurement. I used 9 feet total for the snap tape version and 10 feet total for the chain version.
STEP 3
If using snap tape, sew the ends of the snap tape onto each d-ring for security. Be sure to sew each length of snap tape at the same position to each d-ring so the snaps will be lined up on each side of the vinyl organizer.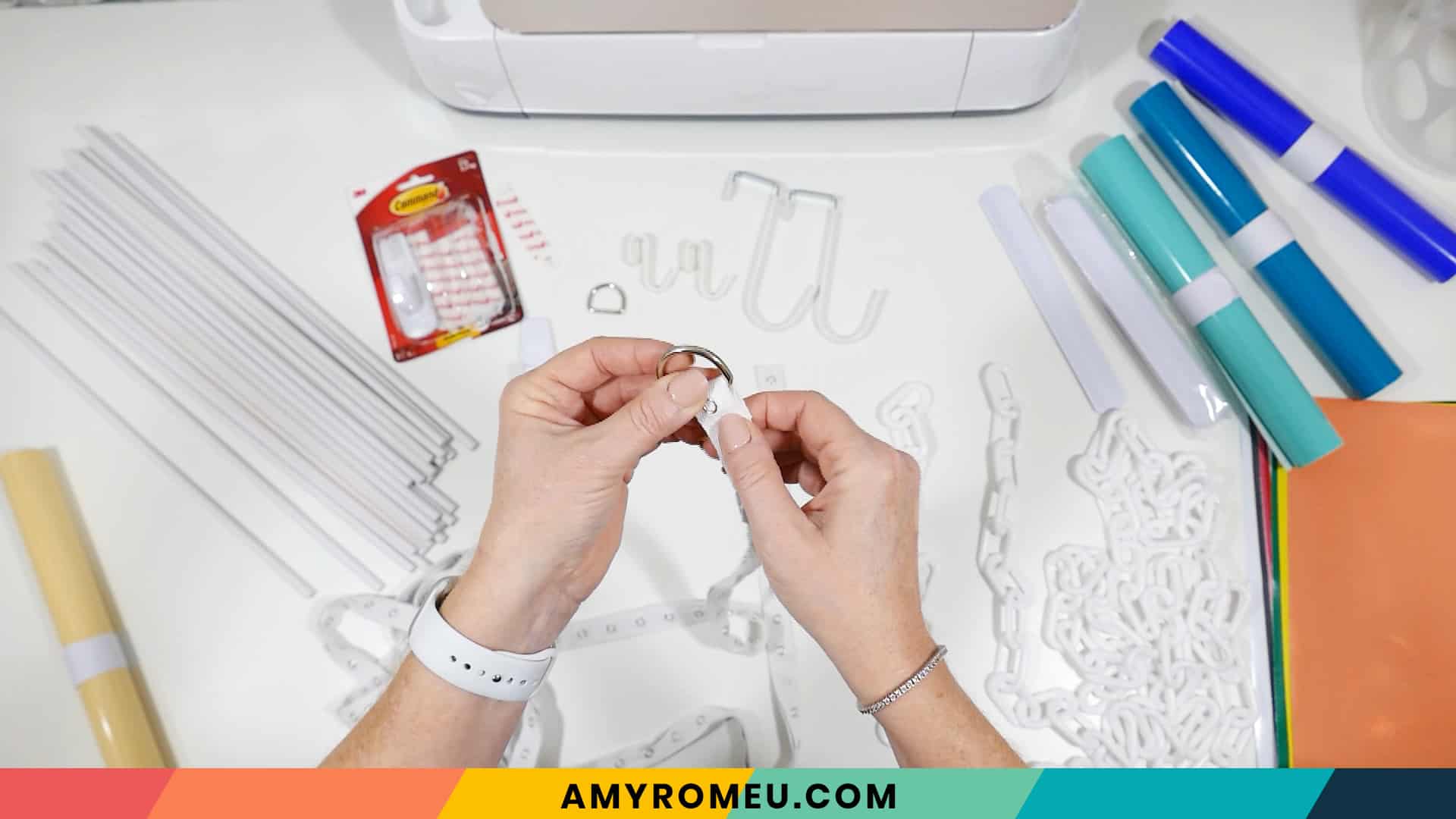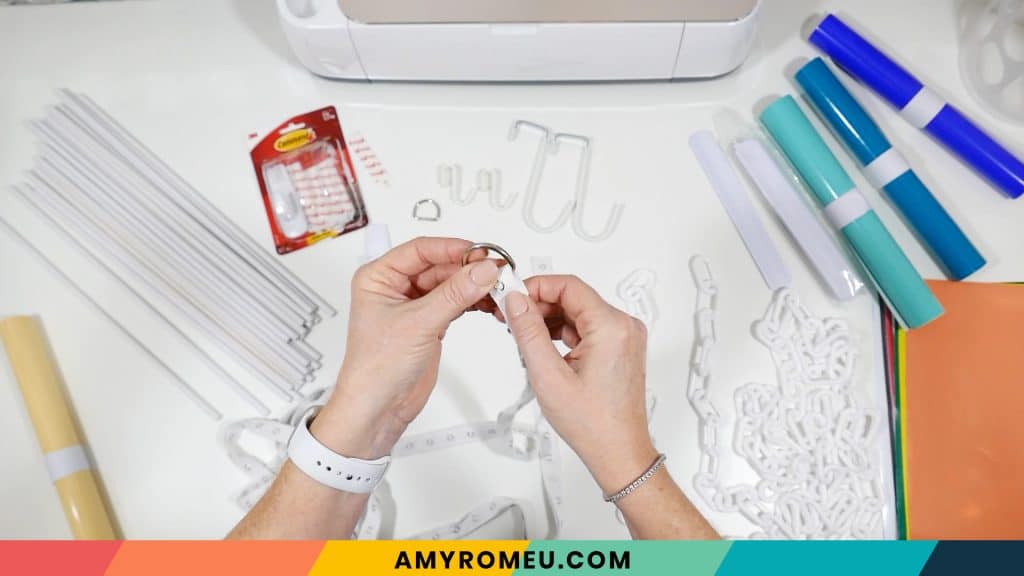 STEP 4
If you're using Command Hooks, clean the surface you will be mounting them to according to the package directions.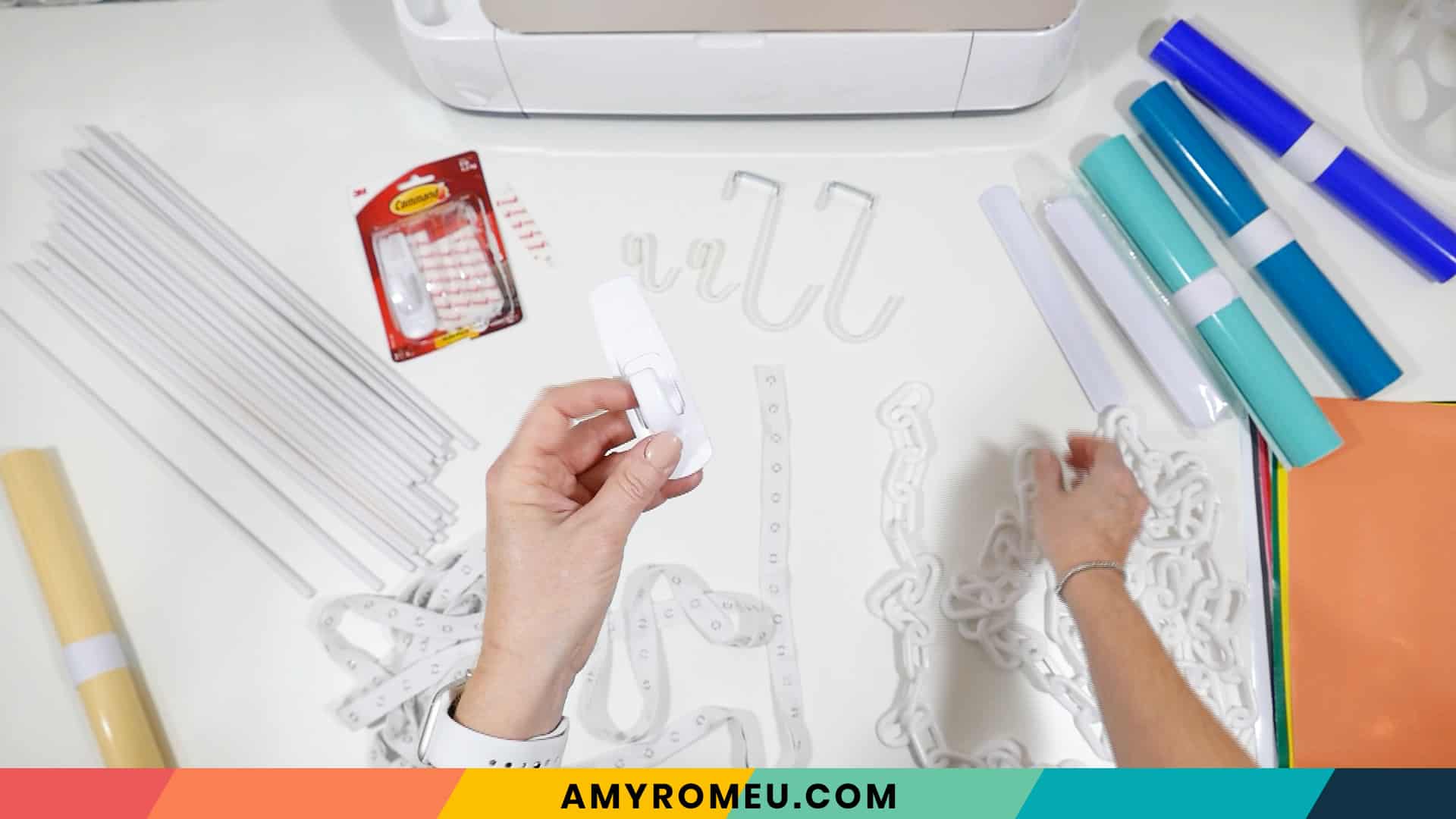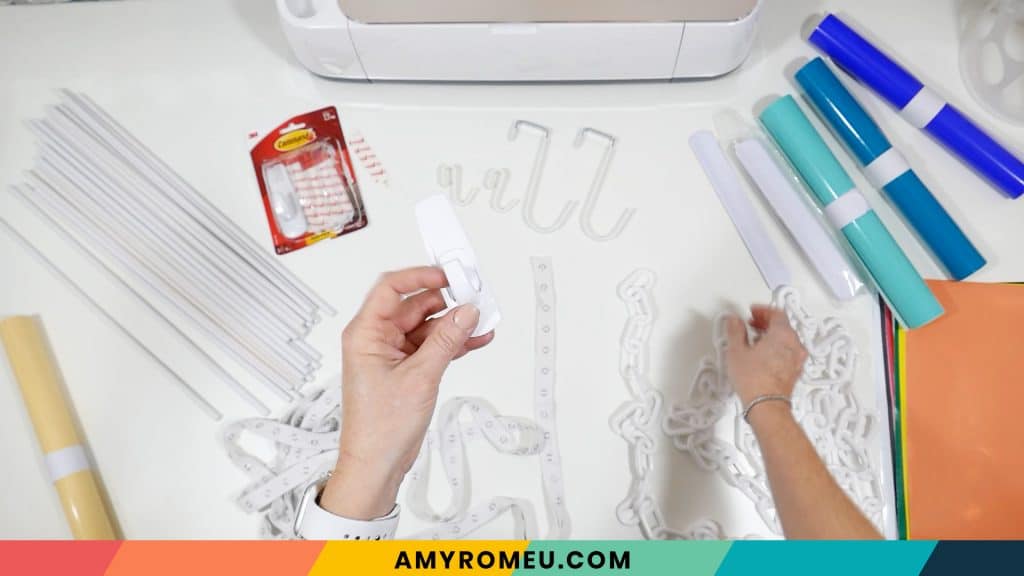 I am hanging 12 inch rolls of vinyl and using Command Hooks, so I placed the center of each hook about 13.5" apart on my wall. Give the hooks time to really set on the wall before you try and hang anything on them. Check the package directions for the recommended wait time - this package said to wait 1 hour.
STEP 5
Roll up each vinyl roll and secure with a slap band bracelet. These are a game changer, I swear! They make your craft room look extra organized and aesthetic, as my daughter would say.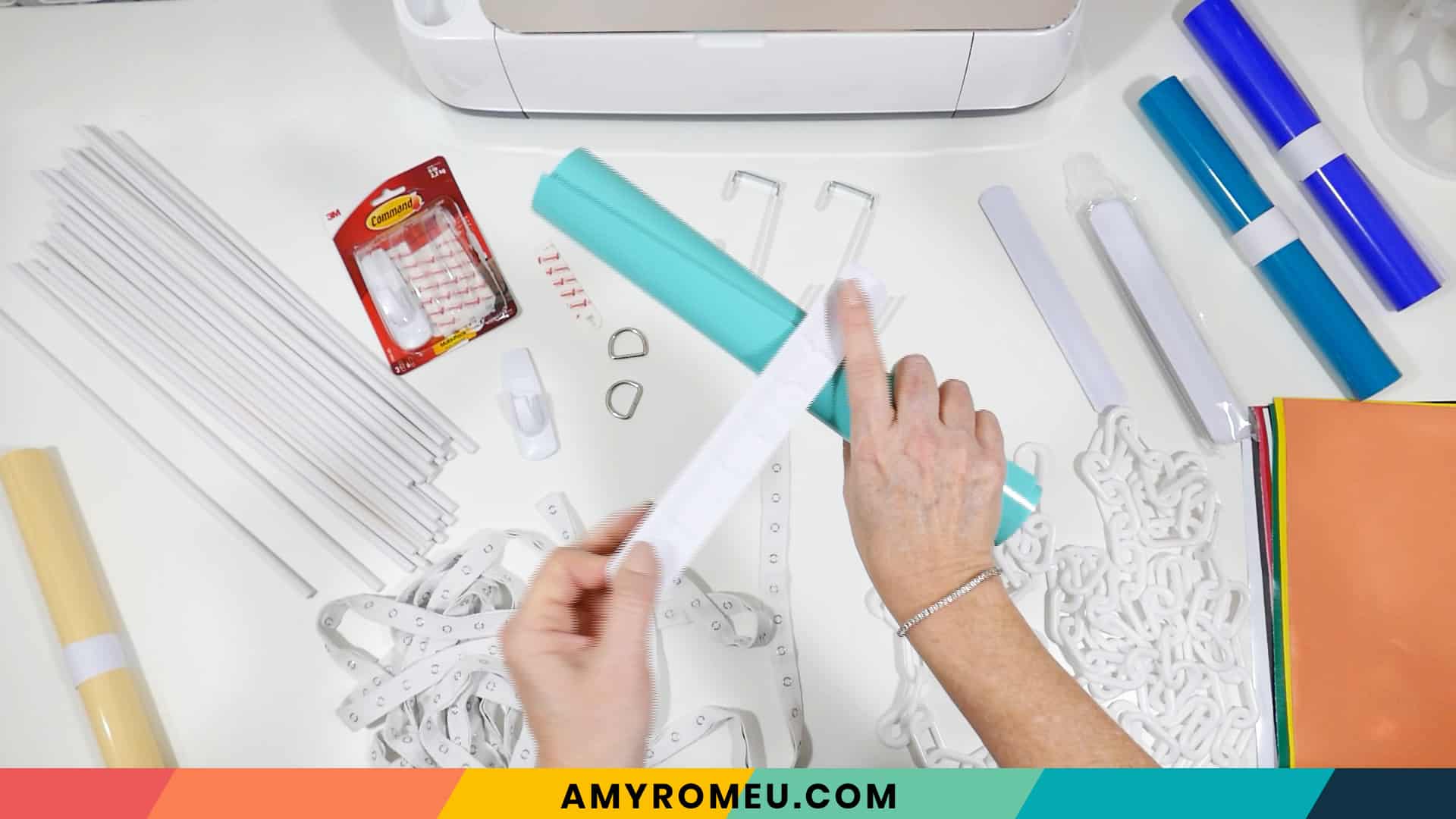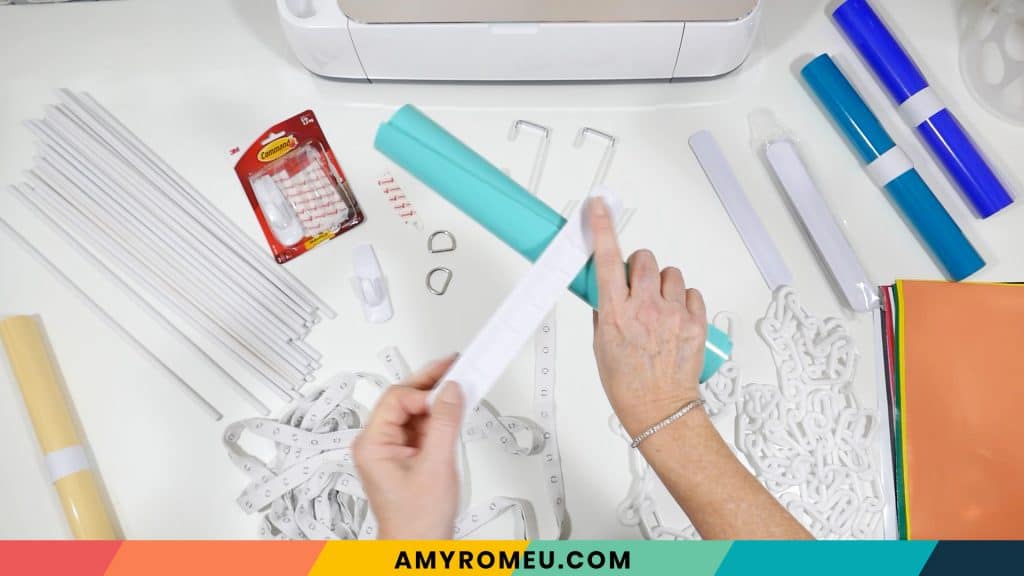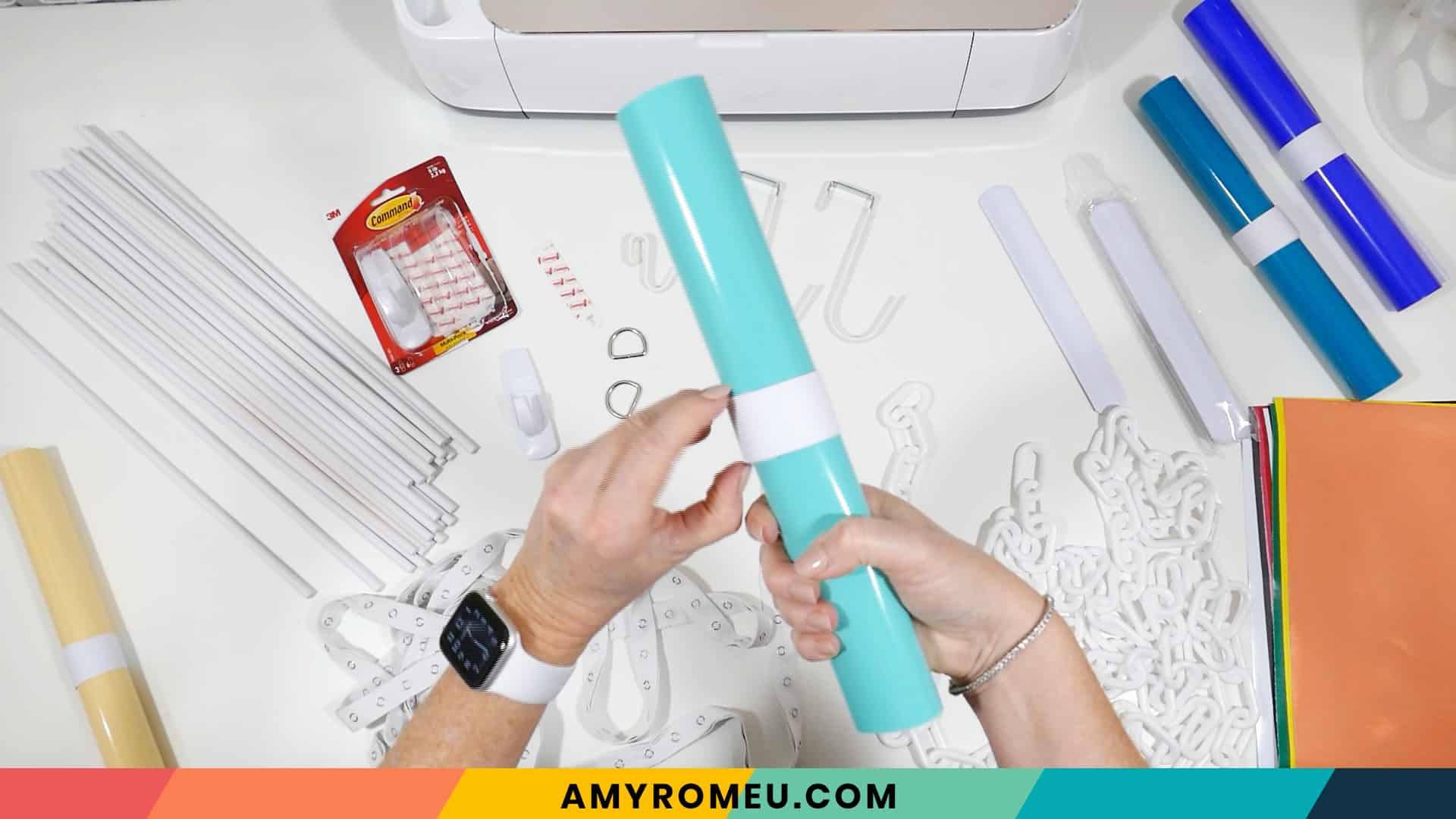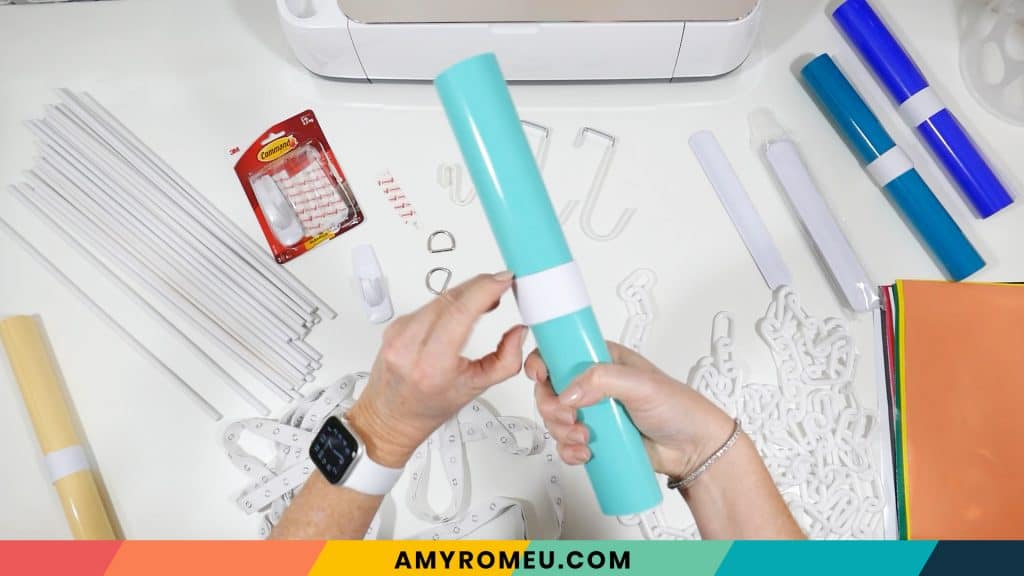 Thread a dowel between two snaps on one side of the roll holder. Then slide the vinyl roll on the dowel. Insert the other end of the dowel on the corresponding space between the two snaps on the other side. Center the vinyl roll and dowel.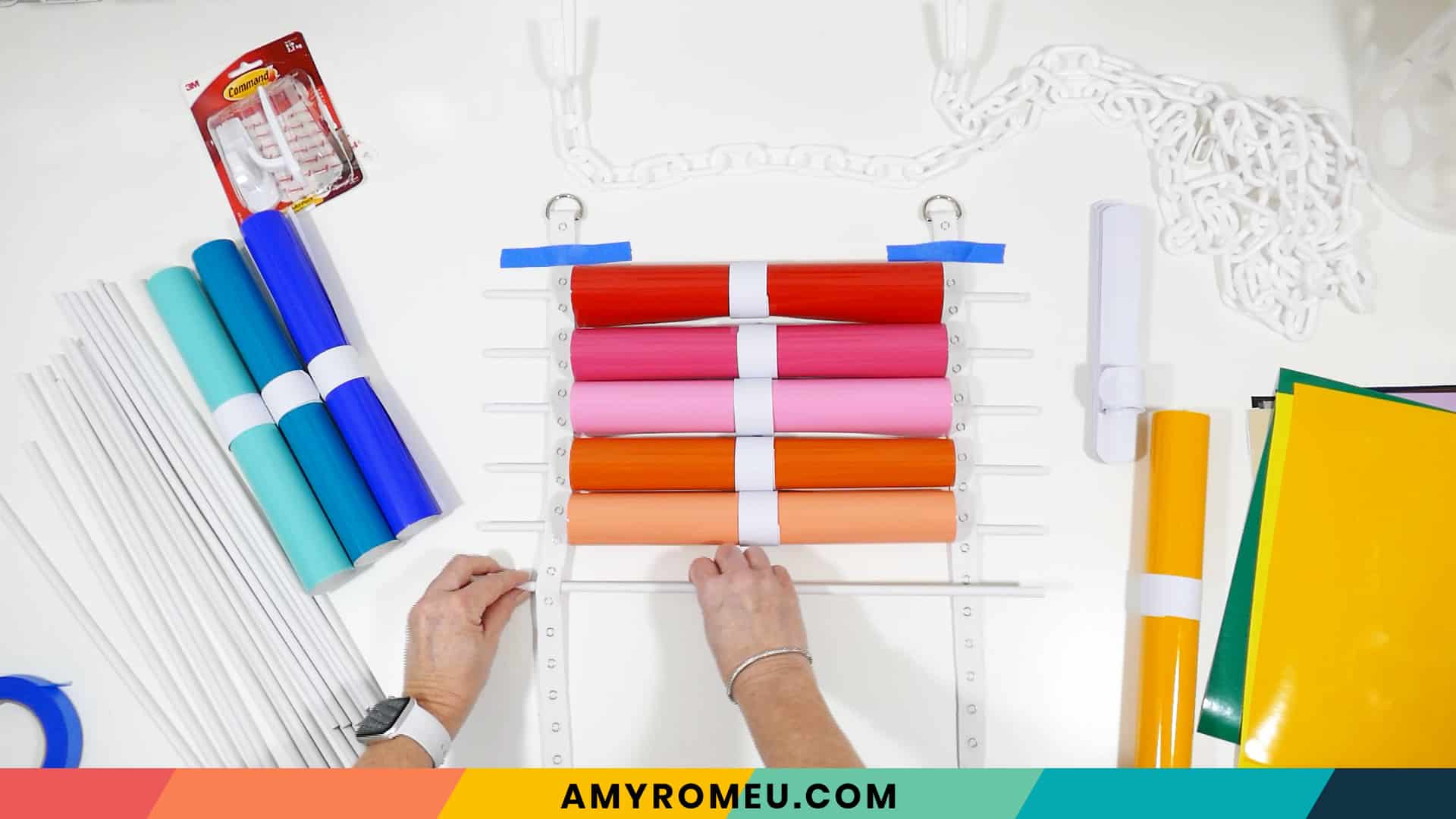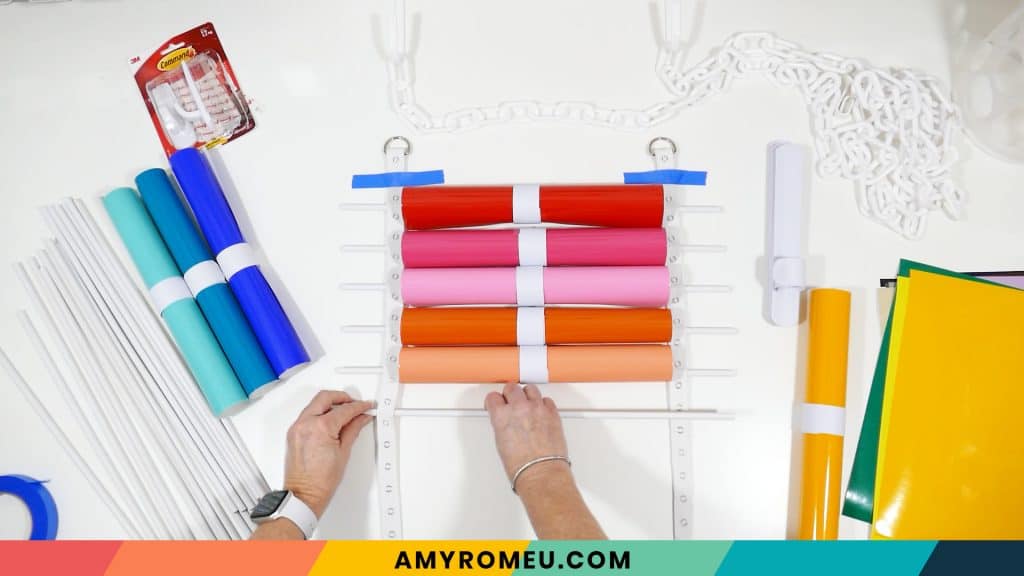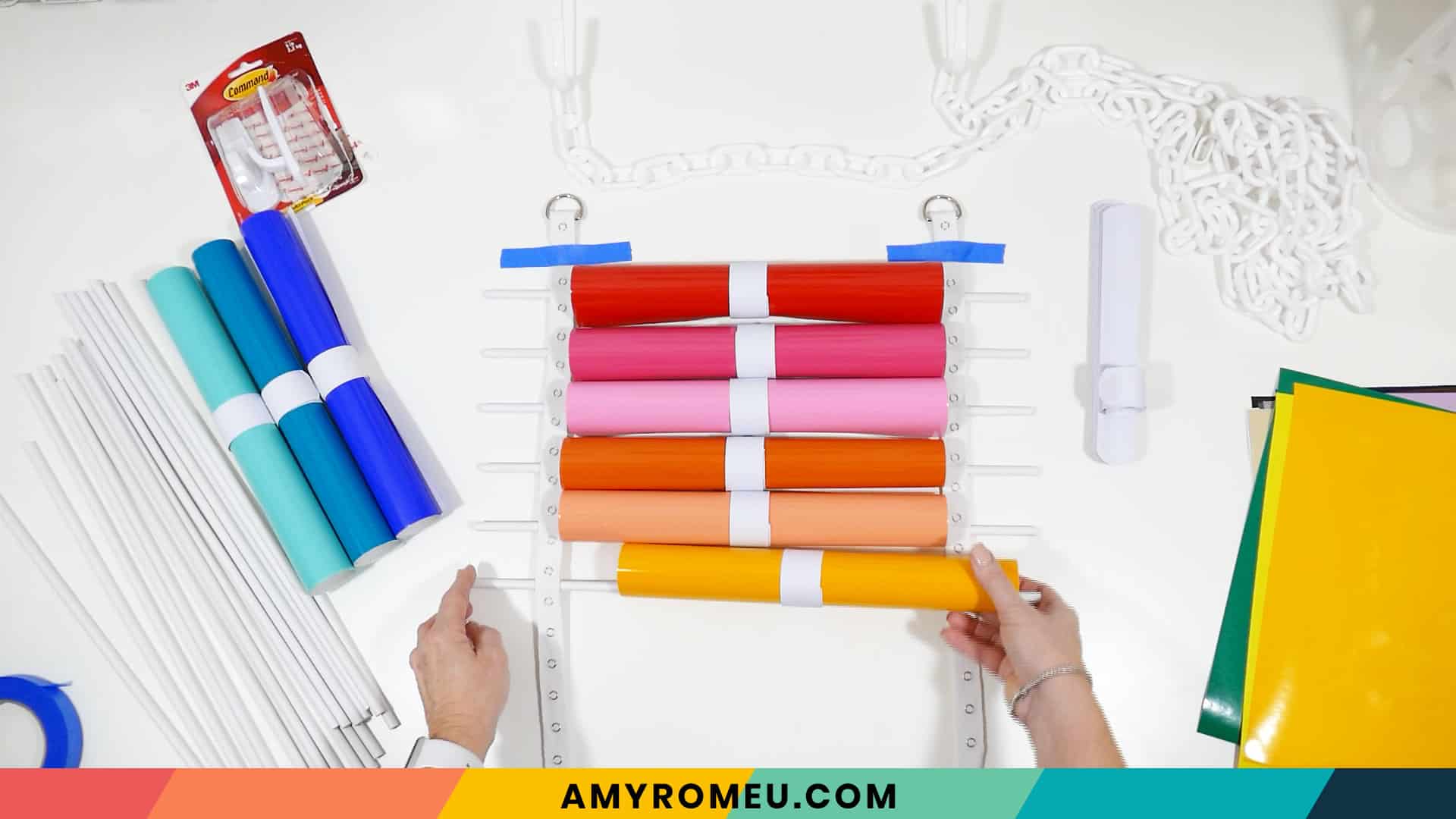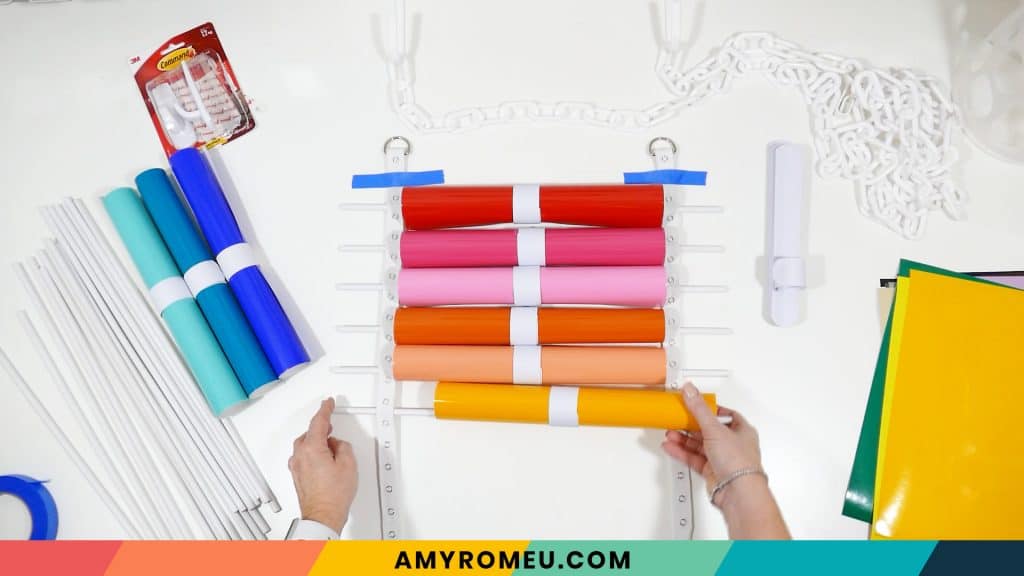 Repeat with the next dowel and roll, being sure to skip a space between the next two snaps before inserting the dowel.
If you're using the chain variation insert the dowel into a forward facing link. Repeat, skipping the next sideways facing link, and insert the next dowel into the next link.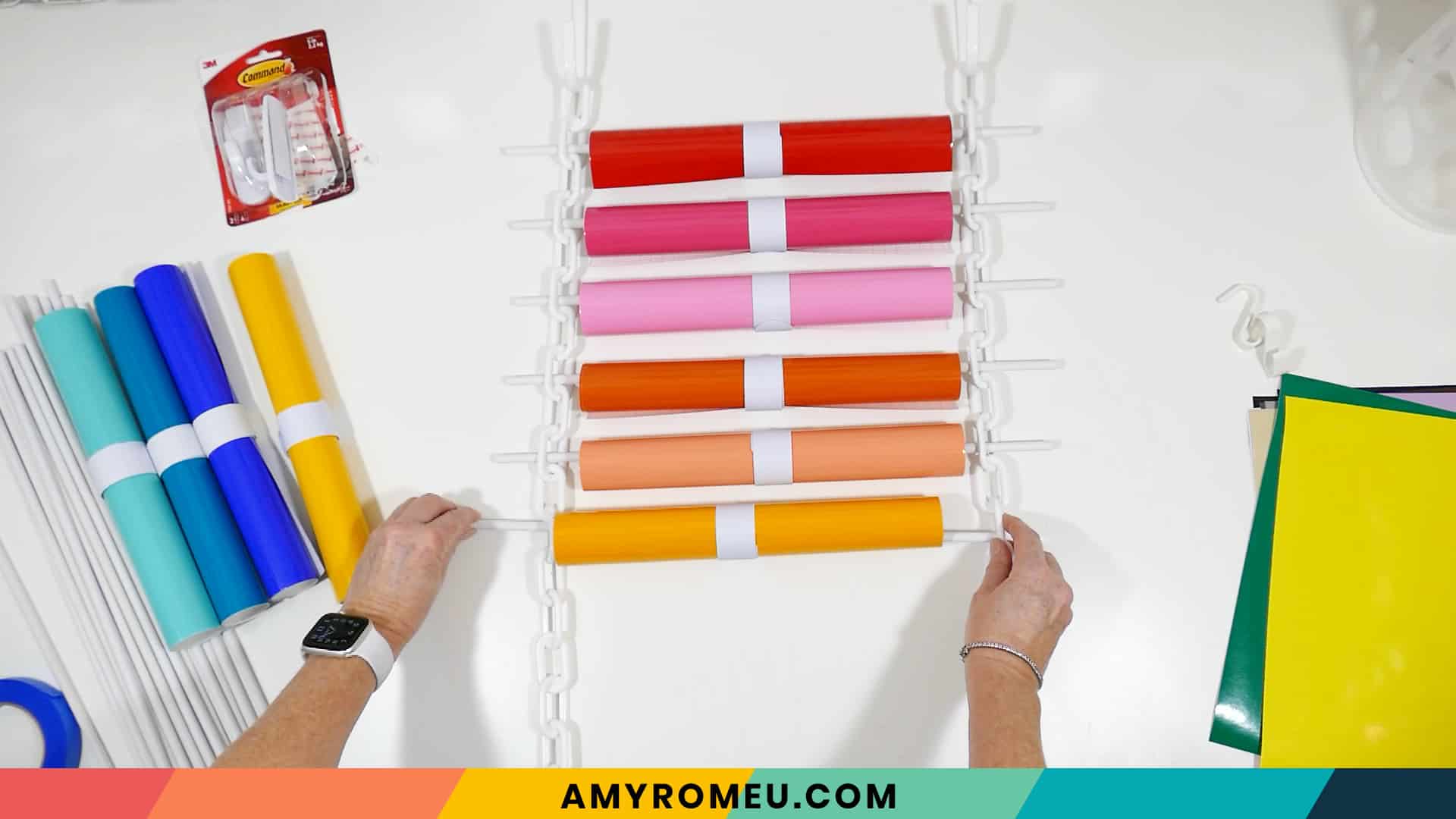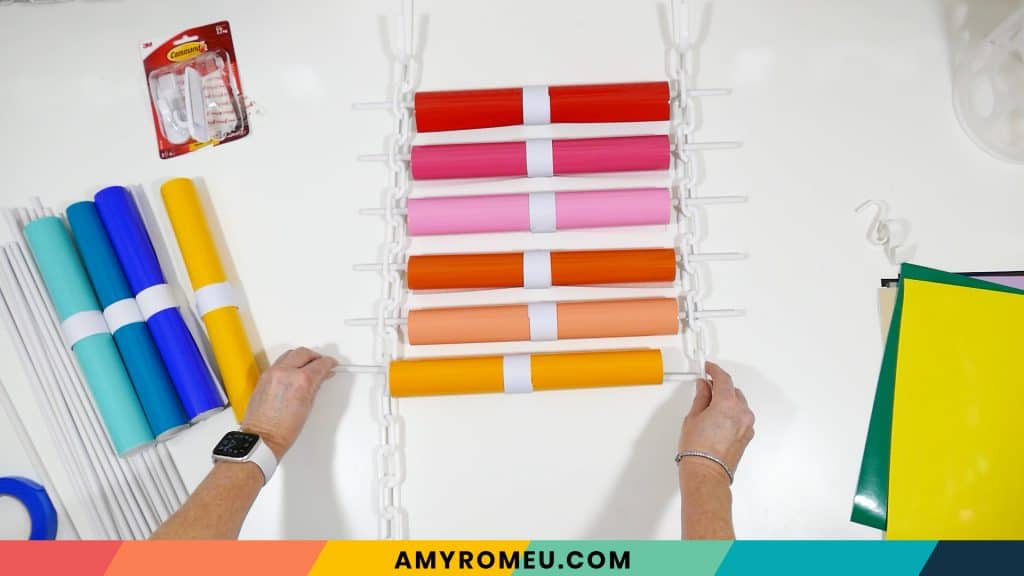 STEP 6
Hang your vinyl roll holder in your desired location - on a wall with command hooks, over a door with over the door hooks, or on pegboard with pegboard hooks or S hooks.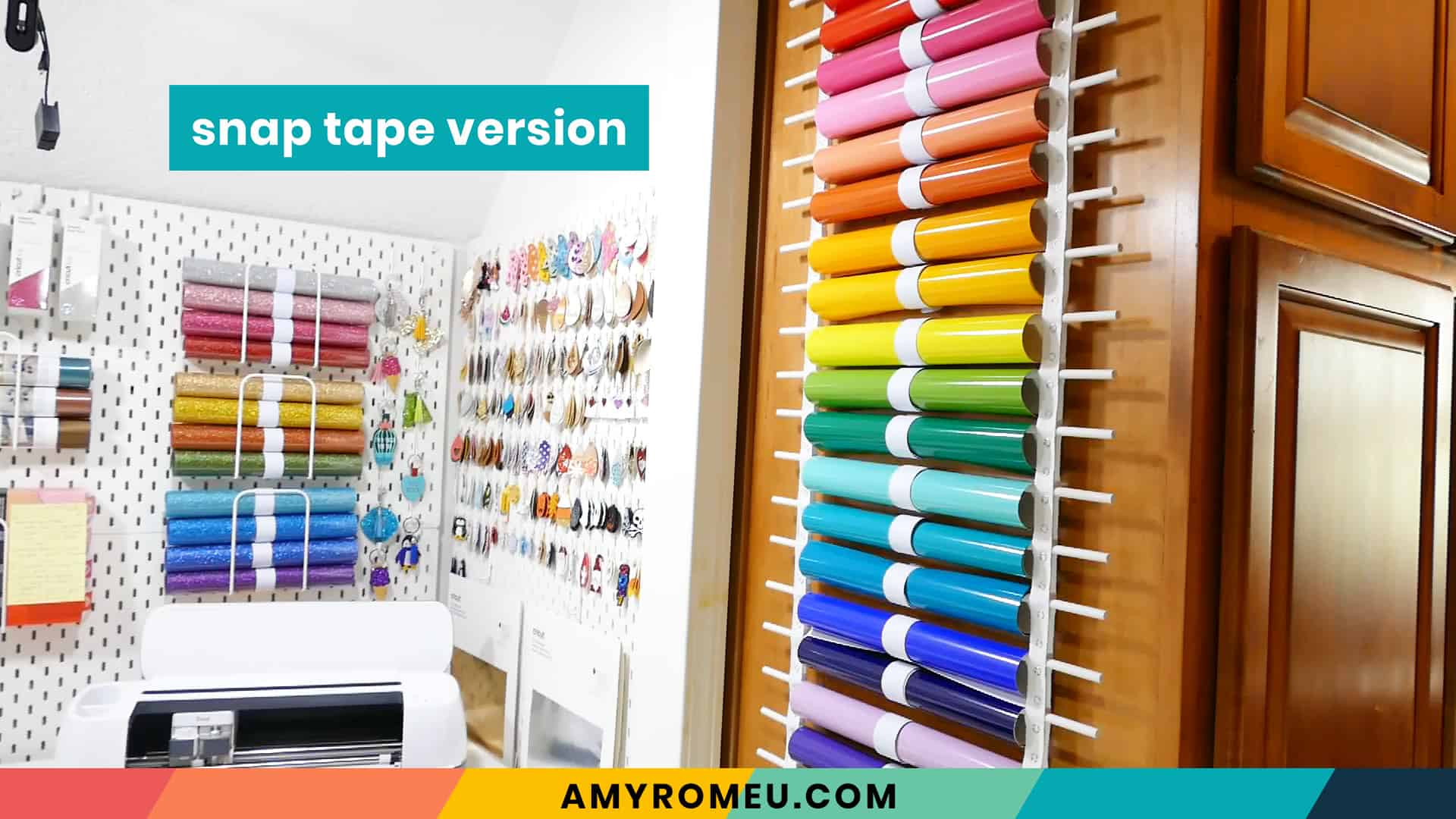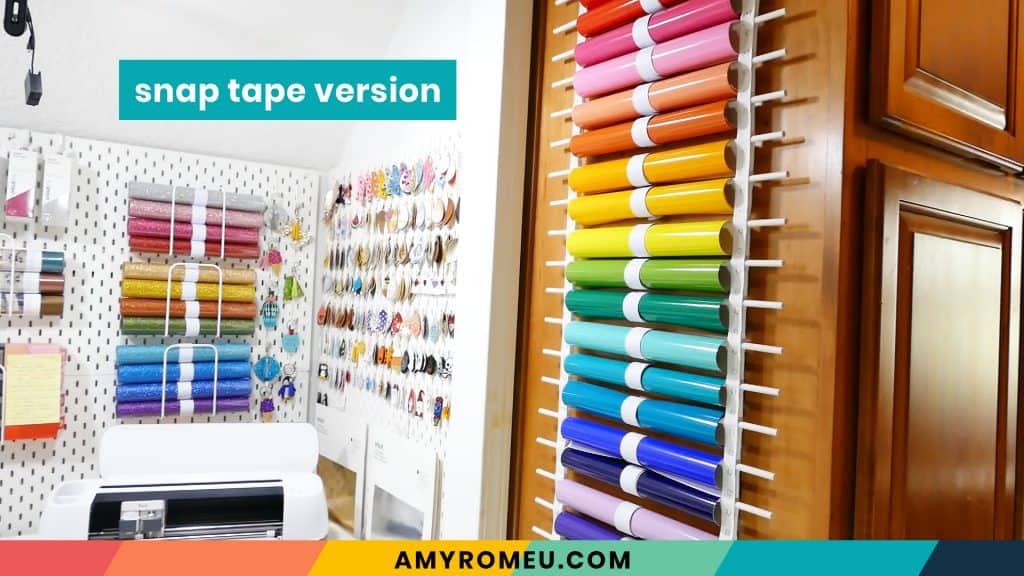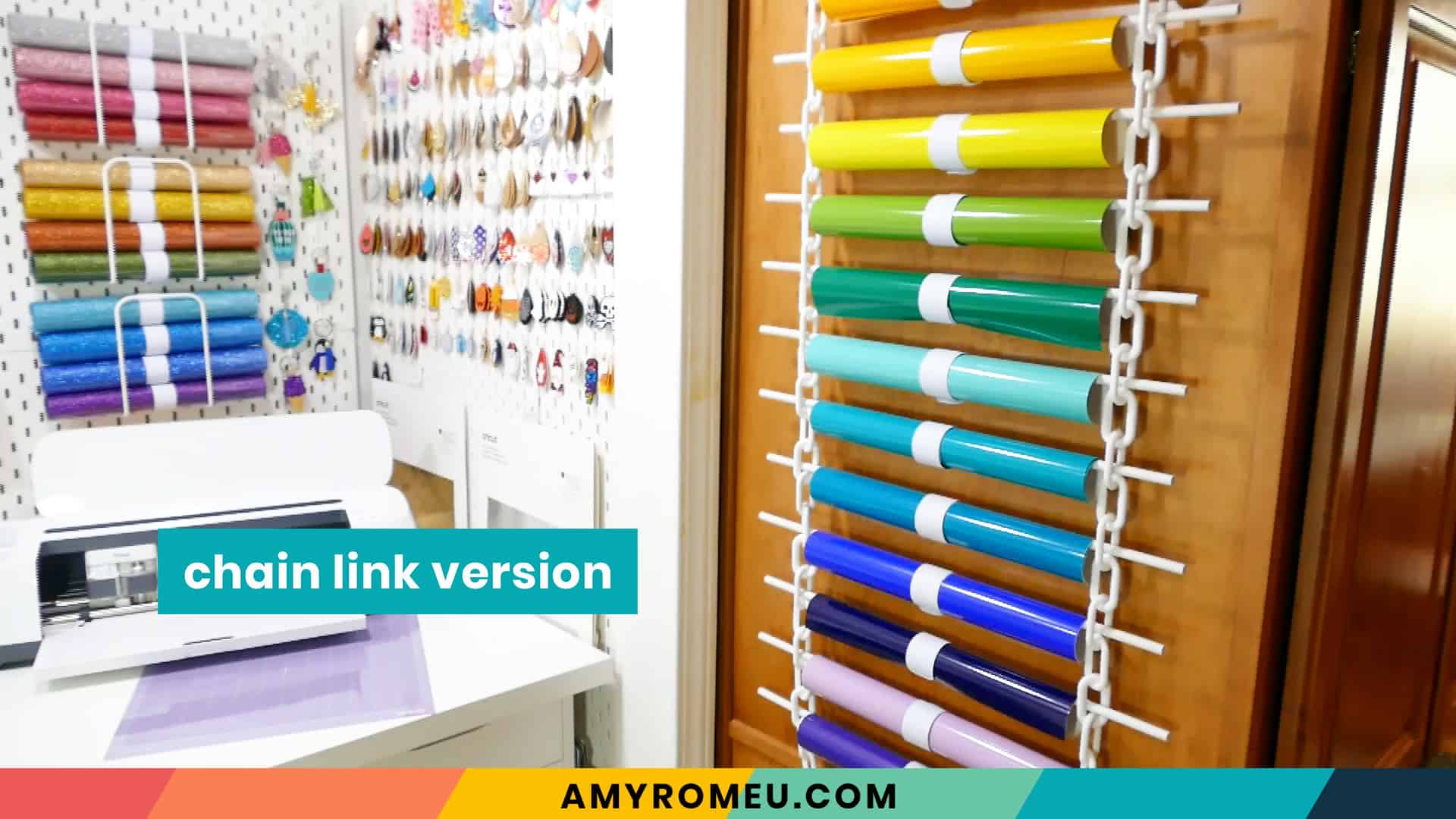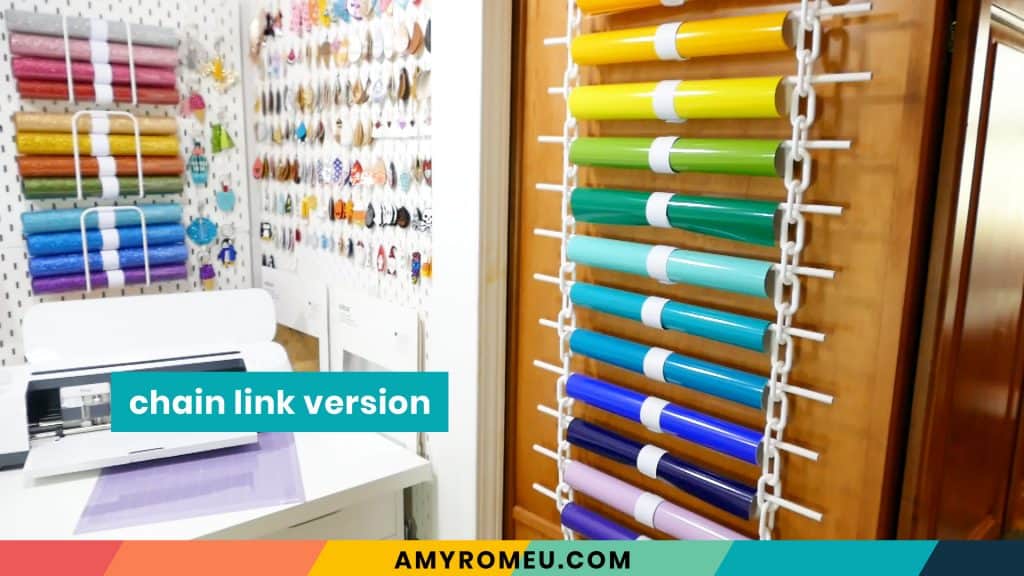 Did you like this project? Are you going to make a DIY vinyl roll holder yourself? If so, let me know in the comments if you like the snap tape or the chain version better!
If you're new to my blog and you're wondering what I do with all of this vinyl, click here to see all of the jewelry making and craft tutorials on my blog.
Happy crafting!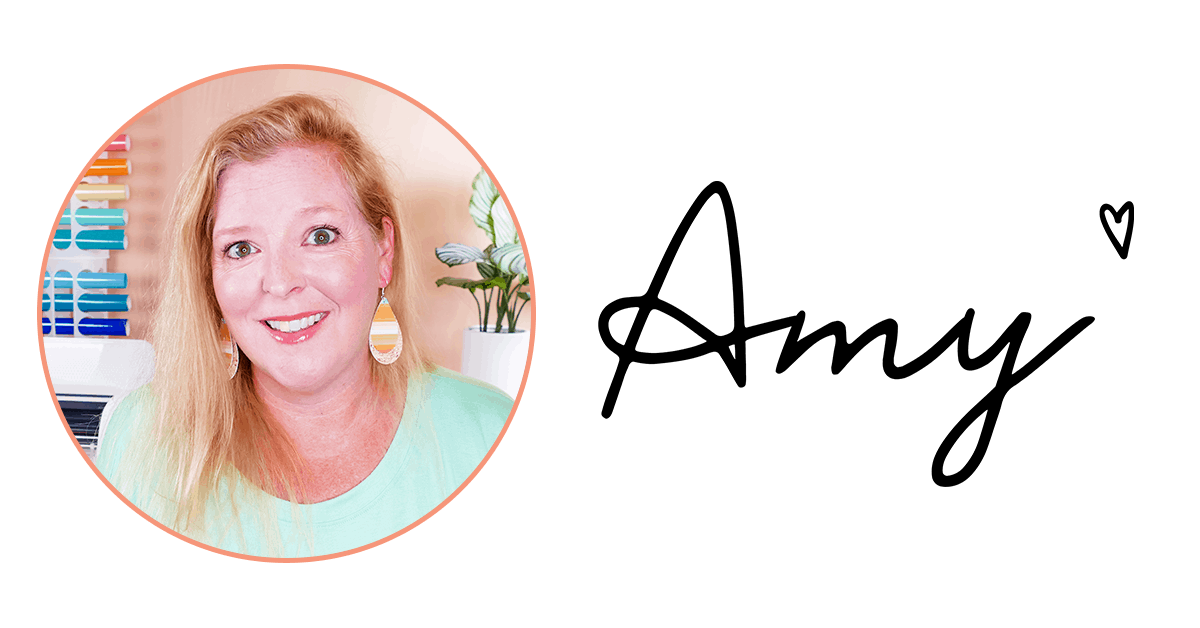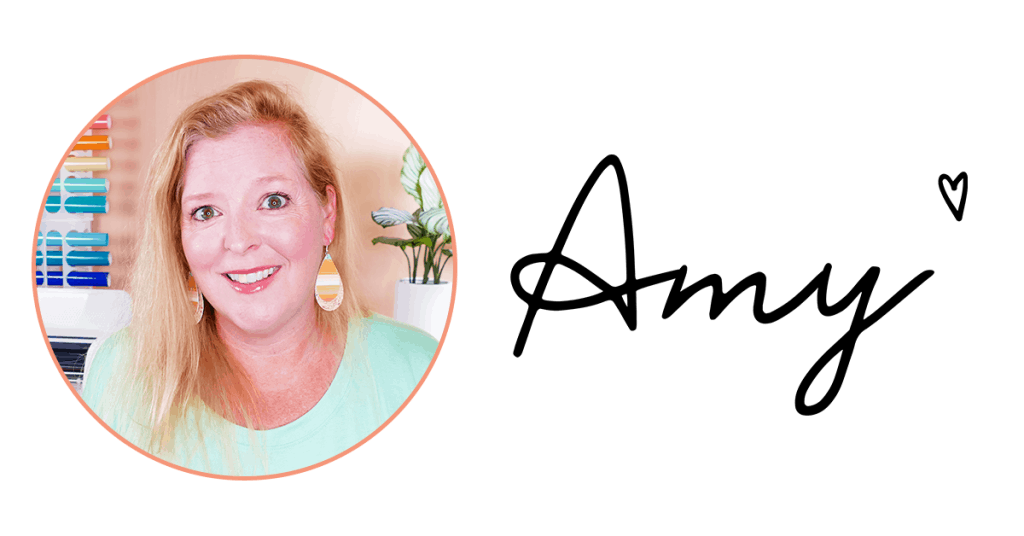 P.S. I have LOADS of free jewelry making and Cricut craft SVGs and templates in my Free Resource Library! You can get access instantly by filling out the form below.
WANT TO REMEMBER THIS? POST THIS DIY VINYL ROLL HOLDER PROJECT TO YOUR FAVORITE PINTEREST BOARD!